We love to play FPS games at High Graphics settings and it requires having a good gaming monitor.
A good Monitor under 30000 can help you get more FPS and clarity on-screen with a higher refresh rate.
In this budget of 30k, you will get high-quality displays with features like 4K and low response time with FreeSync(for AMD) or GSync (for NVIDIA Graphics).
4k resolution Monitor packs four times the number of pixels as a Full HD monitor, which would matter when you watch 4k videos or play gaming in 4k resolution. The images would look sharper with more detail.
I request you to read the complete article to choose the best Gaming monitors under 30000 in this article.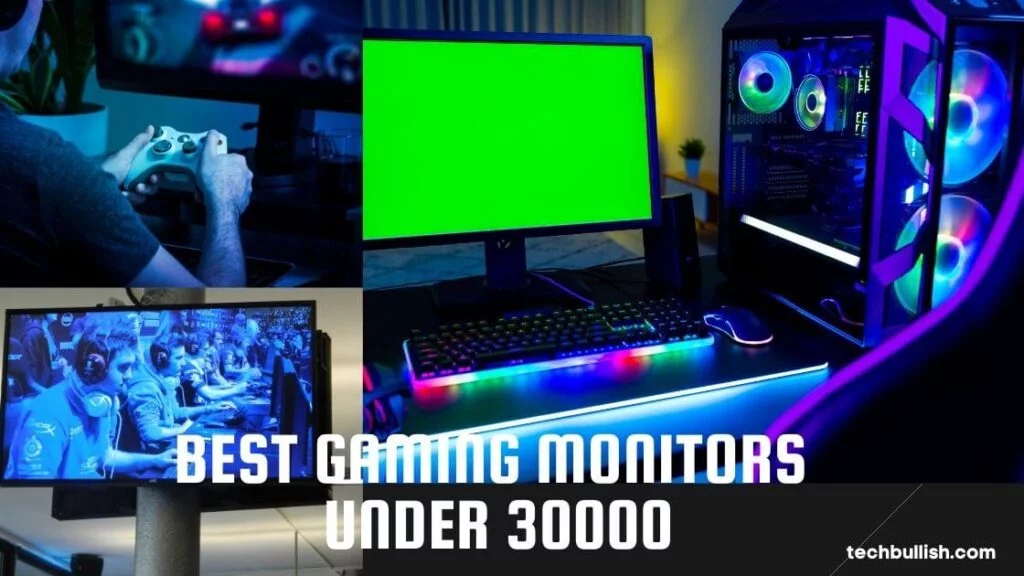 I discussed the right size of monitor to select if you need 4k(3840 x 2160 pixel), the latest sync technologies that come with Gaming monitors, and the response time perfect for your gaming experience.
Why Should you Trust Me? Hi, I am Anirban Saha, an Engineer with a Specialization in Electronics and Communication Engineering. I have experience in Smart TVs, Electronics circuits, and Computer peripherals.
I would cover each and every topic by comparing these monitors so that you don't miss any detail. You can also look directly at my choice for a gaming monitor.
Let's get started!
Which are the best 4k Gaming Monitors under 30000 INR?
Samsung 28-inch 4K UHD Monitor with Bezel-Less Design and IPS Display Panel
LG 27-inch 4K-UHD HDR 10 Monitor (For Gaming & Design) with IPS Panel, AMD FreeSync
LG 27-inch 4K-UHD VESA Display HDR 400 Monitor with IPS Panel, Radeon FreeSync
LG Ultrawide 34 WFHD IPS Display – HDR 10, Radeon FreeSync
BenQ 31.5 inch Gaming Monitor – Eye Care Technology, 4K, HDR
Samsung 32 Inch UHD Sleek Curved Monitor with Three Side Bezel-Less
AOC U2879VF 28 4K LED Monitor with VGA Port, HDMI Port, Free Sync
Who is for Gaming Monitor under 30000?
Gaming monitors under 30000 are pretty good for professional gamers, who play even competitive gaming with high FPS games and need very high-quality monitors to support their gaming performance during the competition.

Gaming monitors in this price range are also crucial for graphic designers as these kinds of monitors are pretty color-accurate and big with high FPS.
It provides a good experience when viewing, editing, and doing different graphic design types on the computer.
Factors to consider before choosing the best 4k Gaming Monitor under 30000
1. Display Technology in Monitor: TN vs LCD vs LED
The display is the main element in a monitor that decides the total viewing experience and the quality of work.
Even the gaming experience that you have depends on the display technology.
Also then the longevity of the display is pretty essential. Suppose you have an excellent display and play games, some office work, and if your display gets down after four to five months, it won't be that much value for money.
It would be best if you at least have an excellent display to support you for years after years for at least the next 5-6 years.
So the display technology is pretty essential for your choice of gaming monitor under 30000 rupees.
There are different display technologies available. I would compare the most sought options you will have for choosing the best gaming monitor under 30000.
Technologies I would compare are LED and IPS LED.
You would find many monitors having LED displays and others having IPS LEDs in this price range. So what is the difference, and which one is better LED and IPS LED?
LED is a generic type of monitor made of Light Emitting Diodes(LED), which can emit from the sides to make it front-lit LED or lights casting from the back of the screen, making it backlit LED.
LED monitors are accurate and pretty color correct compared to their predecessor LCDs(Liquid Crystal Displays), which were previously very popular in the market and were in high demand.
Now, IPS LEDs are the most sought option. First of all, IPS LEDs are like regular LEDs with some added advantages packed into them. These advantages benefit you with more color-accurate screens.
Blacks would be pitch black now with IPS LED as the black color would be the places where LEDs would remain turned OFF. Also, you would probably notice it on any monitor or TV.
If you look from the side, you may find colors look washed away.
You only can enjoy looking at the monitor from a certain angle. This restricts your vision.
IPS LED monitors have solved this problem, and now you can even view from any angle with equal viewability(i.e., even from sides, you would get the same brightness, contrast, and color accuracy).
2. Resolution to Look for in Monitor
In this price range of 30000 rupees, you would probably like to have a 4K monitor. However, the companies manufacture even Full HD monitors in this price range.
But, they provide you with another white display, which is pretty good. However, if a company offers only a Full HD display, then it won't be the right choice.
4K resolution is vital for your gaming if considering this price point.
4K monitors are four times the resolution of a Full HD monitor. If you place 2 Full HD monitors side by side and two monitors below, you can compare this combination of total Full HD monitors with one 4K monitor.
This amount of pixel is present in a 4K monitor as compared to a full HD monitor. You can check the comparison of 4k vs 1440 to know which resolution would be best for you.
So, it really impacts the picture quality and the resolution that you get to a large extent. You can easily differentiate a 4K from a full HD when you watch 4K content on both different monitors.
If you like a bigger size monitor with a higher resolution you can look for the best 49-inch monitors for your workspace.
3. Choosing Display with Colour Accuracy vs Vibrant High Punchy Colors
In this range of Gaming monitors, some monitors are very color accurate and can be used for different purposes like video editing, image editing, design, and illustrating work productivity and perfect execution.
However, if you are a professional gamer or if you like to watch videos, then probably you would prefer high punchy colors rather than accurate color screens.
Actually, both the accurate color screens and high Punchy color screens are good in their specific categories and according to their particular user base.
For some users, having a color-accurate screen is really important. For others, having a punchy color screen looks pretty awesome and increases experience and entertainment.
You can also correct the color profile of any monitor which can be achieved by the steps shown in the video below.
4. Choosing AMD FreeSync or NVIDIA GSync Supported Monitors
Whatever high graphic game you play, you need a good quality graphics card and if that graphics card is AMD Radeon, then probably having a monitor having AMD FreeSync is pretty essential.
So, what is AMD FreeSync?
AMD Freesync is a technology developed to avoid screen tearing that happens when you play games on a monitor.
Your graphics card delivers high FPS, but that is not supported by your TV.
So the rendered graphics in the game do not look smooth, and it causes tearing phenomena common for a standard monitor.
This tearing happens when
Game FPS >>> Monitor Refresh Rate
But, AMD FreeSync synchronizes the TV's refresh rate with the FPS provided by your computer's graphics card, which causes smooth graphics rendering.
Now, What is NVIDIA GSync?
NVIDIA G Sync is a technology made by NVIDIA for monitors to provide a fantastic experience with no tearing, stuttering, or input lag.
This G Sync elevates the gaming experience to the next level, as with GSync, you would get lifelike image quality and ultra responsiveness from your monitor.
Both of these advanced technologies(AMD FreeSync and NVIDIA GSync) are awesome. Just choose the one whose Graphics card you use to get the benefit from this.
You can check in detail about the G-Sync vs FreeSync here.
5. Refresh Rate
Whenever we are purchasing a TV, we see different kinds of refresh rates written there and how they describe it because whenever we suppose there is some football match, then if the display rate is low, your display would look hazy.
You won't see high-action-packed things smoother.
In the case of monitors that are specifically for gaming, this is mostly applicable for this also as you are playing some high action pad games, FPS games, or different kinds of games that require directed refresh rate to provide smooth animations and so that you don't get animations to be hazy and for you a better game.
The difference rate is it is better. We usually see everything smooth and 60 FPS, but we have boosted it up to 144 FPS for gaming. We also play games nowadays in 144FPS.
Know about the comparison of response time vs refresh rate for gaming monitors.
6. Choosing between TV and Monitor for Gaming
You may be confused when you look at this price range of 30,000 you would get many TVs.
So, should you choose a TV or a Computer Monitor for Gaming?
Actually, many people use TVs to replace their monitors and enjoy even gaming on their TV. But, is TV better?
The answer is that TV is basically focused on entertainment purposes, and monitors are created solely to use it with your computer for work or even to play games.
The main highlight of a monitor is its display is generally of matte type, which is easy on the eyes for more prolonged usage.
Another is the refresh rate. Typically, TVs come with a 50-60Hz refresh rate and a high response time, leading to a bad gaming experience compared to gaming monitors.
Gaming monitors' performance is unmatched as they have a higher refresh rate of about 144 Hz. Gaming Monitors have an extremely low response time of 1ms, which is the most crucial part of having a good experience.
If you don't want to compromise with performance, then gaming monitors are definitely a no-brainer choice.
Read about the best vertical monitor and also how to setup vertical monitor here.
Best Gaming Monitors under 30000
1. Samsung 28-inch 4K UHD Monitor with Bezel-Less Design
Samsung monitors and TVs are good in their excellent capability to bring in awesome and cool innovation in their products.
This monitor from Samsung is a great quality monitor with a 4K Ultra HD screen. The main highlighting feature of this monitor is its bezel-less design.
As I have discussed in this list, you won't find a single Bezel-Less design apart from this Samsung 4K Ultra HD monitor, and again another thing the previous LG wants this comes with.
This monitor has a high-quality IPS display panel, and you know that the Samsung display has a very punchy color output. You will like to watch every content you like to see on the monitor.
Last update on 2023-09-23 / Images from Amazon Product Advertising API
It comes with an IPS panel, which would ensure greater viewing angles and more screen longevity, which is a real concern for gaming monitors.
2. LG 27-inch 4K-UHD HDR 10 Monitor with IPS Panel
LG is a renowned brand in manufacturing TVs. Their TVs and monitors come with IPS Panel technology which is awesome. This LG Monitor is 27 inches and has a resolution of 4k UHD that is 3840*2160 pixels.
The display has a color rating of HDR 10, which produces a punchy, more lifelike color experience.
It means you can experience more vivid colors during your gameplay, unlike other gaming monitors.
This display has an IPS panel, which would help you to get better viewing angles. It means even if you tilt and view the screen, you would be able to see the colors as accurately as you look from the front of thIs LG 27-inch 4k Gaming Monitor.
In case other display colors get washed off when looked at from a certain angle. It has AMD FreeSync Support.
Last update on 2023-09-23 / Images from Amazon Product Advertising API
Pros
Due to the IPS Panel, this display would have a greater lifetime compared to any non-IPS display.
LG's service is quite good
AMD FreeSync Support
Cons
Price can be definitely made more competitive.
My Verdict
I really love LG displays with the longevity they have. This 27 inches 4K monitor from LG is a perfect choice for you if you love playing games and even if you are a pro gamer.
3. LG 27-inch 4K-UHD VESA Display HDR 400 Monitor
This Gaming Monitor is from LG and is 27 inches which is the right size for a gaming monitor.
It comes with display technology that provides excellent visual quality from the angle and a good-quality IPS panel for this monitor's longevity.
This monitor is an Ultra HD 4K display resolution, and the color is sRGB 99%. The color can be fully calibrated at all different customizations with a black stabilizer. The display looks crisp.
It has flicker-safe and reader mode, making it very easy on your eyes while gaming.
You really enjoy your game using this monitor. Its height and tilt can be stable.
If you need a vertical monitor, you can rotate this by 90° easily. You will get a vertical monitor.
This monitor is VESA certified with a display HDR 400, which means you would get clear picture quality, which is essential for gaming.
Each of the game's characters and scenes would become life-like with its peak luminance of 400 nits and spectacular highlights.
Last update on 2023-09-23 / Images from Amazon Product Advertising API
Having an sRGB monitor is useful for photographers and graphic designers. This LG 27-inch display produces a highly accurate color.
This monitor supports Radeon FreeSync which is a technology that uses a system that optimizes your display with your graphics card.
If your system has a Radeon Graphics card, then having a display that supports Radeon FreeSync gives an added advantage.
It helps to sync up the Graphics card frame rate with the Monitor's refresh rate to avoid the tearing that you see on monitors.
4. LG UltraWide 34 WFHD IPS Display with HDR 10, Radeon FreeSync, sRGB 99%
The gaming monitor list becomes incomplete without an ultrawide monitor on the list.
LG has an Ultrawide monitor in this price segment, which is 34 inches in size. The size of this monitor is actually superb.
You can really feel the true essence of gaming with this Ultrawide Monitor from LG. The display is color rich with its HDR 10 which makes lifelike color production.
This monitor also comes with Radeon FreeSync technology which would be essential if your computer has a Radeon Graphics card installed and you use it effectively for gaming.
5. BenQ 31.5 inch Gaming Monitor with Eye Care Technology
This eye care technology is so beneficial that I definitely consider it a real add-on benefit for this gaming monitor.
Last update on 2023-09-23 / Images from Amazon Product Advertising API
My Verdict
When I play games for continuous 2-3 hours without a break, I often find eye strain. If you have similar problems, I definitely recommend you go with BenQ Gaming Monitor.
6. Samsung 32 Inch UHD Sleek Curved Monitor with Three Side Bezel-Less
This UHD monitor from Samsung with a 32-inch screen is incredible, and this comes with a curved Bezel-Less display, which makes it apart from its competition.
Sometimes having a big Bezel really bothers you, especially when you are gaming the most immersive monitors that do not have a bezel limit.
Samsung's 32-inch Ultra HD sleek curved monitor has three sides bezel-less screen that really gives you a more immersive feeling if you play games.
Games look much more realistic without the edges on the screen.
Have you seen Samsung's curved TVs before? If yes, then you would probably have seen how beautiful they look with the curved display.
This curved display increases the immersiveness and gives you a feeling that you are more into the game.
In the case of the curved display, another thing ensures that for every side of the screen, your look maintains equidistant from your eyes.
This implies that the picture would look more realistic from every angle compared to other non-curved displays.
Samsung has significantly good expertise in building screen panels. An example can be the smartphone's panels.
If you know about the Amoled display on smartphones, you would probably know that every company that manufactures a mobile with an AMOLED display uses Samsung's panels only.
They also build excellent TV and monitor screens in which colors look much brighter and better.
7. AOC U2879VF 28″ 4K LED Monitor
AOC is a very old brand that manufactures excellent monitors, and they are especially famous for their monitors only.
This AOC monitor has a decent size of 28 inches and has a 3840 x 2160 (4K Ultra HD) resolution.
You get all the ports like other gaming monitors in this range, like a USB port, and an HDMI port for good connectivity. This monitor comes with a fantastic response time of 1ms.
This monitor is really value for money for the quality it provides. AOC did not use Mercury(Hg) in their monitor, which makes this more energy efficient. You can check the official specification from AOC here in the link below.
Source Link: https://www.aocindia.com/productspecs/aocmonitor/premium/U2879VF.pdf
My Choice for the Best Gaming Monitor
Choosing a particular monitor for gaming in this price segment of Rs.30,000 is crucial as many big brands like LG, Samsung, and AOC genuinely deserve their place on the list.
But, I consider many factors to make my choice for the best gaming monitor for you. I have made specific categories to nominate them under Rs.30,000.Here are my favorites:
| | | |
| --- | --- | --- |
| Top Monitors of My Choice | Category | |
| AOC U2879VF 28″ 4K LED Monitor | The Budget Choice | View On Amazon |
| LG 27 inch 4K UHD HDR 10 Monitor | Performance Expert | View On Amazon |
| BenQ 31.5-inch Gaming Monitor | The All Rounder | View On Amazon |
Last update on 2023-09-23 / Images from Amazon Product Advertising API
Conclusion
Let's conclude this post! I hope you have found the right choice for the best Gaming monitor under Rs 30000.
I tried to cover each aspect of reviewing the gaming monitors, the technologies that they have, and what are the essential features that you need to be present in a gaming monitor in terms of resolution, display technologies, and advanced technologies like AMD FreeSync and Nvidia GSync so as part of this review.
I hope you have got a clear idea from this article about the gaming monitors, which you would have as an excellent investment to augment your gaming experience.
Thanks for your feedback!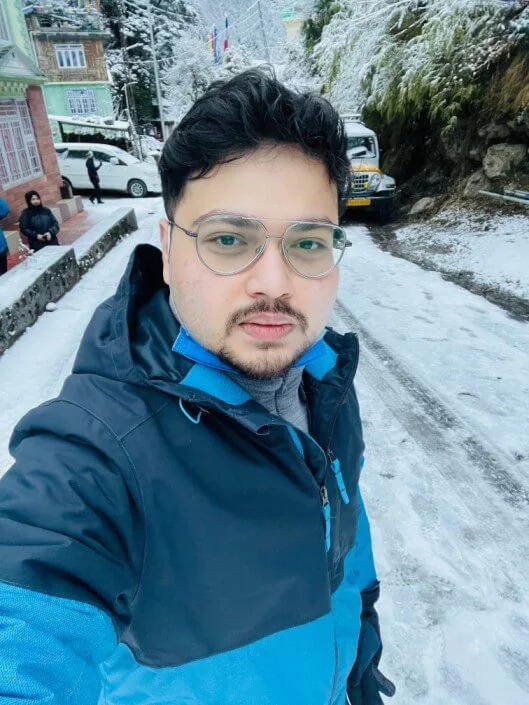 I'm Anirban Saha, Founder & Editor of TechBullish. With a B.Tech in Electronics and Communication Engineering, and 5+ years of experience as a software developer, I have expertise in electronics, software development, gadgets, and computer peripherals. I love sharing my knowledge through informational articles, how-to guides, and troubleshooting tips for Peripherals, Smart TVs, Streaming Solutions, and more here.