Choosing the best mechanical keyboard for your needs can be a challenging task. If you're in the market to find the best 65% keyboard, look no further!
Do you need a gaming keyboard with programmable keys and RGB lighting, or is a standard keyboard sufficient?
In this article, we will discuss the top 65% mechanical keyboards for both gaming and typing.
I will also provide a buyer's guide to help you choose the best keyboard to give you with upgraded typing experience.
Here I have compared all the essential features before choosing a 65% keyboard like performance, build quality, design, features, etc.
Whether you're a gamer or a typist, there's a keyboard out there that's perfect for you.
Why Should you Trust Me? Hi, I am Anirban Saha, an Engineer with a Specialization in Electronics and Communication Engineering. I have experience in Smart TVs, Electronics circuits, and Computer peripherals.
Let's get started!
What are the best 65% Keyboards?
What Are 65% Keyboards?
65% Keyboards are a type of keyboard with 67-68 keys in its layout.
A 65% keyboard is a compact keyboard and looks good in the workspace. The size of 65% keyboard lies in between the Tenkeyless and the 60% keyboards.
A 65 percent keyboard has alphanumeric keys, modifier keys, and arrow keys.
These keyboards are like the 60% keyboards but with an additional column on the right side of cursor keys and navigation keys.
Benefits of 65% Keyboard
Here are the following benefits of the 65 % keyboards:
1. Compact Size
65% keyboards have compact size as they eliminate many of the switches that are not required from the full-sized keyboard.
If you like to experiment with keyboards of different form factors, then this would feel to be having the most important keys in a smaller compact package than any other keyboard.
This would take much lesser desk space and look beautiful in it with their RGB lighting. You can have one of these 65 % keyboards for your gaming rig or your workspace.
2. Eliminating Redundant Switches
65% keyboards can eliminate the redundant switches in a mechanical keyboard like the Numpad on the right. Most people using a keyboard do not need those switches for regular use.
You can even configure complex macros in these keyboards. The Function row is absent in this keyboard to make it compact and the Fn key is there to compensate for the need for the function row.
3. Travel Friendliness
The 65% keyboards are very much portable and hence are travel friendly. You can carry it easily to different places.
Factors to Look For in 65% Mechanical Keyboards
Generally, the mechanical keyboards are very high quality inbuilt, have high usability, and last for long as compared to the regular keyboards which are of membrane type.
Still, before buying any 65% keyboard, you can look at the following parameters that I mention below.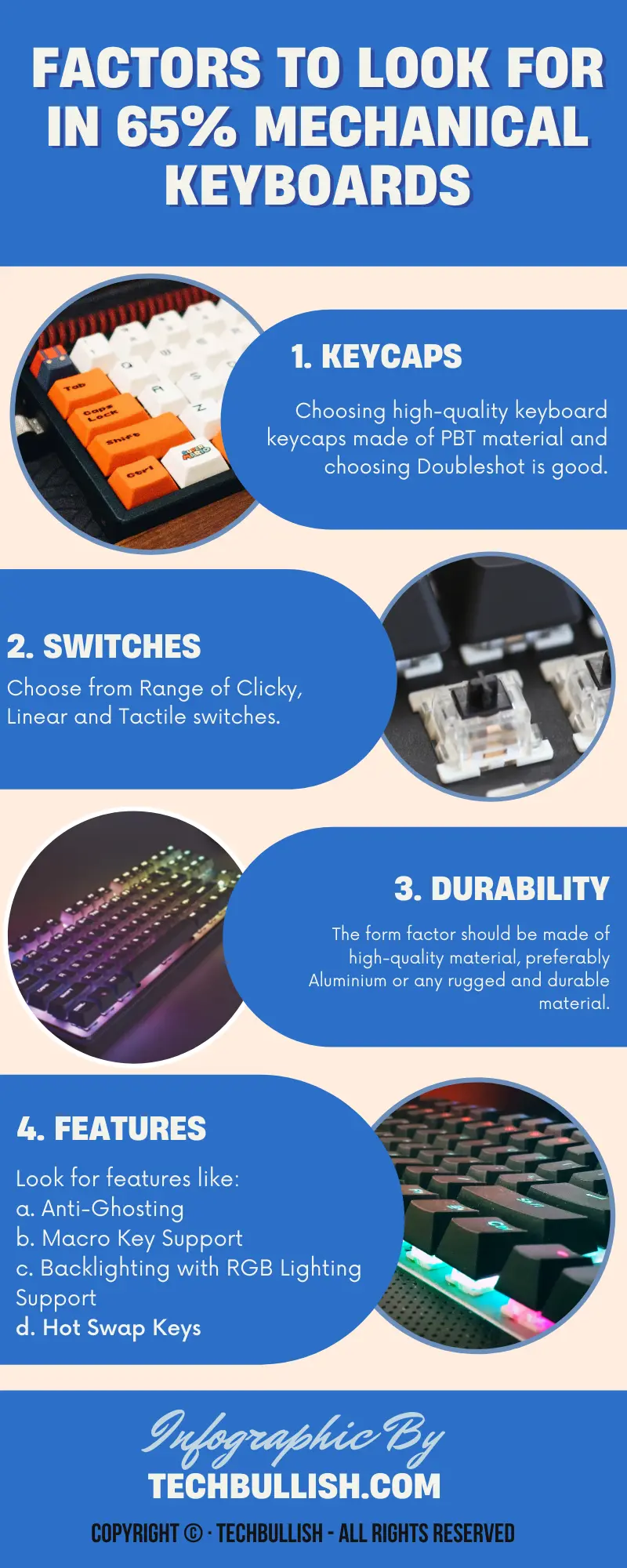 1. Keycap and Switches
Keycaps and switches are the essential components that you would interact with whenever you use the keyboard.
The keycaps are the outer covering layer made of high-quality plastics that cover on top of the switch, so having a good experience in typing a good keycap is needed.
Switches, on the other hand, make or break your typing experience. Mechanical switches are of different types like click, tactile and linear.
Each of the different switches has unique characteristics that define how you would make the keypress and how you would get feedback about the keypress and the sound of the key press.
Hence choosing high-quality keyboard switches is needed. You can also customize these keyboards with your own switches to make your own custom keyboard.
2. Durability
Durability is an essential factor for 65% mechanical keyboards. The build quality mainly decides the durability of the keyboard. The switches also determine that.
The form factor should be made of high-quality material, preferably Aluminium or any rugged and durable material.
3. Features
There are several features in a 65% keyboard that you should look at before considering its purchase. The features are:
a. Anti-Ghosting
As you type your keys together, the computer won't recognize a key a lot of times if the keyboard does not support Anti-ghosting.
With anti-ghosting, it becomes very convenient when you type or play games.
This feature helps the keyboard recognize all your key presses even if you pressed a few keys together.
b. Macro Key Support
The macro key is essential for gamers and finding a 65% keyboard with fully programmable keys helps a lot. With macro, you can assign a particular key to perform a complex move during gaming.
You can easily combine all the click functionality you need to perform into a single keypress on the keyboard.
c. Backlighting with RGB Lighting Support
Backlighting on a 65% keyboard helps to see the keys in the dark.
Also, with RGB backlighting, you get excellent gaming feel from the mechanical keyboard.
d. Hot Swap Keys
Hot-swap keys help to change the keys easily.
The hot swap keys have special sockets so that you can click switches into place and pull them out without ever needing to solder.
#1. Durgod Hades 68 RGB Mechanical Gaming Keyboard
The Durgod Hades 68 is a 65% Mechanical keyboard with 68 Keys. This keyboard has a fantastic look.
The keyboard base is made of Aluminium and feels rigid with Double Shot PBT Keycaps.
So, in terms of durability and key feel, the Durgod Hades 68 is excellent.
Compatibility with Mac and Windows: Compatible with Windows 10, Win 8, Win 7, Win Vista, Windows XP, and Mac OS.
What are the specifications of Durgod Hades?
Last update on 2022-11-27 / Images from Amazon Product Advertising API
#2. Drop ALT Mechanical Keyboard 65% (67 Key) Gaming Keyboard
The Drop ALT High-Profile is like the original ALT, but now it comes with a tall CNC aluminum case covering the switches.
It has a thicker frame and is well structured for durability.
This keyboard has the support of Dual Type C.
What are the specifications of DROP Alt?
Last update on 2022-11-27 / Images from Amazon Product Advertising API
#3. Ducky One 2 SF RGB LED 65% Double Shot PBT Mechanical Keyboard
Ducky One 2 SF has a dual-color bezel to it that looks good. The Ducky keyboard's build quality is great and looks durable.
This mechanical keyboard has Cherry MX switches with Double Shot PBT keycaps.
This type of switch setup helps to make this keyboard a reliable one and is great for gaming purposes.
What are the specifications of Ducky One 2 SF?
Last update on 2022-11-27 / Images from Amazon Product Advertising API
#4. Keychron K6 65% Compact Wireless Mechanical Keyboard
The Keychron K6 is a budget Hotswap keyboard with 65% layout keys. The switches used here are Gateron switches. These switches are great for mechanical keyboards.
You can connect up to three devices with this keyboard. It works on both wired and wireless.
It also supports connectivity using Bluetooth 5.1. In terms of OS Support, this is great. You get support for Mac OS, and Windows here.
This keyboard runs on a rechargeable battery and the battery life is 200 hours with the backlit turned off.
The backlights you get here in this keyboard are 15+ types of White and RGB variations. Overall, the Keychron K6 is an excellent keyboard among the wireless keyboards that have excellent RGB lighting.
This would enhance the look of your desktop setup as it won't clutter with wires.
You can check the in-depth Keychon K6 review here.
What are the specifications of Keychron K6?
Last update on 2022-11-28 / Images from Amazon Product Advertising API
#5. YUNZII AKKO 3068 Silent Wireless 65% Keyboard
YUNZII AKKO 3068 mechanical keyboard is based on the Cherry Mx switches.
Also, there are versions where they used the Gateron Orange/Pink/Green/White switch.
This keyboard works wirelessly with Bluetooth 5.0, which is faster than the Bluetooth 3.0 version.
You can easily pair and connect up to 3 devices with this keyboard. As this is a wireless keyboard, this runs on a battery.
With a built-in 1800mAh rechargeable battery, it can last for up to 12 hours with a backlight and 90 hours without a backlight.
With its compact size, this keyboard can be great for travel also.
What are the specifications of Akko 3068?
Last update on 2022-11-27 / Images from Amazon Product Advertising API
#6. MagicForce 68 by Quisan 65% Mechanical Keyboard
The MagicForce 68 by Quisan has a unique 68 keys layout with the Outemu Switches keyboard (Cherry MX equivalent).
Due to the 65% layout, this keyboard feels compact and saves a lot of space.
The keyboard features a floating-key design in profile, and the reflective silver brushed metal plate adds to the effect.
The plastic base of the keyboard is fitted with four rubber pads, and two foldable feet make the keyboard stable.
Overall, if you use the MagicForce 68, you would like to use it for regular work.
The brown tactile switches in this keyboard are great to consider for everyday usages like typing, programming, and gaming.
As this would not make much sound, you can also use it for the office, and would give you a good typing experience and enough customization options.
What are the specifications of MagicForce 68?
Last update on 2022-11-27 / Images from Amazon Product Advertising API
#7. LTC NB681 Nimbleback Wired 65% Layout Mechanical Keyboard
If you are looking for a 65% keyboard on a low budget, LTC NB681 is there. This keyboard looks good with its white outer body. The material used here is ABS.
The keyboard is excellent with RGB backlighting and is ideal for everyday work and gaming.
This keyboard is of a wired type with a good ergonomic design.
What are the specifications of LTC NB681 Nimbleback?
Last update on 2022-11-27 / Images from Amazon Product Advertising API
#8. Durgod Fusion 65% Keyboard
The Durgod Fusion is a keyboard with retro looks.
This keyboard comes with a sturdy thick plastic case like keyboards used to be. It comes with nothing less than Doubleshot Cherry Profile PBT Keycaps.
Legends would never fade. Sub legends are pad-printed on the side of the keycaps and are visible to the eyes.
Windows / iOS / Android FUSION is compatible with most smart devices on the market. Bluetooth 5.0 connection supports Windows (8 and above), iOS, and Android, while a 2.4GHz connection supports Windows (XP and above), iOS, and Android.
The Fusion features a low-energy consumption solution to ensure long-lasting battery life.
The keyboard's battery can last between 20-40 days with a full charge using the wireless connection mode.
This keyboard supports DURGOD Zeus Engine software to configure the macro keyboard switches.
Overall, the Durgod Fusion is a great keyboard. The switches feel fantastic, and the battery seems to last for weeks with a single charge.
I like the retro look, and it does not bother me that much. I am satisfied with the specs and the performance of this keyboard.
What are the specifications of Durgod Fusion?
Independent profile & macro editor
Windows key lock function programming.
Layout: ANSI – US International
Keycaps: PBT Doubleshot (Cherry profile)
Last update on 2022-11-27 / Images from Amazon Product Advertising API
#9. Ducky x Varmilo MIYA Pro 65% Dye Sub-PBT Mechanical Keyboard
Ducky Miya Pro is a wired Mechanical keyboard with a durable build quality. This keyboard is built by the collaboration of Ducky and Varmilo.
Also, with the switches, you get the option to choose a Cherry Mx Switch or the Varmilo Switch.
The keycaps used here are of Multi Dye Sub PBT with Multi legend.
What are the specifications of Ducky MIYA Pro?
Last update on 2022-11-27 / Images from Amazon Product Advertising API
#10. FL ESPORTS F12 65% Wireless Mechanical Keyboard
65% compact form factor in wireless/wired mode: 68 keys compact layout built-in Bluetooth 4.0 chip, maximize the neatness and space utilization of your desktop.
The FL Esports F12 keyboard has Kailh Switches that are tactile, which is good.
The keycaps are durable textured finish in white and grey mixed color PBT keycaps get 0 shiny grime buildup, never faded away like ABS keycaps.
This keyboard has a long-lasting 2000 mAh battery that lasts up to 100 hours without a backlight and 20 hours duration with RGB backlight.
This keyboard supports near-infinite customization with advanced software.
You can configure 16.8 million colors in 10 different styled modes and endless shortcuts are all stand by for easy setting and assignment.
Last update on 2022-11-27 / Images from Amazon Product Advertising API
#11. RK Royal Kludge RK68 65% keyboard(RK855)
The RK Royal Kludge RK68 is an incredible 65% keyboard with wireless connectivity.
This keyboard is equipped with an upgraded chip and registers every keystroke instantly registered.
Also, the stability of the wireless connection is excellent.
Hot-swappable Tactile Blue switches allow you to replace three pins or five pins switches freely without soldering issues.
The blue switch is clicky, but it's authentic and original the most distinctive mechanical switch.
It will remind you of the first feeling about the mechanical keyboard, with incomparable click feedback, and a refreshing tactile feel that will make you type with BGM.
DIY keybinding shortcuts, adjust brilliant backlight modes, and reassign various key functions.
These are the powerful functions of the RK68 professional driver. The Royal Kludge RK69 has a 1450mAh battery and allows you to use it continuously for about 13 hours with the lightest backlight.
Even if RK68 has no multicolored RGB but only blue LED-backlit, the 17 dynamic backlit modes will improve your gaming set with a unique style.
Use FN + \ to choose your ideal way, and adjust the brightness and glowing speed freely.
Get some lights on to take your blues away and make your day.
Overall, the feature of this keyboard looks pleasing to me, and it leaves no complaints on my side.
What are the specifications of RK Royal Kludge RK68?
Last update on 2022-11-27 / Images from Amazon Product Advertising API
My Choice for 65% Keyboard
Out of the 11 keyboards compared, here are my favorites.
How these are better than the others?
These keyboards have all the essential components and features required for a specific purpose.
Here are the results after I compared considering the key factors:
Durability, Features, Gaming Experience, Typing Experience, Price, Switch, and Keycap Quality.
FAQs on Best 65% Keyboard
Conclusion
Let's conclude the post on the best 65% keyboard!
After comparing several 65% keyboards, I found the Drop Alt Keyboard to be the best.
You can also check a guide for the best 60% keyboards.
I hope this has helped you a lot in finding the right 65% keyboard for your workspace.