Hello, everyone! Welcome to this awesome recommended gears section from me, Anirban Saha, Founder, and Editor.
Previously I was working with my Macbook Air, and then I decided to create my dedicated workspace that would enhance my productivity even further!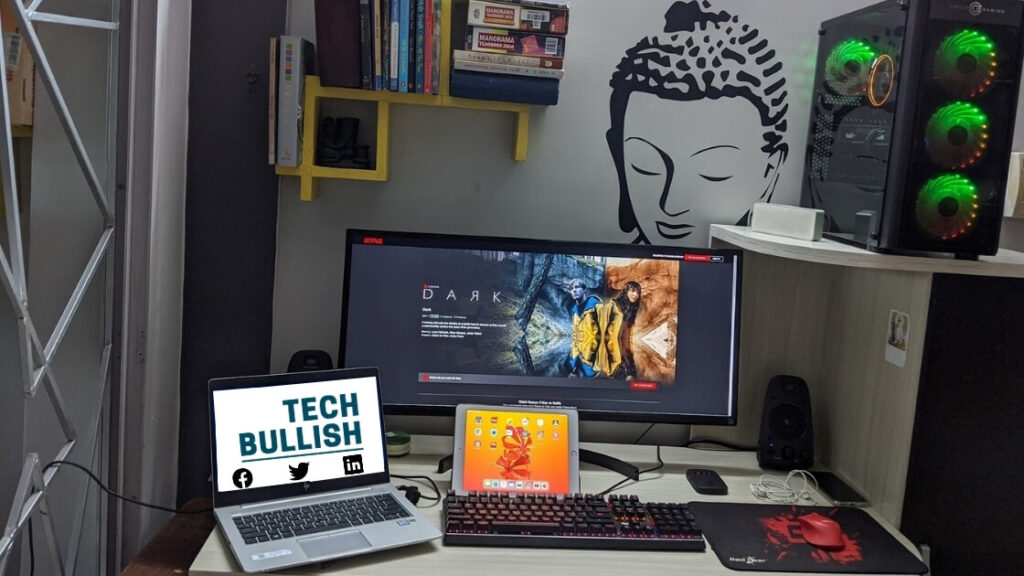 How I began My Setup?
I looked at many videos and beautiful desk setups from YouTube for awesome ideas and finally decided to take my workspace to the next level!
It started with deciding every peripherals and accessory that would be mandatory for me, but that would also enhance the look of my workspace. 
I also play games often, so I decided to set up my gaming RIG.
My Workspace Setup to Boost Productivity (2021)
Here are the things I bought to set up my workspace:
UltraWide Gaming Monitor – from LG (Check Price At Amazon)
Logitech Z623 THX 2.1 Speaker System with Subwoofer(Check Price At Amazon)
RGB Mechanical Gaming Keyboard- RedGear MK881 Invador 
Gaming Mouse Pad- from RedGear(Check Price At Amazon)
Wireless Mouse – Logitech M331 Silent Plus Wireless Mouse (Read Logitech M331 Review | Check Price At Amazon)
A High-End CPU (with custom configurations) 
Beautiful Computer Desk (Check Price At Amazon)
Computer Chair (Check Price At Amazon) | Gaming Chair (Check Price At Amazon)
My CPU Configuration:
Graphics Card: Radeon MX580
Processor: Ryzen 7 3700x
RAM: Corsair 16 GB DDR5 (Motherboard has scope to increase RAM upto 64GB)
Motherboard: ASUS MotherBoard
SMPS: 500W Corsair(Check Price at Amazon)
Gaming Cabinet: From Circle Gaming
UltraWide Gaming Monitor – from LG
LG manufactures good quality IPS panels, which I am really a fan of. It increases the viewing angle, produces accurate colours, and has Radeon FreeSync that synchronizes refresh rate with FPS provided by my Radeon RX 580 Graphics card.
Being a 34-inch size ultrawide monitor enables ample scope for multi-tasking every day with 2-4 screens with ease.
I am very much happy using this monitor from LG.
Conclusion
Everyone's requirement and taste to set up a workspace is different. Some prefer going cheaper on the motherboard, processor, and increased budget for Graphics Card. However, I felt without a Good quality motherboard running this high configuration setup would not be a good idea. I love the Ryzen series of processors starting from 3rd Gen, and they are far better than their equivalent Intel processors.