If you have the Logitech G-Series Mouse and are looking to know what G Shift functionality is, then this is the right place.
While using the Logitech Gaming Mouse-like G502, G402, G203, or any other you would find in the Logitech Gaming Hub, G Shift has minimal mention. Here I will explain G Shift in detail. G Shift is a must to know if you are a pro gamer or advanced customization for your Logitech G series mouse.
So, What is G Shift? G Shift is an advanced mouse button customization option present in Logitech Gaming Hub that acts as a keyboard modifier to override the default mouse button operation. With G Shift enabled, the mouse button's default actions can be configured to the keyboard keys or even a sequence of keyboard keys known as a macro.
If G Shift is not enabled, the mouse configuration is set as default out of the box, which is ok for most users and gamers. G Shift is only for gamers who need advanced customization for their mouse.
Here is a great amazing high performance gaming mouse from Logitech Check here at Amazon.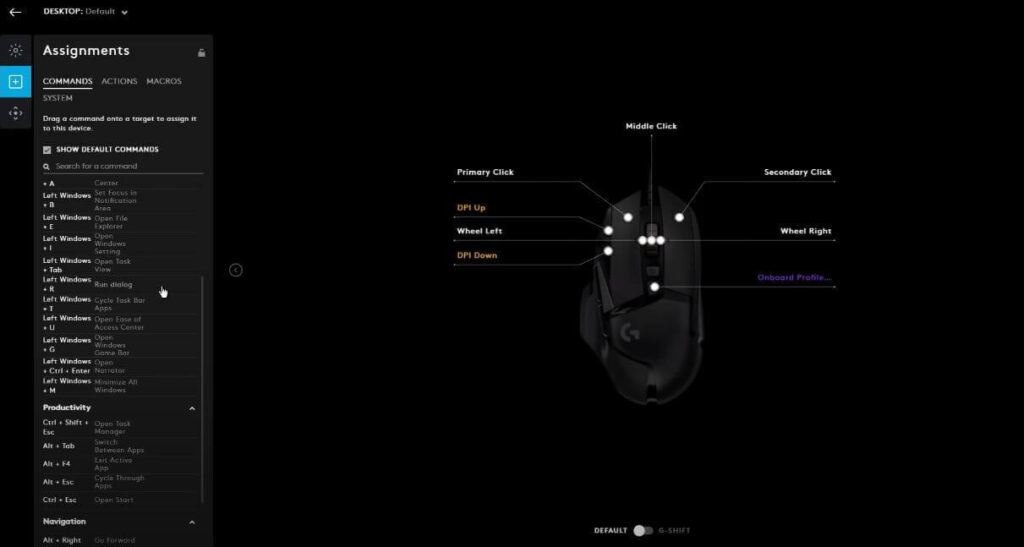 As per Logitech G Hub Manual, you can assign a G SHIFT key to a device, and that G SHIFT key will synchronize on all devices. For example, you can have a G SHIFT key on your keyboard. When pressed, your mouse will also enter the G SHIFT mode and vice versa. To assign a G SHIFT key, navigate to the System tab in Assignments and drag the command to a programmable key/button.
Here is a great gaming mouse from Logitech(Lightweight one) Check here at Amazon.
Logitech Gaming Software (G Hub)
Logitech's Gaming Hub Software, also known as G Hub, is a common portal for optimizing and customizing hardware configuration, lighting all Logitech G gears, including mice, keyboards, headsets, speakers webcams. You can install G Hub in both Windows and Mac OS. 
Advanced Settings Customisation
Logitech G Hub is the software you need to configure every setting you need to configure in your mouse. G Hub provides all the advanced gaming customization possible with any gaming mouse like Mouse FPS, G Shift for key customization, advanced color customization, and Polling rate. 
Synchronization of Colours
Using Logitech G Hub, you can set the lighting settings of your gaming mouse and synchronize between your Logitech Gaming keyboard. 
Setting up G Hub Profiles across different Gaming titles
With G Hub, you can customize different settings like Polling Rate, FPS, G Shift, and lighting settings and keep it saved as a profile. Similarly, you can create multiple profiles for different gaming titles or as you wish. You can choose any profile you wish when you play.
Hey, I have found a great gaming mouse which you can configure G shift. Check here at Amazon.
G Shift Benefits
G Shift is the most demanded choice. Even pro players love to customize the gaming mouse with the best settings for any competitive gameplay.
G Shift has the following benefits for gamers:
Gamers prefer to have their mouse customized as per their comfort and practice. The different FPS gaming functionalities like switching between weapons, reloading ammo, triggering becomes easy and handy.
G shift's customization gives you an edge compared to other gamers, which is essential during competitive gameplay. Even a minor enhancement is due to better peripheral matter.
G Shift provides the option to remove unwanted mouse button configuration, which is not needed, and helps to override those by implementing the priority functionalities in gaming.  
Q : Can you use G Shift in other Logitech Series Mouse?
Ans : G Shift functionality that overrides the default mouse button configuration with the custom one is available with the Logitech Mouse that supports G Hub Software. G Hub software is only available for G Series Logitech Mouse only. So, you cannot use the G Shift feature with other Logitech Mouse versions.
Q : How do you make G Shift act like toggle?
Ans : Suppose you want to configure your Logitech G series mouse to toggle between default and G shift mode. In that case, you can toggle between Logitech's G Hub software profiles. If you want to set the G Shift toggle as a macro to a button, there is no option in G Hub.
Q : Can you change led colour when g shift is active?
Ans : Changing color is independent of G Shift and can be easily configurable from the G Hub software of Logitech. You can easily customize to the desired colors you want during your gameplay, even with the G Shift enabled in your Logitech Gaming Mouse.
Conclusion
Let's conclude the post!
Logitech G Shift is advanced customization for the G series Logitech Mouse which everyone may not need to configure. But if you would like to customize each keyboard command to a mouse, you need the Logitech G Shift. 
I explained the Logitech G Shift and where to find it in G Hub here. I hope you can now configure using G Shift.