If you have the Logitech G-Series Mouse or keyboard and are looking to know what G Shift functionality is, then this is the right place.
So, what is G Shift?

G Shift is an advanced mouse/keyboard button customization option present in Logitech Gaming Hub(G Hub) that acts as a modifier to override the default mouse/keyboard button operation.

With G Shift enabled, the mouse/keyboard button's default actions can be configured to the keys or even a sequence of keyboard keys known as a macro.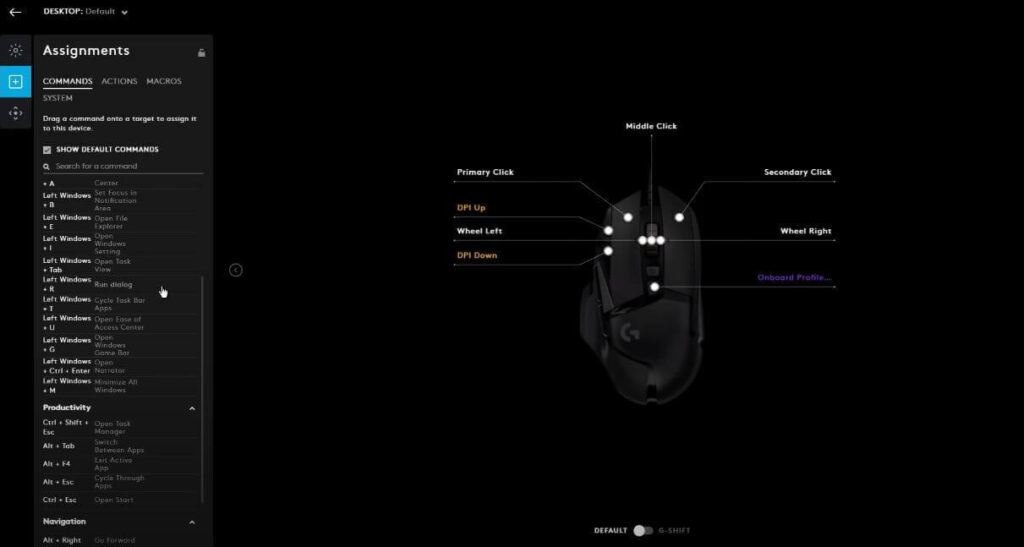 While using the Logitech Gaming Mouse-like G502, G402, G203, or any other you would find in the Logitech Gaming Hub, G Shift has minimal mention. G Shift is a must-to know if you are a pro gamer or advanced customization for your Logitech G series mouse or keyboard.
Let's get started!
About Logitech's G Shift in G Hub
If G Shift is not enabled, the mouse configuration is set as default out of the box, which is ok for most users and gamers.
When you hold down the G Shift button, the button or key will perform the second function that you've assigned to it.
This can be useful for accessing additional commands or macros without having to use multiple keys or buttons. You may also use the G Shift Button as on the Fly DPI shift to change your mouse's precision during the gameplay.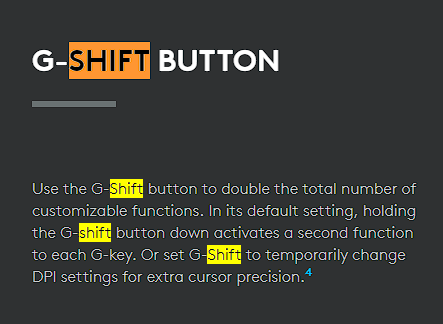 The G Shift button is usually located near the thumb on a gaming mouse or as a dedicated key on a gaming keyboard.
G Shift is only for gamers who need advanced customization for their mouse.
As per Logitech G Hub Manual, you can assign a G SHIFT key to a device, and that G SHIFT key will synchronize on all devices.
For example, you can have a G SHIFT key on your keyboard.
When pressed, your mouse will also enter the G SHIFT mode and vice versa.
To assign a G SHIFT key, navigate to the System tab in Assignments and drag the command to a programmable key/button.
Here is a great gaming mouse from Logitech(a Lightweight one) Check here at Amazon.
G Shift Benefits
G Shift is the most demanded choice. Even pro players love to customize the gaming mouse with the best settings for any competitive gameplay.
G Shift has the following benefits for gamers:
1. Gamers prefer to have their mouse customized as per their comfort and practice.
The different FPS gaming functionalities like switching between weapons, reloading ammo, and triggering become easy.
2. G shift's customization gives you an edge compared to other gamers, which is essential during competitive gameplay.
Even a minor enhancement is due to better peripheral matter.
3. G Shift provides the option to remove unwanted mouse button configurations, which is not needed and helps to override those by implementing the priority functionalities in gaming.
How to reset G Shift?
Suppose you have assigned G Shift to a macro to your Logitech Mouse.
Now, when you try to reset it and set it to another button, it does not change.
If you face the same issue in resetting the G Shift, you need to follow as below.
To reset G Shift in Logitech Mouse, you need to reinstall the G Hub.
This will make the macro assigned to the default settings, and then you can set up and configure the G Shift Macro again.
G Shift vs Default
In the Logitech G Hub, there are two options when assigning any macro to any buttons, G Shift and Default.
You can assign one set of macros to the mouse switches as default and another set of macros as G Shift. So, once you click G Shift, a secondary set of macros would be enabled for the programmed switches.
This feature is present in both Logitech Keyboard and mouse.
Can you toggle G Shift?
You cannot toggle the G Shift button on and off. However, you can use an alternative way to do this.
You can use different profiles and switch between them if you want to get different key assignments.
Logitech Gaming Software (G Hub)
Logitech's Gaming Hub Software, also known as G Hub, is a common portal for optimizing and customizing hardware configuration, lighting all Logitech G gears, including mice, keyboards, headsets, speakers webcams.
You can install G Hub on both Windows and Mac OS.
The software provides an intuitive interface with an array of customization options for gamers, including backlight controls, button mapping, and game-specific profiles.
Advanced Settings Customisation
Logitech G Hub is the software you need to configure every setting you need to configure in your mouse.
G Hub provides all the advanced gaming customization possible with any gaming mouse like Mouse FPS, G Shift for key customization, advanced color customization, and Polling rate.
Synchronization of Colours
Using Logitech G Hub, you can set the lighting settings of your gaming mouse and synchronize between your Logitech Gaming keyboard.
Setting up G Hub Profiles across different Gaming titles
With G Hub, you can customize different settings like Polling Rate, FPS, G Shift, and lighting settings and keep it saved as a profile.
Similarly, you can create multiple profiles for different gaming titles or as you wish. You can choose any profile you wish when you play.
Logitech G Shift FAQs
Q: Can you use G Shift in other Logitech Series Mouse?
Ans: G Shift functionality that overrides the default mouse button configuration with the custom one is available with the Logitech Mouse that supports G Hub Software. G Hub software is only available for G Series Logitech Mouse only. So, you cannot use the G Shift feature with other Logitech Mouse versions.
Q: How do you make G Shift act like a toggle?
Ans: Suppose you want to configure your Logitech G series mouse to toggle between default and G shift mode. In that case, you can toggle between Logitech's G Hub software profiles. If you want to set the G Shift toggle as a macro to a button, there is no option in G Hub.
Q. Can I assign G Shift on a non Logitech keyboard?
Ans: No, you cannot assign G Shift on a non Logitech keyboard. G Shift can be set via G Hub software which detects only some of the Logitech's keyboard and mouse.
Conclusion
Let's conclude the post on G Shift!
Logitech G Shift is advanced customization for the G series Logitech Mouse which everyone may not need to configure.
But if you would like to customize each keyboard command to a mouse, you need the Logitech G Shift.
I hope you liked reading this post and found it helpful. Thanks for Reading!