It's common to use an MSI monitor for watching videos or playing games because the big screen offers a better view. That's why people are buying MSI monitors and linking them with their PC for different purposes.
The most common issue that has been registered by MSI users is that they are gay getting torn screens or flickered screen issues. If you are one of them, you can solve this at home. You don't need to be a professional technician to do this.
In this post, we would look into the common flickering issues in MSI monitors and how you can fix your Flickering MSI Monitor.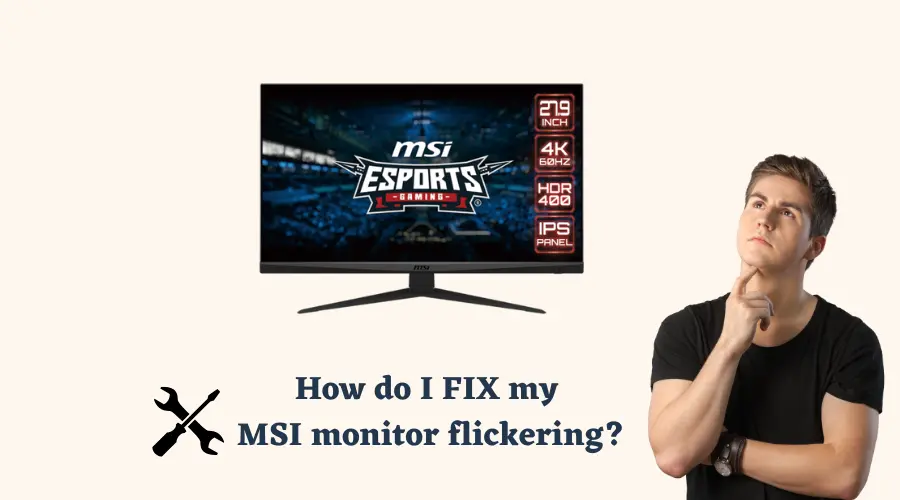 Let's get started!
Flickering Issues Commonly Noticed in MSI Monitors and Reasons
MSI monitors are generally linked with a premium refresh rate display so they support VRR by default. VRR, also known as Variable Refresh Rate, allows the display of the monitor to sink the refresh rate with FPS while playing games.
This ensures that the image does not tear and the game is played at the highest possible quality. If your monitor does not allow VRR, then you can't play games as specific games require VRR support.
Sometimes, the screen starts displaying flickering lines when you play certain games under MShybrid mode. If this is the case with your monitor you need to disable VRR by going into the system settings. The flickering line issue can occur due to other reasons as well.
It can be a hardware or software issue. You need to find out the problem soon and troubleshoot it. Otherwise, your monitor can have permanent damage.
If you see flickering lines or vertical stripes in between the game, it can be really annoying. There can be other image issues like the dimming of the screen, bright screen, image distortion, corrupted pixels, jittering, or the monitor taking long to turn on.
Your main goal should be to find the reason behind the sudden hindrances. If you have found the root cause and solved it, you will be able to solve more than one problem at a time.
Let's look at the most common problems with MSI monitors and their causes.
MSI monitor flickering Lines
When the MSI monitor screen starts flashing, pixelation or blinking, then the hardware system is to blame. Another possible cause of continuous flickering can be hardware glitches like damaged display cards or screen panels.
While checking the reason behind flickering lines on the screen, users often forget to check the driver. The driver should not be corrupted or flagged by antivirus. If this is the case then the driver should be updated or changed. After checking the above factors also examine if there are no swelling capacitors or overclocking issues.
MSI monitor flickering ON and OFF
If the MSI monitor keeps flickering on and off, then it's a warning sign that something might be off with the video cable or power supply. Either the power supply is supplying non-uniform voltage to the device or the cables and connectors are poorly connected.
Sometimes the connectors become loose so that they detach from the device and the signal is disturbed. PC short-circuits owing to residual power.
Similarly, warped, bent, or broken wires can't contribute to sending signals to your monitor. If the video card in your monitor is not synchronized with the refresh rate, then it may produce flickering images.
MSI monitor bottom of Screen Flickering
When a fixed part of the monitor like the bottom of a screen starts flickering, then it's highly likely that the screen is malfunctioning. Either you need to find the malfunctioning component and repair it or replace the whole monitor.
Additionally, another factor that causes screen flickering can be a manual change in settings. For instance, if you have activated the auto-dimming feature or changed the video settings level then the screen won't give a smooth viewing experience.
How do I fix my MSI monitor's flickering Lines?
Disable Variable Refresh Rate(VRR)
To disable variable refresh rate or VRR, you need to click on Windows > Settings > Display > Graphics. Then you will have to find graphics settings and change it to default. Finally, toggle it to disable VRR.
Check Connections of Power cables and cords
Check the power cord along with other connection wires properly and make sure they are properly fitted into the device and the outlet. If there are damaged cables or wires then you need to replace them for better functioning.
Sometimes HDMI or display port cable starts dying which causes your monitor to flicker. Additionally, VGA or DVI cables also show errors when they get old. Hence, make sure to check both ends of every cord so that everything is running smoothly.
Update the Display Drivers
After sorting the power cable problem, you need to check if the display drivers are updated and working at their best. First, uninstall the driver by heading to the device manager of your windows. Next step on uninstalling the device.
When it is done, right-click on your windows icon and click on Apps And Features. Then tap the chipset vendor your device has to uninstall the driver. The next step is to download an official driver of the MSI monitor.
Explore MSI's official website on your device and look for your motherboard. You will get a related driver to download. When you get the matching result, click on download. You'll get the file in a compressed folder that will have to unzip.
Select Extract All after pressing the right-click button using the mouse on the downloaded file. Keep clicking all the popup options that come on the screen to complete the installation process.
How do I fix my MSI monitor flickering On and Off?
Check Video card Connection
If you find your video card is not properly attached to the motherboard then you need to press it firmly. Also, ensure that the video card drivers are updated to the latest version. In case the PCIe slot of the motherboard stops working then place the card in another slot.
Release the PC's Residual power
When a PC stores residual power and starts sending this power to the device, then the images on the monitor get affected. You need to ensure that your PC is not holding any residual power to avoid the risks of short-circuiting.
Turn your PC off along with all connected wires and accessories. Press the power button on the PC for at least 20 seconds to release all the residual power. Now, you can connect everything and turn on your TV.
How do I fix my MSI monitor's Bottom Screen Flickering?
What are the display settings of your PC? Check if everything is okay.
You should change the brightness, contrast, and other elements a lot from their previous scale. Additionally, deactivate the auto-dimming feature. Lastly, ensure that your monitor is working fine and is not defective. If it is, you need to repair or replace it.
Conclusion
Let's conclude the post on how you can fix your MSI monitor flickering!
Even if applying these solutions if you still face Flickering issues, you can reach out to MSI Customer Support and raise a ticket with them.
I hope you liked reading the post.