Logitech M310 and M510 are both Wireless mouses from Logitech with an ambidextrous design. If you want to know the actual differences and compare m310 and m510, this is the right post.
I would cover all the aspects like Design, Comfort, Performance, Battery life, and more to make the head-to-head comparison of Logitech M310 vs M510. 
Let's start the comparison between the two great wireless mouse competitors!
Logitech M310 vs M510
| | | |
| --- | --- | --- |
| | Logitech M310 | Logitech M510 |
| Type | Wireless Mouse | Wireless Mouse |
| Design | Ambidextrous Design | Ambidextrous Design |
| Size | Full-Size Mouse | Full-Size Mouse |
| Dimension | Height: 4.37 in (111 mm)Width: 2.44 in (62 mm)Depth: 1.54 in (39 mm) | Height: 4.72 in (120 mm)Width: 2.56 in (65 mm)Depth: 1.6 in (41 mm) |
| Weight | 99 g with batteries | 129 g with batteries |
| Tilt Wheel | Not Present | Yes |
| OS Support | Windows, Mac OS, Chrome OS, Linux | Mac OS, Windows |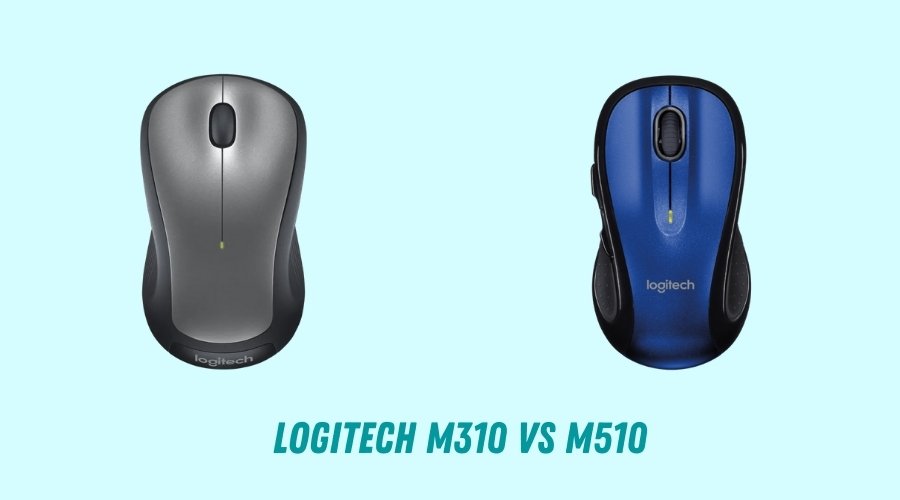 Logitech M310 Review
Logitech M310 is a wireless mouse from Logitech and has an ambidextrous design. This mouse is a full-sized mouse and has lightweight as compared to M510. The Logitech M310 weighs about 99 g with batteries.
Logitech M310 has an excellent battery life of 18 months which is a highlighting feature of this mouse. So, for this mouse, the battery is long-lasting and dependable. The connectivity is using the 2.4 GHz connection using the Nano Receiver.
This mouse has coloured variants like Dark Grey, Flame Red Gloss, and Peacock Blue. The colours are great and provide a variety of options to choose from.
In this video, find the unboxing of the M310 mouse. Also, you will get a clear idea about the mouse size, features, and performance from this video.
???? Check this Logitech M310 at Amazon
Logitech M510 Review
Logitech M510 is a wireless mouse with an Ambidextrous shape from Logitech. This mouse also has a sculpted shape to fit your hand. This mouse has rubber grips on its sides as additional comfort. 
The rubber grip helps to use this mouse for long hours without any issue. This mouse is excellent in terms of productivity also. M510 has five programmable buttons, which you can customise in the Logitech Options software. The scroll wheel makes us scroll line-by-line effectively and is made of rubber.
The battery life of the M510 is 24 months which is excellent for a wireless mouse. This mouse has colour options like Black, Blue, and Red. So, you get ample colour options to choose from.
The M510 supports 2.4 GHz up to 10m using the Logitech Unifying Receiver in terms of connectivity.
In this video, find the unboxing and detailed features of the Logitech M510 mouse. This video would help you to know in detail the real feel of the M510 mouse.
???? Check this Logitech M510 at Amazon
Downsides of M310 and M510
Both the mouses are full-sized. So, if you have small hands, then these may feel bigger. Then you may choose M317 as an alternative.
As the tracking is Optical for both of these mouses, you need to avoid directly using these mouses on reflective surfaces like glass. Optical Tracking does not work well on reflective surfaces. To overcome this you may use a mousepad while using it on a reflective surface.
Which is better between M310 and M510?
Both the mouses are Wireless Full-Sized mouses with ambidextrous shapes. Overall, in terms of performance, both are good.
However, in terms of weight, M510 is heavier than M310. The programmable buttons on the M510 add additional functionalities to the mouse that can be configured using Logitech Options Software.
In terms of battery life, M510 lasts for about six months more than M310.
????I would highly recommend the Logitech M510 mouse which you can find at Amazon. (Check Price: Logitech M510)
FAQs on M310 vs M510
Is the Logitech M510 good for gaming?
M510 is good for any general tasks and for casual gaming. For FPS gaming M510 being a wireless mouse is not recommended.
Is Logitech M310 Unifying?
M310 does not support the Logitech unifying receiver. Logitech M310 wireless mouse supports the Logitech Nano Receiver.
Does Logitech M510 work with Windows 10?
Logitech M510 works well with Windows 10.
Conclusion
Let's conclude the comparison! Here, though I compared the two mouse M310 and M510, M510 is costlier compared to M310. If you are looking at the budget also, then M310 would be a great choice. 
I hope you liked the comparison between the two wireless mouse from Logitech.