If you are owning a Hisense TV, then you may or may not have the Google Play store installed as in other Android TV. Your Hisense TV may not be an Android TV at all. There are several non-Android Hisense TVs based on Vidaa Os and more.
In that case, you may not find the regular app store on your Hisense TV. But, what's next? How will you access your favorite apps there?
In this post, I will discuss in detail about reasons behind the No Google Play Store on Hisense Smart TVs and fixes to find alternative ways to install and use the different apps which we get on the play store.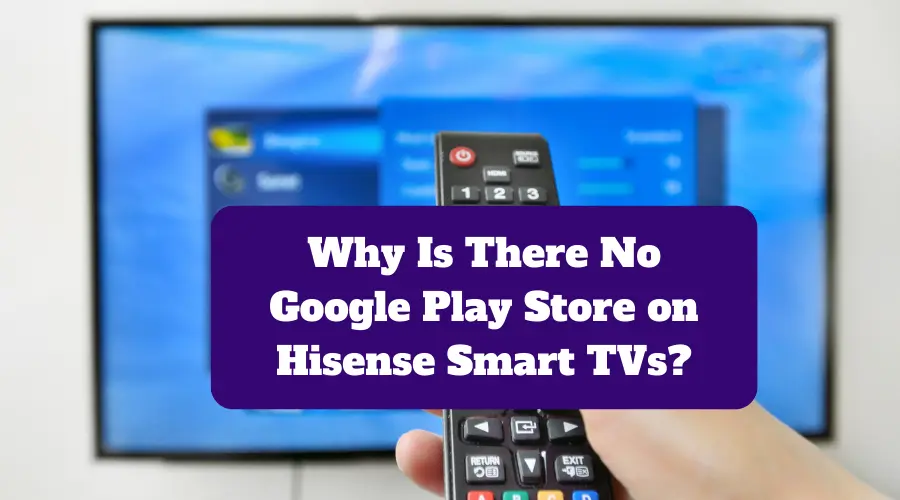 Let's get started!
Why does my Hisense Smart TV not have Google Play App Store?
In the generation of Smart TVs, Hisense offers choices with Android TV, Fire TV, Google TV, Roku TV, Vidaa TV, and XClass TV.
You get access to the entire google network easily with Android TV and Google TV.
However, Smart TVs do not always come with the Android operating system. Various Smart TV OS is used by different brands. It is not obvious to own an Android TV that may have the Play store pre-installed.
Although all Hisense TVs in the US are built on the Android Smart TV platform or Roku TV. Not all Smart TVs come with the Android operating system.
In case the Google Play store is not in the category, select apps and then select Google Play Store or get more apps. From Google's application store you can browse for applications from Google play and download and install them on your TV.
Can I install the Google Play store on my Hisense Smart TV if it is not Android?
You can enjoy Hisense Smart TV features and its picturization by acquiring extra applications from the Google Play store. With devices turning Smart these days technology has become people-friendly.
With the Google play store application, you can download and use whatever pleases you. You can play video games, watch movies and install Kodi on Hisense Smart TV.
Be sure to check out the compatibility of your Smart TV with the play store.
This procedure is a simple and easier task than thought. You only need to click on the Home Button. If you find a Play store icon then downloading it is suitable for your TV.
If your Smart TV runs on Android OS, you can install the Google play store app. Hisense TVs are Android based and use an Android player app.
Hisense TVs have an Android TV user interface, but not all of them have the Google Play store on them.
However, Smart Hisense TV with Android OS offers a native game store. Issues arise when some operating system does not come with the possibility to get a Play store on your Smart TV.
For such conditions, there are solutions too.
Google Play store has a wide variety of apps to satisfy users' needs and tastes. Hisense Smart TVs are customized with multiple HDMI ports equipped with a TV box.
With the advancement of technology and additional features on TVs offered by popular brands, you can enjoy activities on your Smart TV by mirroring your Smartphones screen.
You can get the Google Play store on your Hisense Smart TV.
1. By MultiScreen Method
By the Multiscreen method, you can access another device through the internet and share the screen of both devices.
Reach out to the 'options' of your Hisense Smart TV to activate the multiscreen and then to detect your mobile.
Check out your mobile phone's ability for screen sharing options. Completing the process you can sync both your devices through the same Wifi-network.
Sharing your phone screen with your Hisense Smart TV you can enjoy a specific app in high-definition mode.
2. Screen Mirror
Another possibility to get the Google Play store in Hisense Smart TV is to mirror your apps available on Hisense Smart TV. With the screen-sharing option, you can connect the two devices without any wired connection.
To get high definition you need to sync the two devices. Once done with this procedure, share your mobile screen to play media context.
Hisense manufactures Smart TVs based on Android TV and has a native play store.
Some of its models namely the H6G and H8G series are equipped with the VIDAA Operating System. Such models make it impossible to download the Play Store.
How do I get Apps on my Hisense Smart TV using the Hisense VIDAA App stores?
The VIDAA APP is available for both iOS and Android as well. To have surety on the correct version of your app for your TV, go to your TV settings and select Support> Mobile App. Instantly download the app by scanning the QR code that appears on your screen.
VIDAA makes it easy to connect any device to your Hisense TV. Remote Now switches your Smartphone into an extension of your Hisense TV which you can use as an extra remote control.
It helps you to stream content directly onto your TV as a media device. You can use your phone to browse photos, play videos, and stream content from all your favorite apps, directly on your TV.
Voice assistance technology further helps to search, watch, play and pause content using only your voice.
Playing music from your phone through your TV is another sparkling feature of VIDAA 4's Bluetooth connectivity.
About the VIDAA App store and what apps are available on Hisense Vidaa?
Vidaa Smart OS is a Linux-based open Smart TV Operating System capable of running Android 4.2.
The Vidaa Smart Remote App provides all functions of your TV remote making it a convenient way to control any TV running the VIDAA Smart TV OS.
To download apps on Hisense Vidaa, you just need to click the app you want to install – Click the install button and you are there right away. Vidaa OS is user-friendly with Hisense Smart TVs
The Vidaa app is available for both iOS and Android.
Hisense Smart TVs with VIDAA operational system offer instant access to your favorite series and apps from Netflix, Youtube, DSTV, Showmax, DEOD, Viu, and many more.
Although Android TV and Roku are popular when it comes to Hisense Smart TV platforms, a good proportion of their devices are powered by Hisense's in-house VIDAA-U.
Contrarily, Vidaa isn't a desired fashion in the US. A striking feature of VIDAA is its immediate bootup. VIDAA loads your go-to TV input source by default which can be a set-top box, an Android TV, Xbox, or a Play station considering anything you hook up via HDMI.
Hisense has a home screen where VIDAA OS customizes the navigation bar on top of the screen.
VIDAA navigation bar is home to Smart TV apps and features such as Input, All apps, Any view Cast, Games, Media, YouTube, Netflix, etc.
The order of the apps is fully customizable. Moreover, with the connectivity of your remote and Smart TV, you can leave your apps open in the background for switching between apps with VIDAA.
Casting your laptop or Smartphone screen is a test of patience in VIDAA though.
VIDAA OS is satisfying when it comes to saving you from thousands of apps at your disposal. It has an intuitive design without frills.
VIDAA has remarkably gained popularity enticing some popular named apps.
Conclusion
Let's conclude the post on the topic of having No Google Play Store on Hisense Smart TVs!
So, whichever OS Hisense TV you are using, you will get all your apps in some other way if you don't get direct access to Google Play Store.
If you only want the direct Google Play store, try to get a Hisense Android TV. Otherwise, your Vidaa App store will be the one helping you to get all the apps you need.
I hope you liked reading the post and found it useful.