If you are looking for a keyboard that would occupy less desk space, then the 60% and 65% keyboards are excellent options. In this post, I would cover every difference and gradually find out which would be better for you.
Unlike the Full-sized keyboards, there are other keyboard sizes like 60% and 65% that eliminate some of the keys not used by many. Both the 60% and the 65% lack the number pad on the right of the keyboard.
If you are a programmer or a gamer, you may less need the num keys on the right side of the keyboard. For banking professionals or accountants, this Numpad may be harder to eliminate as they use it often.
Let's dive into the differences between the 60% and 65% keyboards.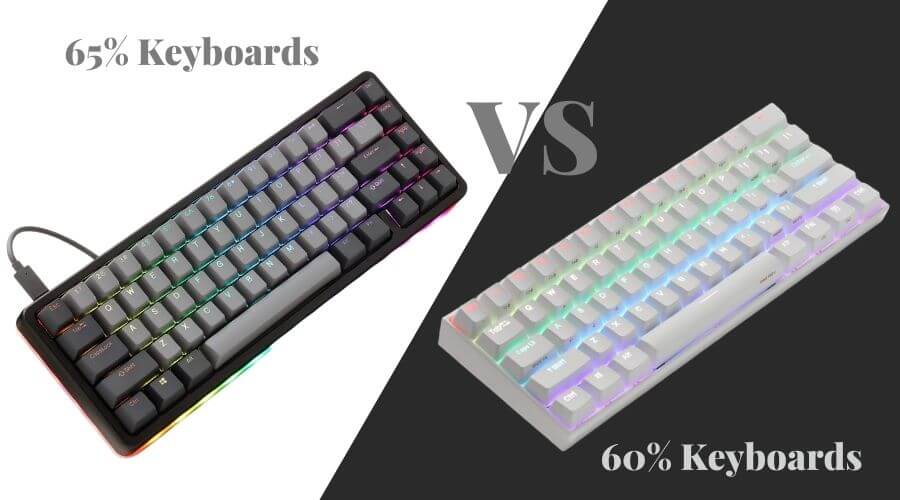 60% vs 65% Keyboards
| | | |
| --- | --- | --- |
| | 60% Keyboards | 65% Keyboards |
| Number of Keys | 61 keys | 66-68 keys |
| Keys Eliminated | Arrow keys,Home cluster,Number Pad, andFunction keys | Number padFunction KeysFew Home Keys missing |
| Gaming | Lacks arrow keys, not so good for gaming | Great for Gaming |
| Travel Friendliness | Yes, very compact | Yes, compact and feature-rich |
| Overall Experience | Good | Great |
What are 60% keyboards?
60% keyboards are a compact version of keyboard layout, unlike the full-sized keyboards. These 60% keyboards have an average of 61 keys.
The 60% keyboard design has an ultra-compactness that helps it achieve the keyboard's basic functionalities, eliminating some of the keys.
What are 65% keyboards?
The 65% keyboard layout is a compact layout that came from the full-sized keyboard layout but eliminates some keys like number pad, function keys, and a few home keys. 
The 65% keyboards have 66 to 68 keys with which you can have almost all the functionalities like a full-sized keyboard.
Here, is a great 65% keyboard at Amazon.
Keyboard Layout Comparison
Design & Build
The 60% and 65% keyboard design is very compact and takes very little space on the desk.
They look clean and very minimalistic with a fewer number of keys. 
In terms of build, it depends on the body of the keyboard. The keyboards with Aluminium bodies are very durable.
Size
In terms of size, the 60% keyboard feels more compact than the 65% keyboards, which are excellent to carry the keyboards with you.
However, the lack of arrow keys in the 60% keyboards feels initially very hard to compensate. You would need to re-learn to use this 60% keyboard again. 
Performance
Both the keyboards have no limitations in performance. However, as these are smaller layouts, you may initially feel the lack of Fn (F1-F12) function keys, the number pad on the right that you typically get in a full-sized keyboard.
After a few days, you will be getting used to these newer and smaller layout options. However, with the 60% keyboard, you won't get the regular arrow keys essential for gaming.
You can check here the best 60% keyboards.
For that, you can use any other set of keys. For gaming, 65% would be a better one. 
In this video, you can find the actual size and feel of the 60% and 65% keyboards.
You will also get an idea of how it will be in real life if you choose any one of these layout keyboards.
Hey, check this excellent 65% keyboard at Amazon.
Conclusion
Both the 60% and 65% keyboards are very much space savers and are popular among keyboard enthusiasts.
The mechanical keyboards with compact size add a lot of greatness and eliminate any bulkiness of the full-sized keyboard retaining vital functionalities.
I hope you liked the comparison between the 60% and 65% keyboards. I would highly recommend you to check the best 65% keyboards.