If you are looking for a mechanical keyboard that would occupy less desk space, then the 60% and 65% keyboards are excellent options.
In this post, I would cover every difference and gradually find out which would be better for you.
Unlike the Full-sized keyboards, there are other keyboard sizes like 60% and 65% that eliminate some of the keys not used by many.
Both 60% and 65% lack the number pad on the right of the keyboard.
If you are a programmer or a gamer, you may need the num keys on the right side of the mechanical keyboard.
For banking professionals or accountants, this Numpad may be harder to eliminate as they use it often.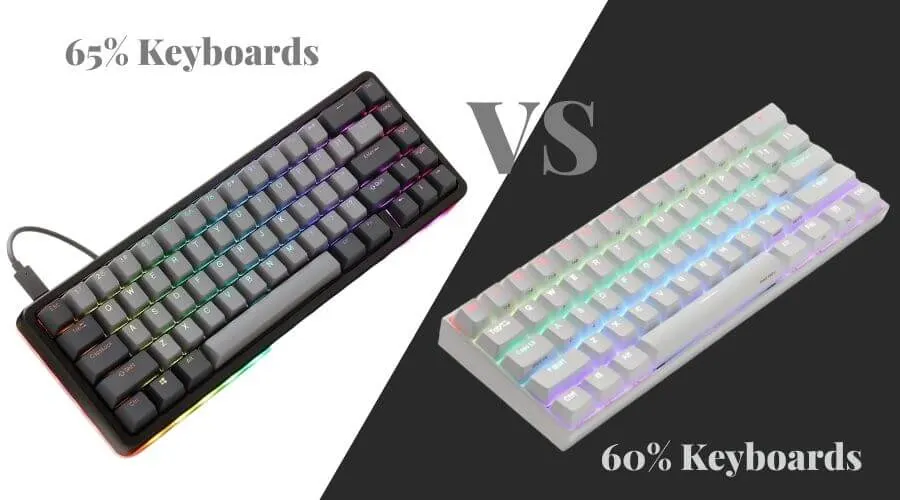 Why Should you Trust Me? Hi, I am Anirban Saha, an Engineer with a Specialization in Electronics and Communication Engineering. I have experience in Smart TVs, Electronics circuits, and Computer peripherals.
Let's dive into the differences between the 60% and 65% keyboards.
60% vs 65% Keyboards
| | | |
| --- | --- | --- |
| | 60% Keyboards | 65% Keyboards |
| Number of Keys | 61 keys | 66-68 keys |
| Keys Eliminated | Arrow keys, Home cluster, Number Pad, and function keys | Number padFunction KeysFew Home Keys missing |
| Gaming | Lacks arrow keys, not so good for gaming | Great for Gaming |
| Travel Friendliness | Yes, very compact | Yes, compact and feature-rich |
| Overall Experience | Good | Great |
What are 60% keyboards?
60% keyboards are a compact version of the standard keyboard layout, unlike full-sized keyboards. They have an average of 61 keys. They have alphanumeric keys and the specialty is its Fn key which opens up a set of commands when pressed.
The 60% keyboard design has an ultra-compactness that helps it achieve the mechanical keyboard's basic functionalities, eliminating some of the keys.
60% keyboards have a few missing keys including the Number pad, F keys(Function keys), navigation keys, and arrow keys.
If Arrow keys are important to you then you get a substitute here using the I, J, K, and L button.
Here are the special functions using the Fn key:
With Fn Keys, the top Numeric Keys perform like the F1 to F12 keys.
Other keys like I (Up Arrow Key), J(Left Arrow Key), K (Down Arrow Key), and L (Right Arrow Key) perform like arrow Keys.
Y works as Insert Button,
H works as Scroll Lock,
O as Pause Button,
P as Page Up, etc.
What are 65% keyboards?
The 65 percent keyboard layout is a compact layout that came from the full-sized keyboard layout but eliminates some keys like number pad, function keys, and navigational keys. They do have alphanumeric keys, modifiers, and arrow keys.
65 percent keyboards have 66 to 68 keys with which you can have almost all the functionalities like a full-sized keyboard.
Here, is a great 65 percent keyboard at Amazon.
Keyboard Layout Comparison
Keyboard Design and Build Quality
The 60% and 65% keyboard design is very compact and takes up very little space on the desk.
They look clean and very minimalistic with a fewer number of keys.
In terms of build, it depends on the body of the keyboard. The keyboards with Aluminium bodies are very durable.
Also, choosing a high-quality mechanical switch variant like the Cherry MX switch is great to have with these keyboards.
Also, you can choose from the several Cherry MX clone keyboard switch options and even other good brands like Gateron switches.
For the Keycaps on these keyboards, the PBT keycaps are great and are of higher quality as compared to the ABS Keycaps. Check the comparison of ABS vs PBT keycaps to know in more detail.
These would be essential to know if you would like to customize your compact keyboard and make it like a custom keyboard.
Keyboard Size
In terms of Keyboard size, the 60 percent keyboard feels more compact than the 65% keyboards, which are excellent to carry the keyboards with you.
However, the lack of arrow keys in the 60 percent keyboards feels initially very hard to compensate for. You would need to re-learn to use this 60 percent keyboard again.
On the other hand, a 65 mechanical keyboard has dedicated arrow keys in its layout.
Gaming Performance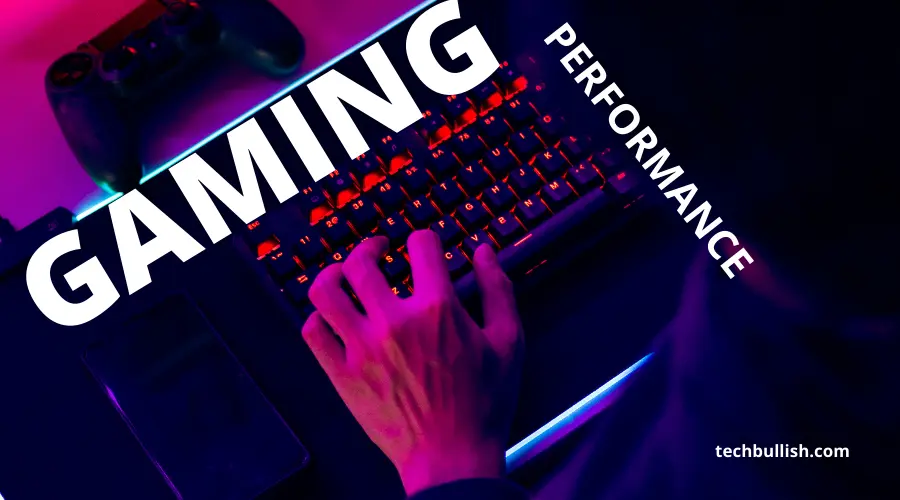 Both the 60 and 65 percent keyboards have no limitations in performance.
However, as these are smaller layouts, you may initially feel the lack of Fn (F1-F12) function keys, the number pad on the right that you typically get in a full-size keyboard.
After a few days, you will be getting used to these newer and smaller layout options. However, with the 60% layout gaming keyboard, you won't get the regular arrow keys essential for gaming.
For that, you can use any other set of keys. For gaming, 65% would be a better one.
In this video, you can find the actual size and feel of the 60% and 65% keyboards.
You will also get an idea of how it will be in real life if you choose any one of these layout keyboards.
Typing Performance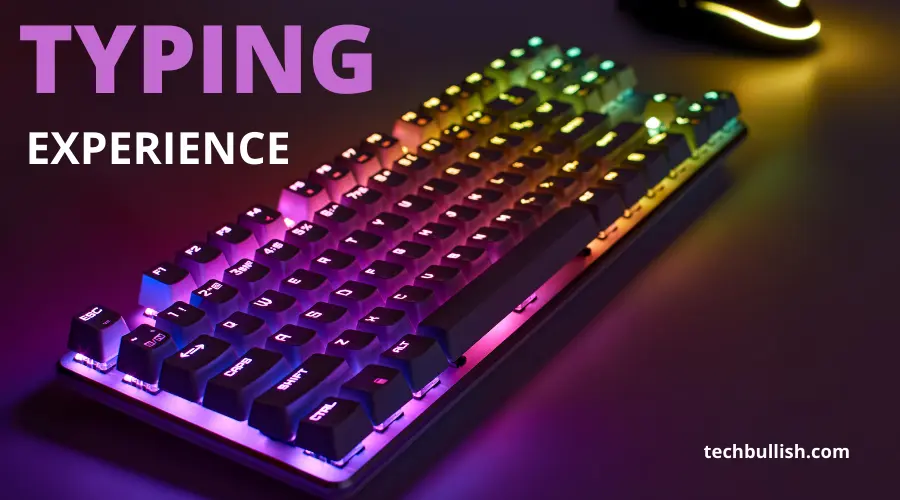 Are you looking for a keyboard that will make your typing faster and more accurate?
If so, you may be wondering if there is a difference in performance between 60% keyboards and 65% keyboards.
The 65% keyboards are slightly better for typing performance. This is because the 65% keyboard has a few extra keys that can help with certain tasks, like formatting text or inserting special characters.
However, it is important to keep in mind that everyone's typing style is different, so you may not see a difference in performance between these two keyboards.
If you are unsure which keyboard to choose, it may be worth trying out both options to see which one feels most comfortable and natural for you.
You can consider the Brown switch options when choosing a keyboard for typing as they give you a tactile feel without much noise.
You can choose a wireless keyboard too for typing from 60% or 65% keyboards. A good choice is the Anne Pro keyboard and Keychron K6 keyboard.
60% vs 65% Keyboard for Programming
A 60 keyboard or a 65 keyboard does not have a number pad on the right as it is there in a Full sized keyboard.
This can be helpful when you're doing calculations, but it also takes up space on the right side of the keyboard that could otherwise be used for your hands.
Some programmers prefer to use a 60% keyboard when programming in spite of their lack of arrow keys in them.
The 60% keyboard has fewer keys than the traditional keyboard, which some people find helpful because it can limit the amount of extraneous movement.
Also, it takes less space on your desk and looks great on your desk.
65% keyboards are awesome for programming too.
Overall, both keyboards are good for programming. It really depends on what works best for you and what you're most comfortable with.
Is a smaller keyboard better?
There are a few different schools of thought on the matter of keyboard size.
Some people believe that a smaller keyboard is better because it is more comfortable to use and can be carried around more easily.
Others believe that a larger keyboard is better because it is easier to type on and offers more space for keys.
I am a fan of smaller keyboards like 60% and 65% keyboards as they take up much less space and look beautiful in the workspace.

Unless you do accounting and need the Numpad on the right, a smaller keyboard eliminates those redundant keys and makes the keyboard more compact and useful.
Whether you prefer a smaller or larger keyboard really depends on your own personal preferences. If you like to have a lot of keys at your disposal and you don't mind the extra bulk, then go for a larger keyboard.
If you want a mechanical keyboard that's more portable and takes up less space than a 60 vs 65 keyboard, then go for the smaller one ie. a 60 percent keyboard.
Another compact keyboard can be a 40 keyboard which is even smaller and more compact than the 60 keyboards.
And in a bigger variant of a 65 keyboard, you get a 75 keyboard, a TKL Keyboard(Tenkeyless keyboard), and an 80 keyboard.
Which is better between 60% and 65% keyboard?
When it comes to compact keyboards, 60 percent and 65 percent are two common options.
They both have their own advantages and disadvantages, but which one is the best for you?
60% keyboards are better if you need the most useful one taking the least amount of space. A little bigger but compact one is the 65% keyboard which is also good.
If you are used to a normal keyboard layout then the 65% keyboard would be easier to use as compared to 60%. In 60% keyboard, you would need to learn to adapt to a new set of shortcut keys for arrow keys, home buttons, and more.
Actually, Both of them are great for gaming and typing. It now depends on you which one would you like to opt for.
My Keyboard Choices
65% Keyboards
Here are the best 65% keyboards to choose from:
Sale
Bestseller No. 1
Sale
Bestseller No. 2
Sale
Bestseller No. 3
Last update on 2023-10-03 / Images from Amazon Product Advertising API
To know more in detail about the 65% keyboards, you can read this complete guide here.
60% Keyboards
Here are the best 60% keyboards to choose from:
Last update on 2023-10-03 / Images from Amazon Product Advertising API
To know more in detail about the 60% keyboards, you can read this complete guide here.
FAQs on 60% vs 65% Keyboards
Q. Are 65% keyboards good for typing?
65% keyboards are good for typing. They have a standard layout that makes them easy to learn and use. Additionally, they have a number of features that make typing more comfortable and come in a compact size.
Q. Are 60% keyboards too small?
A 60% keyboard size is not too small. In fact, many people prefer smaller keyboards because they are easier to use and take up less space.
Q. Why do gamers use 60% keyboards?
Gamers use 60% keyboards because of their compact size which makes these keyboards easy to carry. They get all the essential keys at a compact size and other keys can be configured as a macro.
Other Similar Size Keyboard Comparison
To know about the different keyboard sizes, you can check this article here.
Now, here are the comparison of more specific sizes of keyboards below:
Conclusion
Let's conclude the post on 60% vs 65% Keyboards!
Both the 60% and 65% keyboards are very much space savers and are popular among keyboard enthusiasts.
The mechanical keyboards with compact size add a lot of greatness and eliminate any bulkiness of the full-sized keyboard retaining vital functionalities.
I hope you liked the comparison between the 60% and 65% keyboards.
Thanks for your feedback!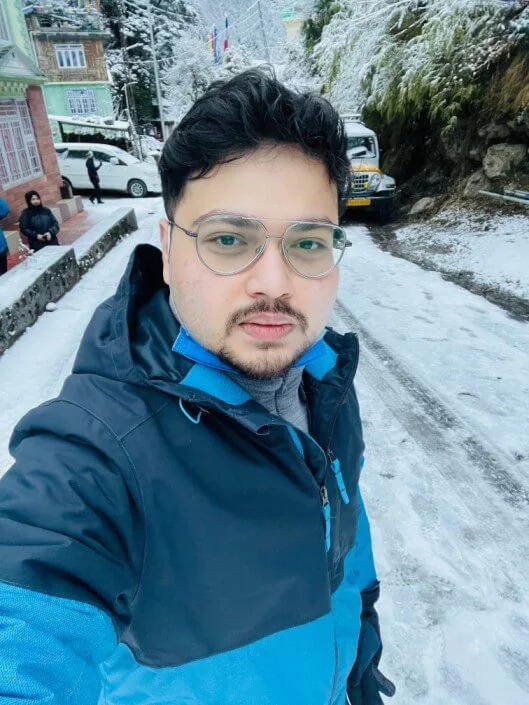 I'm Anirban Saha, Founder & Editor of TechBullish. With a B.Tech in Electronics and Communication Engineering, and 5+ years of experience as a software developer, I have expertise in electronics, software development, gadgets, and computer peripherals. I love sharing my knowledge through informational articles, how-to guides, and troubleshooting tips for Peripherals, Smart TVs, Streaming Solutions, and more here.