Logitech is a popular computer peripheral company that has a wide range of products. Both the B170 and B175 are from the budget range of wired optical mouses from Logitech. If you are looking for the differences between Logitech B170 vs B175, this is the right post.
This post compares the two wireless mouses from Logitech, so this will be a head-to-head comparison considering the connectivity, design, build quality, performance, and each of the features these mouses have.
Let's get started!
Logitech B170 vs B175
| | Logitech B170 | Logitech B175 |
| --- | --- | --- |
| Mouse Type | Wireless | Wireless |
| Design | Ambidextrous | Ambidextrous  |
| Connectivity | 2.4 GHz with USB Nano Receiver | 2.4 GHz with USB Nano Receiver |
| Dimension | Height: 97.7 mmWidth: 61.5 mmDepth: 35.2 mm | Height: 97.7 mmWidth: 61.5 mmDepth: 35.2 mm |
| Weight | 70.5 gm(with battery) | 100 Grams(with battery) |
| Battery Life | 12 months | 12 months |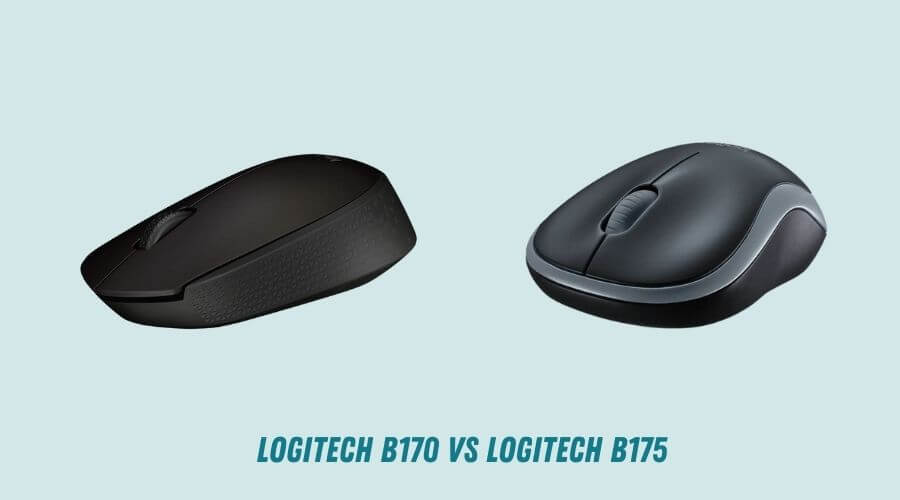 Logitech B170 Review
Logitech B170 is a good wireless mouse from Logitech. It supports Wireless Connectivity using a USB Nano Receiver. B170 is a great budget wireless mouse. In the budget, the features have been excellent.
The mouse is light also, which is great for usability for those who like a light mouse. In terms of build quality, this mouse is great.
In the video, you would find the unboxing with detailed information on the features of Logitech B170. This video would help you to get a better knowledge of how this mouse will perform.
Logitech B175 review
Logitech B175 is a wireless mouse with an Ambidextrous shape from Logitech. The quality of wireless connectivity for this mouse is excellent. The connection stability works well and does not lag even a bit with heavy uses.
Logitech B175 has a battery life of 12 months, which is good to have. The battery gets saved by the Power saver mode present in the mouse. 
In this video find the detailed features and unboxing. This would help you to know how the mouse would feel in real usage.
Which is better between B170 and B175?
As for B170 and B175, both have similar features to a basic wireless mouse. Availability may be different for the mouse in different countries.
According to the availability you can choose one of them. B170 being a lighter mouse, I would prefer more as compared to the B175.
I would not consider a 100 g mouse as a heavy mouse. But if I consider the weights, the B170 is much lighter than B175.
Downsides of B170 and B175
For B170, I feel the mouse is justified with the features quite well. I did not find many cons to consider for the B170 wireless mouse from Logitech.
For B175, the mouse has no issues highlighting and covers basic features quite well. 
FAQs on B170 vs B175
Q. Is Logitech B170 a good mouse?
Ans. Logitech B170 has a good build quality, high performance in terms of mouse usability and performance. The easy plug-and-play using nano USB cable makes the setup very fast and easy using a 2.4 GHz Bluetooth connection.
Q. What is the DPI of Logitech B170? 
Ans. The Logitech B170 has a DPI of 1000.
Q. Is Logitech B175 good for gaming?
Ans. Logitech B175 has a good performance in terms of usability. It does not lag for normal usage. But if B175 is used for FPS gaming, then there can be frame drops and lags. B175 does not have a very fast response time. Hence, B175 is not good for gaming.
Conclusion
Let's conclude the post!
As you come this far, I hope you have clearly understood the comparison of Logitech B170 vs B175. This post was the comparison between two promising wired Optical Mouse from Logitech in the budget range.
If you liked this post, feel free to share.