Here I would compare G203 vs G403 and help you choose a better gaming mouse for your professional Gaming.
Let's get started with the review! I would comprehensively cover each aspect in detail and my in-depth review for this mouse. This article would help you to decide and choose in-depth about the two mice. 
As I am covering the comparison between the two gaming mice, I would focus mainly on performance, comfort, DPI adjustments, and advanced features important for Gaming.
Logitech G203 vs G403 Prodigy Tabular Comparison
| | | |
| --- | --- | --- |
| Comparison Criteria | Logitech G203 | Logitech G403 |
| Mouse Type | Wired Gaming Mouse | Wired Gaming Mouse |
| Mouse Size | Full-Size Mouse | Full-Size Mouse |
| Gaming Sensor | Gaming Grade | Gaming Grade(PMW3366) |
| Programmable Buttons | 6 button | 3 buttons |
| Logitech Options | Yes | Yes |
| Silent | No | No |
| Good For Gaming | Yes Excellent For Gaming | Yes Excellent for Gaming |
| DPI | 200-8000 DPI | 200-12000 DPI |
| Weight | 85g | 87.3g(+ 10g optional additional weight) |
| Cable | 2.10 m non-braided cable | 2.10 m braided cable |
| Design Type | Ambidextrous(both for left and right-hand use) | Ambidextrous(both for left and right-hand use) |
| | | |
| Bluetooth Support | No | No |
| Supported OS | Windows OS, Mac OS, Chrome OS, Linux | Windows 10 or later, Mac OS 10.5 or later, Chromebook OS, Linux. |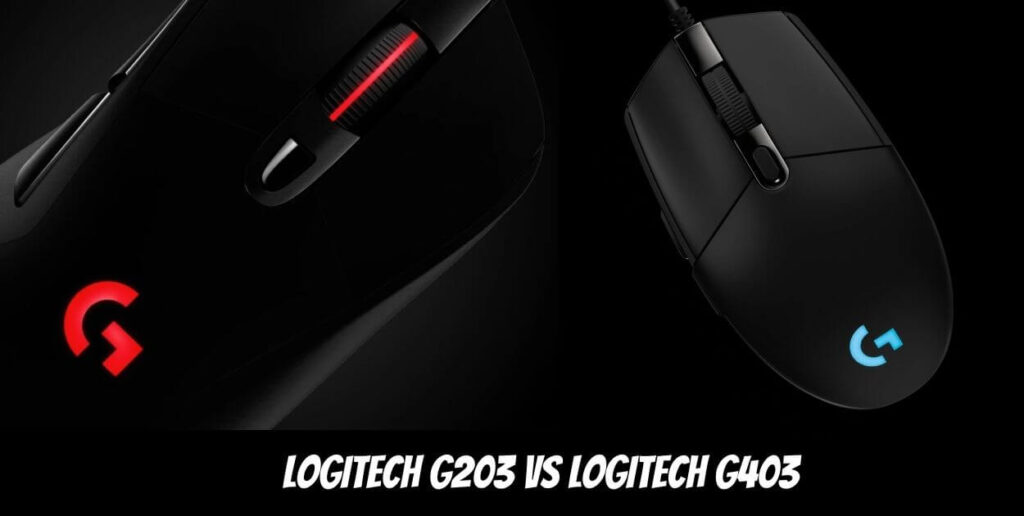 Variable DPI
Logitech G203 has an option where the gamers can configure the DPI from as low as 200 to a max of 8000 DPI. This DPI change is vital for different genres of gaming.
Like in FPS gaming, though, you need a high DPI while aiming to reduce their DPI. A combination of a light mouse with a low-DPI is fantastic.
Logitech G403 can have a low DPI of about 200, but its max DPI is large. You can increase DPI up to 12000.
So, in terms of DPI, the G403 has a max DPI of 50% greater than G203.
Mouse Weight
Mouse weight matters for professional gaming, and FPS gamers prefer a lightweight mouse in place of choosing a mouse of high weight.
For FPS gamers, most professional gamers prefer a light mouse. Keeping this in mind, both the G203 and G403 are lightweight Logitech G-Series mice.
Logitech G203 weighs 85g, which is light enough to have a good performance on board.
G403 is better in terms of weight, as it comes with 87.3g with an optional variable weight of 10g ring placed in the bottom. This mouse gives you a lot of control even when you need to adjust your mouse for better gaming aiming precision and accuracy.
OS Support
Mainly Gamers use the Windows OS in their gaming. Still, Both the G203 and G403 have OS support for Windows, Linux, Mac, and Chrome OS. 
Logitech G Hub
Logitech G Hub is a software developed by Logitech to customize the mouse performance and take it to the next level.
While gaming likes your desired RGB effects, the control you desire, setting profile for custom for each game, and even macro assignment for programmable switches in the gaming G series mice.
RGB Effects: RGB effects help get your desired colored lights from your gaming mouse and boost the gaming environment. It makes the gaming experience more immersive and fun to play.
Custom Profiles: Custom profiles are like storing all the custom settings you need for a particular application or game.
Having custom profiles is essential because of customization, RGB color settings, DPI adjustment, and macro settings. All the settings you need can be different across different applications and games you use throughout the day.
Macro: Macro are commands that combine clicking more than one switch. For example, a combination of Carl+Alt+Del can be a macro and can be assigned to a single switch.
For some games, doing a specific task requires many keyboard keys to be pressed to do so. You can assign or program a customizable switch to do that task with macro settings in the mouse. So, after that, while gaming, you can replace clicking the sequence of keys in your keyboard by pressing a single mouse button.
This macro facility helps in doing advanced Gaming skills and can be used in multiple applications.
It's excellent news that both the Logitech G203 and G403 have full Logitech G Hub support to get the max out of the mouse hardware for your competitive gaming performance. The minor tweaks and customization you use this Logitech G Hub help get the most out of your gaming mouse hardware.
G Series benefits for gaming
G Series is curated, keeping professional gamers in mind. So, in build quality, mouse design, RGB Colors, Sensors are taken good care of.
G series is probably the highest mouse hardware ever produced by Logitech to satisfy the gamers. These mice are widely used by competitive gamers worldwide.
Why should you consider G203?
G203 has the following great features:
Has a scope to adjust DPI from 200-8000 DPI.
Gaming Grade Sensor.
RGB color to make you immerse into the game
Why should you consider G403?
G403 has the following features that make it :
Customizable DPI from 200 to 12000 DPI
Braided Cable for better durability
Which is the better Gaming mouse between G203 and G403?
If I compare G203 and G403 head to head, it is obvious G403 is better than G403 due to its more DPI range and variable weight, better mouse sensor, braided Cable.
Overall, G403 would be slightly better in terms of specs. However, in terms of gaming, when you compare, you barely notice any real difference unless
Conclusion
I want to conclude by saying that I liked the G403 Prodigy very much overall. Even the G203 is good. 
If you liked the post and find this helpful, do share the post!