Logitech G304 and G305 are similar mouse offerings from Logitech, of which I was curious to find the difference. Logitech G-Series is the Gaming series of Logitech mice and is crafted exceptionally well for Gaming performance.
The G304 and G305 have colored high-performance mice from Logitech Gaming and have the Logitech HERO Sensor technology for tracking and a LightSpeed USB Receiver.
In this post, we will look into the comparison of G304 vs G305 and find out whether there are any differences and which is better.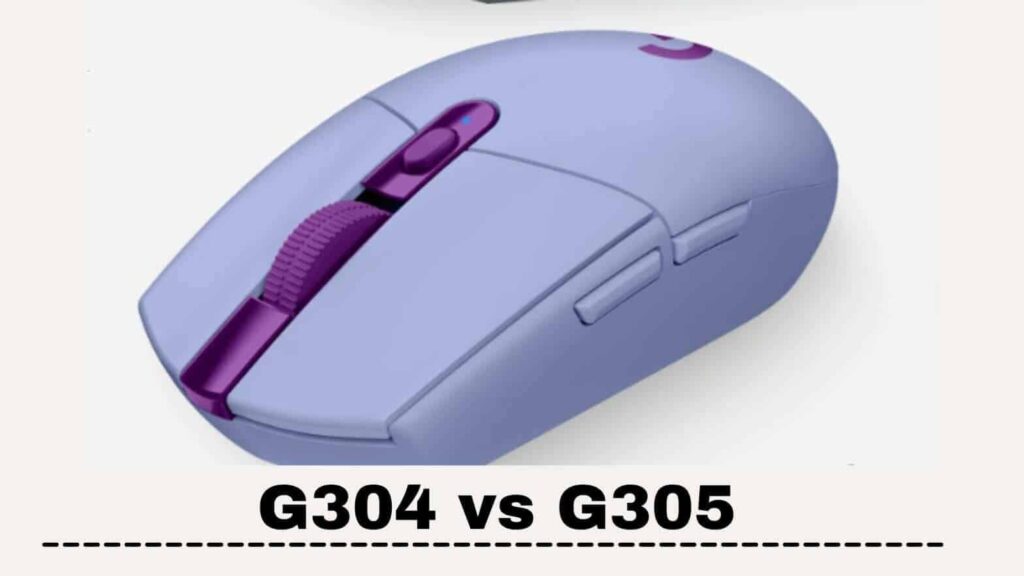 Why Should you Trust Me? Hi, I am Anirban Saha, an Engineer with a Specialization in Electronics and Communication Engineering. I have experience in Smart TVs, Electronics circuits, and Computer peripherals.
Let's get started!
Logitech G304 vs G305 Comparison
| | | |
| --- | --- | --- |
| | Logitech G304 | Logitech G305 |
| Sensor | HERO Sensor | HERO Sensor |
| DPI | 200-12000 | 200-12000 |
| Buttons | 6 | 6 |
| Battery Life | 250 hours | 250 hours |
| Colours Available | Black, White, Lilac, Blue | Black, White, Lilac, Blue |
| G Hub Support | Yes | Yes |
| Weight | 99g | 99g |
| Wireless Report Rate(Response Time) | 1ms | 1ms |
| Smoothing, Acceleration, Filtering | Zero | Zero |
| Supported OS | Windows, Mac, Chrome OS | Windows, Mac, Chrome OS |
| Warranty | 2 Years | 2 Years |
| Lightspeed USB Receiver | Yes | Yes |
Source: Logitech
Sale
Last update on 2023-02-25 / Images from Amazon Product Advertising API
Highlighting Features of Logitech G304 and G305
HERO Sensor Technology (Sensor Technology of the Future)
Logitech is always a step ahead in the innovation they provide in its peripheral segment. The HERO sensor they developed for the premium mouse is a real breakthrough of sensor design used in any mouse previously.
According to Logitech, HERO is a true breakthrough in performance-to-power ratios, bringing forth a new generation of high-performance and long-lasting wireless gaming mice.
HERO pushes past the constraint of existing sensors to set the new benchmark for performance and efficiency, changing the playing field for gaming mice.
Highlighting features of HERO sensor technology are Superior Tracking and Exceptional Power Efficiency.
Source: https://www.logitechg.com/en-in/innovation/hero.html
Lightspeed wireless receiver
For any Wireless Gaming Mouse, a wireless receiver is essential as it establishes connectivity with the mouse. Wired Gaming mice usually are better than any Wireless mouse. But Logitech proved this wrong with its Lightspeed Wireless receiver.
Logitech Lightspeed Wireless Receiver is blazing fast with its performance and even better than any wired gaming mouse.
With the Lightspeed Wireless receiver, now the G series of mouse-like G304 and G305 performs flawlessly in any FPS game where performance is crucial.
Logitech G Hub Support and Support for G Shift
Both the Logitech G304 and G305 support the G Hub and the support for G Shift.
G Hub is the Logitech Software that helps to configure the buttons, customize controls and control almost everything of Logitech Mouse.
Both of the mice support G Shift, the technology that helps to assign mouse buttons with keyboard shortcuts and macros (multiple keyboard keypresses with a configured delay with a single mouse click).
This feature helps games that require multiple button clicks for some advanced tasks to perform in the gameplay.
Shortcomings
The performance they offer for gaming is unmatched in every aspect and leads to a perfect mouse for gaming. I didn't find any shortcomings which are significant to highlight.
The ergonomic mouse lovers or vertical mouse, lovers may not like the design so much.
Also, as this has two extra buttons on the sides, which are for right-handed users, it is not for you if you are a left-handed user.
Due to its compact size, it is not the best option for people with large hands.
Which is better between G304 and G305?
Logitech G304 and G305 are similar mice but with different model numbers. In different countries, they are distributed by models.
In your place, there may be either a G304 or G305 present, and both are great.
Choosing anyone between G304 and G305 can thus be good for your gaming.
Sale
Last update on 2023-02-25 / Images from Amazon Product Advertising API
Are G304 and G305 the same?
G304 and G305 are the same mice with different model numbers from Logitech G Series.
Both G304 and G305 come with high-performance and power-efficient HERO Sensor technology and Lightspeed wireless technology, making them the best mouse for FPS Gaming.
Is Logitech G305 rechargeable?
Logitech G305 comes with a replaceable AA battery which is not rechargeable. Once the battery gets drained out, you can replace it with a new one.
How heavy is the G305?
Logitech G305 is a highly lightweight Gaming mouse from Logitech and weighs only 99 grams.
Conclusion
Let's conclude the post on G304 vs G405.
In different countries, one of the two models G304 and G305 would be available to choose from. I hope you have clarified and got the difference between Logitech Lightspeed G304 and G305.
Logitech Wireless mouse G304 and G305 are highly recommended if you are serious about gaming and even participating in competitions. G304 and G305 are the best mice for FPS Gaming.
I hope you enjoyed reading the post.