The G900 series of the mouse is the premium series of Gaming mice from Logitech, having a ton of customization and precisely made for Professional Gamers. 
If you are looking to know the difference between G903 and G900, I have compared in-depth with my specific review to tell you which will be of better value for your gaming. 
I like the Logitech G series a lot, and I prefer the unique gaming feel and design they provide. Also, the performance you get is reliable and consistent during your professional tournaments too. This mouse is a significant factor as you don't want to see any lags or glitches in competition and tournaments.
Logitech G903 vs G900 tabular comparison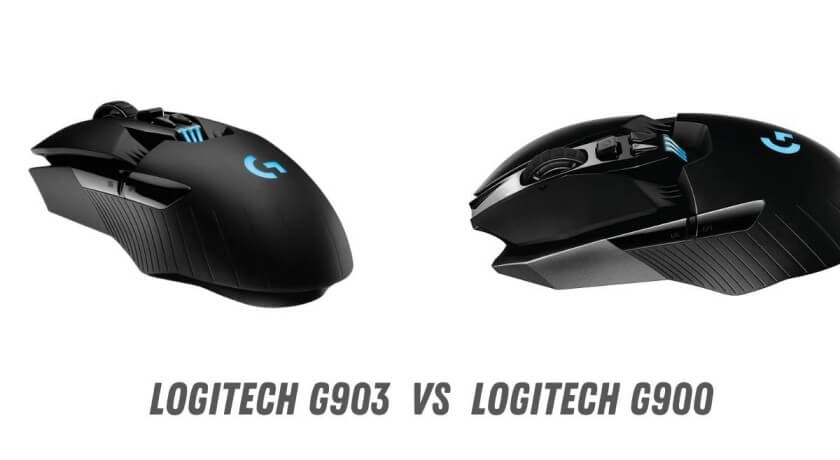 | | | |
| --- | --- | --- |
| Comparison Criteria | Logitech G903 Hero | Logitech G900 Chaos Spectrum |
| Mouse Type | Wireless Mouse | Wireless Mouse + USB Corded |
| Mouse Size | Full Size Mouse | Full Size mouse |
| Logitech Options | Yes | Yes |
| Silent | No | No |
| Good For Gaming | Yes Excellent For Gaming | Yes Excellent for Gaming |
| DPI | 100 – 25,600 dpi | 200-12,000 dpi |
| Sensor | Hero 25k sensor | PMW3366 Optical Gaming Sensor |
| Report Rate | 1ms(lag free) | 1ms(lag free) |
| Battery Life | Battery is chargeableWith default lighting battery lasts for 140 hr and with lighting off battery lasts for 180 hr | Battery is chargeable32 hr battery life on single charge |
| Weight | 110 gm (10 gm optional weight) | 109 gm |
| Design Type | Ambidextrous(both for left and right-hand use) | Ambidextrous(both for left and right-hand use) |
| Bluetooth Support | No | No |
| Supported OS | Windows OS, Mac OS, Chrome OS, Linux | Windows 10 or later, Mac OS 10.5 or later, Chromebook OS, Linux. |
Durability
Logitech G900 and G903 are made of high-quality material and are durable. Applying pressure on the buttons even there would survive for long. 
The buttons are well placed and durable, and clicking the side buttons is also good to click. Overall the durability looks good, and I have no complaints about it.
Precision and Performance
The G900 and G903 both are wireless mouses but still are great for gaming. Logitech G903 comes with Logitech Hero Sensor.
Logitech Hero sensor is a breakthrough technology made that takes the performance of a wireless mouse at par with any wired mouse during gaming. They claim that these wireless mouse performances are even better than any wired mouse for any FPS games. 
Logitech G900 comes with PMW3366 Optical Gaming Sensor which is also excellent gaming grade sensor.
In terms of precision and performance, G903 has a slight edge as compared to the G900. Though this would not be that noticeable.
Macro Customisation
Macro customisation helps in making complex moves during games fast. With macro customisation, you can easily replace pressing multiple keypresses on a keyboard with a single mouse click. 
For this, you need to program the mouse switch to perform the specific operation during the Gameplay. This setting can be done in Logitech G Hub software.
The G900 Chaos Spectrum and G903 Hero mouse from Logitech support the Logitech G Hub software, the best software from Logitech to customise your gaming mouse.
Hence, macro settings to get an extra edge during gaming, both the G900 and G903 mouse would perform equally. Also, you can program 11 buttons on both G900 and G903.
Look and Feel
Both the G900 and G903 look quite similar, and it follows the pattern that the G series of the Logitech mouse looks like. 
This gaming mouse has a distinctive and gorgeous gaming mouse look that would keep you standing, and you will feel like this as a premier mouse whenever you would play with this. G903 is a newer version as compared to G900. However, I like the design of both the mouses, and they almost look similar.
Sensor and DPI
| | | | |
| --- | --- | --- | --- |
| | Logitech G903 | Logitech G900 | My Views |
| Sensor | Hero 25k Sensor | Gaming Grade PMW3366 Sensor | Though the PMW3366 is a gaming grade sensor accepted by professionals, still I would choose the Hero 25K sensor which is a real breakthrough from Logitech. |
| DPI | 100-25600 dpi | 200-12000 dpi | For G903 there is a better range of dpi whether you use it at low dpi settings or you use it at high dpi settings. |
Logitech G903 review
Logitech G903 is power-packed with its ambidextrous design and a modern gaming mouse. It has all the advanced features and customisation essential for gaming. The LightSync RGB colours add the perfect feel of using this mouse.
In terms of performance, I would say it is one of the topmost performers from Logitech. The upgraded Logitech Hero 25k sensor is worth it. You will feel buttery smooth mouse movements with this wireless mouse. You will not even realise that it is a wireless mouse as it is so good.
Logitech G903 is highly recommended for Professional players and gaming enthusiasts.
You can see in the video the performance of the G903 during gaming in detail.
Logitech G900 review
Logitech G900 is an older version as compared to Logitech G903. Still, the performance is worth mentioning. The sensor of this mouse is gaming-grade PMW3366 and is highly recommended by gaming professionals. 
Overall, this mouse is an excellent mouse from Logitech. Though I feel the G903 is a revised, refreshed and better-performing mouse in all aspects.
In the video, you will find the G900 test during gaming and review. You would know how it will perform during gaming tournaments.
Are these reliable for Tournaments?
G900 and G903 both are actual performance for any gaming tournaments, and they won't be any problem if you use them. The performance and reliability you get In the match are excellent, considering that this mouse is Wireless. 
FAQs on Logitech G903 vs G900
Which is the better mouse for gaming between G903 and G900?
G903 is a newer version as compared to G900. Also, I would say G903 is better than the G900 mouse in terms of performance and specifications.
Is Logitech G900 Bluetooth?
No, the Logitech G900 does not support Bluetooth.
How much does the Logitech G900 weigh?
Logitech G900 weighs 109 gm.
How much does Logitech g903 weigh?
Logitech G903 weighs 110gm with an additional optional weight of 10 gm attached to the bottom of the mouse.
Is Logitech g903 Bluetooth?
No, the Logitech G903 does not support Bluetooth connectivity.
Conclusion
Overall the G900 mouse is good for gaming. However, the G903 is a newer edition mouse than G900. If you already have a G900, then probably yeah, there is no requirement to upgrade that Mouse to G903. 
However, if you are considering this mouse for the first time, considering G903 would be better. If you like this post, feel free to share this post. Thank you very much for reading this.