We all love the latest and greatest technology that comes out in the form of a new TV.
HDMI ARC and HDMI eARC are added in the later versions of the HDMI 2.1 specification.
Both these standards are meant to solve the same problem in the HDMI ecosystem.
However, there are some differences between these two standards.
In this blog, I will compare HDMI ARC vs HDMI eARC with all the details you need to know.
Let's get started!
HDMI ARC vs HDMI eARC
| | | |
| --- | --- | --- |
| | HDMI ARC | HDMI eARC |
| Acronym | Audio Return Channel | Enhanced Audio Return Channel |
| Cable Used | HDMI Cable | HDMI with Ethernet |
| Uncompressed 5.1/7.1 | Not possible | Yes, it is possible |
| Transmission Quality | Excellent | Better than HDMI ARC |
| Lip Sync Correction | Optional | Mandatory |
| Support for latest High Bitrate Audio Codecs | No | Yes |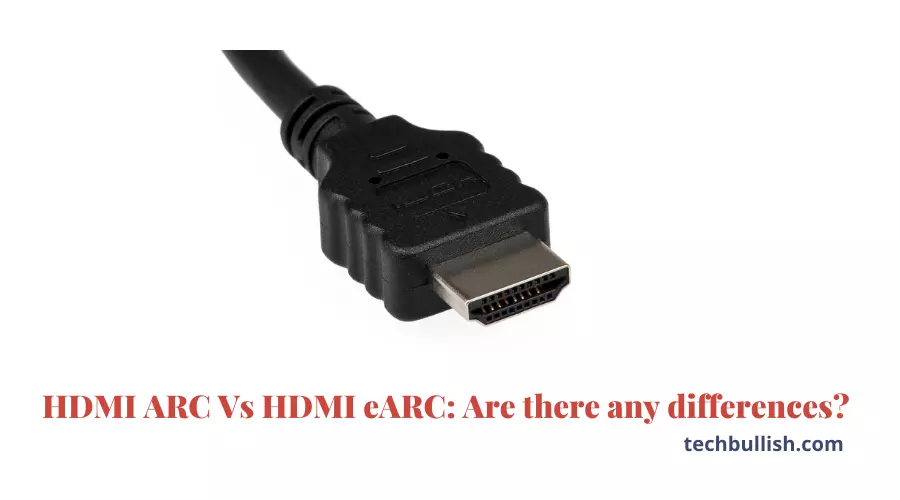 What is HDMI ARC?
HDMI ARC is the acronym for Audio Return Channel, which transmits video and audio signals in one interface.
It does not convert analog or digital (digital) sound to another type but outputs the same signal via the HDMI connection.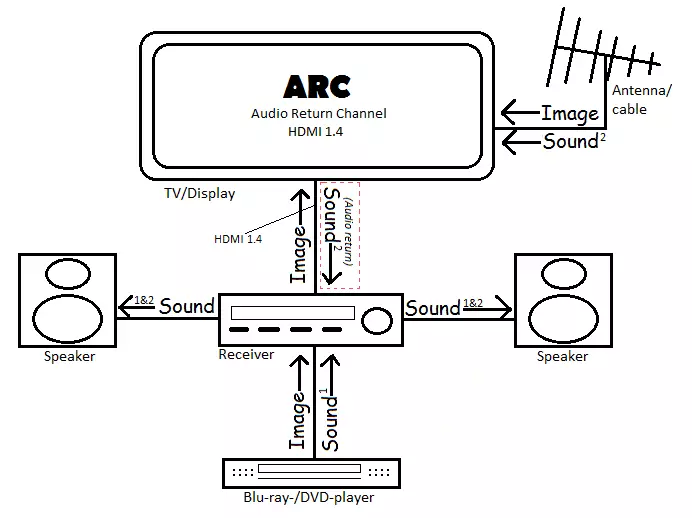 When to use HDMI ARC?
Because the single interface transmits both video and audio signals, it is suitable for those who want to reduce the number of cables and those who want to switch between sounds because no separate cable has to be connected.
How to use HDMI ARC?
Connect the external device that supports "HDMI ARC" according to the instructions included with the device.
Connect your TV and other devices using an HDMI cable, then set your TV's input source to display video from the external device.
You may need to use a separate remote control for this operation; check your TV's instructions.
What is HDMI eARC?
HDMI eARC stands for HDMI enhanced audio return channel, and it's just the latest version of the ARC technology.
The eARC feature allows the TV to use the CEC channel to transmit audio to the receiver, sending that audio to a speaker over a single HDMI cable.
This feature eliminates the need for a receiver that has an Audio Return Channel input.
In addition to this, HDMI eARC allows the TV to send audio to the receiver over the HDMI cable when the TV is in standby mode.
If you have a TV with this feature, the audio will not be cut out when you turn the TV off.
When to use HDMI eARC?
eARC stands for 'Enhanced Audio Return Channel' and is the newest technology to HDMI.
It's great for your TV usage, but you will need a TV compatible with the technology to use it.
If you have a TV compatible with eARC, you'll benefit from having a quicker and easier way to get the sound from your TV to your soundbar.
It's an excellent feature for people who have a lot of input on their TV.
There's only one input needed for your TV and soundbar to communicate, so you can get rid of many wires and keep your room organized.
Pros and Cons of HDMI eARC
Here are the pros and Cons of HDMI eARC below:
Pros
Better quality sound transmission due to the higher bandwidth of transmission and speed.
Supports high bitrate modern Audio formats like Dolby Atmos, DTS:X, and lossless codecs like DTS HD Master, etc., for an Ultimate Audio experience.
This technology can allow users to send audio from television back to a sound system, eliminating the need for a separate audio cable.
HDMI eARC can also send 4K video from the TV to the soundbar or sound system and 3D video.
In addition, HDMI eARC is backward compatible with HDMI 1.4, which means that you can use it with both new and older HDMI devices.
Cons
Does not work with any HDMI cables. It needs High-speed HDMI cables with Ethernet.
Not all products support HDMI eARC. So, you need to check the HDMI eARC compatibility of your TV and Soundbar.
Pros and Cons of HDMI ARC
Here are the pros and cons of HDMI ARC below:
Pros
It consumes less power compared to connecting a different audio system because it only uses the HDMI cable.
It allows you to control multiple devices with a single remote.
Requires one less remote control for controlling your devices, where you can change channels or volume by using the TV's remote control instead
It is an easy way to connect all your HDMI devices and enjoy them on a single TV.
It reduces the number of cables needed to connect devices.
Cons
HDMI ARC only supports video and audio via an HDMI cable, so you cannot enjoy them on a TV without an HDMI ARC port by using other types of connections.
It requires additional setup time for each device.
If the external device does not support an HDMI-ARC connection, you can only use your TV's speaker to output audio.
You cannot use other devices connected via HDMI cable simultaneously when connecting an external device that supports "HDMI-ARC."
HDMI ARC vs HDMI eARC: Which is better?
HDMI ARC and HDMI eARC are similar in several ways.
However, a difference between the two technologies should be considered to eliminate confusion when making a purchase decision.
The main difference exists in the interoperability between devices supporting these technologies.
HDMI eARC replaces HDMI ARC, which uses the same technology but with an updated interface.
Although porting HDMI eARC into your system will be relatively easy, it's important to remember that some older devices are not compatible with the new standard.
To ensure successful communication between your device and TV, you must upgrade them both to the latest version.
Is HDMI ARC the same as HDMI eARC?
HDMI ARC and HDMI eARC are the same things.
The HDMI ARC and HDMI eARC technology transmit audio to a home theatre receiver (HT) and streaming services like Amazon Music and YouTube and Netflix, and others.
The ARC (Audio Return Channel) technology allows you to send the audio from your TV back to your home theatre receiver instead of using an optical cable.
The ARC technology was introduced in HDMI 1.4 and HDMI 2.0.
FAQs on HDMI ARC vs HDMI eARC
Q: Does HDMI-ARC work on 4K?
HDMI ARC is only supported up to 1080p. When connecting a 4K device such as a media player to an HDTV with HDMI-ARC, it will be necessary to use the TV's optical audio output. This type of connection delivers high-quality sound but is not equivalent to the sound quality you can get with HDMI ARC.
Q: Is HDMI ARC better for gaming?
While HDMI ARC is suitable for audio, it does not support the same level of interaction required by interactive games. In general, 4K gaming requires a fast and stable connection to avoid lagging or sudden interruptions. The best way to connect your video game system is via an HDMI cable, ensuring no obstacles when delivering a flawless gaming experience.
Q: Can you use HDMI ARC as a regular HDMI?
Yes, you can use HDMI ARC as a regular HDMI cable as both the cables you use is simple HDMI cables. You can use that in any other HDMI source, and that would work great as a regular HDMI do.
Q: Does eARC support 4K 120Hz?
HDMI eARC can support 4k 120Hz, but you need to use a high-quality HDMI like HDMI 2.1 version.
Q: Is eARC necessary for Dolby Atmos?
In the past, you might have been under the impression that HDMI eARC was needed to enjoy Atmos from your home theater. Fortunately, this is not the case. Dolby Digital Plus does not require any additional cables or connectors to work properly. It will automatically adjust its format when transmitted into an Atmos-enabled receiver (eARC or ARC).
Conclusion
Let's conclude the post on the comparison of HDMI ARC vs HDMI eARC.
So, should you use eARC?
HDMI eARC is much better than the HDMI ARC, and if you get your TV and soundbar with eARC, it would be highly recommended to go for eARC rather than with ARC.
If you would like to know about the comparison of HDMI ARC vs Optical, you can check this post by me.
I hope you enjoyed reading this post.
Thanks for your feedback!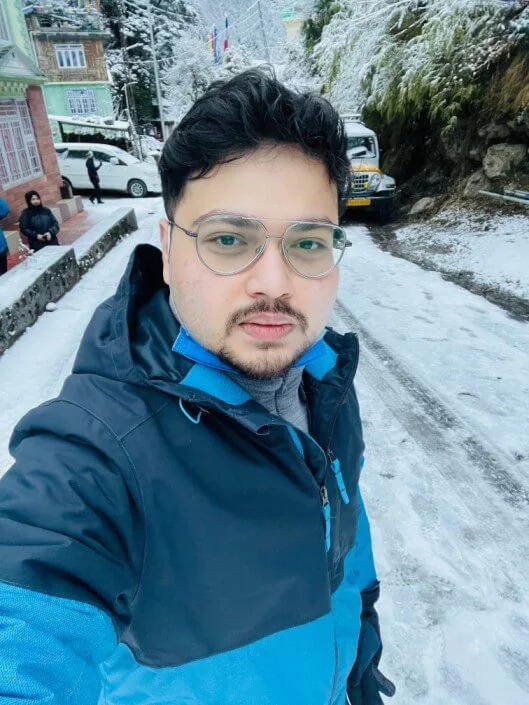 I'm Anirban Saha, Founder & Editor of TechBullish. With a B.Tech in Electronics and Communication Engineering, and 5+ years of experience as a software developer, I have expertise in electronics, software development, gadgets, and computer peripherals. I love sharing my knowledge through informational articles, how-to guides, and troubleshooting tips for Peripherals, Smart TVs, Streaming Solutions, and more here.