HDR and SDR are great to enhance your TV or monitor viewing experience to the next level. HDR and SDR are great to enhance your TV or monitor viewing experience to the next level.
The HDR stands for High Dynamic Range and the SDR stands for Standard Dynamic range. 
You may have seen punchy colours in one display whereas natural colours on another display. The HDR and SDR have several differences and I have compared them in this post.
HDR vs SDR
| | | |
| --- | --- | --- |
| | HDR | SDR |
| Full-Form | High Dynamic Rate | Standard Dynamic Rate |
| Dynamic Range | Higher (More Brightness and Contrast) | Lower as compared to HDR |
| Price | High | Low |
| Colour | More Punchy and Lifelike | Natural(may appear muted) |
What is Dynamic Range?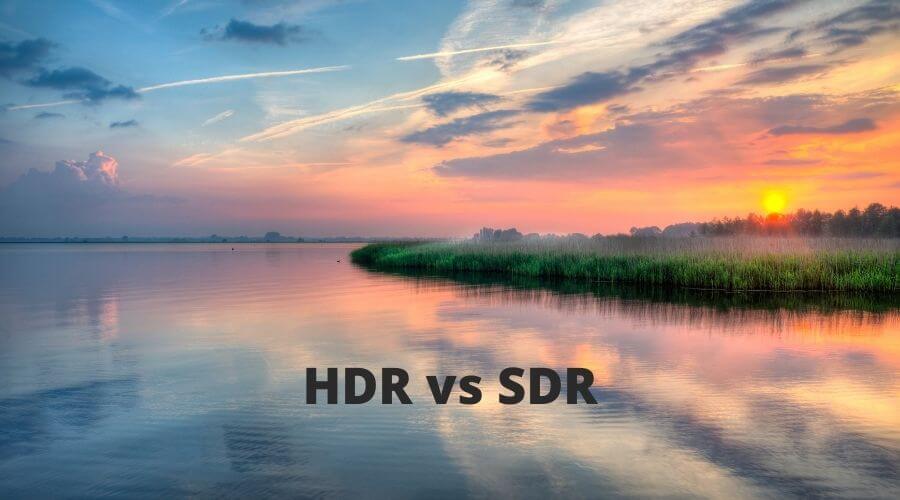 Dynamic range is the spectrum of contrast between light and dark on a screen. It also refers to a pixel's ability to display hues in their full capacity, from deep black or white through bright colours.
What is HDR?
HDR or high dynamic range is a type of technology that improves the contrast and colour in images. 
This newer display tech makes colours brighter on HDR screens to see them better – even when viewing photos at different angles. 
In the case of HDR, additional metadata or information is sent across the video signals in standards like HDR, HDR 10, Dolby Vision etc. to display enhanced lifelike images on the screen.
The images appear cinematic with high brightness, contrast, improved vibrancy and ultimately a clear vibrant image.
What is SDR?
SDR, or standard dynamic range, is another display technology that doesn't produce hues as bright and lifelike as hdr. 
Overall Image Quality Comparison for HDR and SDR considering Colour Gamut and Dynamic Range
HDR and SDR are both acronyms that describe the difference between high dynamic range and standard dynamic range media. 
The terms HDR and SDR refer to a display's ability to show colours in great detail, with better contrast than on an old TV or monitor. 
This is possible because of a new type of technology called LED backlighting, which more accurately displays the colours of a human eye.
HDR allows for a better dynamic range than SDR and provides a wider colour gamut with brighter whites and blacker blacks. 
As contrast is increased, so are near black or white (the two ends of the grayscale). Using hdr means images will be viewed in a much more realistic and natural way.
The video below shows the colour comparison side by side in monitors to visually understand how HDR differs from SDR.
Price Point comparison for HDR vs SDR
HDR displays are still more expensive and less common than standard dynamic range ones because of the benefits.
 But improvements in HDR technology mean there's now a greater variety and lower prices for hdr monitors.
HDR Advantages
Here are the advantages the HDR displays have over the SDR ones:
HDR displays have a wider range than the standard dynamic range
HDR is better for displaying images with detail that would otherwise be lost or washed out in other types of displays because it offers brighter hues.
High contrast in the screen offers a better viewing experience on HDR when watching video games or looking at images with detail that would otherwise be lost.
HDR has a wider range of hues, making for deeper dark shades and clearer bright hues. This makes it better suited for displaying images with detail that would otherwise be lost or washed out in other types of displays because it offers brighter hues.
SDR Advantages
Here are the advantages of the Standard dynamic range :
SDR is less expensive and more common than HDR
HDR vs SDR Live Demo Side by Side
For Gaming
In this video, find the difference between HDR and SDR for a monitor in terms of colour gamut, colour depth, picture clarity and overall real-life experience by HardwareCanucks.
For Watching Movies
Here is the experience of watching a movie in two displays, one with HDR and another SDR compared side by side by Creative Intent.
Is My choice HDR or SDR?
Yeah, it is HDR!
I really like HDR technology very much.
HDR is superior in terms of viewing experience whether it is for a monitor or your television. You will enjoy watching HDR content on HDR television even further.
What else needed watching a movie in HDR at the weekend? The experience is unmatched and can't be compared to SDR. In one word HDR is way more superior and with the latest standards, Dolby Vision watching HDR content is excellent.
Conclusion
Let's conclude the post! In this post, I compared the two technologies that define the colour output in display screens, such as monitors, televisions etc., the HDR vs SDR.
I hope you now clearly understand the exact differences and experiences for the displays with HDR and SDR.