If you are a fan of linear switches, then here is a keyboard switch Healio v2 switch from Zeal Pc.
Here, you will find all details for the Healios v2 Switch to take your keyboard setup to the next level.
What are Healios v2 switches?
Healios v2 switches are Silent and linear switches from Zeal PC. The Healios switches have a transparent body with a translucent orange coloured stem. They can be fitted in plate mounted keyboards.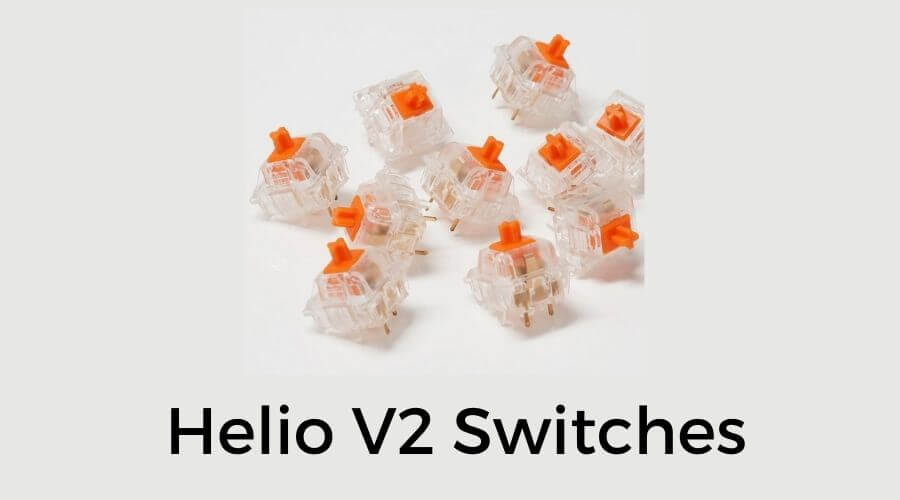 Healio Switch Specifications:
| | |
| --- | --- |
| Switch Type | Silent Linear |
| Bottom Out Force | 63.5g |
| Housing Colour | Transparent |
| Stem Type | Silent |
| Stem Colour | Orange |
| Mount Type | PCB Mount |
| Number of Variants | 1 |
Source: Zeal PC
Healios v2 Review
Linear switches are great if you look for a smoother typing experience from your keyboard. The linear switches are silent compared to the other mechanical switch types, tactile and clicky.
The Healios v2 switches from Zeal Pc are linear, and you will get a great typing experience from a linear switch.
If you like typing for long, then the Healios v2 switches can be an excellent choice for you. When you work in offices or if keyboard switch noise can be a concern, the linear type of switches can be a saviour for you.
Housing and Body
The Healios V2 has a transparent housing, which will not block any lights if you mount it on a keyboard with RGB lighting. Thus the lighting would be great.
The build quality of the housing and the switch is also good. Hence the switches would be a great choice to use with an RGB lighting keyboard setup.
Stem
The stem of the switch is of orange colour and is the silent type, that is when you click you won't get any clicky noises which you get with clicky switches in mechanical keyboards.
The stem feels smooth and silent when clicked. Every click feels consistent and upto the mark.
Spring and Force
The spring fitted in the Healios V2 has a bottom-out force of 63.5g. So, it is not too stiff and is fine.
Mount
The Healios v2 switch can support a keyboard that has a plate mounting. These switches have added two plastic legs in the bottom that add rigidity when you solder it on the PCB.
You need to check your mechanical keyboard PCB has additional two pin mounting holes in it for the two legs of the switches. Otherwise, you need to remove the switch legs to mount to the keyboard PCB.
The mounting process is straightforward, and these switches fit pretty well to the PCB.
Healio V2 FAQs
Are Healios v2 Switches worth it?
The Healio switches are a quality product for your mechanical keyboard and are worth it. These switches exceeded the expectation that I had from a linear switch. 
Are the Healios Silent?
Healios v2 switches are silent. They are of a linear type so, you get an equal amount of smoothness with the silence of these switches. You will feel these switches buttery smooth. You can even lube the Healios v2 to get an even smoother typing experience.
Conclusion
Let's conclude the review of Healios v2 Switches.
Overall, considering the price point and the features, I liked the Healios v2 switches. The bottom-out force can be a bit lower as per my expectation. However, the switches feel great and are not wobbly, so a great plus point to the switch.