If you are concerned about a switch or stem wobbling them filming your switch(Applying small pieces of the film made of rubber or plastic to the keyboard switch) would definitely help you. But, to do that properly you need to know the steps, otherwise, it won't be effective.
But, it's easy once you know things properly.
In this guide, you will learn about how to film switches of your mechanical keyboard step by step in a very easy way. Not only that, you will learn a lot about why you should film and more.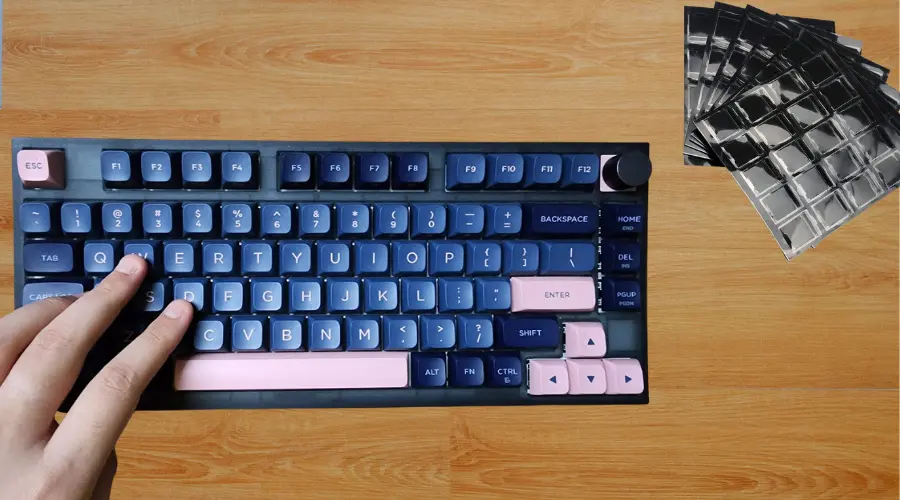 Let's get started!
What is Switch Film?
Basically switch films are small fragments of rubber or plastic material that can be slid between the top and bottom housing of a keyboard switch. It can reduce switch wobble.
Filming switches in a custom mechanical keyboard can drastically change the sound and feel while using. It is very helpful in reducing stem wobble and making the switch lighter. Filming creates a more rigid, stable, and better-sounding switch.
There are a few better qualities of switch films listed below that can suit your preference-
Durock Switch Film
These films are 0.15mm thick and are two-sided switch films made from HTV(Heat Transfer Vinyl) and PC (Polycarbonate) material. They are simple and budget-friendly films
KBD Fans Switch Film
These films are made from black foam and have 0.2mm thickness. These films excel in sharp acoustics and are compatible with most switches.
Deskeys Switch Film
These films are also made from black foam and their thickness is 0.2mm. They are perfect for switches that have loose housing.
TX Switch Film
They are made from a Polycarbonate material and can be 0.125 or 0.15 mm thick. They come in varieties of colors and sizes. They are extremely popular switch films for mechanical keyboards.
What material are switch films?
Switch films vary in thickness and size with the material. Different materials can be used for switch films like plastic, rubber, PLA plastic, and Polycarbonate plastic.
However, while using a switch opener make sure to use a plastic or aluminum version. This makes your job easy and reduces any chances of damage to the housing.
If you find the top housing wobbles while you wiggle the stem, pick on PC, HTV, or PLA(Polylactic Acid) films that are 0.150mm to 0.200mm thick.
If top wobbles are not considered try MDI foam, rubber, or Poron films that are 0.200mm to 0.300mm thick.
The Kelowna V2 switch films are 0.15mm PC and can be reused for their improved design that prevents jamming.
Should you film your switches?
To improve the sound and feel of keys on your keyboard, some switches should be filmed. This filming procedure can be done by fixing a small piece of plastic or rubber substance between the upper and bottom of a switch.
This tightens the switches and reduces wobble improving the sound and feel of the keys.
Filmed switches are always better than unfilmed switches. The effectiveness of a switch film is determined by the degree of wobble in a switch.
There are two types of switch wobble that can be reduced by switch filming.
Switch Stem Wobble
It varies for different switches and that is a normal feature. Although some switches have higher tolerance capable of more movement between the top and bottom housing of the switch.
It is the movement of the stem in an assembled switch's top housing. It is a normal trait of all mechanical switches.
Switch Top Wobble
This wobble type can be decreased with a switch film. It occurs when all the top housing of the switch moves when wiggled around.
It is a result of a loose filled switch top making switches inconsistent. The wobble affects the overall switch sound.
Both the above types of wobble can be restricted by filming your keyboard switch. By applying a layer between the top and bottom housing you close the switch with the film.
Attaching clips will press on the plastic and decrease the space in between. This will automatically decrease the amount of switch top wobble.
How to Film Switches on a Keyboard? (Step By Step)
Switch filming is efficient to make the sound of switches consistent. Filming tightens the switch housings together which can improve the overall acoustics of your keyboard.
Proceeding towards the steps to follow for filming switches all you need are a few tools like switch films, switch opener, tweezer, and optional lubing equipment. All you have to do is –
1. Remove The Switches From Your Keyboard
Using a keycap puller, remove the keycaps from your keyboard. It might be easier for a hot-swappable keyboard.
You can use a switch opener similarly to the way you would use a tweezer. You can use a desoldering gun to remove the switches in case they are soldered to the PCB.
2. Take The Switches Apart
Use different color bowls to differentiate the dismantled switches. Align the tabs on each side of the switch with correspondent bars on the switch opener.
Push down the switch stem. With a click sound the bars push up the tabs and force the switch to open. Be gentle with the amount of force you apply.
3. Optionally, You Can Lube The Switches.
If you want to lube the switches you can do it now before filming. It increases overall switch sound quality with smoothness.
4. Placing The Film Onto The Switch
Using a tweezer, peel the film from the sheet it was adhered to. Hold the edge of the film and carefully align it with the bottom housing of the switch.
Position the film such that the tab lines up with the cutout. The films should be wrapped around the rails without causing obstructions. To ensure a desirable result, make sure to seat the film properly.
5. Reassembling The Switches
After filming carefully place the spring into the centermost of the bottom housing. Next place the stem facing the switch's leaf.
Clip the top housing on. Keep the LED hole away from the stem. Press down to clip the legs together. Make sure all four legs are securely fastened.
6. Installing and Testing Switches
After placing the filmed switches onto your keyboard double check on the switches. Use a keyboard Tester to confirm the well functioning of all switches.
You can use VIA's built-in key tester. At times bent pins are obstructions in the smooth functioning of filmed switches.
In that case, pull the switches out of the socket and with a tweezer bend it back into place to ease your problem.
Pros and Cons of Filming Switches
Pros
Filming switches in a mechanical keyboard is always beneficial for your comfortable use.
It makes the switches tighter and more compact leaving very less chances of rattling noise while typing. It also removes wobbles between the bottom and top housing of the switches.
The absence of a wobble provides each keystroke with a consistent sound other than random ones.
Cons
However, there are certain drawbacks of switch filming.
You have to desolder and resolder all switches if it is not a hot-swappable keyboard.
There are chances of binding keys if the switch films applied are even slightly asymmetrical. This might be due to a default or an installation error from your end.
Does filming switches change the sound?
Filming is not relatively effective on all switches although switches can improve the sound. It reduces the rattling noise between the top and bottom housing of a switch by minimizing the wiggle space between them.
It eradicates the plasticky rattle that brings an unpleasant typing sound. However, filming does not make typing soundproof.
Do filming switches reduce stem wobble?
To check out whether your keyboard switch needs to be filmed, hold the bottom housing tightly placing your switch into your plate. Try to wiggle the stem by grabbing it using a tweezer.
If you notice movement or housing wobble, then be prepared to film your switches. If the movement is less and you find only stem wobble you do not need filmed switches. In any case, filming the switch can definitely reduce stem wobble.
Is filming switches worth it?
Filming switches are getting popular each day with the expansion of mechanical keyboards. If the switches are looser or perhaps there is more movement between the plastic of the switches, it can be filmed or lubed. Switch films for a complete keyboard are conveniently affordable.
It will make your switch fit tighter and sound better. Conclusively it is always preferable to film your keyboard switches.
My Recommendation for Switch Film
But, to film switches of your keyboard considering a high-quality switch film is necessary.
Here are great choices for Switch Films that you can consider for your mechanical keyboard:
Last update on 2023-10-03 / Images from Amazon Product Advertising API
Thanks for your feedback!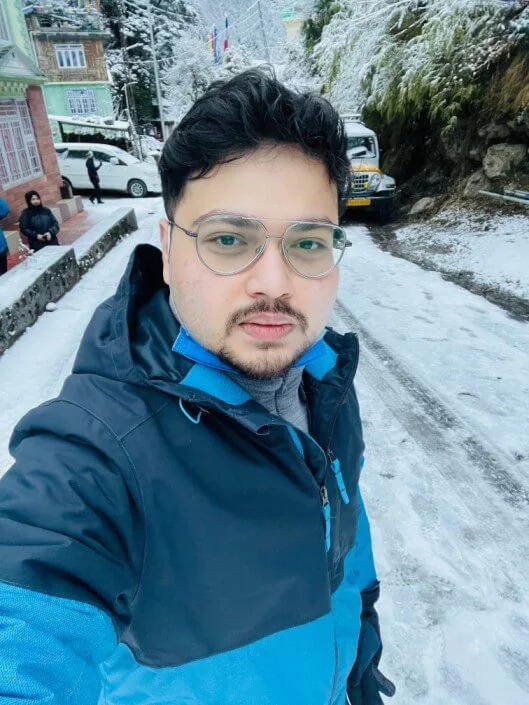 I'm Anirban Saha, Founder & Editor of TechBullish. With a B.Tech in Electronics and Communication Engineering, and 5+ years of experience as a software developer, I have expertise in electronics, software development, gadgets, and computer peripherals. I love sharing my knowledge through informational articles, how-to guides, and troubleshooting tips for Peripherals, Smart TVs, Streaming Solutions, and more here.