If you own an LG TV, chances are you've experienced a pesky error code or two. But don't worry, knowing how to decipher and fix these codes can be easy with the right guide!
In this guide, I will share the most up-to-date information about the common LG TV error codes like 137, 324, 202, 105, and 109 with their meanings, causes, and easy fix after researching a lot about these.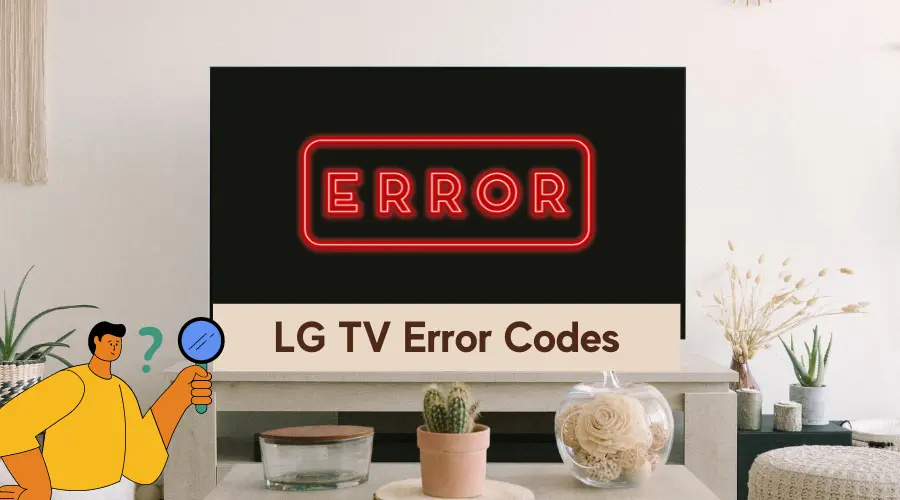 This is applicable whether your LG Smart TV runs on Roku OS or its own WebOS.
Let's get started!
What does Error Code mean on LG TV?
While connecting your device to the internet or on other occasions if you are opening the YouTube app, Youtube TV, Disney Plus, Amazon Prime, or any other streaming app an error code pops up on your LG TV screen.
This is pretty annoying in between your streaming plans. There are multiple reasons for this popping of error codes on your LG TV. However, these can be resolved as they are fixable effects.
Internet connection leads to the popping of some error codes whereas an issue with your device hardware can also be a cause at times.
Whatever it is, you need not worry and find solutions to error codes that pop up on your LG TV screen. We bring you a couple of regular error code issues with their solutions. Follow our article below to fix up your problem with ease.
Different Error Codes of LG TV
Primarily you might notice error codes come with specific numbers that are helpful for understanding the particular issue with your device.
A variety of error codes appear on LG TVs. Among these error codes, some can be fixed by the users and others may need technician assistance. Error codes although irritating but are effective troubleshooting tools.
LG TV Error Code 137
A regular common error code that pops up on your LG TV is error code 137.
So, what's the reason?
Basically, it pops up if your internet connections are poor or unstable. While you are trying to play YouTube, this error code appears, not letting your app function smoothly.
There might be a few causes relating to this issue like-
Corrupted file or data
YouTube bug or glitch
Outdated applications
Unstable internet connection.
How to Fix this?
To fix this problem of LG TV error code 137 you should try cycling your LG TV and router as well. It helps to reset the configuration error on the device. This also prevents your TV from bugs or glitch that blocks internet access.
All you need to do for this is –
Disconnect the power supply cable from your LG TV and unplug it from the power source.
After some time plug in your TV back and reconnect the power supply.
Check out the error codes after powering your TV and router.
You need to update your YouTube application if the error code still persists.
If the YouTube version you are using gets outdated the error code appears. To update YouTube on your device –
Press the Home Button on your Smart TV remote and Select LG Store. Choose Apps and navigate to My Apps > YouTube > Update.
In case the error code still pops up while opening YouTube, then your app data may be corrupted. You can reinstall the app to solve your problem. The easy steps to re-install are –
Press Home Button on your LG TV remote to get the app menu.
Scroll to find YouTube and press on the Enter Button, hold it until Edit Mode is turned on.
Choose X to delete the YouTube app and select Yes to confirm.
To navigate to the LG Smart TV Content Store, press Home.
Select Apps and choose YouTube to click on Install.
LG TV Error Code 324
The error code 324 is very simple to fix if it pops up on your LG TV screen. Sometimes a poor internet connection, outdated firmware, or say a problematic application does not allow your LG TV to connect to the App store.
So, what's the reason?
Relatively the main causes for your LG TV displaying error code 324 are –
Poor or unstable internet connection
Outdated firmware
Malfunctioned App
Failure of the Apps store to load contests is a result of poor network connection. A faulty network prevents the App store from smoothly functioning on your LG TV. Try to re-connect your TV after disconnecting it from the WiFi network. It would be more beneficial if you use an Ethernet port.
Try disconnecting your TV's Wi-Fi connection and restarting your router before connecting again. Meanwhile, you can investigate your internet connectivity using your mobile device by going to https://www.speedtest.net/.
If it shows an issue, it can be due to any DNS server issue which your ISP can resolve. In very rare cases, it also turns out that your router is faulty. In that case, the router needs repair.
This may solve your internet problem that pops up with error code 324 on your LG TV.
Secondly, this error issue could be due to outdated LG TV firmware. An update generally fixes all bugs and glitches your connection might face. LG TVs come with features that adjust to updates with any new ones.
How to Fix this?
You can manually update the LG TV firmware using a USB flash drive (8GB at least) and a computer with internet access with a few steps like-
Identifying your LG TV model, download the current firmware by visiting the LG USA Support Home Page
After downloading the firmware file to your computer, extract it from the zip file.
Put the file in your USB flash drive by plugging it in
Follow the instructions and install firmware updates after inserting the USB into your TV.
LG TV Error Code 202
A failure in establishing a connection between a router and the LG TV may pop up as error code 202.
What's the reason?
Due to an unstable internet connection, your access is denied for any online services on your LG TV.
How to Fix this?
In the first place, you should check your internet connection. Disconnect your LG TV from the router and reconnect again after an hour. Don't miss checking your internet speed. You can restart your router. At times a restart can serve your purpose for software-related issues.
For advanced users, going into router settings and configuring the Advanced Wi Fi settings, and also checking the DNS settings is recommended. For other users, take help from your Internet service provider.
However, it might also be a condition of your LG TV servers offline if error codes still appear after trying previous solutions. In this case, all you need to do is wait till it's online again.
LG TV Error Code 105
While using online services like YouTube, and Netflix and even while accessing the content store, error code 105 pops up at times. This is due to a network or connectivity problem.
What's the reason for this?
There might be various causes like –
Unstable network issue
A busy network leads to poor connection
Technical glitches or bugs
Incorrect date and time
Outdated software update
How to Fix this?
The primary solution to fix the Error code 105 issue is to check your internet connection. If your internet connection has issues, reach out to your Internet Service Provider to fix that. If that is working on any other devices, then let's start to troubleshoot.
Firstly try to disconnect your LG TV from a local network and reconnect later. If you use a Wi Fi Connection then disconnect that from Wi Fi Settings. Otherwise, if you use a LAN connection disconnect by plugging out the LAN Cable from your LG TV.
Also, restart your router or modem in the second place.
Your next try should be power cycling your LG TV. For this, you need to disconnect your TV from the power source and after 10-15 minutes plug it back. Your error code problem should be solved with this.
If it still persists, adjust the date and timing settings as this also indicates an error code. Try to fix the date and time on your TV correctly to avoid such petty issues.
LG TV Error Code 109
LG TV error code 109 pops up if it faces the trouble of an unreachable IP Address. It results in a network connectivity issue that your LG Media Player experiences.
What's the exact reason?
In case your LG Web OS 4 devices show an error page of 109, it does not have an internet connection.
How to Fix this?
In such a situation all you need to do is to cut the web asset down to 30 seconds and fix the IP Address error within your local network.
Every 30 seconds, it refreshes which resolves the error code 109 issue, thus playing your desired content.
Conclusion
Let's conclude the post on different error codes of LG TV with their meanings and solutions to fix them!
And, most often whenever you see any error code you can switch off your LG TV and turn it back on after 10-15 mins. This solves a lot of issues.
If you are facing issues still, you may reach out to LG TV Customer Support .
I hope you were able to troubleshoot them easily with these steps.
Thanks for your feedback!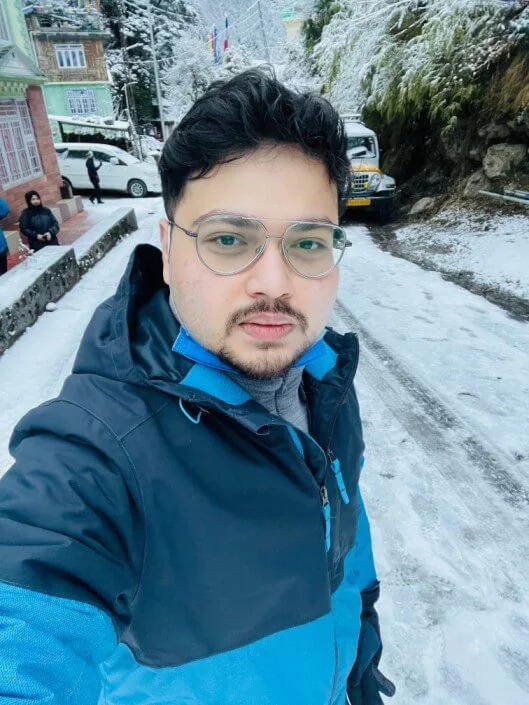 I'm Anirban Saha, Founder & Editor of TechBullish. With a B.Tech in Electronics and Communication Engineering, and 5+ years of experience as a software developer, I have expertise in electronics, software development, gadgets, and computer peripherals. I love sharing my knowledge through informational articles, how-to guides, and troubleshooting tips for Peripherals, Smart TVs, Streaming Solutions, and more here.