Logitech is a very popular brand for mice and keyboards.
The Logitech B100 and M100 have many features as a basic mouse on a budget.
So, Which one is better?
I will compare the Logitech B100 vs M100 here in detail and see which one wins the battle of the mice.
Why Should you Trust Me? Hi, I am Anirban Saha, an Engineer with a Specialization in Electronics and Communication Engineering. I have experience in Smart TVs, Electronics circuits, and Computer peripherals.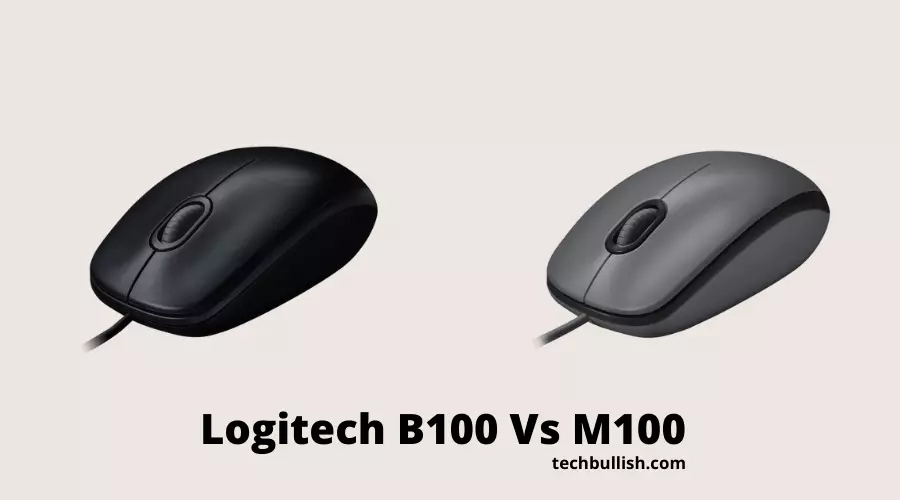 Let's start the comparison!
Logitech B100 Vs M100
Criteria
Logitech B100
Logitech M100
Sensitivity of Mouse
800 DPI
1000 DPI
Mouse Type
Wired Mouse
Wired Mouse
Mouse Shape
Ambidextrous
Ambidextrous
Tracking Technology
Optical Tracking
Optical Tracking
Mouse Dimensions (Height*Width*Depth)
113 mm* 62 mm*38 mm
113 mm* 62 mm*38 mm
Weight
90g
90g
Cord Length
180 cm
180 cm
Colour
Black
Grey
OS Support
Windows 7, 8, 10 or later
macOS 10.5 or later
Chrome OS, Linux Kernel 2.6+
Windows 7, 8, 10 or later
macOS 10.5 or later
Chrome OS, Linux Kernel 2.6+
Design and Looks
The Logitech B100 and the M100 look very similar except for their color in terms of design and looks.
The M100 has a grey color on its top. However, the B100 mouse is black.
In terms of design, they are very simple and have a minimalistic look.
Performance
The performance quality of the mouse B100 is comparable to the M100. Both solve the basic need for a wired optical mouse and are very consistent in regular use.
You would feel that the B100 and the M100 mice are very dependable.
Durability
Both the mouse have a plastic material made body and are durable to manage daily tasks with ease.
The buttons on the M100 and B100 are responsive, and I'm sure you'll also like the clickiness sound and response.
The clicks are consistent and accurate and solve the criteria of having a good quality mouse with basic specifications.
Logitech B100 Review
With the Logitech B100, the first impression I get is that the look is very minimalistic.
The functionalities are very basic. However, I would like to add that they have done the basics quite well.
So, Is Logitech B100 a good mouse? The Logitech B100 excels in all the basic activities you perform daily, like browsing, scrolling, and your regular work needs.
B100 is a very good mouse indeed to work with for your daily tasks.
Sale
Last update on 2023-10-02 / Images from Amazon Product Advertising API
Logitech M100 Review
The Logitech M100 mouse is very well built and much responsive for clicks.
The basic features are properly present in the M100 version like the previous M90, which was very popular and a great mouse.
The Logitech M100 mouse is reliable even for your critical office tasks, and you can perform it with ease.
The cursor movement is fluid, and no lags or anything comes. The wire of the M100 is sufficiently long to connect to your laptop or desktop, and you can work by Plug and Play.
There is no need to add additional drivers to make it work. The M100 is made of 72% recycled materials which is very good.
Last update on 2023-10-02 / Images from Amazon Product Advertising API
Logitech B100 vs M100: Which is Better?
Logitech B100 belongs to the B Series or the Business series.
The M100 belongs to the M series for consumers.
Both have different types of packaging. Otherwise, there is not much of a difference.
Both the B100 and M100 have done their basics right, and it is now up to the pricing point and availability in your country.
You can choose any one of them that is available and the cheaper deal that you get.
You won't notice that much of a difference to have an 800 DPI B100 against a 1000 DPI M100.
You can also check the comparison of Logitech M100 vs M100r.
FAQ on B100 vs M100
Q: What is the DPI of Logitech B100?
ANS: DPI of Logitech B100 is 800.
Q: Is Logitech B100 good for gaming?
ANS: Logitech B100 is not made for gaming, but it would work well if you are a casual gamer.
However, any special feature of a gaming mouse like DPI customization is not there.
Q: What is the DPI of the Logitech M100?
ANS: DPI of Logitech M100 is 1000.
Conclusion
Let's conclude the post!
Specifications-wise and performance wise they are very similar.
Both are very good for regular use and are dependable in terms of clicking accuracy and consistency.
I hope you have got a clear idea of the comparison of the Logitech B100 vs the M100 mouse.
Thanks for your feedback!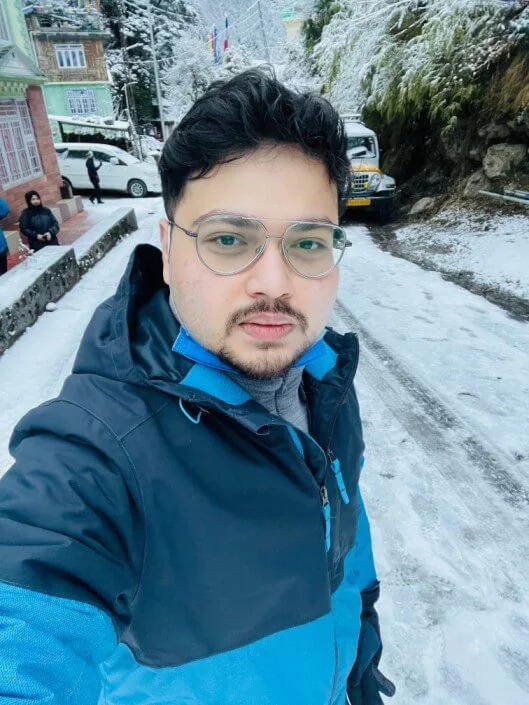 I'm Anirban Saha, Founder & Editor of TechBullish. With a B.Tech in Electronics and Communication Engineering, and 5+ years of experience as a software developer, I have expertise in electronics, software development, gadgets, and computer peripherals. I love sharing my knowledge through informational articles, how-to guides, and troubleshooting tips for Peripherals, Smart TVs, Streaming Solutions, and more here.