Before you look into a well ergonomic designed mechanical Keyboard, you need to consider its profile. Based on the travel distance and overall keyboard height, it can be a low profile and even can be a high profile keyboard.
In this post, I will discuss in depth the comparison of Low profile vs High Profile Keyboard considering all the important parameters you need to look at before you choose them.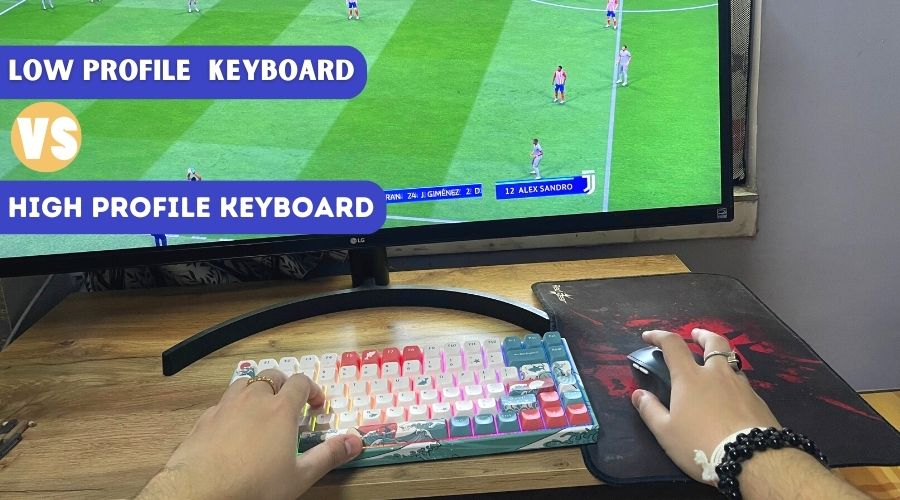 Let's get started!
Low Profile vs High Profile Keyboard
There are basic featured differences between a low profile and a high profile mechanical keyboard.
The switches in a high profile keyboard are greater in height than a low profile switch.
Keycaps in high profile are taller but in low profile keycaps are one-third of the standard high profile keycap.
The travel distance in a high profile keyboard is 3-4 mm but in a low profile it is 2-3mm. The actuation point also differs in both.
High profile keyboards are tactile which is not the case with low profile keyboards which are ergonomic and user-friendly.
High profile keyboards are not portable although they can be customized. A low profile keyboard is compact and portable but not easily customizable.
A low profile mechanical keyboard comes at a higher price than a high profile keyboard.
What are High Profile Mechanical Keyboards?
The profile of a mechanical keyboard is decided depending on its overall height. The height of the keycaps and the design of the switches together add to the height of a keyboard. Regular keyboards also known as high profile keyboards are larger due to their design and keycap size.
It takes more time and force to press down. In a high profile mechanical keyboard, the height of the case is equal to the keycaps. This protects the switches although makes this type of keyboard heavier than others.
What are Low Profile Mechanical Keyboards?
A low profile mechanical keyboard is the latest innovation. These keyboards are arranged with low profile mechanical switches but retain their original mechanical switch structure.
A low profile mechanical keyboard has the same mechanical switch but is slimmer with the spring structure unchanged. The keycaps in these low profile keyboards are much thinner than the normal ones and fit in easily.
Pros and Cons of Low Profile Keys
Pros
A low profile mechanical keyboard is more ergonomic as compared to a normal keyboard. It is comfortable and healthy as it reduces strain on your wrists owing to its slim feature.
The low profile switches are of reduced height, making typing speed easier
Gamers find its competitive edge fascinating due to its actuation point. It makes the gaming experience more active fast.
Cons
No access to easy availability is the biggest drawback of a low profile mechanical keyboard
Since high profile keyboards are an extremely popular choice there is very little choosing option you get for a low profile keyboard.
Customizing a low profile mechanical keyboard is another issue that makes this type of keyboard difficult. You do not have more choices on lower keycaps making replacement trouble.
Pros and Cons of High Profile Keys
Pros
High profile mechanical keyboards are easily available all around the world. You can get it in the market since it's a popular user choice.
Due to its satisfying tactile feature, it is enhanced for gaming enthusiasts who choose from the wide variety of switches it offers.
A high profile keyboard can be easily modified with the availability of ample switch options. Customizing features make it more popular among users who prefer cleaning and repairing their keyboards regularly.
Cons
Due to its height normal keyboard makes wrist rest difficult causing uneasiness for users. People often complain about muscle strain in their wrists while using a high profile keyboard.
High profile keyboards are space-consuming because of their weight and size. It is not handy for carry purposes because of its height and is also bulky as compared to the low profile ones.
Falling on to its popularity and demand, these high profile keyboards come at a much higher price. They are far more expensive if offered from a known brand.
Which has the better Ergonomics?
An ergonomic keyboard provides different angles. The more you find a comfortable position for your hand, the more your keyboard is adjustable.
Raised keyboards are not as ergonomic as flat keyboards. A smaller keyboard always has more ergonomic benefits. A short height in a low profile mechanical keyboard puts less strain on your wrist and makes your typing experience a comfortable one.
Comparing their Typing Performance
A keyboard should be efficient enough to reduce your effort in stretching your fingers to reach each key. Typing with a low profile switch is always comfortable as its reduced keycap height reduces troubles for your fingers that travel more in high profile keycaps.
They improve typing speed as they are easy and quick to type on. Low profile keyboard is faster to actuate than the high profile mechanical keyboard which offers taller keycaps. A cherry profile can serve you best for typing purposes.
Gaming Performance Comparison
Focussing on speed, durability, N-key rollover support, and lesser keyboard ghosting, gamers always prefer a mechanical keyboard. The actuation force is variable in a membrane keyboard but it is consistent in a mechanical keyboard. (Check the Mechanical vs Membrane Keyboard comparison here.)
A low profile mechanical keyboard is designed as per the gamer's specifications. The switches are designed to activate faster, offering a competitive edge. A low profile mechanical keyboard is remarkable for gamers and Esports athletes.
What is the Key Height of Regular Mechanical Keyboard Keys?
The distance from the highest point of the keycap top surface to the bottom part down the keycaps is considered to be the height of the keys. The key height of a keyboard is never similar in all brands. However, few popular keycaps profiles used by professional gamers and different companies are
Cherry Profile
Belonging to Cherry's G80 and G81 mechanical keyboard series, Cherry profile keycaps are the most famous ones. Preferred by gamers and keyboard enthusiasts these are extremely popular too.
Cherry profile keycaps are under 10mm in height. They have a cylindrical keycap surface which is very comfortable for typing experience.
SA Profile
Keycaps in this type of keyboard are spherical. Likewise, it is known as Spherical All or SA profile. The keycaps are designed like a round concave and are very popular in the keyboard industry.
These round tops give a vintage vibe to the keycaps which can be easily customized. Its outer key is approximately 16.5mm offering the tallest profile in the market. It is very comfortable to use with an angled center.
OEM Profile
Also known as the standard profile, the OEM keycaps profile is mass-produced and easily available in any market. Interestingly this keycap profile does not have uniformity on its keycap set.
Different rows have different designs and heights in an OEM profile keyboard. Its center keys are over 10mm whereas the rest of the set is almost 12mm.
Gamers, gaming companies, and keyboard enthusiasts find it convenient to purchase such a keyboard profile that is widely available.
My Thoughts: Which is better between a Low and High profile Mechanical Keyboard?
A low profile mechanical keyboard is the best solution for your typing purpose. However, there are few choices around the corner in this segment.
A Cherry profile can give you a satisfying typing experience. Although SA profile keycaps do offer an easy typing procedure that gives you a comfortable feel for your fingers. These SA profile keycaps are highly recommendable for people who lift their fingers a lot while typing.
Thanks for reading this post! I hope you found this useful.
You may also like to read these next:
Check the different types of Mechanical Switches you can get (get to know about clicky, linear, and tactile switches with detailed comparison here).
Know the different Mechanical Keyboard Sizes to choose from.