Logitech has a wide range of mouses for multi-purpose. If you are looking to compare Logitech m220 vs M221, then this is the right post.
Logitech has a good range of silent wireless mouses. This silent mouse helps to reduce the mouse click noise by 90%. 
This silent clicking technology is itself unique as we need to work at night time also. They have a silent mouse that works great. Also, a silent mouse increases our productivity.
Logitech M220 vs M221 Comparison
| | | |
| --- | --- | --- |
| | Logitech M220 | Logitech M221 |
| Mouse Type | Wireless Mouse | Wireless Mouse |
| Silent | Yes, have Silent Touch Technology | Yes, have Silent Touch Technology |
| Battery Life | 18 months | 18 months |
| Dimensions | Height: 99 mmWidth: 60 mmDepth: 39 mm | Height: 99 mmWidth: 60 mmDepth: 39 mm |
| Weight | 75.2 g with batteries | 75.2 g with batteries |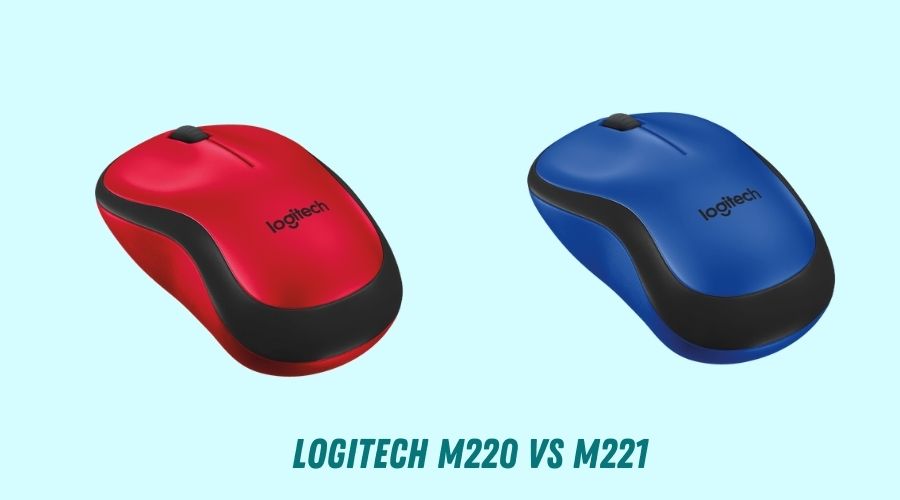 Logitech M220 Review
Logitech M220 is from Wireless mouse range from Logitech. The Logitech M220 acts excellently in terms of wireless connectivity and performance. 
If you are looking for an excellent compact mouse option with silent clicks, this mouse would consider.
This mouse has a left button, a right button, and a scroll wheel in the middle. The buttons are of good quality and are durable enough to last long.
The tracking and scrolling quality is accurate and precise. The tracking is done using the Optical Tracking technology in the mouse. The scroll wheel gives proper feedback to help you scroll line by line through your document.
The Logitech M220 is a lightweight mouse as it weighs only 75.2 g, including the batteries. Being lightweight, this mouse helps to help you move the mouse quickly without any issue. You would easily be able to move your mouse and work for long stretches.
In this video, find the unboxing and the detailed features of the mouse Logitech M220. This video would help you to understand how this mouse would be in real life.
Logitech M221 Review
Logitech M221 is a wireless mouse with silent clicks. This mouse would be helpful to you if you need to work in a quiet environment or at night. At night even the mouse clicks noise may annoy you. 
This mouse solves this noisy mouse clicks by reducing 90% of the clicky sound. 
The DPI of this mouse is 1000, which is suitable for everyday work and editing purposes. For intensive and FPS gaming, I would not recommend considering this mouse.  
The tracking of this mouse is smooth and accurate. This tracking helps to use this mouse effectively to do any work. 
Also, I like the performance of the scroll wheel. The scroll wheel helps to do line-by-line scrolling, and you can use it to scroll your content precisely.
In this video, find the unboxing and the detailed features of the Logitech M221 wireless mouse. This video would help you to find the actual view of the mouse.
Highlighting features of M220 and M221
1. Silent Touch Technology Support: 
Silent Touch Technology is an excellent innovation from Logitech. This technology is present in the silent range of Logitech Mouses. This helps to reduce the noise of the mouse clicks by 90%.
When you work in a quiet environment or even at night, then even the clicks of the mouse can be noisy. Some even work with kids sleeping beside them. In that case, also, mouse-click noise can wake up your kid.
The Logitech M220 and M221 both support Silent Touch Technology, which is excellent. Once you start using the silent technology in the Logitech mouse, you will feel that the clicks are not audible. Whenever I work late at night, I prefer using the Silent mouse.
2. Logitech Options Support: 
Logitech option is an excellent software from Logistic to customise the experience and get the most out of your mouse. Both the marks M220 and M221 support the Logitech Options supports the software.
This helps in customising and optimising the cursor movement speed. Does crawling speed and other functionalities get the most out of your mouse.
These two features are fantastic to have in a wireless mouse to consider, and both the M220 and M221 fulfil that.
Downsides of M220 and M221 Mouse
Here are the following downsides of the M220 and M221 mouse:
M220 and M221 mouse supports Optical Tracking technology which does not work well on reflective surfaces like glass. So, if you use a glass surface, then using a mousepad is highly recommended.
Both of these mouses are small in size. So, if you have a large hand, then these mouses would not fit properly.
Which is better between M220 vs M221?
Comparing the two silent wireless mouse M220 and M221, I found both similar specs on paper. However, in terms of availability, the M221 is available in India, and M220 is available abroad.
I would highly recommend choosing one of these mouses based on availability in your country. There won't be any problem if you choose either M220 or M221.
Conclusion
Let's conclude! Overall, the features of the M220 and M221 are great and make it a well-balanced wireless mouse from Logitech. The main highlighting feature of these mouses is the Silent Touch Technology support.
I hope you liked the comparison of M220 and M221.