Logitech M235 and B175 are both excellent mouses from Logitech. If you like to know the comparison between the Logitech M235 vs B175, then this post is right for you.
Let's begin the comparison of the two wireless budget mice from Logitech.
Why Should you Trust Me? Hi, I am Anirban Saha, an Engineer with a Specialization in Electronics and Communication Engineering. I have experience in Smart TVs, Electronics circuits, and Computer peripherals.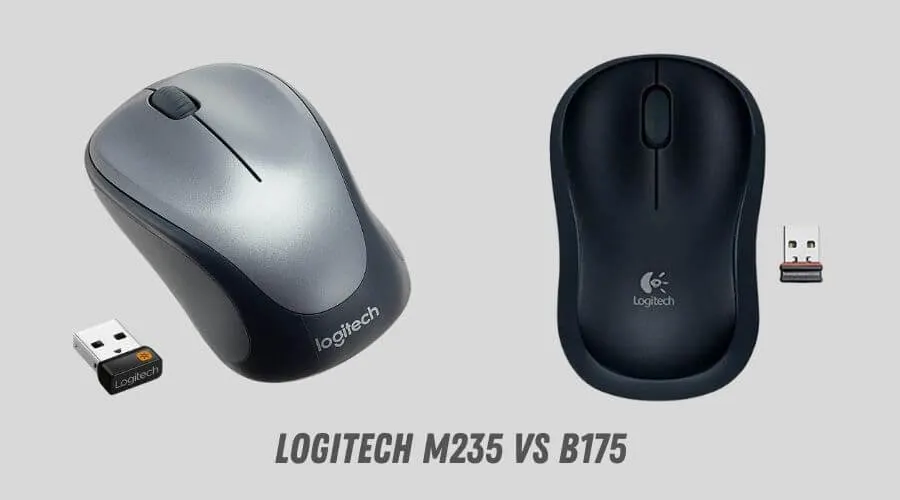 Logitech M235 vs B175
| | | |
| --- | --- | --- |
| | Logitech M235 | Logitech B175 |
| Mouse Type | Wireless Mouse | Wireless Mouse |
| Design | Ambidextrous Mouse | Ambidextrous Mouse |
| Size | Small | Small |
| Bluetooth Support | No | No |
| Connectivity | 2.4 GHz Wireless Connection with Logitech Unifying Receiver (10m Wireless Range) | 2.4 GHz Wireless Connection using USB nano Receiver(10 m Wireless Range) |
| Rubber Grip | Yes | Yes |
| Battery Life | 12 months | 12 months |
| Weight | 84 g | 100 g |
Build Quality and Durability
The Logitech M235 mouse is built with a plastic material that is of high quality. Also, the build looks and feels that it is hard enough to regularly resist mild drops and heavy usage.
The sides have a rubberized grip of soft rubber that adds extra comfort while using M235.
The B175 wireless mouse is durable enough with its hard plastic body, rustproof, and corrosion-resistant.
Performance
The performance is good as per the M235 mouse. The scroll wheel is very responsive. You can navigate easily, and also, you can scroll line by line using this mouse's scroll wheel.
If you have used a touchpad with a laptop, you will find a better performance of the M235 mouse.
Connectivity
The M235 wireless mouse from Logitech connects with a 2.4 GHz Wireless Logitech Unifying receiver. This receiver helps to connect quickly to your laptop or desktop by plugging into the USB port.
The M235 mouse establishes a connection instantly. The wireless connection is also very reliable and there. There would be no connection drops or any lags while you use your mouse for productivity.
The B175 comes with an ultra-compact receiver to connect with Windows and Mac OS devices. The connectivity has no delay and has reliable performance.
Logitech M235 Review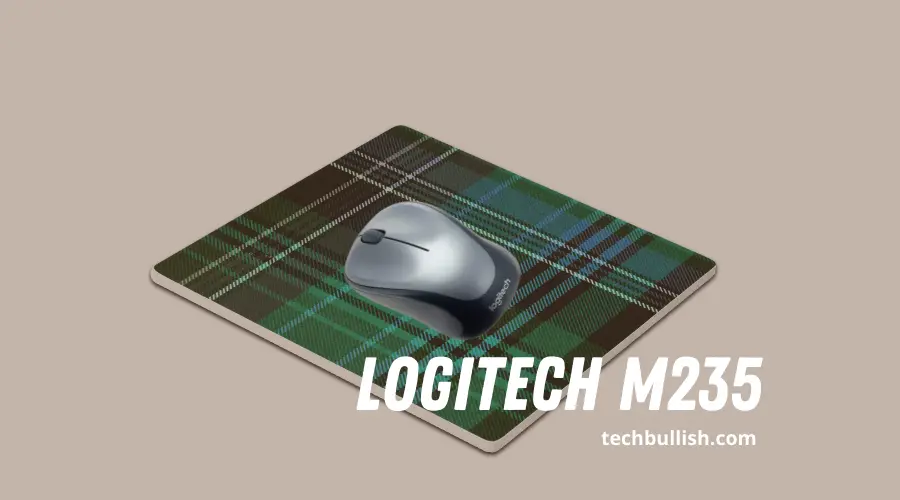 Logitech M235 is a wireless mouse from Logitech. This mouse has an ambidextrous design that is friendly for both right-handed and left-handed users.
The size of this mouse is small, so if you have small hands, this mouse would be an excellent choice. This mouse connects using the 2.4 GHz Wireless Connection and has a wireless connectivity range of 10m.
Having a 10m range is sufficient even for large rooms. So, in terms of connectivity, there is no issue.
In this video, you can find the unboxing with the real size and feel of Logitech M235 with detailed information.
Logitech B175 Review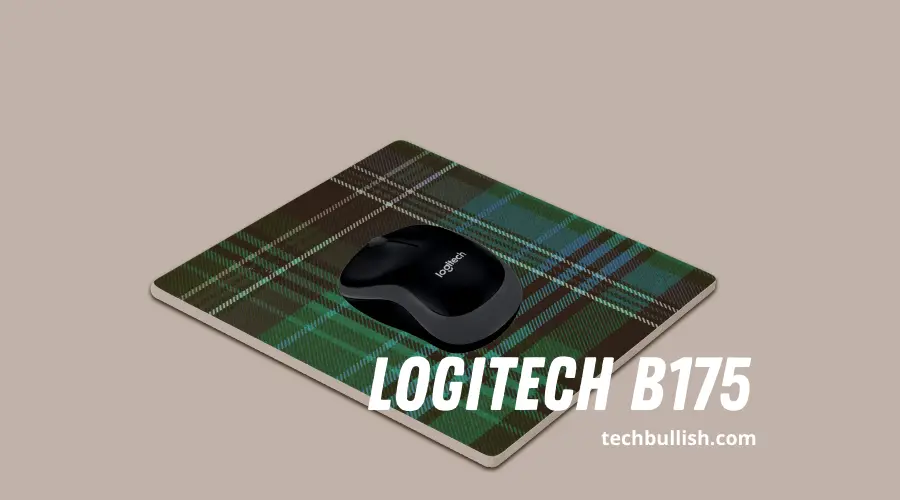 Logitech B175 is a wireless mouse from Logitech that has an ambidextrous design. This mouse is suitable for small hands as it is compact.
The performance and connectivity are worthy of mentioning. The comfort of holding this mouse is incredible.
Also, you will find a good battery life of 12 months with the Logitech B175 Wireless mouse. This mouse also has an efficient energy saver mode that helps to save energy of this mouse.
In the video, you will find the exact size and feel of B175. You will get to know how this mouse will perform.
Which is better between M235 and B175?
Logitech M235 and B175 are both great mice from Logitech's budget wireless mouse range.
The M235 mouse has more color options like Blue, Grey, and Red as compared to the B175 which has a single color option to choose from.
M235 has upgraded Logitech Unifying Receiver support as compared to B175 which is excellent in terms of connectivity. I would prefer the Unifying receiver to the Logitech USB nano receiver.
Overall, considering the features and the performance I would highly recommend the Logitech M235 to be better compared to B175.
Last update on 2023-09-23 / Images from Amazon Product Advertising API
Downsides of M235 and B175
Both the M235 and B175 wireless mice are made for smaller hands. So, if you have large hands then it may not be good for you.
FAQs about M235 vs B175
Can the batteries be charged for M235 and B175?
The M235 and B175 mice support AA alkaline batteries. If you add rechargeable AA batteries then you can recharge and reuse the batteries. Otherwise, you can replace the batteries once it gets drained out.
Does Logitech M235 support Unifying Receiver?
The Logitech M235 comes with the Logitech Unifying Receiver. So, you can connect easily by plugging it into your pc or laptop.
Conclusion
Let's conclude the post!
This comparison was close between the two competing mouses from Logitech.
In this comparison of Logitech m235 vs B175, finally, we chose the M235 mouse considering all the pros and cons that I explained before.
I hope you liked the post.
Thanks for your feedback!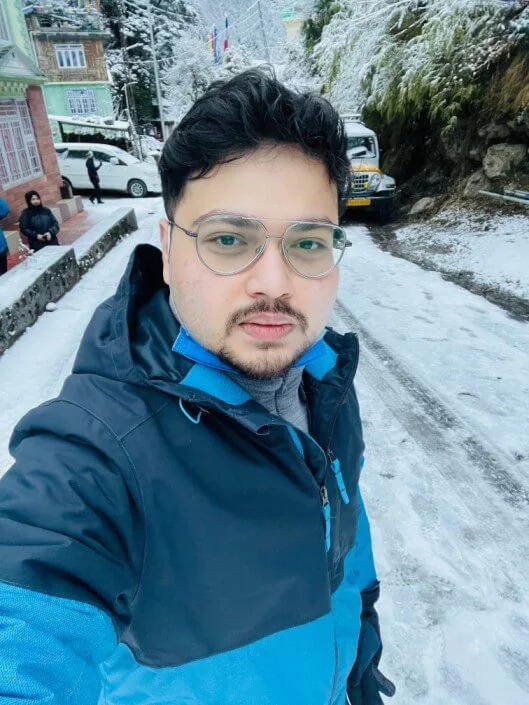 I'm Anirban Saha, Founder & Editor of TechBullish. With a B.Tech in Electronics and Communication Engineering, and 5+ years of experience as a software developer, I have expertise in electronics, software development, gadgets, and computer peripherals. I love sharing my knowledge through informational articles, how-to guides, and troubleshooting tips for Peripherals, Smart TVs, Streaming Solutions, and more here.