Logitech M275 and M280 are both wireless mouses from Logitech. Let's look into the comparison to find if there is any difference and which is better.
Logitech is an excellent brand for wireless mouses. The build quality of Logitech Mouses are great and also they are known for the excellent battery performance.
Logitech M275 vs M280 Comparison
| | | |
| --- | --- | --- |
| | Logitech M275 | Logitech M280 |
| Type | Wireless | Wireless |
| Size | Compact | Compact |
| Battery Life | 18 months | 18 months |
| Silent Touch Technology | No | No |
| Buttons | 3 (Left/Right-click, Middle click) | 3 (Left/Right-click, Middle click) |
| Connectivity | Wireless USB Connectivity using Logitech Nano Receiver | Wireless USB Connectivity using Logitech Nano Receiver |
| Dimension | Height: 105.4 mmWidth: 67.9 mmDepth: 38.4 mm | Height: 105.4 mmWidth: 67.9 mmDepth: 38.4 mm |
| Weight | 100 g (including battery) | 91.0 g (including battery) |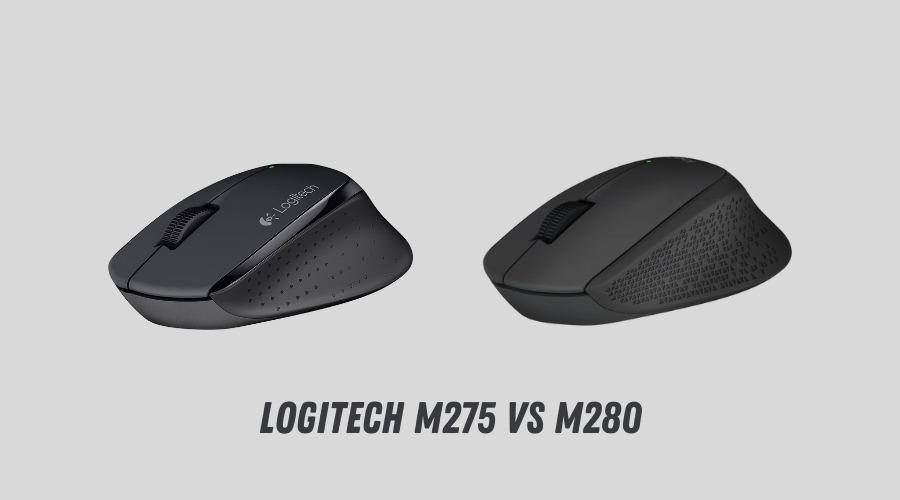 Design
Logitech M275 and M280 look similar. Both have an asymmetric shape with a curved design on the side. The backside is higher to comfort your hand.
The textured rubberized grip on the sides feels good to hold the mouse. This mouse is not slippery, even if your hands get sweaty during use.
Performance
The performance of the M275 is suitable for regular use, and you would not find any lags. You will feel like you are getting performance similar to a wired mouse.
Logitech M280 is also good in performance and has not no lags during use. However, I would not recommend the M275 and M280 mouses for FPS gaming. For other types of uses like office use, net surfing, and other things, the performance is good. 
You can also use the M275 and M280 mouses for casual gaming.
Connectivity
The connectivity of the M275 mouse is using the Logitech Receiver. The same is for the M280 mouse. You can easily connect the mouse using the Logitech Nano Receiver. 
Both M275 and M280 connect quickly with your computer, laptop, smart tv by plugging the Logitech Nano receiver. Both of these mouses do not support Bluetooth connectivity. 
Durability
Durability looks fine, and I have no complaints about the build quality of these mouses. The plastic material on the mouse surface is hard and durable. It can easily be able to sustain mild drops.
Logitech M275 Review
Logitech M275 has a well-contoured design to give an ergonomic feeling while you work with this mouse. This mouse fits naturally to your hands as the back is elevated.
In terms of performance this mouse is excellent. You can do your regular tasks easily with M275. This mouse would not let you down with daily use. If you use mouse for long hours then also you will not feel tired due to its ergonomic design.
To know more about the Logitech m275 review I have a dedicated article on that.
In this video, you would find how the M275 would be in real life.
Logitech M280 Review
Logitech M280 has a great performance and comes with a compact shape that would fit naturally into your hands. The grip of this mouse is excellent due to its rubberized sides.
I liked the texture of the sides of this mouse. The grip is incredible and you will like it very much. The scroll wheel is very much controllable. If you like to precisely scroll each line of any document then easily you can do that.
This video will find the actual Logitech M280 mouse review and how it will perform in daily tasks.
Downsides of M275 and M280
Both of these mouses have an asymmetric design, and these are curated for right-handed design. 
Also, both these mouse comes with Optical sensor which does not work well on reflective surfaces like glass. These mouses work well on other non-reflective surfaces like wood, paper.
Which is better between M275 and M280?
Considering the features and functionalities of these mouses, I found both of these mouses similar. There are no significant differences. Only the M280 has a slightly lower weight of 10 g. I would recommend choosing the mouse based on the availability and price.
FAQ's on M275 vs M280
Does Logitech M275 support the unifying receiver?
Logitech M275 supports Logitech Nano receiver.
Is Logitech M280 Bluetooth?
Logitech M280 does not support Bluetooth. Logitech M280 does not support Bluetooth connectivity. Logitech M280 connects by Unifying receiver to PC, laptop.
Conclusion
Overall, comparing all aspects, the features of both of the mouses M275 and M280 are similar and you can consider any one of them. I would recommend the M280 as this is the updated version.