For many years, Logitech has been a steady brand in the computer peripherals market.
If you're interested in a trackball mouse but aren't sure whether to buy the M570 or the M575, you've come to the right place.
In this article, I'll compare the two trackball mice and show you what makes them different.
To compare the Logitech M570 vs M575, I will discuss all the factors like design, performance, and
comfort, and review them.
Why Should you Trust Me? Hi, I am Anirban Saha, an Engineer having a Specialization in Electronics and Communication Engineering. I have experience in Smart TVs, Electric circuits, and Computer peripherals.
Both the M570 and M575 mouse is of the trackball type and comes under the ergonomic mice segment.
The Trackball mice offer a more intuitive way of working with your computer, as the cursor moves only by moving the ball.
So, What is Trackball Mouse Technology?
The trackball is a free-floating roller present on the side of the mouse that helps to move the mouse pointer and navigate across the screen.
With a trackball type of mouse, it feels comfortable and easy to use.
This type of mouse design is different as compared to the normal optical mouse.
The trackball type of mouse would help you move the mouse pointer of the M570 and M575 mice without moving the mouse itself.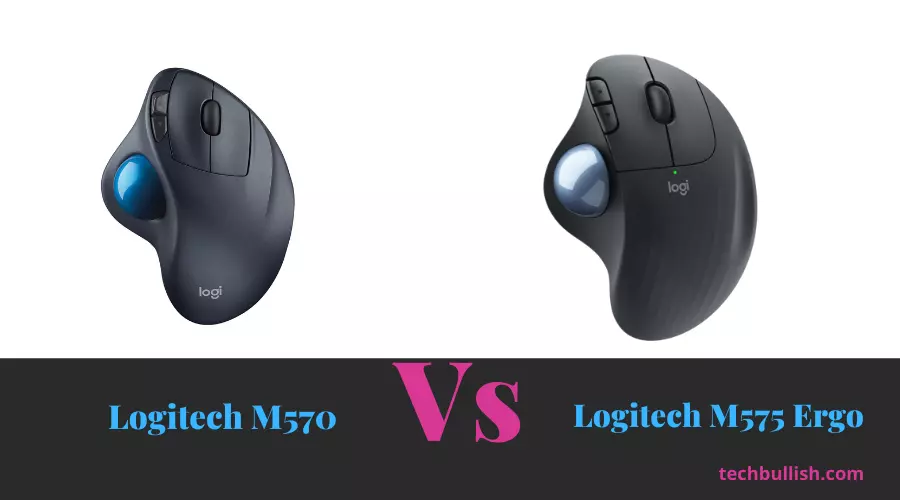 Let's dive right in!
Logitech M570 vs M575
| | | |
| --- | --- | --- |
| | Logitech M570 | Logitech M575 |
| Connection Type | Wireless | Wireless |
| Mouse Type | Trackball Mouse | Trackball mouse |
| DPI | 540 | 400-2000 |
| Height | 145 mm | 134 mm |
| Width | 95 mm | 100 mm |
| Depth | 45 mm | 48 mm |
| Weight | 142 g | 145 g |
| Polling Rate | 125Hz | 125Hz |
| Software | Setpoint | Logitech Options |
Logitech M570 Review
Logitech M570 is a heavy ergonomic mouse.
It has a good quality responsive trackball that would help you to do your work efficiently.
Pros
Here are some of the great things which I liked about the M570:
The sculpted shape supports your hand, and your fingers can move freely, even after hours of work.
Logitech Unifying receiver—The tiny, wireless receiver that stays in your laptop.
Logitech Advanced 2.4 GHz wireless connectivity gives you a reliable connection up to 30 feet away with virtually no delays or dropouts.
Work and play in comfort, with a large, comfortable palm rest and soft-touch finish.
Cons
The M570 does not support left-handed usage
Overall, in terms of usability, it is a good product for work.
Sale
Last update on 2023-10-02 / Images from Amazon Product Advertising API
Logitech M575 Review
Logitech M575 came out as a refreshed version, and many features are better. Also, the support of the latest Logitech Software, Logitech Options, improves these mouse buttons with a ton of customization.
Even being a trackball mouse, you get away to customize your mouse buttons, and DPI using the Logitech Options software, which is great to have.
This mouse would help you to work for long hours.
The best thing is, with M575, you only rotate your thumb and get all the control of your mouse cursor pointer.
That's amazing to have, especially if someone works for long hours.
Pros
These are some of the great features which I liked about the M575:
A responsive trackball that tracks accurately and quickly, with fast, smooth cursor control.
Plug-and-forget Nano-receiver that stays in your laptop, so there's no clutter on your desk.
Works on any PC with a USB port—no driver software to install.
The ambidextrous design gives you the most natural, comfortable feel for either hand.
Cons
Here is a downside which I feel:
This design is made for right-handed usage. So, if you are a left-handed user, then this mouse is not for you.
Initially, you may have a learning curve to get accustomed to Trackball, but you would be able to learn it very quickly.
Overall, if I consider all aspects, the M575 is an excellent Ergonomic Trackball mouse.
Sale
Last update on 2023-10-02 / Images from Amazon Product Advertising API
Design
In terms of design, both look unique compared to the other optical mouse available on the market.
The trackball design makes it unique. The ergonomic shape fits right to your hand and would improve your mouse usability.
They look quite good in the workspace.
People would be curious to know about M570 and M575 as everyone would find it different and unique designs.
If I compare the design of the M570 to the M575, I found M575's design to be an upgrade over the M570.
I especially like the White color with a blue trackball. It looks amazing.
You need to note that both the Logitech M570 and M575 mice are specially designed for right-handed users and not for left-handed people.
Performance
The performance is a word that would be a fast being lazy.
Guess what?
Initially, it was a bit difficult to get used to the trackball mouse design as we normally use an optical mouse with a very different design.
I felt it would feel easier to use with practice, and then it would be great to measure its performance.
If you use the Logitech M575 or M570, you will feel that performance is like a breeze.
Your tasks would be easier and faster to perform even without moving your mouse by rotating the trackball.
If you do regular work with the Logitech M570 and M575, that would be excellent with the help of trackball.
You can also play games with these mice.
Comfort
The Logitech M570 Wireless Trackball is a good mouse for most people, but if you have a larger hand or want a more comfortable mouse, the M575 Trackball is a better choice.
The M575 has a larger ball and a wider, more comfortable shape.
It also has a convenient on/off switch, but it doesn't come with an extra Logitech Unifying receiver.
Which is better Between M570 and M575?
I like ergonomic mice a lot. M575 is a clear winner.
M575 would be a great companion for your work as it will help you be more productive even not moving your mouse.
You will like the performance, clicking accuracy, and battery life of this mouse.
You will feel very relaxed using this mouse.
Also, if you already have an M570 mouse, the M575 is worth upgrading.
FAQs Related to Logitech M570 vs M575
Q: Does Logitech M570 work with Mac?
Ans: Yes, the Logitech M570 supports Mac OS X 10.5 or later.
Q: Does Logitech M570 work with Windows 10?
Ans: Yes, the Logitech M570 will work with Windows 10.
Q: How do I pair my Ergo M575?
Ans: MX Ergo gives you two wireless connection choices:
You can pair using a 2.4 GHz connection plugging the Unifying receiver.
You can also pair the M575 using Bluetooth connectivity.
You need to turn on the mouse.
Then click and hold the Bluetooth button on the bottom of the mouse to enter into the pairing mode.
Then you can easily connect with another device.
Conclusion
Let's conclude the post on the comparison of Logitech M570 vs M575!
The Logitech M575 is an improved version of its predecessor, the M570.
As I discussed, you had seen the improvements Logitech came out with and refined the mouse, and made it better to choose an ergonomic mouse.
I hope you enjoyed reading the post.
Thanks for your feedback!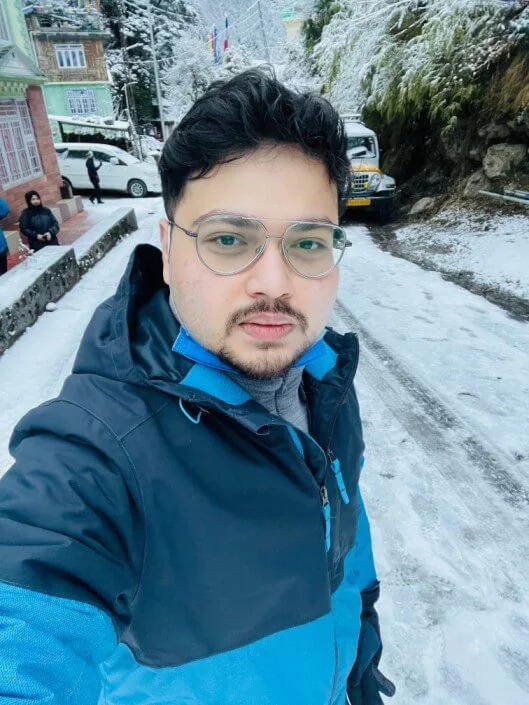 I'm Anirban Saha, Founder & Editor of TechBullish. With a B.Tech in Electronics and Communication Engineering, and 5+ years of experience as a software developer, I have expertise in electronics, software development, gadgets, and computer peripherals. I love sharing my knowledge through informational articles, how-to guides, and troubleshooting tips for Peripherals, Smart TVs, Streaming Solutions, and more here.