Keycaps are essentially the covering material that sits on top of your mechanical keyboard switches. One type of keycap that can improve the aura and RGB lighting of your gaming mechanical keyboard is the Pudding keycap.
In this post, I will explore deep and would entirely cover what are pudding keycaps and all you need to know about them from my experience using them.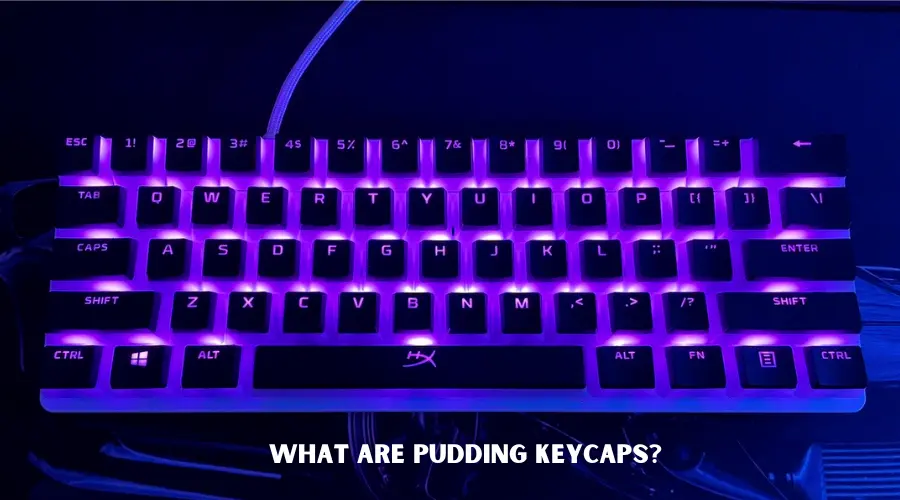 Let's get started!
What are Pudding Keycaps?
Pudding Keycaps add vibrant features to a keyboard. They display the lighting pop on mechanical keyboards that come with RGB lighting. These keycaps are of superior quality coming budget-friendly.
They are compatible with MX-Style switches although there are exceptions for some keyboards and layouts with specific keycaps.
Pudding keycaps have translucent sidewalls which allow light to shine out underlying the keys. They are suitable for users who prefer to highlight the RGB lighting of the keyboard.
Material used
These pudding keycaps are generally made of premier PBT material. These are more stable and practical while using.
They have an oil-resistant coating and are capable of wear resistance. They can be relied on for durability and feel good when touched.
However, Hyper X pudding keycaps come with a translucent dual-layer feature and brilliant font. These ABS Keycaps are a far better option than PBT material keycaps.
Design and color options
These pudding keycaps are unique artwork that comes in more than 10 colors. With advanced top closure technology and high-quality PBT materials, these detailed pudding keycaps transmit excellent light on your keyboard.
It supports the standard layout of the US keyboards (108/87/61). It gives you a perfect gaming experience and makes your typing smooth with OEM height and Ergonomic angle.
The frosted feel on the keycap surface gives your hands a comforting feel while using your keyboard. They are strong and durable.
Are Pudding Keycaps good?
The Pudding Keycaps offer an inexpensive and excellent way to guide the overall keyboard upgrade.
Again, there are a lot of mechanical keyboards which have RBG lighting. Besides, you will find that the Pudding Keycaps will assist the whole lighting pop.
For this reason, you need to always be careful during the addition and removal of keycaps.
This way, you will avoid all kinds of damages which were likely to occur on the stem or switches.
Are Pudding Keycaps good for typing?
The Pudding Keycaps entail keycaps that have a translucent design. For this reason, they give room for extra lighting, especially on the sides of keycaps.
The options are excellent for use by all people who wish to engage in the highlight of the keyboard RGB lighting.
Another thing, the stock keycaps as well vary in each of the different keyboards. Mainly, mechanical keyboards entail backlit keycaps.
For this reason, you will find that RGB lighting helps in the overall shining of light, particularly on the board.
Are Pudding Keycaps good for gaming?
All the pudding keyboards are great for use in gaming. This is because their keycaps are excellent and reliable at all times for use with RGB keyboards.
Again, there is a light reflection whose production takes place on the keycap set. They are cool and as well guide the creation of ideal color combinations.
What is the point of Pudding Keycaps?
To enhance your keyboard lighting, pudding keycaps should be your choice. These keycaps come with a translucent design which allows more lighting to shine through the keycap's sides.
The Hyper X pudding keycaps that come with a translucent dual-layer style provide extra brightness to your keyboard. They are inexpensive although they give your keyboard a stunning and refreshing look.
Do pudding keycaps work on any mechanical keyboard?
Of course, the pudding keycaps are compatible with any standard 104/105 key keyboard. They adjust with most mechanical switches adding extra flair to your favorite keyboard. (We can still check the compatibility mentioned in the keycaps.)
They are easy to install and make your keyboard appealing. These pudding keycaps are designed with durable PBT plastics which are best in texture, clarity, and appearance. These PBT keycaps compared to ABS keycaps are far more durable.
They can fit virtually in any mechanical keyboard.
Why is Pudding Keycap Called so?
Pudding keycaps are called so because of their gentle nature. These are silent and are far quieter. Because of the white color in double-shot PBT keycaps, they are also called pudding.
They are opaque while the rest is translucent. These are featured with the illumination of a translucent body and serve best for RGB fanatics.
Are pudding keycaps quieter?
Pudding keycaps are quieter compared to regular keyboards with traditional keys. However, it is not always the same.
In some cases, these pudding keycaps tend to get louder and noisier than regular keys.
Pros and Cons of Pudding Keycaps
Pudding keycaps are a powerhouse of excitement for your keyboards. They add on a dramatic flair in an elegant style to make your keyboard fascinating.
However, there are Pros and Cons to using these enigmatic keycaps.
Pros
They are extremely eye-catching RGB lighting and come with double-shot PBT. These keycaps are not expensive and make your vibrant taste affordable.
They have a sleek matte finish which gives your fingers a comfortable feel while using them.
Cons
If you prefer a simple and traditional keyboard, pudding keycaps are too flashy for non-RGB users. They further do not have a plastic keyboard outline making an easy storage option.
Pudding Keycaps Vs Regular Stock Keycaps
The Pudding Keycaps feature a dual-layer translucent style which is absent in the regular stock keycaps
Pudding Keycaps have extra brilliance compared to regular stock keycaps
They are much thicker than the regular keycaps
The Pudding Keycaps are more durable than the regular keycaps
Pudding Keycaps resist more solvents than regular keycaps
My Experience Using Pudding Keycaps
For Typing/Regular Work
Pudding keycaps have a translucent design, making room for extra lighting. It is a striking highlighting feature for your mechanical keyboard which entails backlit caps.
The RGB lighting gives an overall shine to your keyboard. Its smooth surface makes the typing experience far more comfortable.
For Gaming
Pudding keycaps are excellent when it comes to gaming. They are a compatible blend of fitting, placement, and precision.
With a wide variety of color options, gamers have the privilege to power up their keyboards with pudding-style RGB illumination.
With double shot design and translucent sides and letters, these keycaps styles add to the excitement of playing games brilliantly.
Do I Recommend a Pudding Keycap?
Pudding keycaps are highly recommendable if your taste prefers light. They are affordable and available in a variety of colors.
Their styling features add spark to your traditional keyboard concept. Illuminating appearance makes your keyboard refreshing and appealing anyways.
Overall they are not expensive and can easily add spark to your workstation.
How to choose the right pudding keycaps?
Compatibility
Your keycaps should always be compatible with your keyboards! That's the only fundamentals if you are planning to modify your keycaps.
They should fit conveniently without any adjustment in your keyboard. Decide on your choice before picking on your choice of keycaps.
You may be thinking about whether keycaps are universal. However, it is not so. That's why you need to check for compatibility before you choose one.
You should consider color, thickness, profile, and material while choosing your ideal keycap.
Keycap profile
When choosing a pudding keycap set, the keycap profiles are equally important to figure out while you are equally customization on your keyboard.
Make sure to check out the customized prints that should be on keycaps. It's a mandatory feature when you are trying to upload images.
There are multiple choices of unique keycap designs to your fancy. Be sure to select the right one that serves your purpose. It would be cost-effective for you.
For superior customization pick on artisan keycaps, they serve your purpose better although expensive. However, custom keycaps are always expensive.
Style and color preference
PBT or ABS are two standards of pudding keycap choices. ABS wears out faster acquiring an overall shine while PBT is made of high-quality plastics. You can rely on PBT for durability.
These also do not have a chance of fading. Pudding keycaps come in a huge variety of colors and shades. They add functional brilliance for both gaming and typing purposes.
Brand reputation
Branding is the ultimate platform for any purchase. Relating to pudding keycaps, HyperX offers such keycaps with a combination of simple, no-frills, and a bit of gamer font.
They are affordable and provide you with an improvised sound, quality, and an overall feel of your regular keycaps.
What are the Best Pudding Keycaps?
There are several Pudding keycaps available, but here are my top 3 pudding keycaps below:
Hyperx Pudding Keycaps
These are a budget pick for quality keycaps. They come in two different colors and improve the illuminating experience of your mechanical keyboard.
Manufactured using two-shot injection molding these PBT keycaps are sturdy as a whole and confirm longevity. The top layer is completely opaque while the second layer is transparent.
The legends on the keycaps do not fade with use as they are plastic coated.
However, it is slightly boxy and difficult to see legends on the white keycaps although perfect blending of the RGB produces a seamless image in dim lighting.
Sale
Last update on 2023-10-02 / Images from Amazon Product Advertising API
SteelSeries PrismCaps Double Shot Pudding
A bit expensive in comparison with other brands of pudding keycaps, these offer multiple sets of bottom keys to fit in your particular keyboard. RGB lighting in these keycaps comes through much brighter making light effects more impactful.
They are great for non-standard keyboards and their font is better as well. Their key tops are slightly textured surfaces with raised home keys.
The black and white parts of the keys are molded perfectly. These keycaps fit Apex Pro and are a good option for those who prefer illuminated keyboards.
Sale
Last update on 2023-10-02 / Images from Amazon Product Advertising API
Glorious Aura V2 Pudding Keycaps
These keycaps are easy to install and have an awesome grippy feel. They allow light to show through making your keyboard brighter.
They come in two color schemes- black & white other than a combination of both that looks striking. The Keys made of PBT plastic have double-shot legends on both sides giving you a high-quality feel.
Their additional work with RGB or LED light gives you an amazing RGB lighting experience with a moderate level of light diffusion. It comes with a full-size 104 key and offers no shortcuts.
However many might not be comfortable with the extreme light it displays. These keycaps are also expensive.
Last update on 2023-10-02 / Images from Amazon Product Advertising API
Check this complete guide to choose the best Pudding keycaps!
Thanks for your feedback!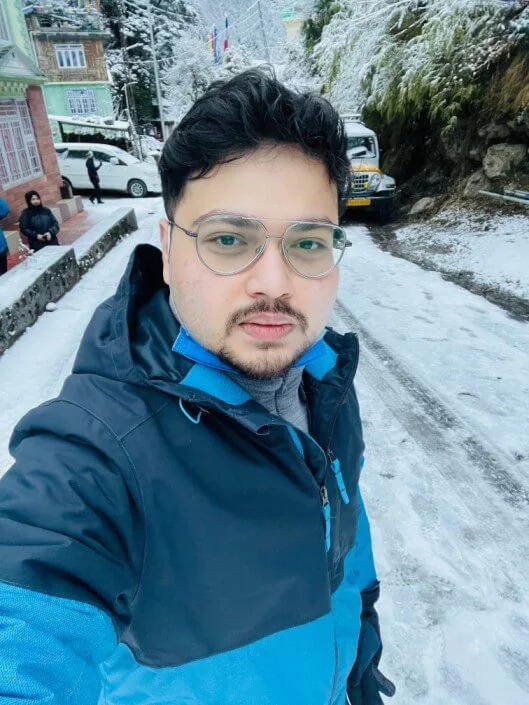 I'm Anirban Saha, Founder & Editor of TechBullish. With a B.Tech in Electronics and Communication Engineering, and 5+ years of experience as a software developer, I have expertise in electronics, software development, gadgets, and computer peripherals. I love sharing my knowledge through informational articles, how-to guides, and troubleshooting tips for Peripherals, Smart TVs, Streaming Solutions, and more here.