When choosing a good keycap, the keycap profile is one of the most important factors to consider apart from the keycap material. If it is not chosen properly, it may not fit properly on mechanical switches.
In this article, I will take a deep dive into the types of keycap profiles available for any mechanical keyboard, so you get complete information about them.
I will discuss also their pros and cons, my feedback on them and comparison between them.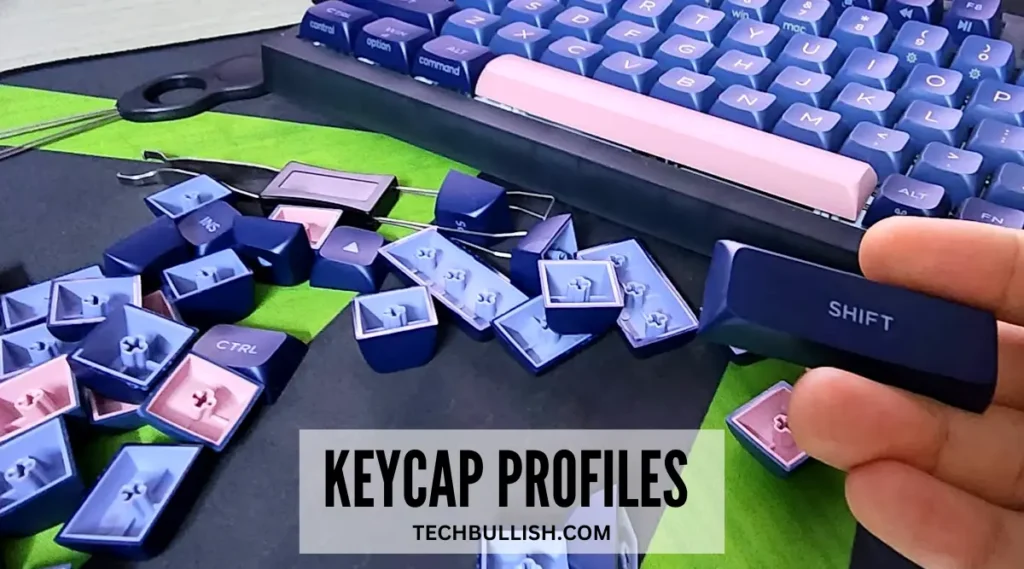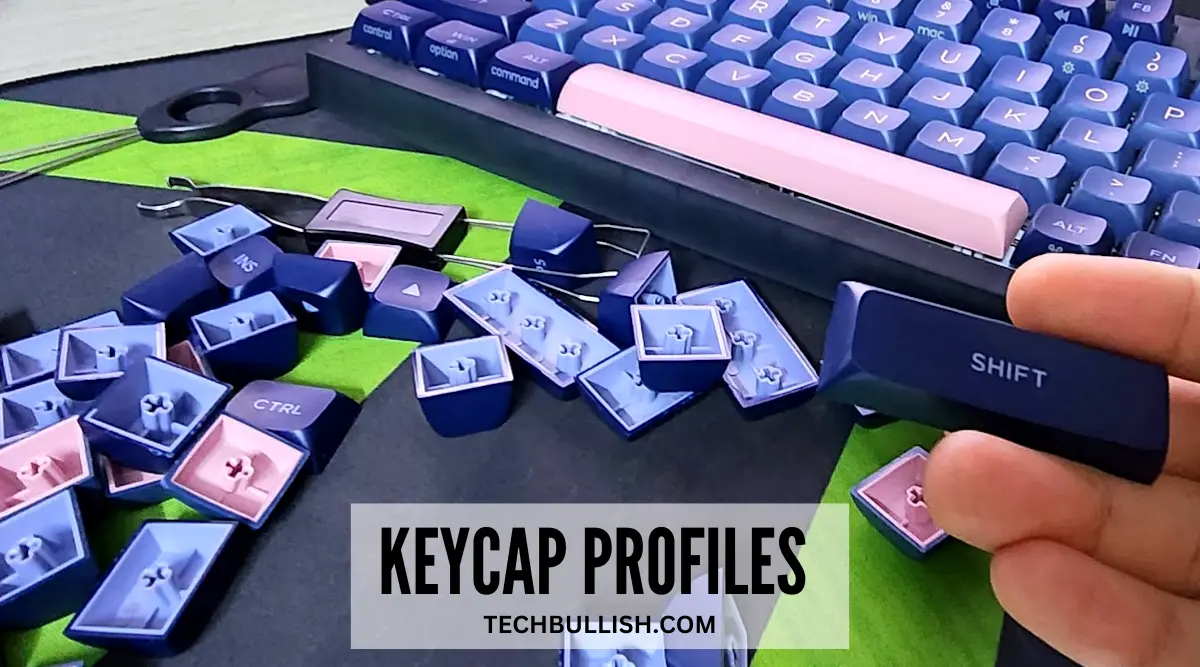 Why Should you Trust Me? Hi, I am Anirban Saha, an Engineer with a Specialization in Electronics and Communication Engineering. I have experience in Electronics circuits and Computer peripherals.
Let's get started!
What are Keycap Profiles?
Keycap profiles refer to the shape and height of the keycaps on a mechanical keyboard. They come in various shapes such as cylindrical, flat, sculpted or contoured, and with differing heights. Keycap profiles play an important role in ergonomics and typing comfort, as well as aesthetics.
Some common keycap profiles include OEM, Cherry, DSA, SA, XDA, and KAT, each with its own distinct shape and design.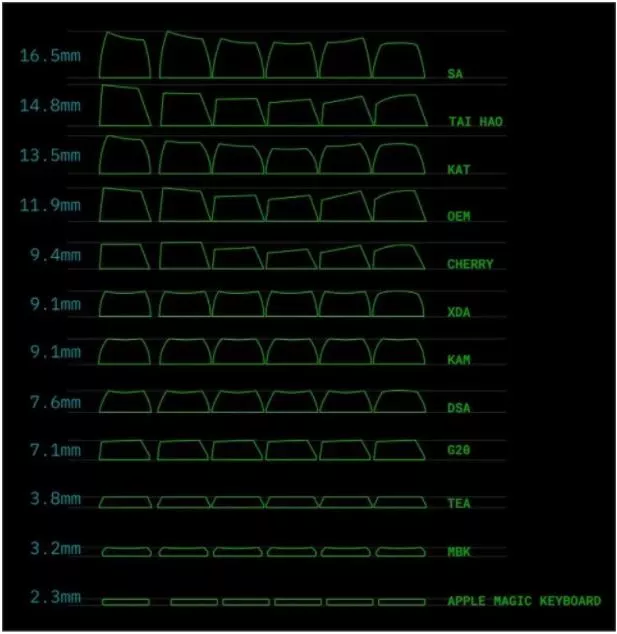 Keycap Profiles Comparison Table
| | | | | |
| --- | --- | --- | --- | --- |
| Keycap Profile | Height | Shape | Keycap Profile Description | Sculpted/Uniform Profile |
| 1. KAT Profile | Short | Flat | These keycaps are a smooth type of keycap profile by Keyreative | Uniform Profile |
| 2. XDA Profile | Medium | Spherical and Flat | Medium height profile with spherical top | Uniform Profile |
| 3. OEM Profile | Short | Angled | The keycap profile you'll find on most keyboards. Mass-produced, considered standard. Angled top. | Sculpted Profile |
| 4. Cherry Profile | Short | Angled | Very similar to the OEM profile, but shorter. Very popular layout. | Sculpted Profile |
| 5. NP Profile | Medium | Spherical and Flat | Similar to XDA, the top is rounded | Uniform profile |
| 6. DSA Profile | Short | Spherical and Flat | Slightly shorter profile with a spherical top. | Uniform Profile |
| 7. DOM Profile | Tall | Rounded top | These keycaps vary in terms of design and look unique as compared to the other keyboards. | Uniform Profile |
| 8. DSS Profile | Short | Rounded Top | Manufactured by Signature Plastics these are specialized for touch typing. | Sculpted Profile |
| 9. SA Profile | Tall | Spherical and Angled | Tall height profile with a slightly spherical and angled top. | Sculpted Profile |
Why should you get a new Keycaps set?
We often overlook the importance of what a keycap has on a mechanical keyboard.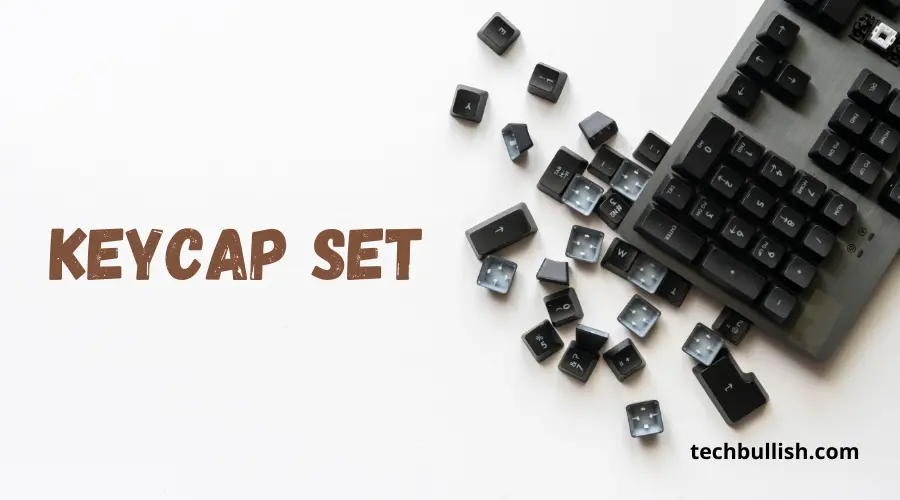 It can upgrade your productivity if you choose a good-quality keycap(keycaps with better comfort with good profiles like Cherry Profiles, added durability, and crisp and clear legends).
There are many reasons to get a new keycap set.
1. Faded Legends in Old Keycaps
Perhaps the old set is faded and no longer the legends are legible.
Getting new keycaps would give you the option to choose a good quality keycap where legends won't fade like the Doubleshot Keycaps.
2. Getting a More Comfortable Keycap profile
Maybe the profile of the keys is no longer comfortable. Or maybe the switch type has changed and it's time for a new set that is compatible with the new switches.
3. Giving Keyboard a fresh look
A new keycap set can also give your mechanical keyboard a fresh look, and there are many different designs to choose from. If you have a mechanical keyboard hobby, then you would definitely love upgrading to a fresh beautiful keycap set.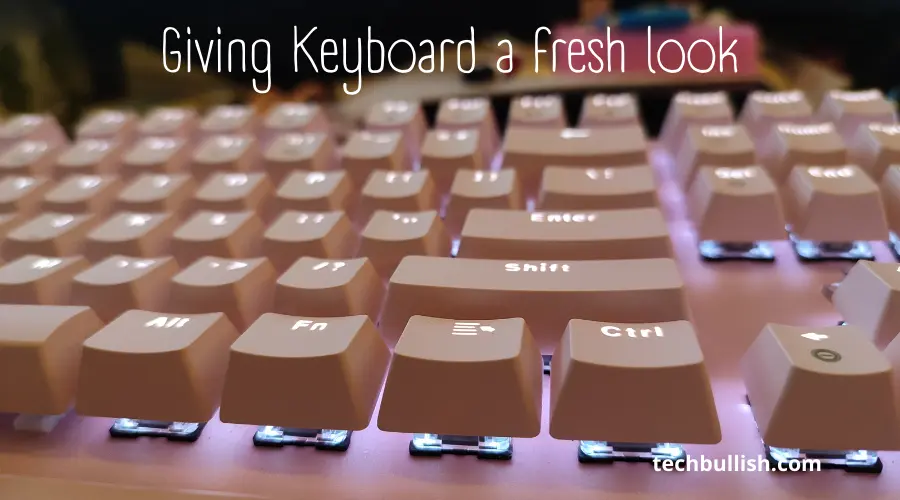 If you want to customize your mechanical keyboard even further, you can also get different colors or materials for the keycaps. Even a custom keycap can give a unique look to it.
You can also get keycaps that work better with RGB lighting.
4. Adding Durability by Choosing a Quality Keycap
Finally, a new set of keycaps can help keep your keyboard in good condition.
Over time, the lettering on keycaps can wear off, and using a new set can help prevent this from happening.
Whatever the reason, there are many different types of keycap sets available, so it's important to choose the right one.
The most important factor to consider is the keycap profile.
Another factor is the keycap materials used, whether it is made of PBT or ABS. PBT Keycaps (Polybutylene Terephthalate) are premium made of high-quality PBT plastic and are more durable than ABS keycaps (Acrylonitrile Butadiene Styrene).
Choosing Pudding Keycaps would help your keyboard to give your the proper RGB feel. The lower part of the pudding keycaps stays translucent making enough room for RGB colors to reflect from the bottom.
Choosing DoubleShot Keycaps would ensure that the keycap legends won't wipe away.
Below I have provided the Keycap Profile comparison chart to help you choose your new keycap set.
Types of Keycap profiles
Now, let's discuss in detail the different keycap profiles.
Before starting, let's look into this infographic to get a glimpse on the overview of these profiles.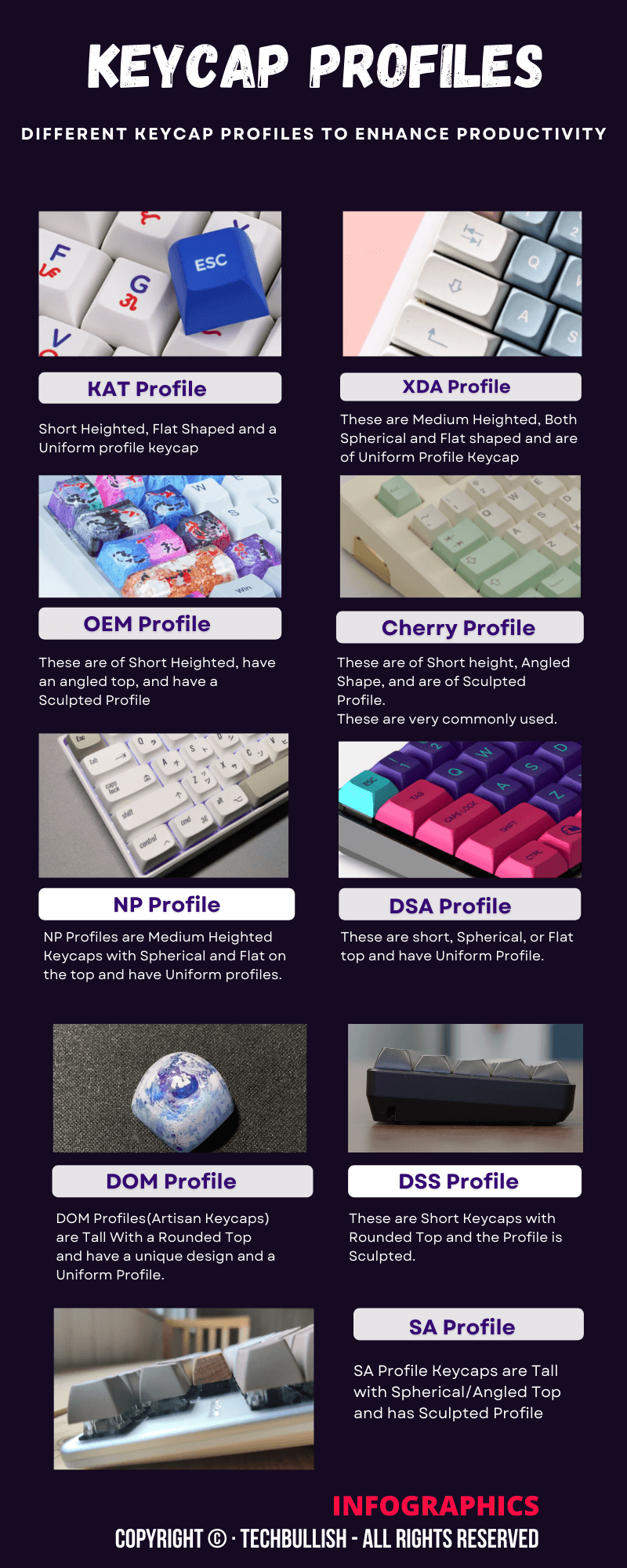 #1. KAT Profile Keycaps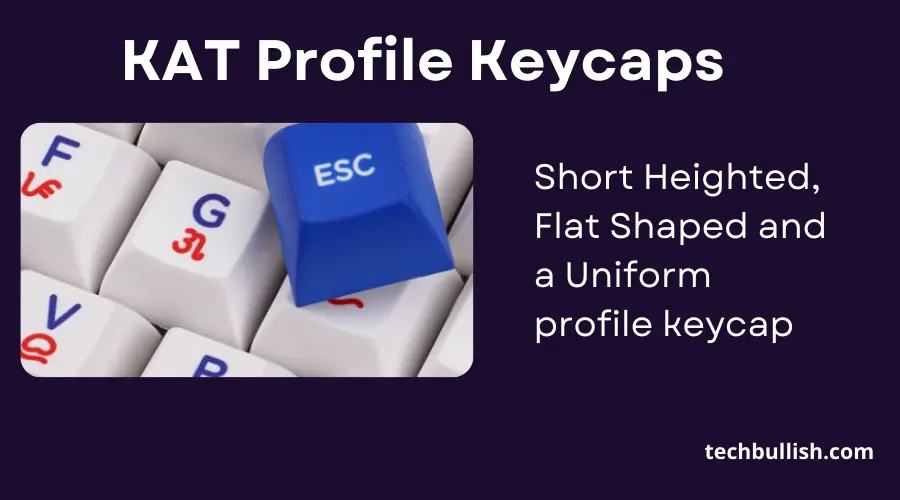 KAT profile keycap is also known as Keyreative All Touch.
This keycap is a smooth type of keycap profile by Keyreative.
If you know about the SA profile keycaps, then the KAT keycaps are similar.
However, you can consider that the KAT keycaps are a smoother and shorter version than the SA.
You will enjoy typing using the KAT profile as your fingers would smoothly glide on the keycaps.
This type of keycap has excellent typing experience.
It is recommended for content creators, marketers, and people who need typing a lot.
KAT's keycaps are made from high-quality materials and are available in a variety of colors and styles.
Their prices are also very reasonable, making them a popular choice for those looking for an affordable way to upgrade their keyboard.
Pros:
The more pronounced ridges give the keycap a little bit more texture and feel, which improves grip and response.
This keycap profile is Good for typing and Gaming. This is because of the curvy design of these keycaps.
Cons:
KAT keycaps are not easily available.
My Experience Using it:
The keycaps have an excellent texture level, and there was no ghosting when using them.
The keys had more room between them than other keycaps, which I liked very much.
Being a shorter profile it was easy to actuate and using it was effortless.
#2. XDA Profile Keycaps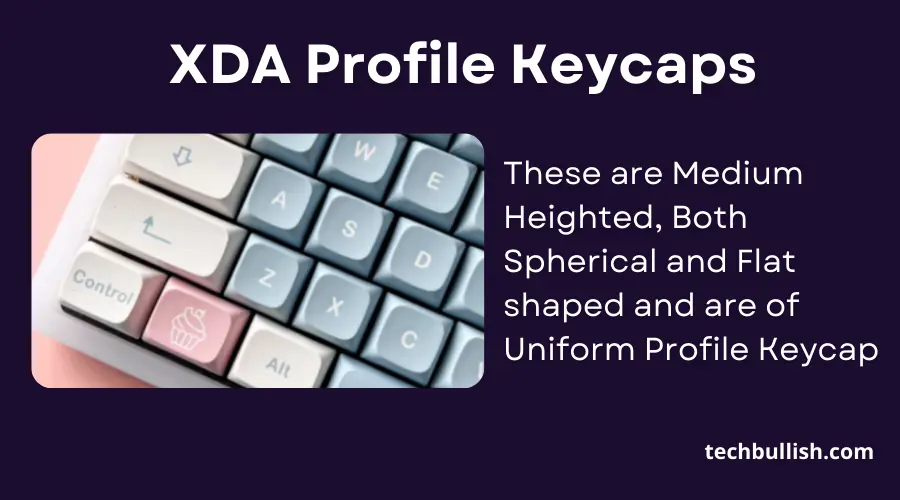 The XDA keycaps are uniform across the rows.
The uniform profile indicates that it would be great if you don't lift your hands often when you type.
You can quickly move your hands from one key to another on this keyboard.
The XDA keycaps are of medium height, which is good. XDA keycap profile is typically produced with PBT, which is higher quality than ABS and has dye-sublimated legends.
XDA profile keysets usually feature unique legend fonts. They have a special surface shape more like a rounded square than the usual spherical vs cylindrical concavity. It has a textured feel and a slightly flatter surface.
Pros:
They offer an excellent amount of comfort and typing experience.
The low-profile design is good for people who have smaller hands but still want to use their mechanical keyboard for extended periods of time.
The uniform keycap profile also makes it easier to type because you won't accidentally hit two keys at once.
Cons:
Not much cons
My Experience Using it:
XDA profile keycaps type much faster than those stock caps. They have no issues with ghosting or clicking sounds when typing.
The low profile felt good in my hands when I typed.
#3. OEM Profile Keycaps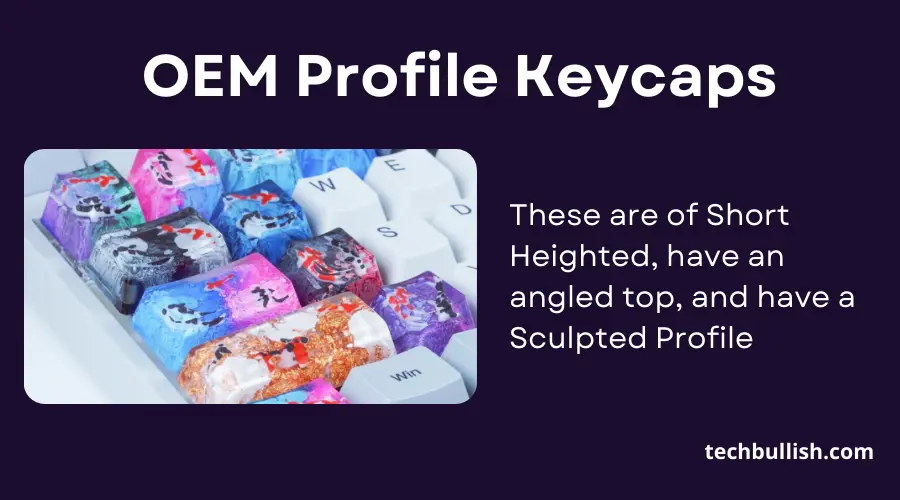 OEM Keycaps are the most commonly seen keycaps available across mechanical keyboards.
These keycaps are Sculpted and much similar to the Cherry Profile keycaps.
These OEM keycaps are great ones to consider for your mechanical keyboard if you would use them for gaming or for typing.
This is because of the cylindrical tops in them that improve comfort for long-time use.
Pros:
The medium profile means that you won't have any problems hitting too many keys in your mechanical keyboard at once, so you can type more quickly and efficiently.
They are also suitable for people who use their keyboards often and want to maximize their comfort level.
Compatible with most switches.
Cons:
They also have a less-than-ideal angle. If you need a perfectly flat keycap that can be used for long periods of time, you will have to look at other profiles.
My Experience Using it:
I like the way OEM profile keycaps can be used for daily work.
I prefer choosing an OEM stock keycap whenever I choose my mechanical keyboard. It makes regular work enjoyable and even gaming works like a breeze.
There is a noticeable difference in comfort which I feel is much similar on this medium profile keycap to the Cherry keycap profiles. I like using this keycap especially because of its comfort.
#4. Cherry Profile Keycaps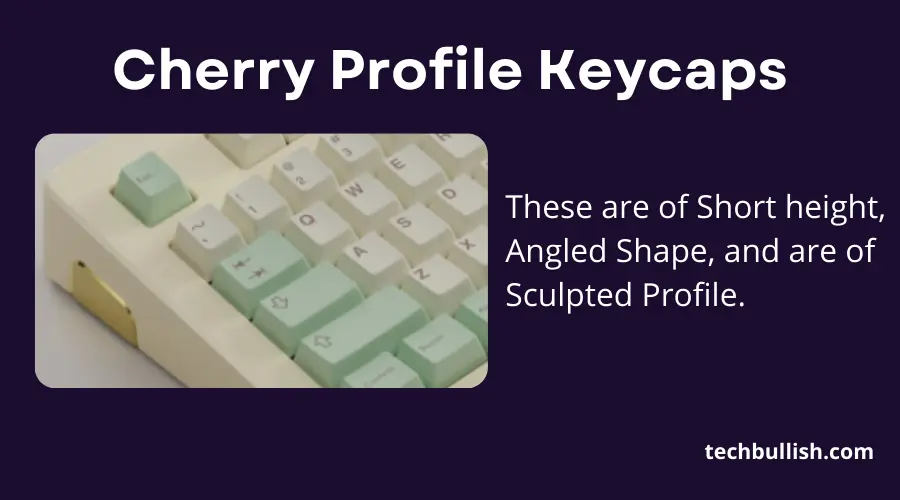 Cherry keycap profiles are considered to be one of the best standards among the other keycaps. These are on a bit expensive side.
These are also typical keycap profiles like the OEM keycaps.
You would commonly find these being used across the mechanical keyboards available.
These are very much similar to the OEM profile, but the height is shorter.
The profile is sculpted, and if you look at the top of the keycap, you will find it is angled.
Pros:
Gives comfort while typing and gaming
Compatible with MX switches and MX clones.
It makes the keyboard easy to use with its added comfort.
Cons:
Not much cons
My Experience Using it:
Cherry Keycap profile feels great to type and also I don't have to think much about the compatibility as it is well compatible with most keyboard switches.
Cherry Profile keycap is the most commonly used and most versatile one. Just go for it, it's a no-brainer choice.
Now while considering a Cherry Profile Keycap compatible with Cherry MX switches, Gateron switches, and similar switches, choosing the Optical switches variant would significantly enhance the response time of your keystroke.
Also Read: OEM vs Cherry Profile
#5. NP Profile Keycaps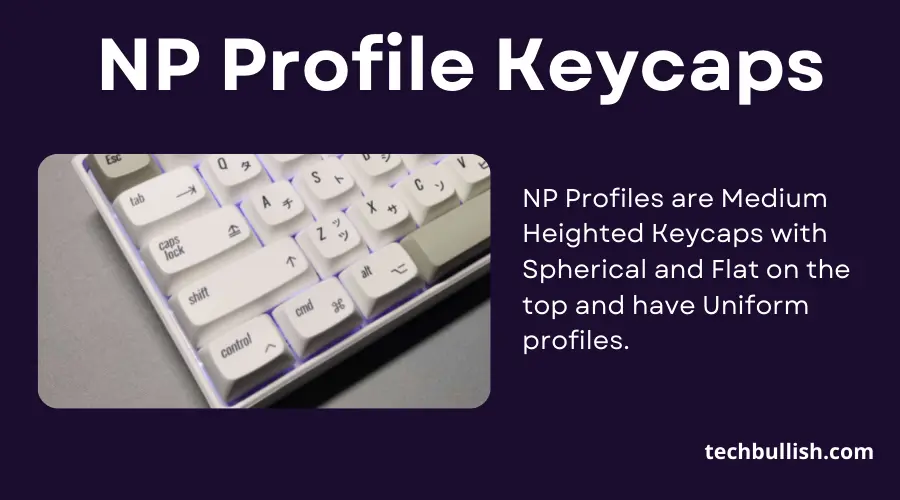 NP profile keycaps are a type of keycaps by Kbdfans.
These keycaps are flat so that you will have a uniform profile.
The edges of the NP profile keycaps are rounded, which gives a unique look.
The height of the NP profile keycaps is medium, and this type of keycap is similar to the XDA type.
Some popular NP profile keycaps are NP Icecream, NP PBT Crayon, NP Panda, NP lollipop, etc.
Pros:
Well-designed smooth rounded edged tops.
Compatible with Cherry MX and MX clones.
Cons:
There is less availability of these types of keycaps than the most common keycap profiles like the Cherry Profiles, OEM profiles, etc.
My Experience Using it:
They are one of the most comfortable profiles I used and were very easy to type on.
I also liked the look and feel, and they had a good amount of texture to them.
I especially liked the smooth and rounded edges on the top.
#6. DSA Profile Keycaps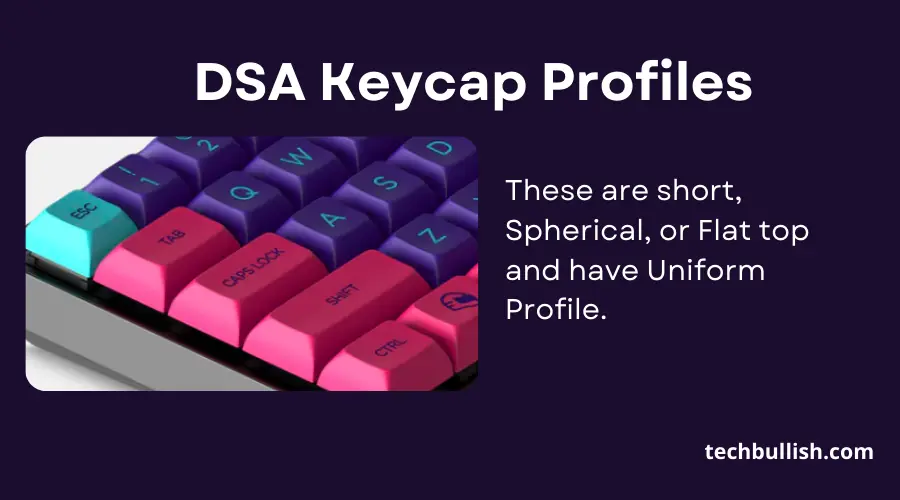 If you like keycaps from Signature Plastics, then you will like the DSA profile keycaps.
They are made of very high-quality material and come with a textured surface.
If I consider the height, the DSA keycaps are short with a spherical top.
As it has a uniform profile, you will feel excellent, and you will be able to glide your fingers without lifting from one key to another.
The short and spherical top combination is a great blend to give you a perfectly balanced feel regarding typing on this keyboard. You will enjoy the typing sessions very much.
Pros:
Looks incredible. Just wins heart with its aesthetics.
Consistent height of the keycaps
The gaps between the keycaps are good.
Cons:
Not much cons
My Experience Using it:
I enjoyed using the DSA profile keycaps.
I liked the uniform profile and how they felt in my hands. I was able to type on them as fast and accurately as other profiles, but I wanted a different design.
#7. DOM Keycap Profile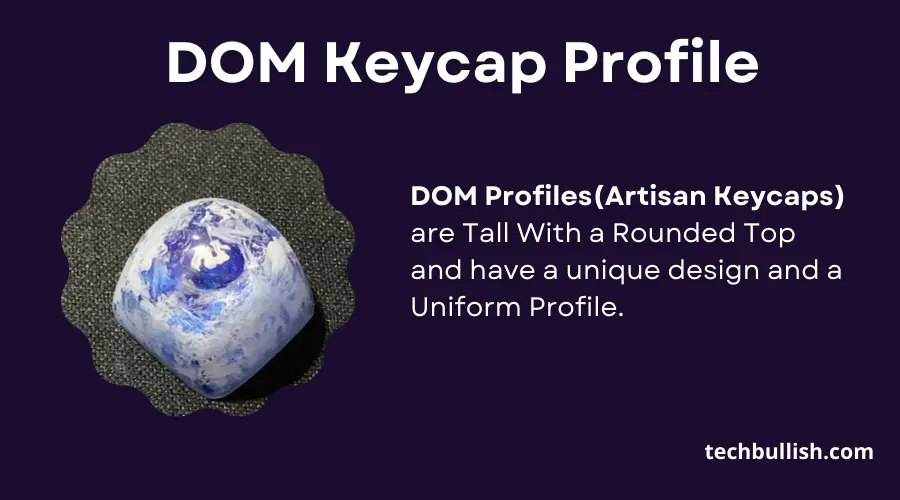 DOM keycap profile is used in Artisan keycaps(which are custom keycaps with great design).
An SA-height profile similar to a snow globe, with a rounded top to help magnify the inner contents. These keycaps are uniform profile-type spherical keycaps.
I like the rounded top of the DOM keycap very much, and I have no complaints about this type of keycap.
These are keycaps for people who like to impart creativity in keyboard keys.
DOM profile Artisan Keycaps are mainly used to design some particular key in a mechanical keyboard and most commonly people use an ESC key with this type of keycap profile.
Pros:
The DOM keycaps have a unique design, and they can be customized with different colors.
They are an ideal choice for people who use their keyboards often or for gamers.
Looks amazing on an RGB mechanical keyboard.
Cons:
These are premium as compared to the other profiles.
My Experience Using it:
I used DOM keycaps for approximately one week, and I enjoyed their unique design.
I loved using the keyboard more with this on my ESC key. It enhanced the aura of my keyboard.
You can also use this DOM profile Artisan keycap to upgrade your keyboard look.
#8. DSS Keycap Profile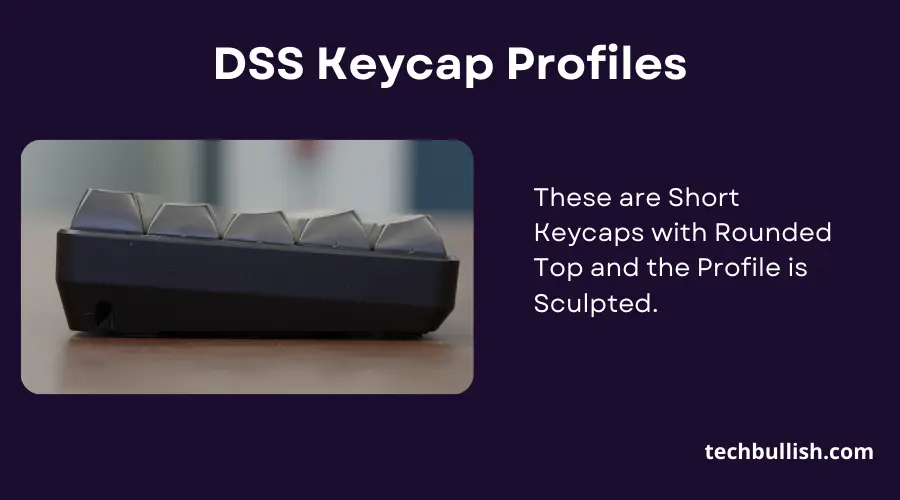 DSS keycaps are from Signature Plastics. This newer keycap profile re-introduced takes everything people love about their DSA profile and delivers an excellent sculpted profile optimized for touch typing.
One of those features that keycaps carried over is the textured feel of DSA keycaps, clearly visible in the photo above.
DSS keycaps come with a sculpted profile, which gives a sleek look to your keyboard and is slightly shorter than the SA profile and closer to the OEM / Cherry profile keycap in terms of height.
Pros:
The DSS keycap profile is a good choice if you want something durable that will last for longer periods of time than other profiles.
The low angle also brings the keys closer to your fingers, making it easier to move between keys quickly or accurately.
Cons:
Very limited availability of this keycap.
#9. SA Keycap Profile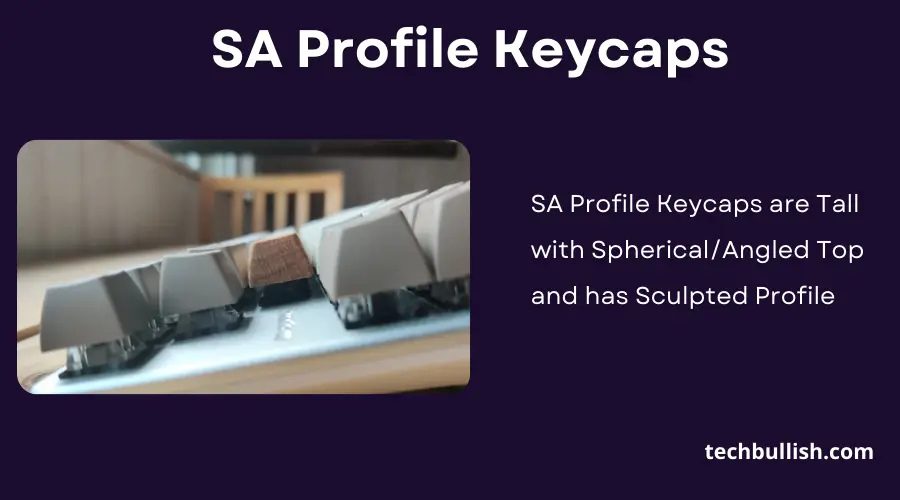 Signature Plastics makes the SA keycaps, and these types of keycaps are generally of a higher profile.
The shape is sculpted, so if you lift your hand during your typing session, it would be great to move from one key to another.
Moreover, with the spherical shape on the top, the SA keycap feels good to type.
The SA keycaps would be better if you have small hands as the keys are of high profile. The SA profile is one the most iconic profile due to its "Iconic" size and the sound they produce on their clicks.
Pros:
The SA profile is an excellent choice for people who are used to typing on keyboards with other layouts and would like something similar.
The profile is also very durable, so it will last for an extended period of time.
Cons:
As this profile is tall, you may initially find it difficult to use if you are used to a low-profile stock keycap.
My Experience Using it:
I used SA keycaps for approximately one week, and I enjoyed them.
Initially, it was learning to adjust to this keycap of good height much higher than the Cherry/OEM profiles.
I could type on them quickly, and they were very comfortable to use.
#10. MT3 Keycap Profile
The MT3 keycap profile is one of the most popular mechanical keyboard keycap profiles today. It was designed by Matt3o, a renowned keycap designer who is known for creating some of the most innovative and high-quality keycaps in the market. It is produced by Drop.
MT3 stands for "Matt3o's sculpted keycaps in a spherical design", and it is inspired by classic IBM keyboards from the 1980s.
Pros:
Ergonomic design
High-quality build
Compatible with a wide range of mechanical keyboards
Cons:
High price
Takes some time to get used to the spherical shape of the keycaps
Limited availability of some colorways.
My Experience Using it:
In my personal experience, the MT3 keycap profile has been a joy to use. The keycaps are well-sculpted and have a pleasant weight to them. The spherical shape of the keycaps took me a little time to get used to, but once I did, I found that it made typing feel more natural and comfortable with the deep spherical dishes on their tops. Also, the sculpt design is great.
Additionally, the PBT plastic used to make the keycaps is of excellent quality and has held up well over time.
Overall, I would highly recommend the MT3 keycap profile to anyone looking for a high-quality, ergonomic keycap set for their mechanical keyboard.
Now, How to choose a Keycap profile?
Now, we have learned about the different profiles available of keycaps. Now, let's try to find out way to choose one of them which would be suitable for you.
Each of these keycap profiles has its own strengths and weaknesses, so it's important to choose the right one for your needs.
1. Consider Type of Switches
The first step is to consider what type of switches you are using. Different switch types require different profiles in order to achieve the best feel.
For example, Cherry MX switches or their clones require Cherry Profile Keycaps.
2. Sculpted Vs Uniform Keycaps
Before choosing any specific keycap profile you need to make sure that which type of profile is based on the keycap shape you want.
Do you want a flat top-shaped keycap (Uniform Profile) or a tilted-shaped top keycap (Sculpted profile.)?
Once you decide this then you can look into a more specific variant of these keycaps.
3. Choosing Keycap Height
There are several keycap profiles of short-height, mid-height, and tall-height keycaps.
It would depend on the type of switches you use with your mechanical keyboard.
Short height variant: KAT profile, Cherry Profile, DSA profile, and OEM Profile.
Mid-height variant: NP and XDA profile keycaps.
In the tall variant: SA profile keycaps.
4. Knowing the Keycap Sizes
Keycaps come in different sizes and as we have different layouts ANSI and ISO, we need to choose the right size of the keycap while choosing new keycaps.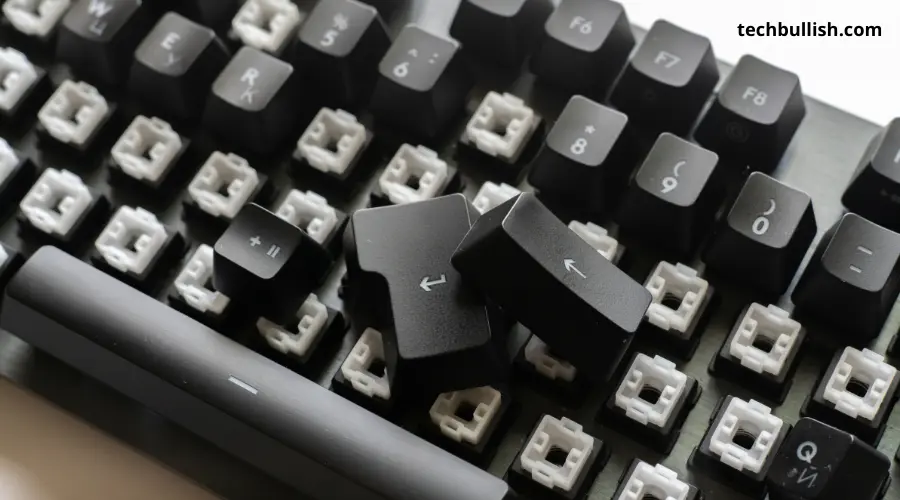 As the size of the Enter Key, Shift Key would differ in different layouts.
Do the different keycap profiles sound different?
The keycaps also sound different with changes in their profiles.
You will feel a noticeable difference in sound from DSA, SA, and XDA profile keycaps.
To understand the audio profile about the keycap profiles in more detail, you can check this video below.
This video will help you to get to know how the keycaps sound would be in real life.
Uniform vs Sculpted Keycap Profile
Keycap profiles can be classified majorly into Uniform and Sculpted Keycap Profiles according to the shape of the keycaps.
When it comes to keyboards, there are many different opinions on the best type of keycap profile.
Some people prefer a uniform profile, while others prefer sculpted keycaps.
Uniform Keycap Profile
Uniform Profile Keycaps are keycaps that are designed in a uniform shape and come in various heights. Their approximation is to be able to use one keycap for each row in the keyboard which leaves more space for spacing between keys.
They lay flat on the keyboard. You can quickly move your finger over your keyboard without lifting it.
E.g., DSA and XDA are the Uniform profile keycaps.
Sculpted Keycap Profile
Sculpted Profile keycaps are the types of keycaps that are tilted and not flat. Sculpted Profile Keycaps are shaped to follow the contours of the fingers, which is supposed to make typing more comfortable.
The idea behind this concept is that giving your fingers a place to rest, will improve typing speed and accuracy.
E.g., Cherry and OEM keycaps are Sculpted profile keycaps.
Which is better between Uniform and Sculpted Keycap Profile?
There are many debates when it comes to keyboard keycaps.
Some people swear by uniform profile keycaps, while others prefer sculpted ones. So, which is better?
One of the most popular types is the sculpted profile keycap.
This type has a tilted design that makes it easier for your fingers to find the right keys.
However, some gamers prefer the uniform profile keycap because it has a simple, flat shape that is less likely to cause fatigue during long gaming sessions.
It really depends on personal preference.
Some people find that sculpted profile keycaps help them game more efficiently because they are easier to find and press.
Others find that uniform profile keycaps are more comfortable and less fatiguing to use over long periods of time.
Ultimately, it is up to the individual gamer to decide which type of keycap works best for them.
Do keycap profiles matter?
Keycap's profiles do matter. They define how the keycaps on your keyboard look, feel, and sound.
On a standard profile, the edges are straight. On a sculpted profile, the edges are curved.
The profile of your keycaps affects the feel of your mechanical keyboard.
A higher profile keycap provides a greater "bump" when you press down on it.
Some people prefer it because it feels more resistant to touch.
Choosing the best Keycap Profile for Typing
This is a question that has been asked by many keyboard enthusiasts over the years.
There are many different types of keycap profiles, and each has its own advantages and disadvantages.
The most popular type of keycap profile is the Cherry MX style.
This type of profile is used on keyboards from companies such as Corsair, Razer, and Logitech.
It is a standard keyboard profile that has been around for many years.
The Cherry MX style keycap profile is very popular because it provides a good balance between comfort and performance.
Choosing the best Keycap Profile for Gaming
When it comes to gaming, having the best keycap profile is important.
There are a few different keycap profiles available, so which one is the best for gaming?
The answer to this question depends on your preferences and what type of games you play.
If you are a fan of first-person shooters (FPS), then a keycap profile with a steep angle (Sculpted Type) might be ideal for you.
One of the most popular keycap profiles for gaming is the Cherry MX profile.
This type of profile is used in keyboards that have Cherry MX switches.
The keycaps are curved and have a textured surface, which makes them easy to grip.
Can you switch the keycap profile?
Keycap profiles are available in different types. You can switch to different keycap profiles.
You can pick and select the right one according to your choice.
With so many different options, you can change your keycap profile and enjoy the many benefits that each of the different materials has to offer.
For E.g., If you are more into gaming switching to a DSA profile can improve your experience a lot.
You can also switch to the KAT profile mechanical switches to use for gaming and typing.
Frequently Asked Questions(FAQs)
Q. Can you use any keycap profile?
You can use keycaps from any profile on any keyboard, as long as you have compatible keycaps with your keyboard switches. But the feel of each isn't the same, and the thicker the profile, the more you'll need to adjust to typing on it.
Q. Is the XDA profile good for Gaming?
The XDA keycap profile is a relatively low-profile keycap that is similar in shape to the DSA profile. It is often preferred by users who want a more uniform look and feel to their keyboard's keys. However, whether or not it's good for gaming is subjective and depends on the user's personal preferences. The XDA profile's low profile may make it easier to use multiple finger combinations while gaming, but some gamers may prefer a more sculpted keycap profile like Cherry or SA for better tactile feedback and accuracy.
Conclusion
Let's conclude the post on Keycap Profiles!
Keycap profiles are something that you may have overlooked. But, you should definitely start paying attention to them.
Also, similarly, you should consider the keycap material if it is ABS or PBT.
I hope you enjoyed reading this post.