If you are facing the issue of the Samsung TV Remote not working, then you have come to the right place.
This is a common issue that many Samsung TV users face with their remote once in a while. There are ways you can troubleshoot and fix your Samsung TV remote without having to purchase a new remote for Samsung Smart TV.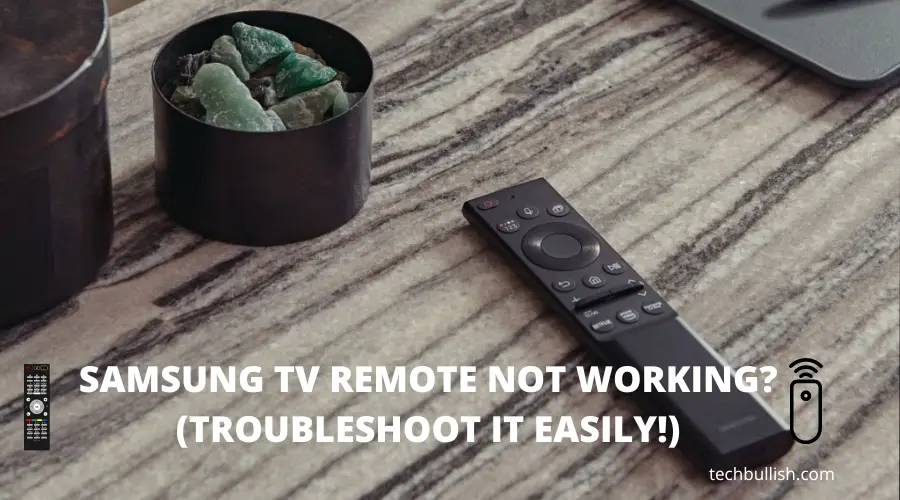 Why Should you Trust Me? Hi, I am Anirban Saha, an Engineer with a Specialization in Electronics and Communication Engineering. I have experience in Smart TVs, Electronics circuits, and Computer peripherals.
In this post, I would talk about why the Samsung TV Remote is not working first and then move on to discuss the steps you can follow to quickly fix the Samsung TV remote.
Let's get started!
Samsung Remote Not Working Causes
If you find Samsung tv not responding to remote or buttons, then here are the possible causes:
Remote Battery is Dead: One possibility is that the batteries in the remote are dead. Make sure they're fresh and try again. 
IR Sensor Communication Getting Blocked: If that doesn't work, there might be something blocking the signal between the remote and TV. Try moving anything that could be blocking the line of sight, like curtains or furniture. 
Damaged Remote: In many cases, it is caused by a damaged remote. Your Remote might have been damaged and you need to replace the remote itself. 
Samsung TV is Malfunctioning: If your Samsung TV is malfunctioning, it may not be responding to the remote. In this case, you'll need to contact Samsung customer support USA for assistance.
Fix for Samsung Remote Not Working
Before we decide to replace the original remote of the Samsung Smart TV, here are the troubleshooting steps below that will help to solve the most common issues that cause your Samsung TV remote to not work or not respond.
If your Samsung TV remote isn't working or not responding when you click the remote button, there are a few things you can try to fix it.
1. Reset your Samsung TV and remote
No matter what the issue is, resetting your Samsung TV and remote is a quick and easy solution.
If your Samsung TV remote isn't working, you may need to reset it. To do this, follow these steps:
1. Turn off your Samsung TV using the TV Button.
2. Unplug the power cord of the TV from its power source.
3. Unplug the HDMI cable and disconnect from any connected cable box or any other external devices like if you have a Samsung Soundbar.
4. Wait for 30 seconds.
5. Plug the TV back in with all the connections and turn it on.
6. Try using the remote again.
Once you've done this, press and hold the TV and remote power button for five seconds. This should reset both your TV and remote. 
Resetting your Samsung Smart Remote and TV can help clear any issues that may be causing your remote to not work properly.
2. Check the Battery
If your Samsung TV remote isn't working, a likely culprit is that the batteries are either low on charge or have died entirely. 
Here are the steps to troubleshoot Samsung TV Remotes battery:
1. Check the batteries and make sure they are seated correctly in the battery compartment.
2. To check this, remove the battery cover from your remote and take out the batteries. If they look old or corroded, it's time to replace them. 
3. Try to reset the remote by removing the batteries and then replacing them after a few seconds.
4. If the above steps don't work, try using new AAA batteries.
3. Re-pair your remote to the TV
In some cases, your Samsung TV remote may be out of sync with your TV. To re-pair it, press and hold both the volume and input buttons on the remote until you see a flashing LED light. 
Then, follow the onscreen instructions to re-sync your remote with your Samsung Android TV.
4. Confirm that the remote's IR sensor is working
Depending on the TV Model, Samsung TV remote sensor is an IR sensor. The IR sensor on your Samsung TV remote allows it to communicate with your TV. If this sensor is dirty or blocked, it can prevent your remote from working properly. 
To clean the sensor, use a soft, dry cloth to wipe away any dirt or debris.
Now to test the IR sensor, you can use your Smartphone's camera. You can check whether you can see the signal coming from your TV remote by pressing a button. The Infrared signal is clearly visible in the camera lens.
5. Remove all possible IR sensor obstructions
In some cases, there may be objects blocking the IR sensor(Infrared Sensor) on your remote. 
To fix this, simply remove any objects that could be blocking the Samsung Remote Control sensor, such as a vase or a lamp. You can also try moving your TV to a different location.
6. Update your TV's software
If your Samsung TV remote still isn't working, it may be because your TV's software is out of date. 
One of the first things you should do if your Samsung remote isn't working is check to see if there's a software update for your TV. 
To update your TV's software, go to the Settings menu and select "Support." 
Then, select "Software Update" and follow the onscreen instructions to download and install any available updates.
After the update has been installed, try using your remote again to see if the problem has been resolved.
7. Reset your router/modem
If your router or modem is having issues, this can cause your remote to stop working. To reset your router or modem, simply unplug it from the power outlet and then plug it back in. 
Resetting your router or modem can fix a number of different issues, allowing your remote to work properly again.
8. Calibrate your remote's touchpad
If you're having difficulty using the touchpad on your Samsung TV remote, it may be because it's not calibrated properly. To do this, go to the Settings menu and select "Support." 
Then, select "TV Control" and follow the onscreen instructions to calibrate your remote's touchpad. Once you've done this, your remote should be working properly again.
9. Using the Smartthings APP
Smartthings app helps you to connect to your TV and other Samsung devices from your Samsung Galaxy or any other Smartphone.
The TV remains connected to Wifi and you can use your phone as a replacement for the Remote Control that is not working.
Read More: Are Samsung TVs Good?
Samsung remote not working Red Light flashing
The remote not working red light flashing indicates that the remote is not receiving a signal from the TV. This could be due to a number of reasons, including:
1. The batteries in the remote may be low and need to be replaced.
2. There may be something blocking the path between the remote and the TV, such as a piece of furniture.
3. The remote may be too far away from the TV.
4. There could be a problem with the TV itself.
If your Samsung remote is not working and the red light is flashing, try these steps to fix the problem:
1. Check the batteries in the remote and replace them if necessary with new batteries.
2. Make sure there is nothing blocking the path between the remote and the TV.
3. Move the remote closer to the TV.
4. If the problem persists, there may be a problem with the TV itself. Contact Samsung customer service for further assistance.
Samsung Smart TV Remote Replacement
When you lose your remote or it breaks, you don't have to buy a whole new TV. You can save money by just replacing the Smart TV Remote.
There are plenty of options out there, and you should be able to find one that fits your needs.
One option is the Universal Remote Control for Samsung Smart TVs. This remote can be programmed to work with most Samsung TV models, and it offers a variety of features that might be appealing to you.
For example, it has volume control and can also be used to power on/off your TV.
If you're looking for a more traditional remote, Samsung also offers the Standard IR Remote. This remote is designed to work specifically with Samsung TVs and doesn't have any extra features.
If you're looking for a more budget-friendly option, there are also plenty of generic replacement remotes available.
These won't offer as many features like the Universal Remote Control, but they will get the job done when it comes to controlling your TV.
No matter which route you decide to go, replacing your lost or broken Samsung TV remote doesn't have to be a difficult or expensive process.
With a little bit of research, you should be able to find the perfect replacement remote for your needs.
Last update on 2022-05-18 / Images from Amazon Product Advertising API
Conclusion
Let's conclude the post on the reasons for Samsung TV Remote not working and its troubleshooting steps to fix it!
Finally, you can reach out to Samsung support if you see there is an issue with your Smart TV itself.
This does not only happen to Samsung TV Remotes only, you may notice the same issue with Sony TV Remotes, LG TV Remote, or any other brand too.
I hope you enjoyed reading the post.