I was going to purchase a gaming keyboard for my regular gameplay. Then after seeing many gaming keyboard specifications, I found the word anti-ghosting. I wondered what it means and how it can impact why it is essential and why it is there, and what does it mean, so all these questions I had. After researching these questions, I have finally become convinced about how great these features are. It is vital to know about Anti Ghosting technology before you purchase any gaming keyboard.
"Ghosting" or "Keyboard Ghosting" is the problem that occurs when you press multiple keys at the same time but don't see output for that in the monitor as those impressions are lost. To solve this, the anti-ghosting feature came.
What is Anti Ghosting?
Anti-ghosting denotes a Unique keypress that is essential when you press more than 2 to 3 keys at a particular time. It can happen during gameplay when you press the keys very frequently. It would be best if you had a unique place for a specific action to perform, then anti-ghosting is essential.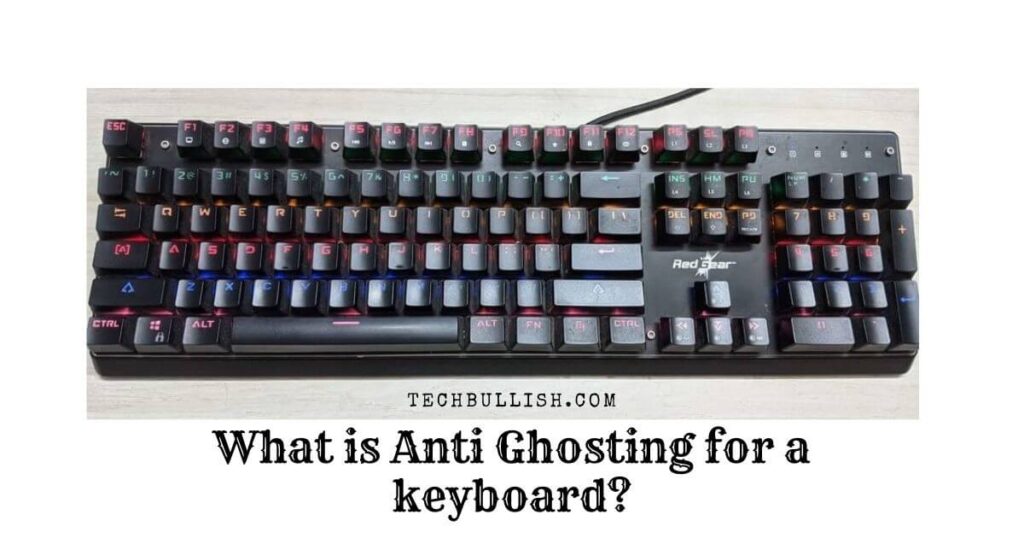 N-Key rollover vs. anti-ghosting Technology
There is another similar technology that also performs pretty well in recognizing the consecutive keypress is N-Key rollover.
How to make your keyboard anti-ghosting?
If your keyboard hardware has a limitation, then you need to look for keyboards that support anti-ghosting.
Even a standard keyboard would support pressing Ctrl+Alt+Del. You don't need anti-ghosting for all keys. 
How does Keyboard Ghosting work?
To know about this, let's look into the internal keyboard circuitry.
Keyboard has a matrix-like design that can register your keypress.
Turning on Anti Ghosting
Usually, the gaming keyboards come with an anti-ghosting feature.
In my Gaming keyboard Redgear, Redgear automatically enabled the Anti Ghosting feature. I didn't need to turn it on.  
Anti-ghosting keyboard test
Even if it is present and anti-ghosting it in a keyboard, how would you know that it is performed so well as it is said or not. 
So, how to tell if the keyboard has anti-ghosting? Here is the test.
Open Microsoft Word and keep pressing for 5 to 6 keys together without much and see what it shows you on the screen. Check if it can record a unique keypress every time. Then that keyboard truly has anti-ghosting features in it.
I have also found another tool that you can quickly check with your keyboard to test anti-ghosting.
Anti-ghosting for games
Usually, during typing, we don't press so frequently the keys that a keyboard even needs an anti-ghosting feature. However, we all know how fast we want to click different kinds of keys during gameplay. 
Suppose you are playing an FPS game like Counter-Strike or Call Of Duty or even FIFA, where you need to press different keys on the keyboard together with your mouse.
For any game that needs to press more keys frequently, then Anti-ghosting is beneficial for you.
List of Top 3 Anti Ghosting Keyboard
If you are looking for high-quality Anti Ghosting keyboards, I have compiled a list that contains all the gaming keyboards supporting anti-ghosting:
Conclusion
I hope you have got your answer about anti-ghosting technology present in gaming keyboards through this article. 
In a nutshell, anti-ghosting technology would be something to consider if you are heavily considering a keyboard for gaming purpose.