Anti Ghosting technology is very important and it is considered a must-have factor when choosing a high-quality gaming keyboard.
In this post, I would discuss in-depth the Anti Ghosting technology for keyboards and all that you need to know about it. Also, I would include my experience of using an Anti-Ghosting supported mechanical keyboard for more than a year.
Why Should you Trust Me? Hi, I am Anirban Saha, an Engineer with a Specialization in Electronics and Communication Engineering. I have experience in Smart TVs, Electronics circuits, and Computer peripherals.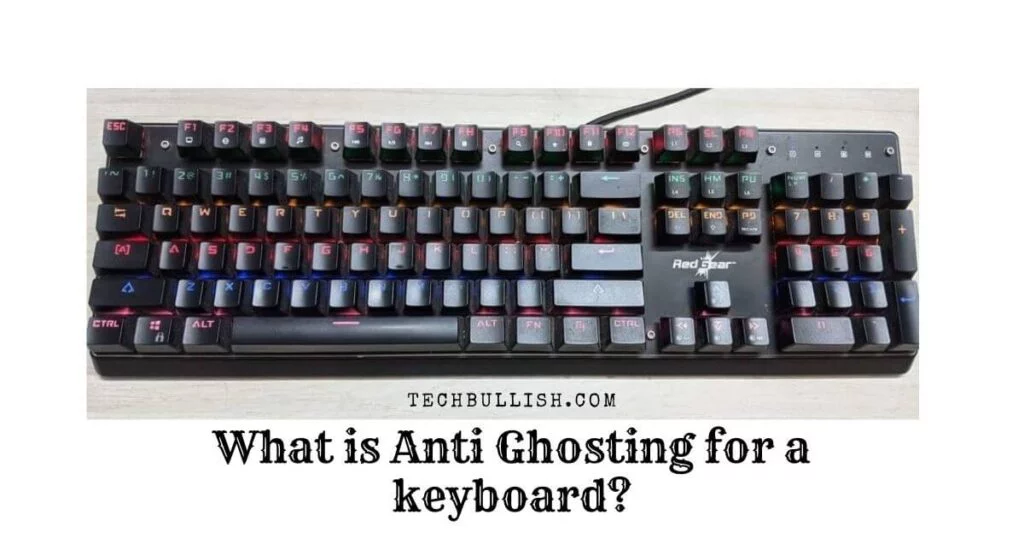 Let's get started!
What is Anti Ghosting?
Anti-ghosting denotes a keyboard's ability to support a Unique keypress even when you have simultaneous key presses with more than 2 to 3 keys at a particular time.
It can happen during gameplay when you press the keyboard keys very frequently. It would be best if you had a unique place for a specific action to perform, then anti-ghosting is essential.
About Keyboard Ghosting Issue which Anti Ghosting Solves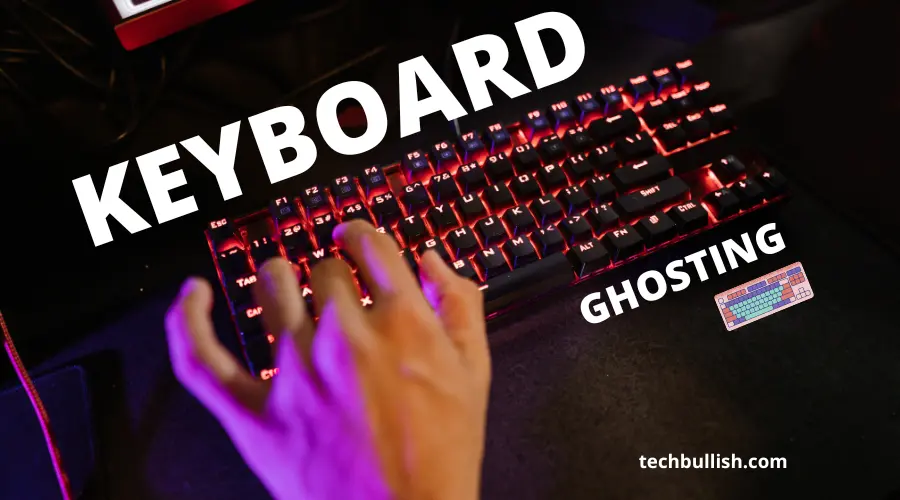 Keyboard Ghosting is the problem that occurs when multiple keyboard keys are pressed simultaneously but don't see output for that in the monitor as those impressions are lost.
Keyboard Ghosting occurs due to either Hardware incompatibility or it can be due to the communication protocol between the hardware and software limits.
Eg: You can check your keyboard by holding two shift keys and pressing other keys simultaneously and see the output from the key combination you did.
To solve this, the anti-ghosting feature came in Keyboards.
Is Anti-Ghosting important?
Ghosting is a phenomenon that occurs when a key is pressed and the corresponding character does not appear on the screen.
This can be frustrating for gamers, as it can lead to missed shots or other game-changing moments.
Anti-ghosting is a technology that prevents this from happening. It ensures that every key press will result in an action on the screen.
It is important for professional gamers who need to press multiple keys together.
What are the benefits of Anti-Ghosting technology?
Before choosing an Anti-Ghosting Keyboard, let's know the benefits of the Anti-ghosting technology as follows:
1. Prevent Missed Keystrokes
Perhaps the most important is that anti-ghosting keyboards help to prevent missed keystrokes. This is because they have a higher level of accuracy than traditional keyboards.
2. More Responsive
In addition, anti-ghosting keyboards are also more responsive, which makes them perfect for gaming or other high-intensity activities.
3. Improve Gaming Experience
Anti Ghosting Keyboards can help improve your gaming performance. Anti-ghosting keyboards are designed to prevent input lag, which can cause you to lose a game.
They also help to ensure that every key press is registered, which is important for gamers who need to make quick responses.
4. Helps in Fast Typing
Anti-ghosting keyboards can also be helpful for people who do a lot of typing. They ensure that each keystroke is registered correctly, which can help to prevent errors and typos.
5. Programming
Anti Ghosting Keyboards or N key rollover keyboards would also help you to type faster and it is much more useful in your intensive coding sessions.
You would be able to press more than two keys simultaneously without any issues and there won't be ghosting at all.
6. Better features than Other Keyboards
Most of the Anti Ghosting Keyboards are from the top line of keyboards. So, they have better features than any regular keyboards. Most times you will see the feature N Key Rollover.
N-Key rollover vs Anti Ghosting Technology
N-key rollover (NKRO) and anti-ghosting are two different technologies used in keyboards to improve performance. NKRO allows a user to press any number of keys at once and all the keys will be registered.
Anti-ghosting prevents certain key combinations from not being registered due to the simultaneous pressing of multiple keys.
Most gaming keyboards use NKRO because it allows for faster response times and improved accuracy.
However, some budget keyboards do not have NKRO or anti-ghosting technology and can suffer from missed keystrokes.
When choosing a keyboard, it is important to decide what type of activities you will be using it for and whether those activities require either of these technologies.
How do I know if my keyboard is anti-ghosting?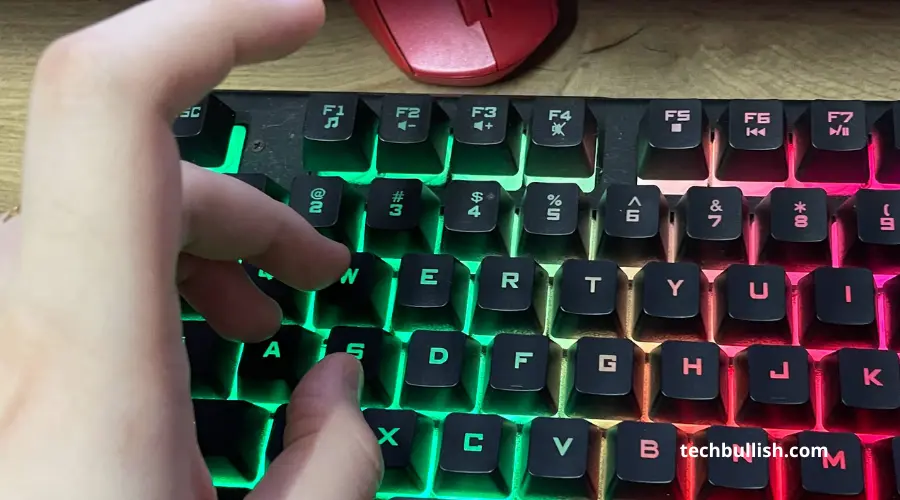 There are a few ways to test if your keyboard has the Anti Ghosting support:
Using any Text Editor like Google Docs
Using Google Docs one can check whether keyboards support multiple simultaneous keys together or not.
Open Google Docs and keep pressing three keys or more together holding the Left and Right shift keys and see what it shows you on the screen.
Check if the Simultaneous keys reported on the Screen are Correct. Also, combine it with other keys to check it.
Check with other key combinations too to make sure the Keyboard Ghosting is not there.
Then that keyboard truly has anti-ghosting features in it.
Checking with an On-screen Keyboard
There are several on-screen keyboard tool that helps you to identify whether you have anti-ghosting technology support on your keyboard or not.
You can check for several key combinations on the On-screen keyboard tools and try pressing multiple simultaneous keys together and check that they properly report or not.
Here are the online On-Screen Keyboard resources to test Keyboard Ghosting:
GitHub Project: https://drakeirving.github.io/MultiKeyDisplay/
Anti Ghosting Demo by Microsoft: https://www.microsoft.com/applied-sciences/projects/anti-ghosting-demo
How to make your keyboard anti-ghosting?
If your Keyboard does not support Anti Ghosting technology you can follow these to make it Anti Ghosting:
Key Remapping Method to Stop Keyboard ghosting
Key Remapping is the process of changing a key on a keyboard so that it sends a different keycode or sequence of keycodes to the operating system.
Key Remapping is a technique to map your keyboard keys to avoid Ghosting on Simultaneous key presses.
First, you need to identify the key combinations that are causing ghosting and the others that are not causing it. The keys that are ghosting would be found by the Brute force method by testing multiple key combinations together.
Also, take this tip of considering the keys on the same row would have a ghosting effect when pressed together.
Before you remap the keys, identify the most frequent keys you are using during gaming that is causing Ghosting you. By doing this you can easily identify the keys causing Ghosting and remap them in separate rows.
You can remap the keys in your game settings rather than changing them in keyboard software which can cause issues in other applications.
This would fix the ghosting issue on your keyboard during gaming.
Buying an Anti-ghosting Keyboard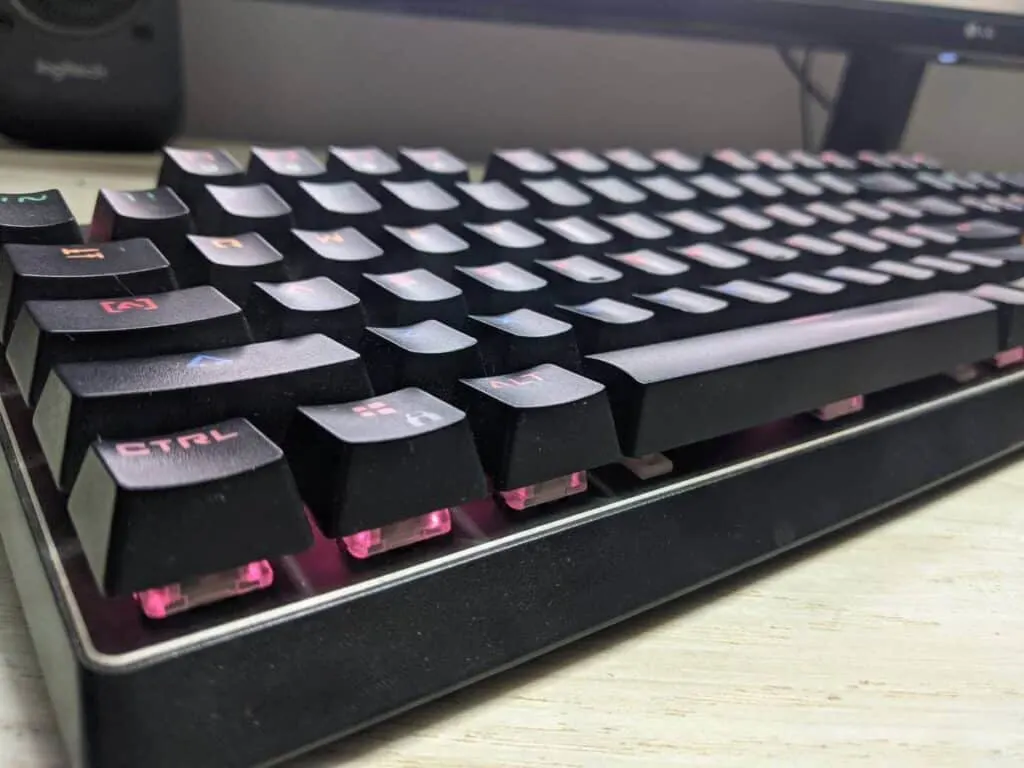 Anti Ghosting is rather a fix on the hardware side of the keyboard and not a software setting to fix.
One way to help reduce or eliminate ghosting is to buy an anti-ghosting keyboard. This means if your keyboard does not already have an anti-ghosting feature enabled in it, you need to purchase an Anti Ghosting keyboard.
These keyboards have special circuitry that helps them recognize multiple keystrokes simultaneously. This can be helpful for gamers, but also for anyone who needs to type quickly and accurately.
If you're looking for a new keyboard and want to avoid ghosting, be sure to look for one with an anti-ghosting label.
It may cost a bit more than other keyboards, but it's worth it if you want a great typing and gaming experience.
Do you need to Turn on Anti-Ghosting?
Anti Ghosting Feature is a hardware feature present in your keyboard.
Usually, mechanical gaming keyboards come with an anti-ghosting feature. You do not need to turn on the Anti Ghosting feature separately.
In my Mechanical Gaming keyboard Redgear, the Anti Ghosting feature was already turned on and I didn't need to do anything.
Anti-ghosting for games
Usually, during typing, we don't press so frequently the keys that a keyboard even needs an anti-ghosting feature. However, we all know how fast we want to click different kinds of keys during gameplay.
Suppose you are playing an FPS game like Counter-Strike or Call Of Duty or even FIFA, where you need to press different keys on the keyboard together with your mouse.
For any game that needs to press more keys frequently, then Anti-ghosting is beneficial for you.
Is anti-ghosting good for gaming?
One of the latest trends in gaming peripherals is anti-ghosting. This is a technology that helps to ensure that each key press is accurately registered, even if multiple keys are pressed at once.
For some gamers, this is a must-have feature, while others feel that it's not necessary. So, is anti-ghosting good for gaming?
There are pros and cons to both sides of this argument. On the one hand, anti-ghosting can definitely make your gameplay smoother and more accurate.
This can be especially important in fast-paced games where every millisecond counts. On the other hand, it can increase the cost of your keyboard, and if you are a casual gamer you may not use it this often.
Ultimately, it comes down to personal preference.
How do Anti-Ghosting Keyboards improve game performance and speed?
There are a few reasons why anti-ghosting keyboards improve game performance and speed.
First, anti-ghosting keyboards have a faster response time than traditional keyboards, so your commands are registered more quickly. This is important in fast-paced games where every millisecond counts.
Second, anti-ghosting keyboards eliminate the possibility of missed keystrokes caused by ghosting. Ghosting occurs when multiple keys are pressed at the same time and some of the keys don't get registered. This can cause you to lose a crucial game moment or even lose the game altogether.
Third, anti-ghosting keyboards allow you to press multiple keys simultaneously without causing any conflicts. This is especially helpful in games that require quick key combinations, such as shooters and strategy games.
List of Top 3 Anti Ghosting Keyboard
If you are looking for high-quality Anti Ghosting keyboards, I have compiled a list that contains all the gaming keyboards supporting anti-ghosting:
Keyboard Name
Razer BlackWidow Elite Mechanical Gaming Keyboard
CORSAIR K70 RAPIDFIRE Mechanical Gaming Keyboard
Corsair K60 RGB Pro SE Mechanical Gaming Keyboard
Image
Keyboard Name
Razer BlackWidow Elite Mechanical Gaming Keyboard
Image
Keyboard Name
CORSAIR K70 RAPIDFIRE Mechanical Gaming Keyboard
Image
Keyboard Name
Corsair K60 RGB Pro SE Mechanical Gaming Keyboard
Image
Last update on 2023-09-24 / Images from Amazon Product Advertising API
Conclusion
Let's conclude the post!
I hope you have got your answer about the anti-ghosting technology present in gaming keyboards through this article.
In a nutshell, anti-ghosting technology would be something to consider if you are heavily considering a keyboard for gaming purposes.
I hope you enjoyed reading the post.
Thanks for your feedback!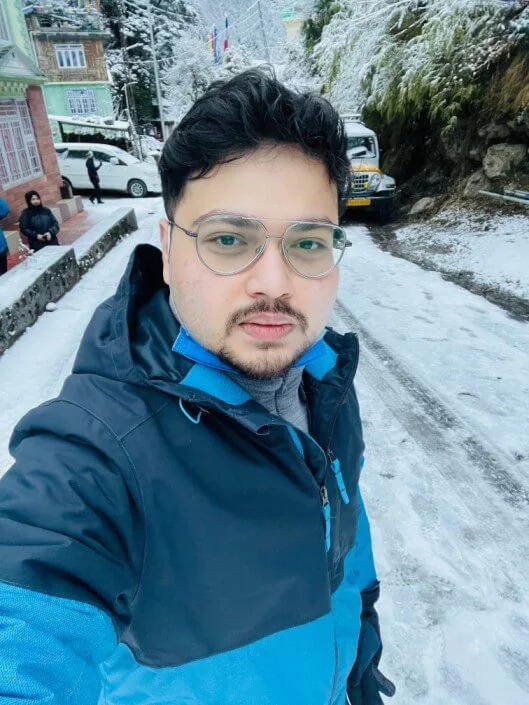 I'm Anirban Saha, Founder & Editor of TechBullish. With a B.Tech in Electronics and Communication Engineering, and 5+ years of experience as a software developer, I have expertise in electronics, software development, gadgets, and computer peripherals. I love sharing my knowledge through informational articles, how-to guides, and troubleshooting tips for Peripherals, Smart TVs, Streaming Solutions, and more here.