Sony TVs are well known globally for the quality of its products. If you have already used a Sony Tv or looking to buy one you may have a question regarding where Sony TVs are made.
In this post, I will discuss the manufacturing unit location of Sony and all the details you need to know.
Let's get started!
Where are Sony TVs Made?
Sony Corporation is a Japanese brand producing electronic products. Developing concepts for new TV models is a special Sony attraction.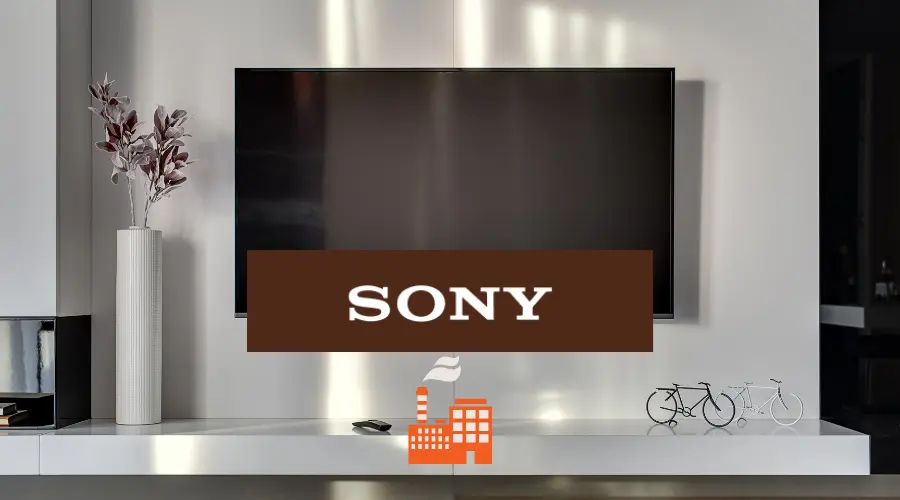 Although the assembling of TVs is both in-house production and outsourcing. TVs are assembled in Sony factories other than third-party factories called OEM and ODM manufacturers.
Expensive Sony TV models are assembled in Sony plants mainly in Malaysia whereas all low-cost models are outsourced.
Sony TVs are assembled in third-party factories located in many countries namely-
India
Resulting in a highly imposed tax on electronics imports, the Indian Government forced the companies to move their production to India.
This increased the number of jobs in India other than attracting foreign investors. In 2015, at Foxconn's Chennai plant in India, Sony initiated its TV production.
Assembling of TVs is done here under the Sony brand. These TVs are sold exclusively in India and are not exported.
Slovakia
Two Sony plants were opened here in 2007 in Nitra. The factory in Trnava since 1996 was closed due to unprofitable conditions.
The Nitara Sony plant with 32 TV assembly lines is the most extensive one conquering the European market with TVs. This plant was bought later by Foxconn in 2010 who continued Sony TV assembling. This plant ships about 3 million Sony TVs a year on average to the European markets.
Mexico
Foxconn took over the Sony factory in Tijuana in 2010. Located near the border, Tijuana is a massive hub with very cheap logistic expenses. Sony TVs produced in this plant are shipped to North American markets.
Malaysia
With two R&D centers in Selangor and Penang, owning a TV manufacturing plant in Bangi, Selangor, Malaysia is the leading development and production site for Sony products.
As a prominent intellectual and production hub for Sony Malaysia exports TV sets to Asia, Africa and other countries.
China
Sony TVs assembled in 20 factories owned by Foxconn in China are mainly sold in Chinese markets. Focused on cheap TVs, Sony TVs are not very popularly bought inside these markets.
Japan
Sony TVs here are made for domestic markets. With a strong TV sales position in Japan, Sony still has active assembly lines.
Russia
The production facilities of Jabil Circuit in the city of Tver handle outsourced production of Sony TVs.
Here is a video below showing the Sony TV factory tour which shows how these TV parts are assembled.
Are Sony TVs made in Japan, USA, or China?
Sony Corporation is a major manufacturer of consumer electronic products in Japan. Sony Bravia televisions and their components are products of plants in Japan.
Sony Corporation manufactures its Components in Sony plants in Mexico, and Slovakia for their respective regions.
However, no Sony TV features are manufactured in the USA. Moreover, Sony TVs are popular in American markets. Some popular TV brands manufactured in the USA are Sharp, Toshiba, Philips Magnavox, etc.
Sony Corporation occupies an active area in the technology zone in China. Chinese labor products with the given cheapest material at an affordable labor cost which is an important reason for companies to rely on Chinese plants for their component outsourcing.
Sony is expected to outsource production to Chinese factories at much lower production costs for quality production.
Does Sony use LG screens?
Exclusively for their first flagship OLED, Sony uses LG screens. Among a few companies, Sony is one that makes OLED and LED options. It shall continue using LG screens for its OLEDs
Two new releases awaiting manufacturing are SonyA90K and A80K displays. Sony produces and sells commercial Micro LED displays called CLEDIS.
Who manufactures Sony TV panels?
Sony TV panels are manufactured by LG display. However, the processor software and build for Sony TVs are still made by Sony, and perhaps LG is not classified under third-party companies or vendors.