There are a variety of different keyboard colors to choose from, but which one is the best?
Should you go with a White or a Black colored keyboard?
Some people argue that the white keyboard is best because it is easy to see in low-light conditions.
Others argue that the black keyboard is best because it does not show dirt and dust as easily as the white keyboard.
In this blog, I will do a comparison of white and black keyboards and will tell you all you need to know about the best keyboard colors.
In a world where technology is ever-growing, some people prefer to use a white keyboard, and others prefer to use a black keyboard.
Some people say that the black keyboard is easier to see because the letters are prominently visible on a dark base, while others say that the white keyboard is easier to see because the background is light.
There are several Keyboard manufacturers out there, and they have come up with different keyboard concepts. However, the most popular keyboards include black and white.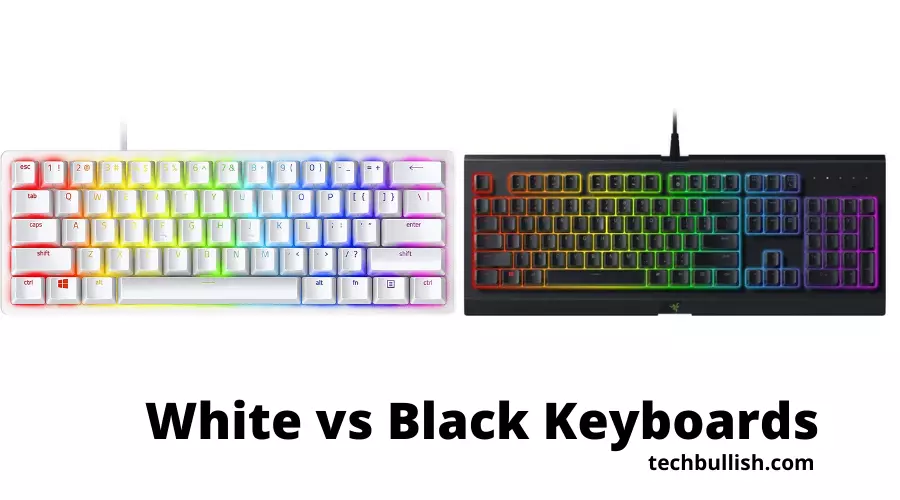 Let's begin the comparison!
White vs Black Keyboard Comparison
White and Black keyboards mainly differ in their aesthetics and look. The white keyboards have a pleasant look, while the black keyboards offer a minimalist no color look.
The white keyboard color is very simple, classic, and timeless. It always looks fresh to the user.
White is one of my favorite colors. It's because it is simple, pure, soothing, and relaxing. It has a pleasant feeling to the eyes.
The black color of the keyboard is very minimal. It is useful for the users. It is very easy to read the keys on the black keyboard and also on the white keyboard.
The black colored keyboard is very good for typing with less prone to carry dust and get dirty.
White-colored keyboards look aesthetically more pleasing, and they enhance the look of your workspace.
Even many gaming backlit keyboards are available in white color.
Pros and cons of white keyboards
Here are the pros of the white keyboards:
White keyboards look excellent in the workspace.
Adds a fresh look when seen every day
It comes at the same price as a black keyboard, so you get a chance to choose your color.
Here are some of the cons of white keyboards:
You will notice dirt gathering often on the keyboard
White keyboards tend to get yellow quickly on heavy usage if not taken care
Needs more cleaning activity to maintain its looks
Do white keyboards get dirty?
People using a white keyboard often wonder if they get dirty faster than a black keyboard.
The question is quite interesting and important. I have been asked about a white keyboard getting dirty multiple times by friends and family.
I have also seen many debates in different computer forums about this very issue. So, in my opinion, the white keyboards get dirty faster than the black ones.
I have seen several white keyboards that were dirty in a very short period. I have also seen several white keyboards in excellent condition over a long period.
White keyboards accumulate dust and stain the same as a black keyboard does. We find white keyboards to be dirtier quickly as dirt or stain is not visible easily on a black keyboard as we see more prominently on a white keyboard.
You need to keep the keyboard clean regularly, and keeping your food items away from the workstation would be a great idea.
Otherwise, your white keyboard can become yellow and not look as good as before.
Are white keyboards hard to keep clean?
It is not difficult to clean a white keyboard. You can clean the keyboard base separately; that would be easy.
You can remove the keycaps which get dirty the most.
Then you can clean the White keycaps are very easy to clean if you follow the instructions correctly.
First, you need to prepare some bleach and water.
Then, you need to put the keycaps in so that they're completely submerged in the mixture. Soak them for at least fifteen minutes, and then you should be good to go.
If you keep your hands dirty while you're typing, then expect the keycaps to get dirty. You're probably going to need to clean them every week to keep them looking nice and new.
Should I get a white or black keyboard?
Choosing between a white or a black keyboard is a matter of personal preference. Many people have asked this question, but there are many pros and cons to both.
Either way, you'll have to make a decision!
The white keyboard seems to be the trendier choice, but some people are more hands-on with their keyboards(and spill things on them more frequently), so the black keyboard might be more appealing.
Are white keyboards good?
The white keyboard is a great choice. White keyboards look aesthetic, and pleasing and add calmness to your workspace.
White keyboards with RGB lighting look good, and they are as good as other keyboard colors.
White keycaps on black keyboard
If you have a black keyboard, then also you can get a white keyboard look. You can use white keycaps set on a black keyboard base.
The combination looks fantastic and eye-catching.
A White keycap set is recommended, especially for those using a black keyboard but want to get a white keyboard without changing the whole product.
Best White Keyboards
Here are some of the best white keyboards available on the market, which you can look at:
Last update on 2023-12-09 / Images from Amazon Product Advertising API
FAQs on White vs Black Keyboards
Do white keyboards get yellow?
Yes, white keyboards collect dirt quickly and get yellow on daily usage.
Do white keycaps go with a black keyboard?
White keycaps go very well with a black keyboard. There are several white pudding keycaps from HyperX which look great.
Are gaming keyboards available in white color?
Yes, there are several gaming keyboards that are white in color with RGB lighting in them.
Conclusion
Let's conclude the post!
When it comes to choosing the right keyboard, many factors come into play. Many keyboards are available in the market, and each of them serves a specific purpose.
One of the things that you should consider when choosing the right keyboard is the keyboard's color.
The keyboard's color can make a big difference when it comes to typing, comfort, and durability.
I hope you enjoyed reading the post.
Thanks for your feedback!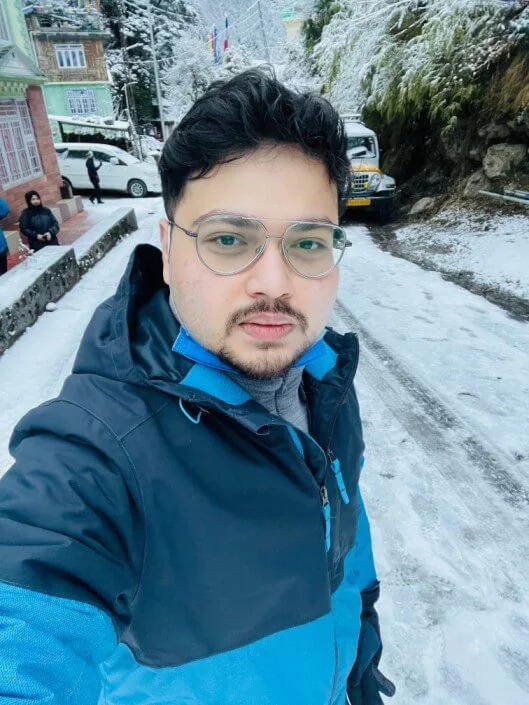 I'm Anirban Saha, Founder & Editor of TechBullish. With a B.Tech in Electronics and Communication Engineering, and 5+ years of experience as a software developer, I have expertise in electronics, software development, gadgets, and computer peripherals. I love sharing my knowledge through informational articles, how-to guides, and troubleshooting tips for Peripherals, Smart TVs, Streaming Solutions, and more here. Check Anirban's Crunchbase Profile here.