TCL makes good-quality TVs at a reasonable price and they generally last well.
But, who makes TCL TVs, where are these TVs get manufactured?
In this post, I will discuss these in detail to give you a complete idea of this.
Let's get started!
Who makes TCL TVs?
TCL Electronics Holdings Ltd- a state-owned Chinese technology firm with operations all around the world makes TCL Smart TVs.
TCL is a name trending with its high sales of Smart TVs in the technological zone. With a perfect balance between their Smart TV screen quality and the retail price they offer, TCL is the latest attraction in the entertainment ecosystem.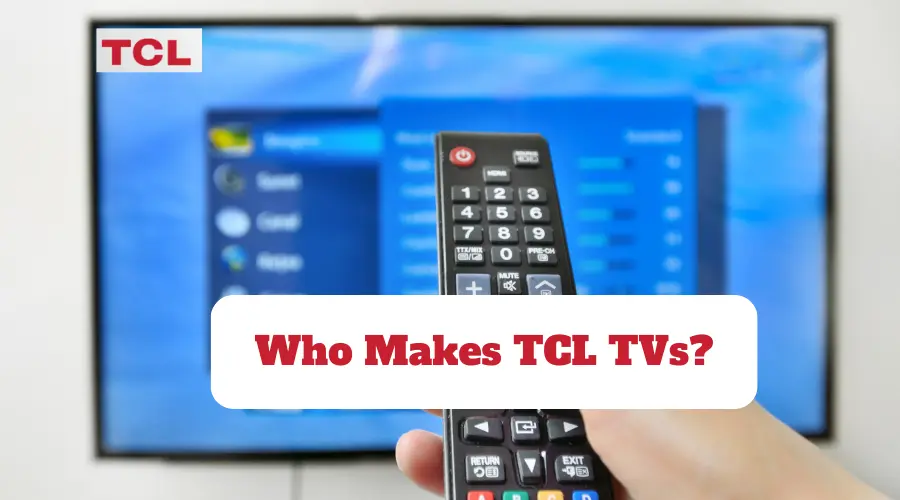 Capturing the aesthetics of this Smart TV, with powerful technology for backup, TCL is heating up its sales charts.
The sizzling entertainment platform gets its name from none other than its manufacturer TCL. The full name of this corporation is "TCL Corporation of China".
Other than administering the designing, production, and selling of their Smart TV models, TCL also makes Smartphones and other home appliances.
Where are TCL TVs Manufactured?
It has different manufacturing plants across the globe though. Countries such as India, Poland, Brazil, Pakistan, Mexico, Vietnam, and Australia manufacture and assemble TCL TVs.
More than 30 million units of televisions are designed and sold by the company annually. The company extraordinarily sells and provides TV parts to other TV brands also.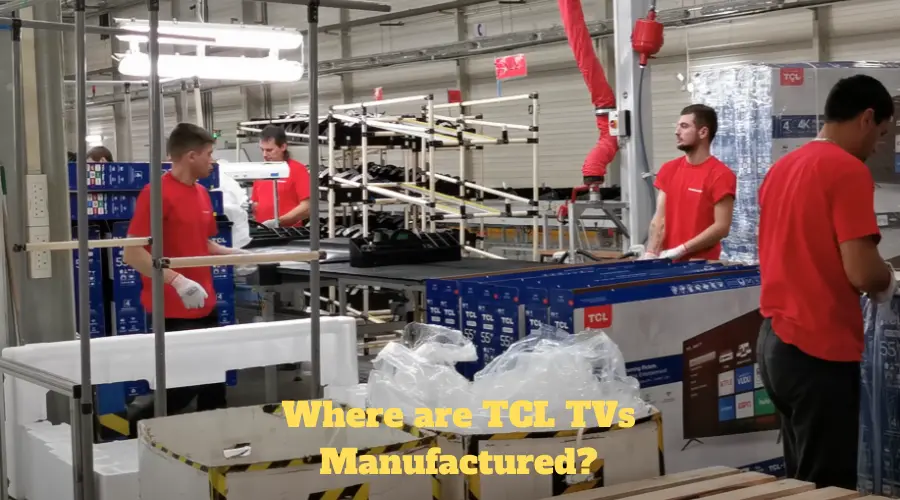 TCL TVs are predominantly made in China to their low price point and cut down production costs.
Vietnam
The facility in Dong-Nai and Binh Duong are the two TCL plants located in VietNam.
Products made in these plants are distributed to Asian countries like the Philippines and Thailand alongside Europe and America.
The brand is popular here to address the rising demand for high-quality TVs.
Australia
TCL manufacturing plant in Australia was set up in 2004, TV models like 4K TVs and Smart TVs (20-80inchs) are made here
India
In 2016, a TCL plant was opened in Tirupati. This factory produces 8 million (22-55 inches) TVs annually.
Mexico
TCL established itself at the Sanyo assembly facility in Tijuana, Mexico in 2014 and made rooms for 1.5 million HD, 4K, and QLED TVs.
Pakistan
The company began operation in 2013 and has become the second-largest television brand in Pakistan. Its manufacturing facility provides technical help to consumers conveniently.
Poland
A TCL factory in Zyrardow is capable of handling 2 million TVs annually. The components from China are assembled in Poland and the finished products are distributed across Europe.
Brazil
With its collaboration with the prominent Brazilian electronics brand SEMP, TCL production flourished in Brazil.
SEMP has a joint venture with TCL who is attempting to increase its holdings to 80 percent with a capacity of a million televisions; the $60 million facility underwent construction in 2016.
The move was a strategy that would enable TCL to shed a hefty importation tax levy on electronics.
SEMP, by the way, also makes TOSHIBA TVs.
Who manufactures TCL TV Panels?
China Star Optoelectronics Technology Co. Ltd (CSOT) is the world's leading panel supplier owned by TCL, Shenzhen. It has commenced production of high-generation panel modules, underpinning TCL's vertical integration strategy.
The company aims to fully integrate the TV manufacturing process, which is a part of TCL's wider investment in CSOT to achieve success in the global TV industry.
TCL's TV panel manufacturing plant is based in Shenzhen, their city of origin in Guangdong Province.
Over RMB 190 billion ($800 billion NZD) has been invested by TCL into different production lines to meet consumer demand across a range of displays right from molding their own cabinet, to producing their own boards and even speaker drivers made by TCL to ensure consistent performance and quality.
Both feature QLED panels and support the full suite of HDR formats (Dolby Vision, HDR10+, HDR, and HLG)
They run Android TV, with integrated Free View Play and features built-in Google Assistant Voice Control.
Is TCL a Good brand for TV?
TCL is a safe brand to purchase since it is one of the largest brands in the industry. TCL TVs are top-notch and customers are satisfied with a quality TV at a reasonable price.
TCL is recognized as one of the best brands in China for 16 years by Canne Consultants. TCL was also ranked number1 on this list for four consecutive years (2015-2018). TCL has also lifted the worlds Brand Award six times given by Interbrand, a global brand consulting company.
It is the most prestigious award in China and Asia.
Alongside its vertical integration, TCL TVs are competitive in the market for their display technology.
As a brand developing high-quality television for 40 years, TCL led the transition to 8K resolution display while innovating 4K highlights like Dolby Vision HDR technology and an edge-lit display design providing excellent picture quality.
TCL TVs give great images from any angle easily where multiple cords running in different directions is not required. It offers features like Roku Integration and voice control.
If you want a TV with built-in smart apps, prioritizing screen size and pixel- per pound, TCL TVs are worth considering.
Roku and Google-powered sets are the latest features TCL offers for you to make a choice between two of the best smart TV platforms trending.
In a nutshell, TCL is a TV brand that tops the list in the UK, US, and beyond. You get a wide range of models to choose from basic models to giant 8K Q LED sets, TCL has it all for you.
To know more about whether are TCL TVs good, you can read this helpful post written by me.
How long do TCL TVs last?
A TCL TV can last up to 7-8 years with heavy usage. It may last for 10 years or more under proper care and favorable circumstances.
Reputed for being affordable, TCL TVs sometimes lack the durability of more expensive models. They can be used unless they stop working or show a reduction in picture quality.
However, there are certain factors that may impact the lifespan of a TCL TV:
Frequently changing your TV's location risks the surface of the monitor by accidentally jarring the TV's electronics during transport. Leaving your TCL TV in a space for a long duration helps it last longer.
Usage is a prime factor in determining the lifespan of any TV. If the TV is running throughout the day it definitely results in wear and tear on the hardware. Using your TV less frequently can double its longevity. If video games are demanding on the TV's virtual processor they can burn out your TV.
Environmental conditions are equally responsible to decide a TV's lasting effects. A temperature-controlled environment with low humidity can increase the lifespan of your TV protecting the electronics inside it.
Is TCL QLED as good as Samsung?
Samsung outperforms TCL in many categories when it comes to Smart features. Samsung prevails with its OS, Tizen which is integrated seamlessly into the system.
Contrarily TCL works with Google TV and does not have the Bluetooth connectivity or processing power that Samsung has. Both have Wifi capabilities and offer an "Auto Game" mode, or Auto Low Latency Mode (ALLM).
Both brands offer features such as HDR, OLED, QLED, and LED and come with brighter and more vivid colors.
If you have to pick a comparison, undoubtedly TCL has better picture quality than the QLED.
The difference between QLED and LED is the layer added onto the QLED and LED that filters out unwanted light and makes the picture brighter.
Conclusion
Let's conclude the post on who makes TCL TVs and all you need to know!
I hope you liked reading this post and found this useful.
What's Next? If you like to know more about who owns TCL, you can read this post.
Thanks for your feedback!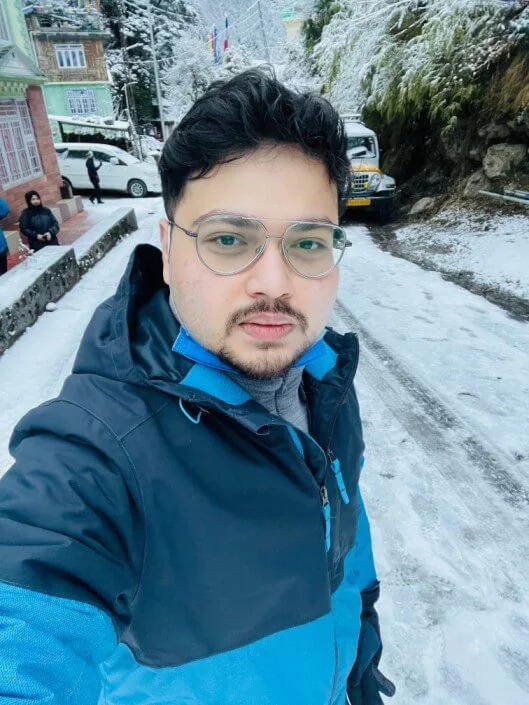 I'm Anirban Saha, Founder & Editor of TechBullish. With a B.Tech in Electronics and Communication Engineering, and 5+ years of experience as a software developer, I have expertise in electronics, software development, gadgets, and computer peripherals. I love sharing my knowledge through informational articles, how-to guides, and troubleshooting tips for Peripherals, Smart TVs, Streaming Solutions, and more here.