There are many different mechanical switches available, but the two most popular are red and blue. These switches are often referred to as linear and clicky
switches, respectively.
If you are looking to compare Cherry Mx Red vs Blue switc
hes, then this is the right post. It will also look at which switch is better for different applications.
I'm a big fan of mechanical keyboards. I've been using them for a while now, and I appreciate how they sound and feel when used.
Mechanical keyboards offer a level of feedback that can't be matched by a membrane keyboard.
They're also more durable and don't have the sensitivity issues that you can get with a membrane keyboard.
Most people think that mechanical keyboards only come in the classic clicky style.
This is undoubtedly the most popular style, but many people prefer a soft touch when they type.
The rubber dome keyboards of old were too mushy for many people's liking.
The new soft-touch switches that have been developed over the last few years have gotten a lot of people excited.
The switches work in a similar way to a mechanical keyboard, but they offer a softer touch.
This makes the keyboard a lot more suitable for typing. They're also quieter and don't have the loud "click" sound that you hear from a mechanical keyboard.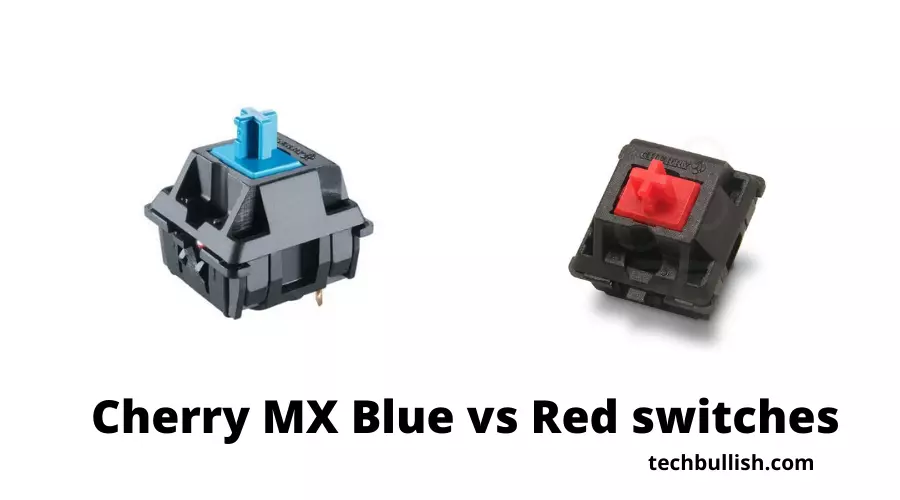 Let's begin the comparison.
Cherry Mx Red vs Blue switches
| | | |
| --- | --- | --- |
| | Cherry MX Red Switches | Cherry MX Blue Switches |
| Switch Type | Linear | Clicky |
| Click Sound | Silent | Loud |
| Typing Experience | Buttery Smooth | Clicky and Bumpy experience |
| Operating Force | 45 cN | 60 cN |
| Pre Travel Distance/ Actuation Distance | 2 mm | 2.2 mm |
| Total Travel Distance | 4 mm | 4 mm |
Source: Cherry MX website
The comparison of red and blue switches has been the hot topic of the mechanical keyboard community for a while now.
While both switches perform substantially the same way, there is a noticeable difference between the two.
Cherry Mx Blue switches are clicky, meaning that the key must be pressed all the way down for a keystroke to register and would give clicky feedback.
Cherry MX Red switches, on the other hand, are linear, meaning that a small amount of pressure will result in a keystroke without any noticeable sound or feedback.
Both switches are pretty similar in terms of performance, but the main difference is the feedback provided by the two types.
Red switches provide a silent click noise when pressed down, whereas blue ones provide the loudest click noise.
This can be useful for typing and other tasks that require a quieter environment.
Cherry Mx Red Switch Review
Red switches are of linear types and are silent in typing experience.
Apart from that, the Red switch is very smooth. The Red switches are great if you like a smooth keyboard keypress experience and a silent-clicking mechanical keyboard.
The Cherry Mx Red switches have an actuation force of 45 g, which is very easy to click.
If you play games often during the day, the Cherry MX switch handles it pretty well.
This switch has a lot of focus on smoothness and usability.
I like Cherry MX red very much though I use a Blue switch keyboard for regular use.
I like the durability of the Cherry MX switches which they offer. It is very much essential to consider a durable mechanical switch for gaming.
Some people prefer having feedback after the clicks, but you don't get any feedback after your clicks here in the case of the Cherry Mx reds.
On the other hand, your finger would glide smoothly like cream over the cake. It feels extraordinary to play games with a Red mechanical switch keyboard.
Last update on 2023-02-03 / Images from Amazon Product Advertising API
Cherry Mx Blue Switch review
Blue switches are of clicky types and would give you a clicky clacky experience out of your keyboard.
The blue switches have a good amount of feedback from each key press, and the experience of typing or gaming is very much satisfying.
It gives a professional gaming feel, and I prefer to use it as my daily driver.
This switch provides a great feeling whenever you type or play games with it.
I like the way Cherry MX Blue provides clicky feedback for each click. Cherry MX Blue helps to make clicks more accurate with its good amount of feedback.
My typing speed has noticeably increased after I switched to the Blue switch keyboard from a membrane keyboard.
Also, I feel the typing experience is more enjoyable, and you will feel each of the clicks, which is really awesome if you like the old typewriter type of keyboard.
This type of mechanical switch gives a true feeling of using a mechanical keyboard.
The experience is unmatched, and once you get used to the Blue switches, you will love it each time you type with it.
I can seamlessly type with Cherry MX blue switches for long durations without any issues.
Last update on 2023-02-03 / Images from Amazon Product Advertising API
Are red switches better than Blue?
Red switches are better than blue switches, or at least that is what the internet says.
The red switch is the most popular switch for mechanical keyboards. It's used in many different brands, and it's also the most preferred switch for many gamers.
However, the blue switch is used by some companies because it's said that it's better than the red switch because it has a shorter actuation distance.
Are Blue switches good for gaming?
Blue switches are a popular choice for gamers. They are a type of clicky switch. They require a light touch, but they also have a click to them.
So what's the verdict? Are Blue switches good for gaming?
The answer to that question depends on a few factors. Let's talk about those now.
The first thing you have to consider is the type of games you're planning on playing. First-person shooters are a lot faster.
You need to be able to tap that button as quickly as possible. If you're playing those games, then a clicky switch is a good choice.
But what about the other games? We're talking MOBA, MMORPG, and RTS games. Games where you can take your time and strategize.
For those games, a tactile switch is a better option. You don't need a click to tell you that your character has moved.
The difference between tactile and linear is that a linear switch has no feedback.
That means it doesn't have a click to it. It feels like you're just pushing air.
This is great for gaming because you have faster input times. Since tactile switches have a click, your hand will have a bit of a reprieve.
Are red switches good for gaming?
Due to their short travel distance and lightweight, red switches in keyboards are a popular choice in gaming keyboards.
However, it can be challenging to know if red switches are right for you when choosing a new gaming keyboard.
Red switches are smooth and a great gameplay companion.
It is very comfortable to use a linear Red switch as compared to the other switches.
Are Blue switches more expensive than red switches?
Blue switch and red switch prices are comparable. The blue switches are not more expensive than the red mechanical switches.
Are Blue switches really loud?
For a long time, I've been a big fan of Cherry MX Blue switches. I regularly use a blue switch keyboard, and I found that it is very loud.
In fact, some say that they're the loudest mechanical keyboard switches around. It is way much louder than the Red mechanical switch.
Conclusion
Let's conclude the comparison of Cherry Mx Blue vs Red switches.
They actually both represent a better for a different kind of user.
If you like a silent mechanical switch, then the Cherry Mx is a great one to choose.
I hope you liked reading this post.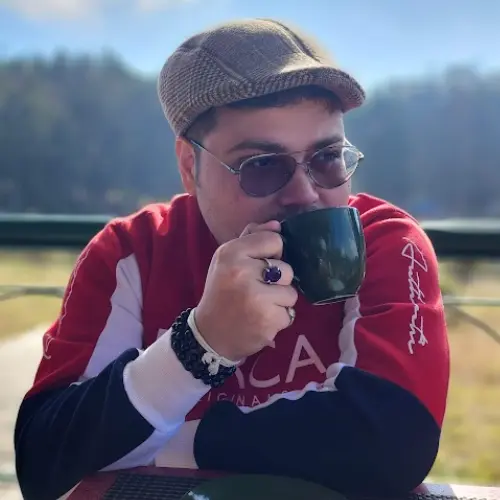 Anirban Saha is an Engineer with a specialization in Electronics and Communication. He is the Founder and Editor of techbullish.com. He has expertise in electronics, software development, gadgets, and computer peripherals. Anirban loves to share his knowledge to help people to help choose the right gadgets, troubleshoot gadgets, and more. Read more about our Editorial Guidelines.