Are you tired of using your keyboard? Do you have trouble typing? Do you have lots of big words to type? Are you sore after typing? Are you unhappy with your keyboard? If so, look no further. 
If you are looking to know about the HammerWorks CRP keycaps, its review, if it is good and more guide, then this is the right post.
Today, I'm going to be reviewing the CRP Keycaps, their history, how they work, and how they can change your life.
What are CRP keycaps?
CRP keycaps are high-quality PBT keycaps manufactured by HammerWorks. The CRP keycaps are made of Dye-subbed legends with excellent build quality to make them last longer. They have an ANSI layout and are compatible with Cherry MX switches.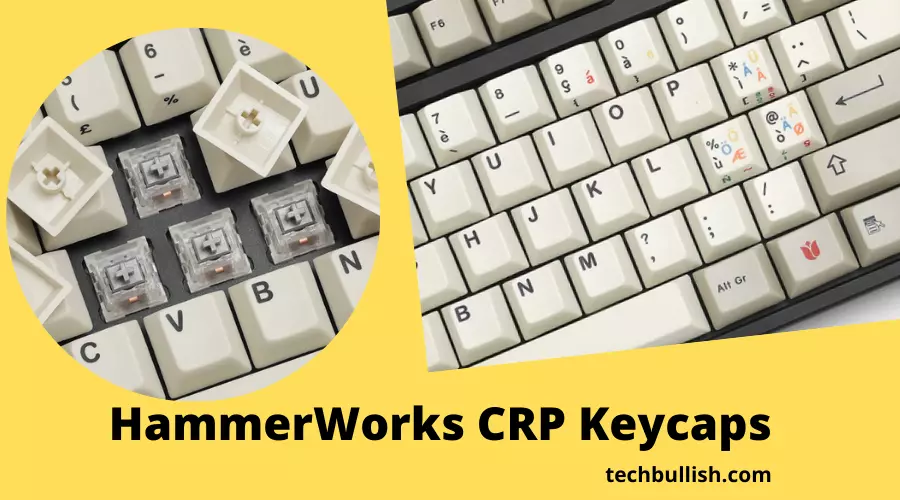 Vintage Cherry keyboards inspire its design.
CRP Keycaps Review
CRP keycaps are a fairly new phenomenon in the mechanical keyboard world. 
Instead of using ABS plastic, they use PBT plastic. PBT plastic tends to feel much better when you are typing on it. It also holds up much better to damage. 
You can scratch off ABS plastic fairly quickly, but PBT plastic is much more durable. 
Although they are made of the same plastic, they are shaped differently. They have a Cherry MX keycap profile. So, if you are used to Cherry MX keycap layout, you won't find any problem getting used to this new keycap.
They are made to fit the standard key layout. They are sculpted in a way that they are similar to the Cherry profile. They are made to fit the standard key layout.
In terms of looks, they add a vintage style to the choice of the color combination. I like how they look. The splash of color CRP keycaps added to your keyboard can make your keyboard look so good in your workspace.
CRP Keycaps Specifications
| | |
| --- | --- |
| Keycap Material | PBT |
| Keycap Thickness | 1.4 mm |
| Keycap Legends | Dye-subbed  |
| Keycap Profile | Cherry |
| Keycap Compatibility | Cherry MX Compatible |
Are CRP keycaps good?
The Cherry MX switch is probably the most popular switch on the market today. It is used in most mechanical keyboards on the market today, and there are many keycap sets available for it. 
However, many keysets are made of PBT, or polybutylene terephthalate, but are not compatible with Cherry MX switches. PBT is high-quality plastic, but it is also more durable than ABS, which is the plastic used in most Cherry MX keycaps. 
The CRP keycaps are made of this high-quality PBT material which adds excellent durability to the keycaps.
The CRP keycaps have Dye-sub legends whose quality is impressive, and each letter is crisp. These keycaps have no warping issues and perform well in regular typing.
The performance is excellent and consistent, which is expected from a good quality keycap.
What is CRP Tulip/Peacock R3 based on?
CRP Tulip or Peacock keycaps from Hammerworks are based on PBT material as the base material. On the top of the keycaps, the Legends are printed using the Dye-sub technology, making it last longer, and the legends are crisp.
Where to buy CRP keycaps?
CRP keycaps are excellent, and you can buy from several places online, including:
Conclusion
Let's conclude the post on CRP Keycaps.
Overall, I liked the keycaps very much. The simplicity of the keycaps with Dye-sub legend on its top and considering the beige color of the keycaps look amazing.
I hope you liked reading the post.