If you are looking for a new gaming mouse, chances are you have heard of Logitech.
Logitech has been in the peripheral gaming market for a long time and has a reputation for making high-quality products that are excellent in performance as well as aesthetically pleasing.
The G502 and G402 differ in terms of sensor and overall performance.
So, which mouse should you get?
Let's look into the comparison of Logitech G502 vs G402.
Let's get started!
Logitech G502 vs G402
| | | |
| --- | --- | --- |
| | Logitech G502 HERO | Logitech G402 Hyperion Fury |
| Mouse Type | Wired Gaming Mouse | Wired Gaming Mouse |
| Programmable Buttons | 11 Customizable Buttons | 8 Customizable Buttons |
| DPI | 100 – 25,600 max | 250 to 4000 max |
| Sensor Used | Hero 25K sensor | Optical Sensor |
| Report Rate | 1ms | 1ms |
| Dimensions | 1. Height: 132 mm2. Width: 75 mm3. Depth: 40 mm | 1.Height: 136 mm2. Width: 72 mm3. Depth: 41 mm |
| Weight | 121gm only mouse weight plus additional 18gm weight available | 108gm without Cable and 144gm with Cable |
| Customization Software | Logitech G Hub | Logitech G Hub |
| Mouse Grip | Good with Palm and Claw Grip too. | Good for Palm Grip and Claw Grip. Palm Grip would be most comfortable. |
| Competitive Gaming Performance | Good for FPS Games and MOBA Games | Entry Level for FPS Games and MOBA Games |
| Click Noise | Silent and does not makes much Noise(have mechanical activation) | Silent and does not makes much noise(have mechanical activation) |
| Cable Material | Braided Type Cable | Rubber Type Generic Cable |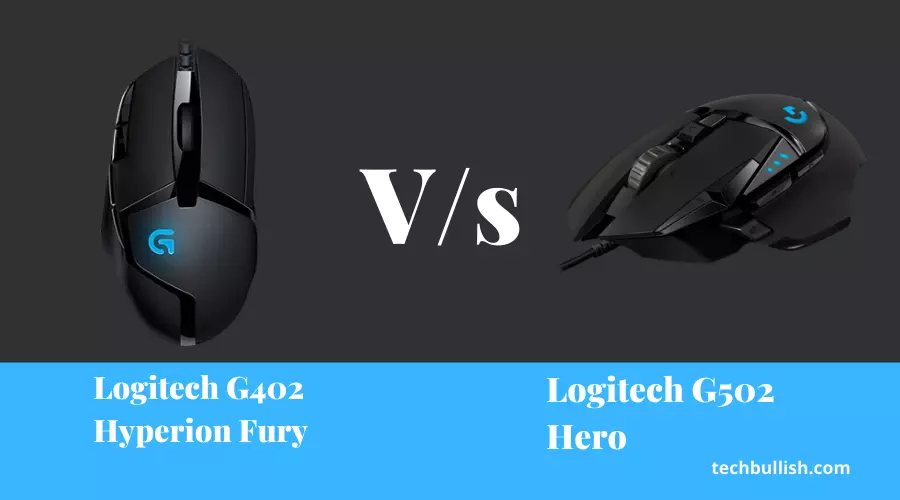 Logitech G502 HERO Review
The Logitech G502 HERO Gaming Mouse is a meticulously crafted high-performance gaming mouse that gives you a competitive edge.
The HERO sensor can track up to 400 inches per second (IPS), translating to super-fast movement with no lag or acceleration.
It also comes with Logitech's exclusive LIGHTSYNC RGB lighting technology, allowing you to sync your color settings with other Logitech G gear to create and display up to 16.8 million colors.
The HERO has a max acceleration of >40G and a max speed of up to >200 inches per second (IPS).
The Logitech G502 HERO Gaming Mouse also comes with interchangeable weights, 11 programmable buttons, on-the-fly DPI shifting, a powerful 32-bit processor, and advanced surface tuning.
Overall, I felt the G502 Hero mouse is excellent for having the most advanced options and configuration required during our competitive gaming session.
This mouse satisfies the need for a good mouse for competitive gaming.
You can play competitions with this Logitech G502 Hero mouse. Overall, considering the performance, build quality, and other parameters, I liked the G502 mouse.
Sale
Last update on 2023-10-02 / Images from Amazon Product Advertising API
The feel is excellent in the hands, the comfort is exceptional, the pointer is accurate, you can also click very fast, and it responds instantly.
I didn't see any lag with the G502 mouse from Logitech, and I highly recommend this mouse to professional Gamers.
Logitech G402 Hyperion Fury Review
The Logitech G402 Hyperion Fury lets you react instantly when the action gets fast.
With industry-leading sensor resolution, it tracks up to 500 IPS with no acceleration, smoothing out even the most frantic movements.
The custom-tuned Fusion Engine combines the blazing-fast response of the latest Logitech gaming mouse sensor with a high-performance motor for more precise, more accurate tracking with less lag.
The Logitech G402 Hyperion Fury is a performance gaming mouse packed with features for every gamer.
Its custom Hero sensor offers incredible accuracy, precision, and reliability, no matter your game.
Customize the buttons and features to make Hyperion fit your style with programmable Logitech Gaming Software.
A good mouse has a nice weight to it and comes with a weight insert to make it heavier if you prefer. Sometimes one of the extra buttons on the side is a bit too far away, but overall it's very good.
Sale
Last update on 2023-10-03 / Images from Amazon Product Advertising API
I was surprised to see such a well-made mouse at a budget price.
It has the basic features and includes the advanced features you need, such as the 8-button customization and a single click to switch DPI (G-Shift).
The RGB color on this mouse is even customizable. I feel this mouse is a dependable one for gaming and other performance-intensive regular tasks.
Durability
The Logitech G502 is quite durable, owing to its strong design. The Logitech G502 has a sleek design, making it look like the mouse was made for gaming.
This mouse has been designed to withstand the rigors of intense gaming.
The Logitech G502 is built to handle the pressure of heavy clicking and clicking. This is a solid mouse that is built to last.
On the other hand, the G402 is pretty cheap compared to the G502, yet it is also durable and more than expected as per the price point.
I like the way Logitech G series mouses are built for gaming.
Performance
Logitech is a big name in the gaming industry, but when it comes to mice, we are talking about two well-known mouse models from its G series, the G502 Hero and the G402 Hyperion Fury's performance.
The Logitech G402 Hyperion Fury has a general Optical Sensor, but the G502 Hero has an upgraded HERO 25k sensor from Logitech.
Here, the G502 Hero stands way ahead in terms of the mouse sensor.
Both are fantastic mice for games like CS GO, Valorant, and similar FPS games. The difference between the two of them is not just in their looks, but also in their performance.
Logitech G502 Hero has more than 11 programmable buttons, and it is for serious CS GO players and FPS game players.
On the other hand, Logitech G402 Hyperion Fury is for casual gamers, and it has eight programmable buttons, which is sufficient for maximum cases.
Design
The G series mouse range from Logitech looks appealing to be a part of the Gaming mouse range.
Thanks to its advanced design, quality, and customization, the Logitech G502 HERO is the ultimate mouse for Logitech gamers.
The G502 HERO has a comfortable design with a nice grey color and Blue Colored Logitech Branding.
The G402 is the successor to the Logitech G400s gaming mouse and has a similar shell design.
The G402 has a comfortable design, with nice grey color, and looks good as a gaming mouse from a budget point of view.
Comfort
The Logitech G502 Hero and Logitech G402 Hyperion Fury are incredible gaming mice and are also similar in many aspects.
However, they have some differences, and one of them is their grip, which is why we are here today to compare their comfort level.
We will be looking at the way they fit in your hand, the feeling that they give your palm, and the overall ergonomics that they provide.
This will help you decide which one is the best for your gaming style.
Which is better between Logitech G502 and G402?
I looked at these two mice from Logitech and came up with two viewpoints.
One is for casual games, and the other is for competitive gamers.
The G502 is the one to look at if you are serious about competitive gaming and looking for a good gaming mouse to improve and work on your skills.
This mouse would support your gaming. So, give it a try!
Sale
Last update on 2023-10-02 / Images from Amazon Product Advertising API
On the other hand, I feel the G402 is more curated towards entry-level gaming, and if you are an entry-level gamer or starting competitive gaming and need a budget gaming mouse, then the G402 is the right choice.
Sale
Last update on 2023-10-03 / Images from Amazon Product Advertising API
FAQs on Logitech G502 vs G402
Q: Is G502 heavier than G402?
Ans: Logitech G502 has a similar weight compared to the G402 with cables.
Q: Is G402 Hyperion Fury good in 2022?
Ans: Yes, the G402 Hyperion Fury would be a great mouse in 2022, considering entry-level FPS gaming.
Q: Can you butterfly click with a Logitech G502?
Ans: Yes, you can Butterfly click with a Logitech G502 Hero.
Conclusion
Let's conclude the post on the comparison of Logitech G502 vs G402.
The Logitech G502 is more expensive than the G402. So, the difference in performance is significant in terms of gaming. However, the G402 is also good and can be used by any casual gamer.
I hope you enjoyed reading this post.
Thanks for your feedback!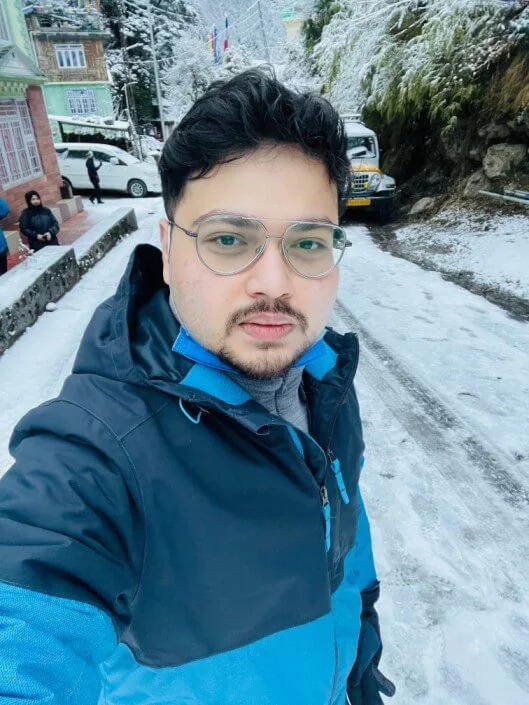 I'm Anirban Saha, Founder & Editor of TechBullish. With a B.Tech in Electronics and Communication Engineering, and 5+ years of experience as a software developer, I have expertise in electronics, software development, gadgets, and computer peripherals. I love sharing my knowledge through informational articles, how-to guides, and troubleshooting tips for Peripherals, Smart TVs, Streaming Solutions, and more here.