Logitech G series of mouses are premium offerings for competitive gaming.
The mouses G502 and G903 are popular and excellent for playing games and taking gaming performance to the next level.
If you are looking to find the differences between G502 vs G903, this is the right post.
Logitech G502 vs G903
Logitech G502
Logitech G903
Mouse type
Wireless with Lightspeed
Wireless with lightspeed
Programmable
Buttons
11 buttons
11 buttons
Sensor
HERO 25K
HERO 25K
DPI
100-25600 DPI
100-25600 DPI
Battery Life
Rechargeable battery with battery life of up to 48 hours with Lighting and 60 hours without lighting
Rechargeable LiPo battery (with up to 140 hours battery life with default lighting and 180 hours without lighting)
Dimensions
(Height*Width*Depth)
132 mm*75 mm* 40mm
130 mm*67 mm*40 mm
Weight
114 g (Mouse weight) + Optional Extra Weight(up to 16 g)
110 g (Mouse weight) +Optional Extra Weight(10 g)
Powerplay Wireless Charging Compatible
Yes, Compatible
Yes, Compatible
Report Rate
1 ms report rate
1ms wireless report rate
G502 vs G903: Comparing the Build Quality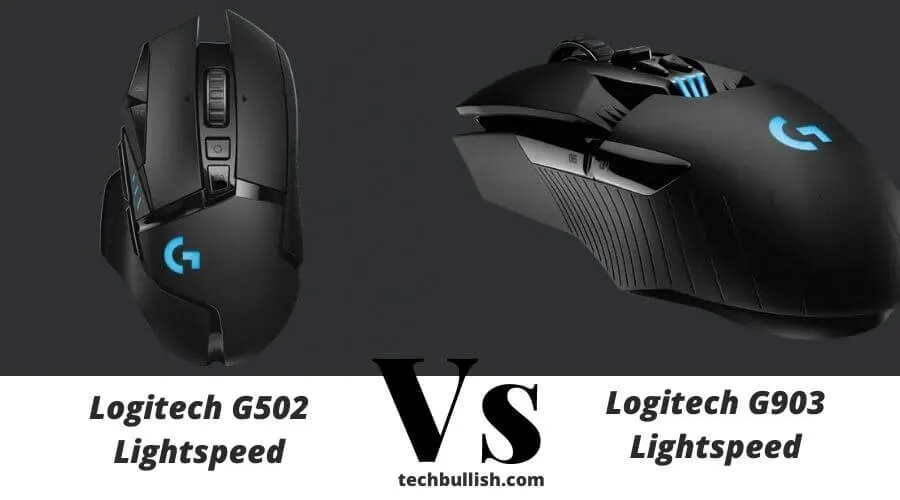 Both the Logitech G502 and G903 are from the Logitech gaming mouse segment. The build quality is durable for both the G502 and G903.
The material used in these mouses is a high-quality plastic material that would last longer and would not get damaged easily.
G502 vs G903: Comparing the Sensor
The sensor plays a significant role for a gaming mouse. The sensor is responsible for accuracy, tracking, precision, and performance.
The G502 and the G903 from Logitech have the premium Logitech Hero 25K sensor to take the gameplay to the next level.
The Hero, 25K sensor, is purely performance-based, and its precision is excellent. The sensor works on the DPI range from 100 to 25600, so you can easily adjust.
The sensor has a max acceleration of >40G, a max speed of >400 IPS which is excellent for competitive gaming.
Weight Comparison of G502 and G903
Whether you have a light gaming mouse or a heavy gaming mouse, your DPI settings and gameplay would be different.
Many gamers prefer having a heavy mouse, whereas others prefer a light mouse with low DPI settings.
The weight of the G502 mouse is 114g and has additional optional weights of 16g. The G502 is a heavy mouse to consider for gaming.
The weight of the G903 mouse is 110g with an additional optional weight of 10g. The G903 is comparatively lighter than the G502 mouse.
Both the mouse is good in terms of weight, you will feel good during your gameplay.
Battery Life Comparison of G502 vs G903
As both the mouses are wireless, the battery life plays a vital role in your gaming.
If your mouse's battery life gets drained quickly, you have to change it frequently, which is not convenient.
The G903 Lightspeed has an excellent battery life of 140 hours with default lighting and up to 180 hours without the lighting.
The battery life of G502 Lightspeed has a battery life of up to 48 hours with default lighting and up to 60 hours with no lighting. So, the G903 Lightspeed's battery life is way better as compared to the G502.
However, both the G502 and the G903 mouse support Powerplay wireless charging support that would help keep your mouse charged.
So, this solves the problem of recharging the mouse.
Logitech G502 Lightspeed review
The Logitech G502 is a wireless gaming mouse from Logitech G Series.
This mouse has an excellent capability to perform at par with a wired mouse in competitive gaming.
The connectivity has no lags in it. The G series has Lightspeed support that removes any connectivity and input lags that usually happens in a wireless mouse.
The G502 Lightspeed mouse proves to perform at par with any wired gaming mouse.
Hence, there would be improved convenience and less clutter by delivering excellent performance during gaming.
Overall, if you play FPS games often, then the G502 lightspeed mouse would help you to stay ahead of your competition.
Sale
Last update on 2023-10-02 / Images from Amazon Product Advertising API
Logitech G903 Lightspeed review
Logitech G903 Lightspeed has excellent performance, connectivity, accuracy, speed, and more to offer.
If you are a professional gamer or serious about your gameplay performance and want to improve the performance, then the Logitech G903 would work wonders.
You will have no lag or delays with the wireless connectivity of the G903 lightspeed mouse from Logitech.
The G903 Lightspeed is an improved version of the previous G903, and the battery life is also great as you can quickly run for 140 hours with RGB lighting.
I would highly recommend the G903 Lightspeed to be considered a faithful companion for elevating your gaming.
Sale
Last update on 2023-10-02 / Images from Amazon Product Advertising API
FAQs on G502 vs G903
Can G903 be used as a wired mouse?
Yes, you can use the G903 as a wired mouse connected with a USB cable. With the wired connection, you won't have to worry about charging.
Do G903 and G502 support Powerplay wireless charging?
Both the G903 and the G502 support powerplay wireless charging.
Conclusion
Both the G502 and the G903 have been great in terms of performance.
The G502 Lightspeed would be great if you don't have much budget restriction.
You will find the G903 cheaper than the G502, so you can consider the G903 mouse for your gaming and rule the competitive game.
Thanks for your feedback!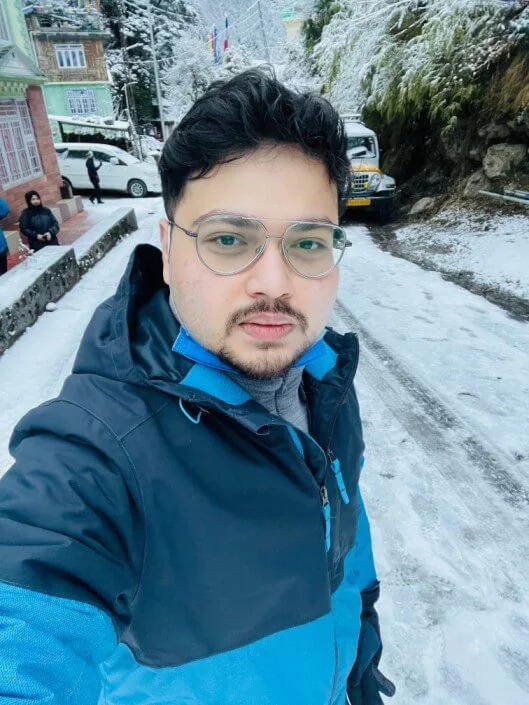 I'm Anirban Saha, Founder & Editor of TechBullish. With a B.Tech in Electronics and Communication Engineering, and 5+ years of experience as a software developer, I have expertise in electronics, software development, gadgets, and computer peripherals. I love sharing my knowledge through informational articles, how-to guides, and troubleshooting tips for Peripherals, Smart TVs, Streaming Solutions, and more here.