The Gateron yellow switches are often compared to the Halo True switches. They have a similar feel, but the Gateron yellow switches have a slightly different weight and sound.
I would compare the Gateron Yellow vs Halo True by KaiHua to find out the differences between them and finally find which is better.
The major differences are that Gateron Yellows are linear switches, whereas the Halo True are tactile switches. The Gateron Yellow is smooth, and consistent, and does not have any tactile feedback on clicks. On the other hand, The Halo True has noticeable tactile feedback without much noise and is a medium-heavy tactile switch with an actuation force of 60g.
Why Should you Trust Me? Hi, I am Anirban Saha, an Engineer with a Specialization in Electronics and Communication Engineering. I have experience in Smart TVs, Electronics circuits, and Computer peripherals.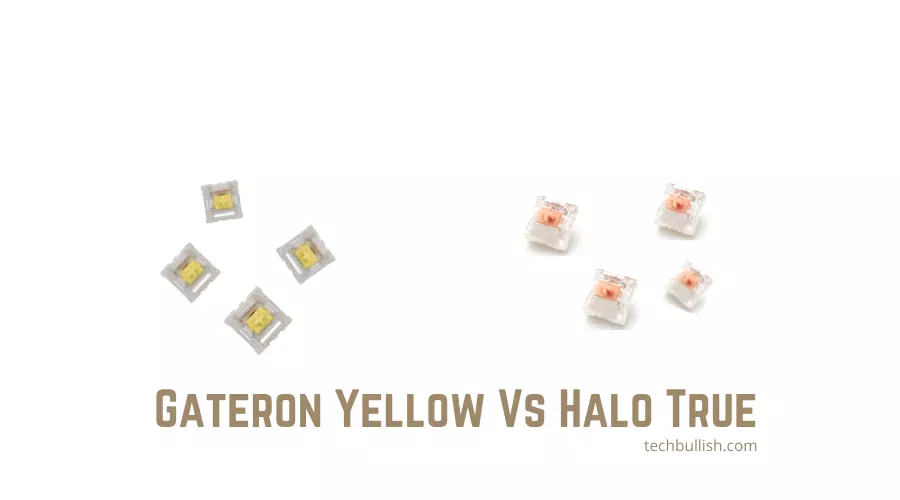 Let's get started!
Gateron Yellow Vs Halo True
| | | |
| --- | --- | --- |
| | Gateron Yellow | Halo True |
| Image | | |
| Switch Type | Linear | Tactile |
| Manufacturer | Gateron | Produced by Drop/ Manufactured by Kaihua |
| Actuation Force | 50g (Smooth) | 60g (Medium Heavy Tactile) |
| Pre-travel | 2mm | 1.9mm |
| Total travel Distance | 4mm | 4mm |
| Check Price | View on Amazon | View on Amazon |
Gateron Yellow Review
Gateron Yellow is the perfect choice for your speed key presses. The switches are linear, similar to Cherry MX Red, but with a little more effort required to actuate, similar to Cherry MX Black switches.
These switches will feel better than the MX Red switches and are the best all-around switches for typing, gaming, or anything that requires a lot of keystrokes. Since Gateron Yellow switches are for gaming, there is no clicky feel.
The actuation force is a standard 50 grams which is good and have a total travel distance of 4mm.
Due to the lack of a clicky feel, these switches are completely silent when pressed. The only sound you hear is the sound of your fingers hitting the switches.
Not great for typing in a library, but fantastic for sneaking around in a dark room, trying to be quiet.
Pros and Cons of Gateron Yellow Switches
Pros:
Long travel distance for the actuation force. (4mm)
Silent when pressed, unlike Cherry MX Red switches. (No clicky sound)
It can be used for clicking sounds in games. (Like WASD, etc.)
Easy to clean.
Cons:
The Gateron switches feel a bit scratchier out of the box.
My View
I found that these switches were actually quite good to type on. Applying some lube to these switches made them much smoother than before. So, lubing them makes it better and removes its con.
Overall, the Gateron Yellow is an excellent linear option if you would like a fast and smooth linear switch under a budget.
Last update on 2023-04-02 / Images from Amazon Product Advertising API
Halo True Review
Halo True is the ultimate tactile switch by Kaihua. The Halo True is a medium to heavy tactile switch with a smooth and consistent feeling, giving your keyboard a smooth and satisfying tactile experience.
As medium-to-heavy tactile switches have been a huge hit over the years, the Halo Trues deliver a tactile feel with a lack of pre-load (tension at rest) and smooth press from start to finish.
These custom switches achieve minimal resistance while retaining a tactile feel resulting in near-perfect consistency and smoothness with each key press.
With a feather-light preload to give a tactile feel without slowing down your typing. Great for typing, coding, and gaming.
You may also like to read about the differences between Halo True and Halo Clear.
Pros and Cons of Hallo True Switches
Pros:
Feather-light tactile feel with minimal resistance.
Great for typing, coding, and gaming.
Cons:
The price point is higher.
My View
The Halo Trues feels great as a tactile switch, and I really enjoyed typing with these. The tactile feel was great, and the keys were very smooth.
I would highly recommend these switches for people looking for a more tactile style of switch.
Sale
Last update on 2023-04-02 / Images from Amazon Product Advertising API
The durability of Gateron Yellow and Hallo True
The Gateron Yellow and Hallo True mechanical switches are durable and built to last. This is important for those looking for a keyboard switch that will last through many years of use.
The materials used in these keyboards are all high quality, so they will stand up to lots of intensive use.
The Gateron Yellow is made from high-quality plastic stems and housing. This makes them very strong and durable, able to withstand wear and tear.
Overall, the Gateron Yellow and Hallo True are excellent choices if you're looking for a durable keyboard that will last for many years.
Smoothness
Both the switches are very smooth to use. However, the linear Gateron yellow feels smoother to use than the tactile Hallo true.
However, the Hallo true is much smoother than any other tactile switch.
Design
In terms of design, both the switches are available in a clear top version to make them suitable for RGB backlight from your keyboard to pass through it.
Which is better between Gateron Yellow and Halo True?
As we looked into different physical parameters of these switches, let's check which is better for gaming and typing.
Gaming Performance
The Gateron yellow is better than the Hallo True. The Gateron is rated as a gaming-grade switch. When pressed, it feels very smooth and responsive with no audible click or tactile bump.
The linear switch wins over here due to snappier and faster consistent actuation. However, if you are a tactile switch fan, you may consider Halo True for gaming.
However, my choice for gaming is Gateron Yellow.
Typing Performance
The Gateron yellow is rated as a very good typing switch. The actuation point is in the middle range, and the tactile bump is minimal.
It has no audible click or tactile bump when pressed. On the other hand, the Halo Trues provide a smooth click with noticeable bumpy feedback from the clicks, making it an enjoyable experience while typing.
In the case of typing, both perform well. You can choose as per your preference.
Overall Performance
Gateron Yellow is overall the best of the two, and it is because of the experience it provides with all its silent, fast actuating and clicks without any noticeable bump.
Here is the link to Gateron Yellow on Amazon:
Last update on 2023-04-02 / Images from Amazon Product Advertising API
Gateron Yellow vs Halo True FAQs
Q. Are Gateron yellows good?
Gateron Yellows are a linear variant from Gateron with silent clicks and fast actuation making it good for gaming and typing.
Q. Are Halo True switches good?
Halo True are tactile switches with smooth and good tactile feedback. It works excellently during typing.
Q. Are Gateron yellow switches the fastest?
The Gateron Yellows are the fastest and snappiest among the Gateron switches.
Q. How many pins are Gateron yellows?
Gateron Yellow switches have 3 pins.
Conclusion
Let's conclude the post on Gateron Yellow vs Halo True.
Whether you have chosen the linear Gateron Yellow or the Tactile Halo True, you won't get any bad quality switch with either of the choices.
But, ultimately, the satisfaction of using a linear or tactile, or clicky type of switch depends on individual preference. Also, it depends on the surrounding where we need to consider the clicking noise.
I hope you enjoyed reading this post.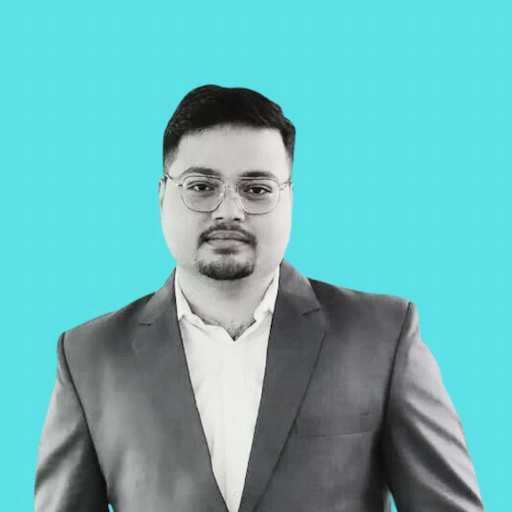 Anirban Saha is an Engineer with a specialization in Electronics and Communication. He is the Founder and Editor of techbullish.com. He has expertise in electronics, software development, gadgets, and computer peripherals. Anirban loves to share his knowledge to help people to help choose the right gadgets, troubleshoot gadgets, and more. Learn More About Anirban.