Halo True and Halo Clear are two tactile switches manufactured by KaiHua. They both are high quality, but there is a common debate about which one to choose. 
In this post, I will go through each of the parameters in this comparison of Halo True vs Halo Clear and find which would be better for you.
The major difference between the Halo True and Halo Clears is in their Spring. The Halo True takes a larger force of 65g to actuate than the Halo Clear, which actuates at 60g. Also, the color of the stem is different. The Halo True has a Salmon colored stem, whereas the Halo Clear has a Clear Stem.
Let's get started!
Halo True vs Halo Clear Comparison table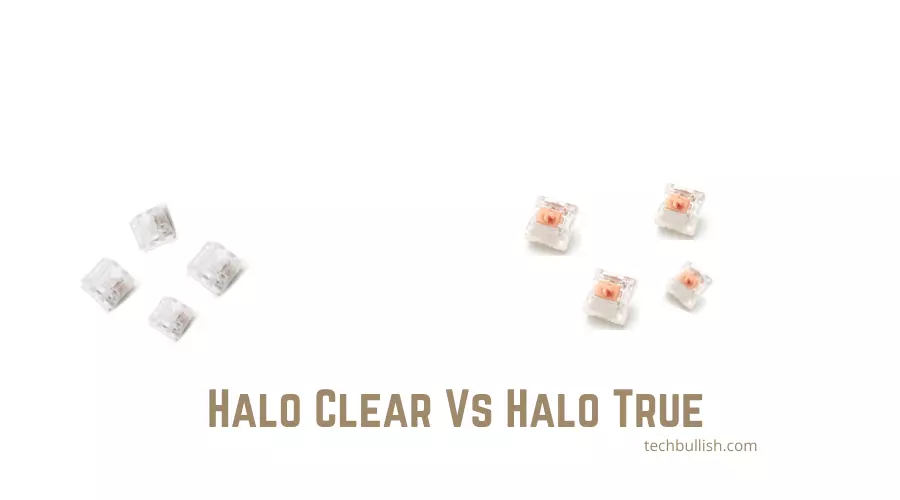 Halo True Review
The Halo True is a switch that provides an exceptional tactile experience. The stem is made from salmon-colored plastic and has a medium to a heavy actuation force. They are designed by Jacob Alexander.
The tactile method is a metal leaf, which provides a unique and satisfying feel. Two LED styles are available: one with a clear lens and one with an SMD RGB LED. 
The tactile peak force is approximately 60 grams, providing a firm but not overly strenuous feedback.
Pros
Some benefits of the Halo True switch include
A uniquely satisfying tactile experience that is unmatched by any other switch on the market.
Stems in a range of colors to match your style, with salmon
Cons
These are a bit heavier with 65g actuation force compared to other Tactile switches.
Last update on 2022-05-07 / Images from Amazon Product Advertising API
Halo Clear Review
Kaihua's Halo Clear switches are designed by Jacob Alexander to offer a tactile experience that's both enjoyable and comfortable. 
These Kaihua switches are a leader in aesthetics and tactile feedback. Their smaller tactile event and larger tactile bump make for a premium typing experience.
The new Halo Clear switch is time to upgrade the RGB typing experience. They've been made with high-quality materials and construction, and they have several compelling features. 
They have been designed with a clear stem and housing. The clear stem allows LED light to shine through the switch and reflect on the keycaps. 
The latest generation of Kaihua's patented gold contact technology guarantees that you will feel the same consistent tactile feedback and a crisp and clear click sound with every keypress. 
The high-quality, extra-large, and concave keycaps enhance the experience for users. The Halo Clear switch has a low actuation force of 45gf and a low click sound, giving you a tactile experience like no other switch. 
The tactile bump gives you positive tactile feedback when pressing keys. These switches also come with an elegant, translucent housing and an opaque, white stem.
Pros
Cons
These are a bit heavier with 60g actuation.
Last update on 2022-05-07 / Images from Amazon Product Advertising API
Durability
The durability of the Halo True and Halo clears are very similar as they use the same stem in their build. Also, the housing material is identical except for the color.
Gaming Experience
The tactile switches are great to experience gaming with good bumpy feedback from them.
The Halo True is heavier, with a 65g actuation force between the two. The Halo clears feel light to click during gaming, and it feels a bit better than the Halo True switches.
Overall, the gaming experience is great for these switches, and the smoothness with tactile feedback is top-notch. They come as lightly lubed from the factory.
Typing Experience
In general, I prefer the typing experience of Tactile switches as the tactile feedback is enjoyable yet does not make any disturbing noise that will annoy anyone nearby.
The Halo Clears and Halo True feel very similar in the typing experience it provides. The only difference is the actuation of the spring between this two. 
It is not much noticeable in regular typing. You would be able to type fast without any issue.
Sound Profile
Both the Halo True and Halo clear are similar in terms of noise. They are not at all noisy in use. You will get good tactile feedback from them without any noise like a Clicky switch.
But, they are not silent too. So, they can be called in mid between the clicky and the Linears in the sound profile.
You may also like to check the comparison of Gateron Yellow vs Halo True.
Which is better between Halo True and Halo Clear?
Both are very similar in terms of tactility and performance. It is upon personal preference if you prefer a heavier or a light switch.
So, it depends on that.
My recommendation would be Halo Clear.
Last update on 2022-05-07 / Images from Amazon Product Advertising API
Halo True vs Halo Clear FAQs
Conclusion
Let's conclude the post on Halo True vs Halo Clear!
I hope you enjoyed reading the post.