G pro wireless and G Pro X superlight are from the Gaming range of Logitech mouses. If you are looking to compare G Pro Wireless vs G Pro X superlight, then this is the right post.
Here, I compared the different important parameters like Performance, DPI variations, Gaming RGB feel, and the special features in these mouses. Also, I considered the sensor technology for these mouses.
G Pro Wireless vs Superlight Comparison Table
| | | |
| --- | --- | --- |
| | Logitech G Pro Wireless | Logitech G Pro X Superlight |
| Type | Wireless Gaming Mouse | Wireless Gaming Mouse |
| Sensor | HERO 25K Sensor | HERO 25K Sensor |
| Size | Full Size Mouse | Full Size Mouse |
| DPI | 100-25600 | 100-25600 |
| Weight | 80 g | 63 g |
Source: Logitech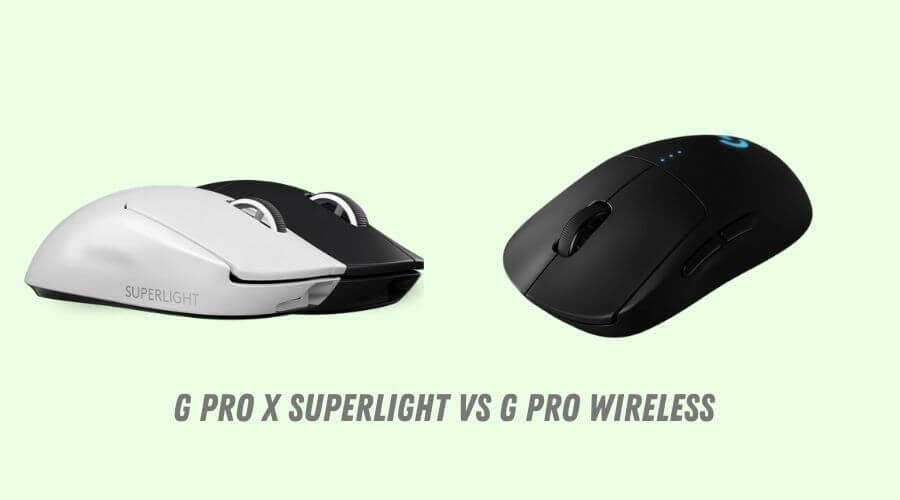 ???? Choose the best out for your gaming needs with the G Pro X Superlight Gaming mouse. Check here this G Pro X Superlight Gaming at Amazon.
Sensor Technology
Both the Logitech G Pro Wireless and the G Pro X Superlight have the most advanced sensor technology from Logitech. Logitech Hero 25K sensor designed for extreme precision and high-speed gaming.
This technology is also suitable for professional gaming and is designed to perform in a professional gaming environment. So, both are the same in terms of sensor technologies, and you will not find any difference.
Superlight weight mouse
Lightweight mouses are very popular among the gaming community as you can move them faster on the screen. With lower DPI settings, you can use them more accurately. 
Lightweight mouses are very easy to move around the screen without having to move that much. The light mouse can be easily controlled and used effectively for FPS gaming if we turn the DPI too low and use it for gaming. The lightweight mouse has become very popular in the gaming community due to its easy use and movement during gaming.
The heavyweight mouse is more controllable still without the weight mouse or performs easier on hands and during the gameplay. 
The Logitech GPRO X wireless has a much lighter weight than the G pro wireless. The Pro X super light has been made with design constraints to easily cut near about 17 grams from the G pro wireless mouse.
G Pro Wireless is a lightweight mouse, and it weighs only 80g. However, for professional gamer Logitech designed G Pro X Superlight as the lightest weighted mouse possible that weighs only 63 gm still keeping the build quality. 
Often for lightweight mouses, there is a concern about the build quality. However, with Logitech, there is no issue with the Build quality.
Design and Build Quality
Design is often overlooked when cutting on mouse weight. However, the Logitech G Pro wireless and the G Pro Wireless have an excellent build quality considering the weight.
The design is made to reduce weight and improve performance in gaming. The design looks good and would help you gaming feel with Logitech Branding and RGB colours on it.
G Pro Wireless Review
Let's come to the review of the G-pro wireless mouse now.
G-pro wireless has been a game-changer as Logitech came up with a good mouse in the wireless segment with a 1-millisecond report rate using wireless light speed Technology.
This fast report rate of 1ms is outstanding for a wireless mouse to achieve. The Sensor of this mouse is the HERO 25k sensor, the most accurate Sensor built by Logitech.
The mouse is customizable. The buttons are programmable using the Logitech G Hub software. The incredible thing about this mouse is it is ultra-lightweight at only 80 grams only.
You would feel very light while using the mouse. You would need to move the mouse throughout the screen very fast using this mouse, and you won't have any problem using this mouse for a long time overall. This mouse is like a gaming beast.
You will enjoy gaming for long hours without having any issues.
The most important thing is that the battery is rechargeable. If you enable the default lighting, it will last for 48 hours, and if you disable the lighting of this mouse, it will last for 60 hours.
So if you play for 4 hours/day, it will last for 12 days with default lighting enabled.
In this video, get to know in depth features and feel of the Logitech G Pro Wireless mouse.
???? Check here this G Pro Wireless Gaming Mouse at Amazon.
G Pro X Superlight Review
The G Pro X Superlight is a very lightweight gaming mouse from Logitech, weighing only 63 g. 
The quality of Sensor and wireless connectivity is top-notch. The wireless connectivity is established using the Lightspeed wireless technology that helps to get the 1ms report rate which is a crucial factor for this mouse.
This mouse is very comfortable in usability and comfort, even if you use it for a long duration. As this is a lightweight mouse, you will not feel any issue while using it for long hours for gaming.
The G Pro X Superlight helps you not miss your aim in FPS gaming and gives you the desired boost in terms of performance you need during the tournaments.
The battery of this mouse is rechargeable and lasts for about 70 hrs. This is a considerable amount of battery life considering competitive gaming. There is no separate DPI button present in the mouse. You can adjust that using the G Hub software.
In this video, you will find the detailed features and performance for Logitech G Pro X Superlight Mouse. Also, find the real experience of using this mouse in gaming.
???? Check here this G Pro X Superlight Gaming at Amazon.
Conclusion
Overall, the most highlighting thing I found was the Logitech G Pro X Wireless mouse being superlight. It has cut down almost 17 g compared to the G Pro Wireless.