A 24-inch monitor is a very commonly chosen size for a monitor and is preferred even for office work.
If you are looking to know how big is exactly the 24inch monitor, then this is the right post. 
Factor on which monitor size depends
The screen size ie. The display size remains the same. However, the monitor size varies by few inches due to the following factors:
1. Aspect Ratio
The aspect ratio would determine the ratio of height and width. If we have a wide aspect ratio then the width would be larger and the height would be smaller.
Similarly, with the lower aspect ratio, the width to height ratio would decrease.
2. Bezel Size
The bezel is the outer border of the display that looks like a frame. Earlier, in monitors, these bezels used to be thick.
However, many monitors now even come with very thin bezels throughout.
If there is a bezel of 1 inch in the outer boundary of the display. Then the monitor size would increase by 2 inches on both sides and two-inch in height as compared to another monitor that does not have a bezel.
How big is a 24-inch monitor?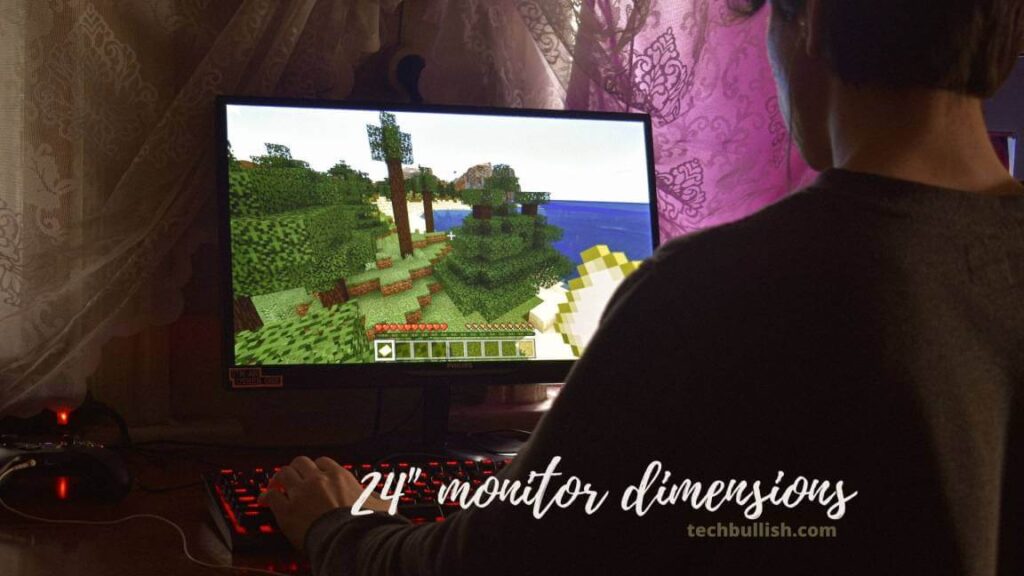 A 24-inch monitor is considered as a standard size monitor preferable for regular usage and even for dual monitor setup.
The 24-inch monitor screen size is measured from corner to corner diagonally. 
So, how big is a 24-inch monitor? An average 24-inch monitor has a size of  20 inches wide and 12 inches tall.
Is a 24-inch monitor big enough for Office Work?
If I consider office work or regular work we do using a computer like Word, Excel, PowerPoint, Mailing etc, a 24-inch display is very much considered as a standard size. 
You will feel enough space on the screen for your work.
However, if you are a developer and do coding related work or UI development, then the 24-inch display would be okayish and to boost productivity a 27-inch monitor would be recommended.
Is a 24-inch monitor big enough for Gaming?
For casual gaming, a 24-inch monitor feels good and I don't have many complaints about it. However, to enjoy games a bigger screen is preferable. 
You would enjoy your game on a 27 inch or 32-inch monitor more as compared to a 24-inch monitor.
Is a 24-inch monitor big enough for Editing?
For Image or Video Editing purposes, the 24-inch monitor would not be that good. You can either go for a dual monitor setup or get a bigger size monitor.
There are several functions in the case of video editing such as scrolling and navigating the timeline which becomes easily accessible with a larger or a wider screen.
Is a 24 inch monitor good for Split Screen?
If you work with multiple screens regularly, then the 24-inch monitor would seem to be a bit smaller for your work. In that case, you need to choose a big size 27-inch monitor or go for a 24-inch dual monitor setup.
Best 24 inch Monitors
Here are a list of top 7 24 inch monitors, which you can choose.
Last update on 2022-01-17 / Affiliate links / Images from Amazon Product Advertising API
Conclusion
Let's conclude! I hope you got an idea about the 24-inch monitor size. Now, you can easily choose your desired monitor size with respect to the work you are doing.