If you need a monitor that is not ultrawide but sufficiently big enough, then the 27-inch monitor would be a great choice. In this article, I would be guiding you on how you would get an idea of how big the 27-inch monitor is and get an estimate of its dimension.
How big is a 27 inch monitor?
So, how big is a 27-inch monitor? Though the 27-inch monitor may sound to be a big monitor, it is only 23.54 inches wide with a 16:9 aspect resolution without bezels.
| | |
| --- | --- |
| Name of 27 inch Monitor | Width |
| 1. AOC 27B2H 27″ Full HD IPS Monitor | 24.1 inches |
| 2. SAMSUNG M5 Series 27-Inch FHD 1080p  | 24.2 inches |
| 3.Sceptre IPS 27-Inch Business Computer Monitor 1080p 75Hz | 24.12 inches |
Data Source: from Amazon
With bezels, the width would be increased.
Here is an image below that shows how big the 27-inch monitor is.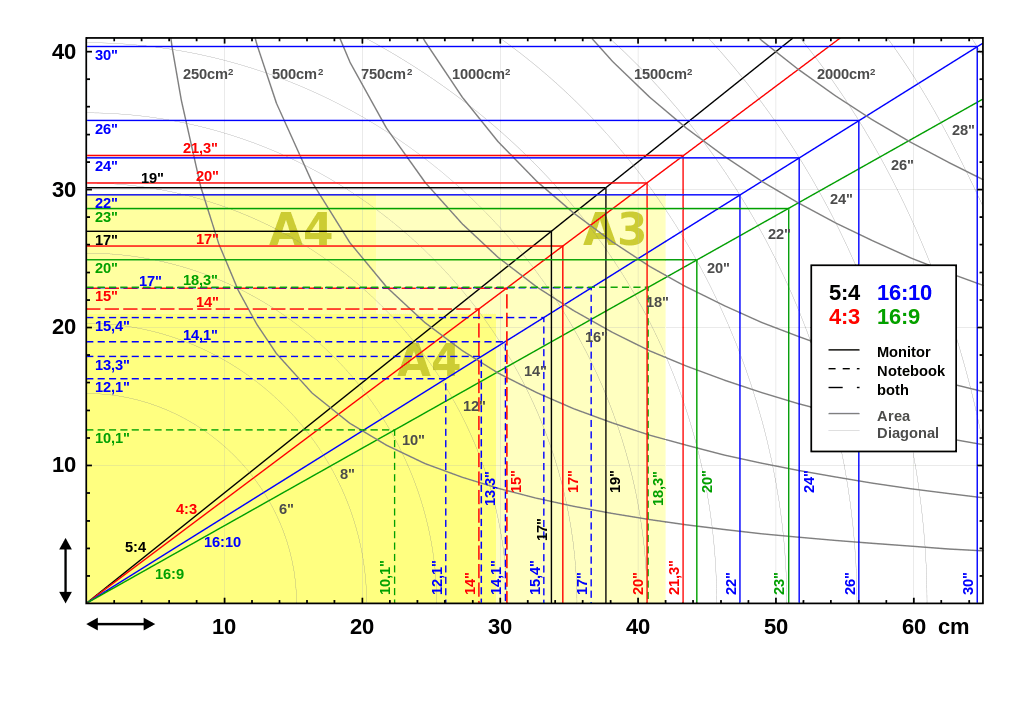 How is the monitor Size Measured?
The monitor size is measured diagonally from one edge to the other excluding the bezels on the sides. 
If you have a monitor of 27 inches, then the diagonal distance from the bottom left corner to the top right corner or from the top left to the bottom right corner of the monitor is equal to 27 inches.
You can take the help of a measuring tape and draw on cardboard, a washable wall, or even on chart paper.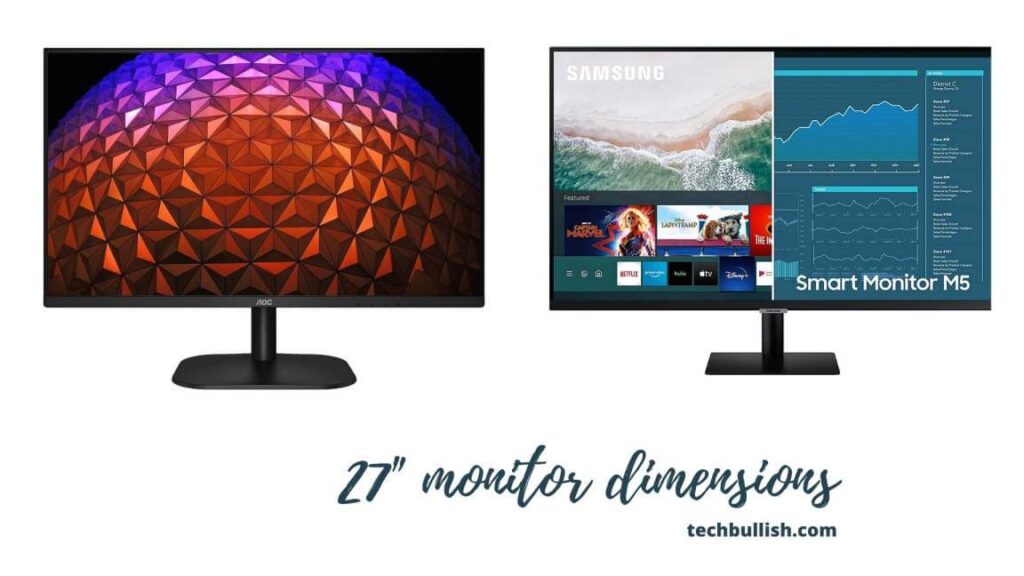 Factor on which monitor size depends
1. Aspect Ratio: The aspect ratio would make the width and the height of the computer monitor. 
The most common aspect ratio of a monitor is 16:9. 
2. Bezel Size: Bezels cover an additional area on the sides of your monitor. The bezel size is not included in the monitor display size. The bezel would take additional space on your desk.
Is a 27 inch monitor big enough for a split screen?
A 27 monitor is relatively big as compared to the other variants like the 21 inch and the 24-inch monitor which we commonly use. 
The 27-inch monitor can be used to work in split-screen mode and you can view two applications at a time easily. For any application that takes more space in the horizontal direction, having a dual setup would be awesome with a 27-inch monitor.
You can check the comparison of 24 vs 27 inch monitor here to know the difference.
Best 27 inch Monitors
A 27-inch monitor size is perfect for regular office work and even gaming. The 27-inch screen makes you productive and keeps you going.
Here is a list of Top 7 27 inch monitors you can check.
Last update on 2022-01-17 / Affiliate links / Images from Amazon Product Advertising API
FAQ's on 27-inch monitor Dimensions
Are all 27 inch monitors the same size?
27-inch monitor differs in size from brand to brand due to the bezel amount present and the frame of the monitor. However, in terms of screen size, they are the same.
Is 1080p Good for the 27-inch monitor?
1080p or Full HD resolution is good for a 27-inch monitor. If your work is graphics-based or purely gaming you would lack the clarity of the display if you compare it with a 27-inch 4k display.
As the size of the 27-inch monitor is big enough, so, having at least 4k resolution would be worth it.
Conclusion
A 27-inch display is an excellent size as a monitor for daily work and gaming. If you came from a 21-inch display monitor size then the 27-inch monitor would look very large to you.
This post would give an idea to calculate the desk space to fit the monitor and choose the monitor even if you are looking for a dual monitor or even a multi-monitor setup with a vertical monitor.