When you work in front of your computer, you don't realize how much it affects your health.
Your posture starts to change, your neck gets sore, and you begin to get headaches.
To avoid being in this situation, having the right monitor is essential.
As a programmer, a long day of staring at a small computer screen can take a toll on my health.
That is why I decided to pick up an extra monitor.
When you are looking for a monitor display size that is ideal for your needs, you will often be faced with a choice between three different screen sizes. 24″ 27″ and 32″ sizes.
In this article, I will be comparing the 24″, 27″, and 32″ LCD monitors.
Since all three sizes are so close in size, it boils down to your personal preference and needs.
I hope that this article will help you in your decision-making and I will show you a few things to consider when making your decision.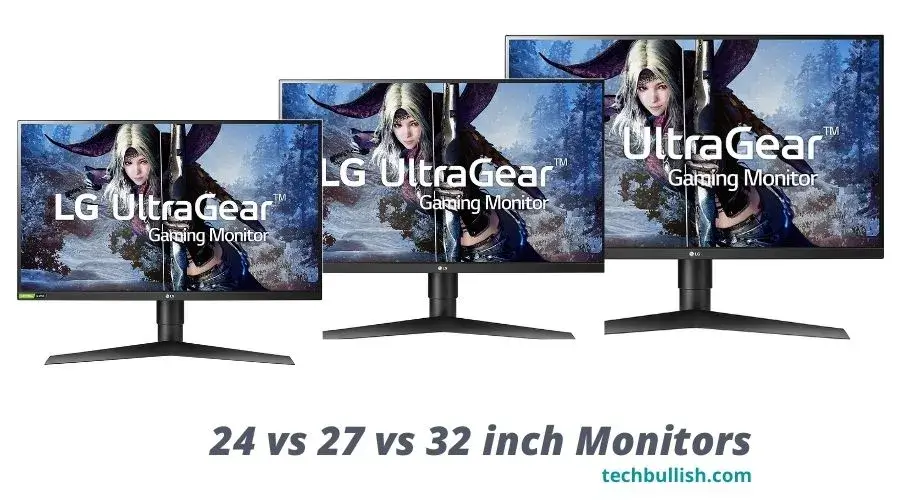 So, What is the difference between 24 inches, 27-inch, and 32-inch monitors?
Let's get started with the comparison!
24 vs 27 vs 32-inch monitor
The main thing to keep in mind when deciding between monitors of different sizes is what you're going to use them for. I
it's a matter of preference, so it's a good idea to research reviews on all three and try them out yourself to see what you prefer.
That being said, the 24-inch monitor is the most popular option because it's the right size for dual monitor setups, has high quality, and there are many options available.
The 27-inch monitor has more screen real estate, but the pixel density can be affected and is not a good choice if you're looking for a single monitor.
If you prefer to use a single monitor, then the 32-inch monitor is a great option if you have the space to fit the monitor on your desk.
24 vs 27 vs 32-inch monitor size comparison
When choosing a monitor, the size that matters is the diagonal measurement of the screen.
A 24-inch monitor doesn't necessarily mean it's 24 inches across. You can check here how big is a 24-inch monitor.
The measurement is from the top left corner to the bottom right corner, which means the screen's width on a 24-inch monitor is less than 24 inches.
This is similar to the 27-inch monitor and 32-inch monitors. You can check here an article on how big is a 27-inch monitor to understand the dimensions.
24 vs 27 vs 32-inch monitor for office work
While many people think bigger is better, this isn't always the case for computers. Here's a breakdown of 24, 27, and 32-inch monitors for office work.
First, is the 24-inch monitor. Since this is the smallest, it's also the least expensive and would be suitable for someone who is on a budget.
The 27-inch monitor size is in the middle and would suit someone looking for something more, but not too big.
The 32 monitor is the largest. It has the highest resolution and is very sharp and clear. It's ideal for someone who needs something they can work with!
24 vs 27 vs 32-inch monitor for Programming
24-inch monitors used to be the standard size, but many have moved to larger monitors such as 27-inch or 32-inch monitors.
24-inch monitors are great for important use, but for some people, 27-inch monitors are better.
Some people find the smaller monitors to be uncomfortable to use.
If you want to see more content on the screen, 27-inch monitors are good for you.
If you think you could use all that extra space to open terminals and multi-windows for coding, you can buy a 32-inch monitor.
24 vs 27 vs 32 inch monitor for Gaming
If you're a gamer, then you probably already know that there are three main sizes for monitors to choose from 24 inches, 27 inches, and 32 inches.
If you're a more casual gamer, you probably won't need the extra screen size with the larger monitors.
However, if you're serious about gaming and want the most immersive experience possible, you're going to want a 27-inch or 32-inch monitor.
Just know that the larger monitors are going to be pretty expensive. One of the other factors to consider is the type of connections you're looking for.
If you want to use more than one monitor, then you're going to need the right cables to do so.
Overall, the 24-inch monitors are suitable for general usage, but gamers are better off with the larger ones.
Is 27 or 32 monitors better?
I love having many monitors because I love to multitask.
I can have the code I'm editing on one screen, documentation in front of me, a repository, and I'm still able to check my email!
That's right, and I have a monitor for each email account I have.
I think 32 is the way to go for monitors because you can display a lot of information at once without cluttering up your desk.
However, 27 monitors are not entirely out of the question.
Many people who work in the media industry or an office desire multiple monitors for display purposes.
Multiple monitors are excellent for saving space on your desk and giving you the ability to create more different arrangements.
Which is a better monitor, 24 or 27?
My recommended monitor size
Monitors come in all sorts of different sizes; 24-inch monitors, 27-inch monitors, and 32-inch monitors are the most common.
It's pretty important to find the right monitor for your needs.
Also, with size you need to check your Monitor's resolution whether it is 1280×720 or 1920×1080. The higher the resolution is for the size of the monitor, the better it is.
The bigger ones are great for Gaming, but in general, the 27-inch monitors are the best because they pack a bigger display but can still fit on your desk.
I use a 34-inch ultrawide monitor for my work which looks good to me. A bigger size is better as per me and as for the usability.
A bigger monitor helps to multitask and to do tasks quickly.
Also, it feels good to have enough space around the screen to utilize them for multitasking.
From 24 vs 27 vs 32-inch monitor size, my recommended size would be going for either a 32-inch monitor or a 27-inch monitor.
If you want a bigger monitor size, you can check an article on the best 49-inch monitor.
Best 24-inch Monitors
A 24-inch monitor is a screen that measures 24 inches diagonally, making it larger than smaller computer monitors.
Typically, they are used by people who use their computers for more than just writing documents, editing photos, or playing games.
These types of monitors are used by teachers, journalists, and graphic designers because they can have multiple windows open at once without having to minimize the window on the screen.
Here are some awesome 24-inch monitors:
Last update on 2023-09-23 / Images from Amazon Product Advertising API
Best 27-inch Monitors
If you are looking for a screen that is big enough to play your favorite video games but still small enough to fit on your desk, then a 27-inch monitor is a perfect choice for you!
Many companies make these monitors and they come in all kinds of shapes, sizes, resolutions, and prices.
27-inch monitors are usually found in offices, but many consumers have started using them in their homes.
Since it is the go-between for a small computer screen and a big television screen, it can be a difficult task to decide which one to choose.
Here are some best 27-inch monitors below:
Last update on 2023-09-23 / Images from Amazon Product Advertising API
Best 32-inch Monitors
32 inch monitors are great for gamers, graphic designers, and people who lounge around.
For the average user, a 32-inch monitor is often large enough.
It is 32 inches measured diagonally from edge to edge of the monitor.
Here are some amazing 32-inch monitors below:
Bestseller No. 1
Sale
Bestseller No. 2
Bestseller No. 3
Last update on 2023-09-23 / Images from Amazon Product Advertising API
FAQ
Q: Is a 24-inch screen big enough?
ANS: 24-inch screen is a good size for a computer monitor.
Q: Is there a big difference between 24 and 27-inch monitors?
ANS: A 27-inch monitor seems to be much bigger than a 24-inch monitor because the 3-inch diagonal difference looks bigger when measured across length and breadth.
Q: Is a 27 monitor too big?
ANS: 27-inch monitors are not too big as we are now seeing 34-inch monitors. However, it is big enough to have enough scope for multitasking.
Conclusion
Let's conclude the comparison of 24 vs 27 vs 32-inch monitors.
I hope you got an idea about the sizes and usability of these monitors.
Thanks for your feedback!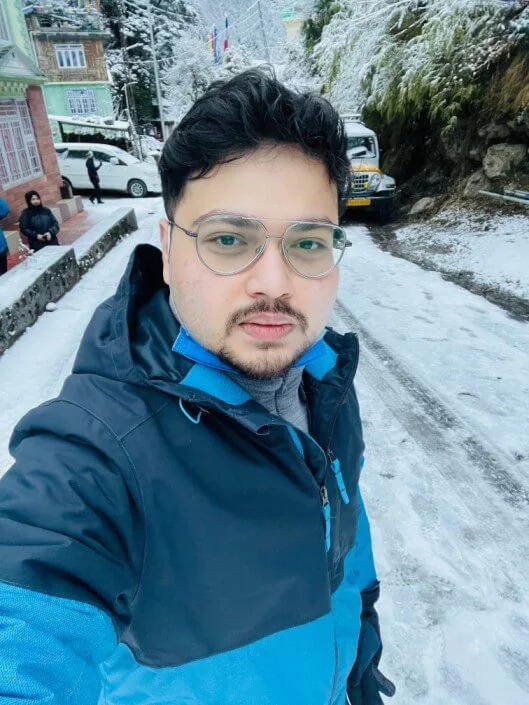 I'm Anirban Saha, Founder & Editor of TechBullish. With a B.Tech in Electronics and Communication Engineering, and 5+ years of experience as a software developer, I have expertise in electronics, software development, gadgets, and computer peripherals. I love sharing my knowledge through informational articles, how-to guides, and troubleshooting tips for Peripherals, Smart TVs, Streaming Solutions, and more here.