Nowadays, 65% of keyboards are great options in our workspace as it saves a lot
of space. If you are looking for a compact and clean keyboard, I will review the Keychron K6 wireless keyboard.
The Keychron K6 is a budget Hotswap keyboard with 65% layout keys. The switches used here are Gateron mechanical switches. These switches are great for mechanical keyboards.
Why Should you Trust Me? Hi, I am Anirban Saha, an Engineer with a Specialization in Electronics and Communication Engineering. I have experience in Smart TVs, Electronics circuits, and Computer peripherals.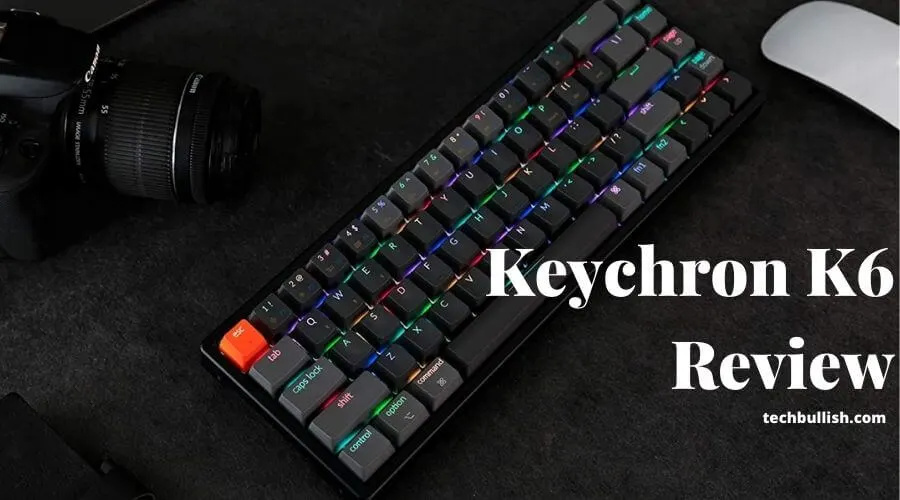 Let's get started!
Keychron K6 Review
Keychron K6
Summary
The Keychron K6 has a great and consistent typing experience. In the compact 65% layout, it is still usable and works great. This keyboard can be great for regular work and gaming too. Being a Hot swappable keyboard, it will be great for changing and customizing the switches on it easily.
Compact Ergonomic Design
The Keychron K6 comes with a compact design as it is of 65% keyboard layout type. This keyboard also has an ergonomic design.
This keyboard is great and is also there in the MKBHD setup. You can see the video to get an idea about the Keychron K6 in real life.
Build Quality
The build quality of the Keychron K6 is excellent. This keyboard has a base made of Aluminium which makes it durable without adding much weight to the keyboard.
3 Variants in terms of Switches
The Keychron K6 has three variants that are different for their switches in them:
Mechanical Gateron Switches
The Keychron K6's mechanical switch version has mechanical Gateron switches with variants like Red, Blue, and Brown.
Gateron switches are high-quality mechanical switches that have excellent durability.
Optical Switches
This is another type of switch present in the Keychron K6. The Optical switches have a very low latency of 0.2 ms as compared to the other mechanical switches.
The Optical switch variant is also hot-swappable.
Hot-Swappable switches
Hot-swappable means you can easily remove and plug mechanical keyboards with a different type of switch without any soldering.
This type of keyboard has switches that you can replace quickly with a different kind of switch.
Having the hot-swappable feature in Keychron K6 makes this keyboard an excellent one as we are not restricted to a specific type of switch.
We can replace switches easily without the need for soldering.
Specifications of Keychron K6
It has an innovative 65% layout with 68 keys
Frame is Aluminium
Connects with up to 3 devices via Bluetooth and switches among them easily. You can switch to wired mode via Type C connectivity.
The Keychron K6 has a great battery capacity of 4000mah, which lasts up to 72 hours (tested with static RGB lighting), or up to 9 days of normal use (8 hrs/day).
N-key rollover (NKRO) on wired mode or 6KRO on wireless mode.
Comes with durable and long-lasting mechanical switches
| | |
| --- | --- |
| Dimension (Aluminum bezels version) | 317 x 107mm |
| Dimension (Plastic frame version) | 313 x 104mm |
| Height incl. keycap (front) | 30 mm |
| Height incl. keycap (rear) | 37 mm |
| Keyboard Weight | 664 gm |
| Charging Time | 3 hours |
| Bluetooth version | 5.1 |
| Connection Type | Wired(USB Type C) and Wireless(Bluetooth) |
| Operating Environment | -10 to 50℃ |
| Keyboard Layout | ANSI |
| Keycap Profile | OEM |
| Keycap Material | ABS |
Source: Official Keychron Website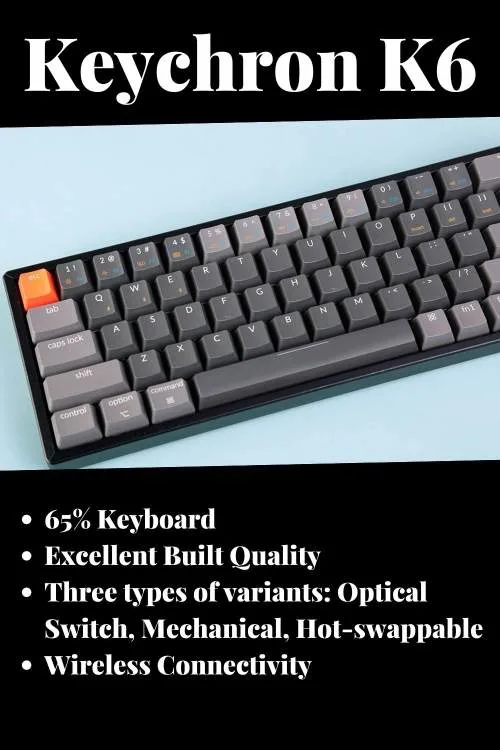 Last update on 2023-09-23 / Images from Amazon Product Advertising API
Connectivity
The connectivity for the Keychron K6 is wireless. You can connect up to three devices with this keyboard.
It works on both wired and wireless. It also supports connectivity using Bluetooth 5.1.
The connectivity using Bluetooth is good, and you will not face any issues using it and swapping between different devices.
OS Support
OS Support is an essential part of choosing any keyboard. The Keychron K6 would support Mac OS and Windows.
RGB Backlighting
Backlighting adds an aura to a gaming keyboard. The K6 keyboard has an excellent backlighting option with 15+ different White and RGB variations in lighting.
Battery Life
The battery life of a wireless keyboard is essential, especially when it has a rechargeable battery.
This keyboard runs on a rechargeable battery of 4000 mah, and the battery life is 200 hours with the backlit turned off. The backlights you get here in this keyboard are 15+ types of White and RGB variations.
Upsides for Keychron K6
This has an excellent build quality
Typing quality is excellent
The price is of budget keyboard
Downsides of Keychron K6
There is no software available to customize the keyboard to configure backlighting or the macro assignment of the keys.
User Manual
If you need a quick start guide, screw position, and assembly guide for Keychron K6 check here the complete guide.
Firmware Updates
For software updates and firmware installation here is a guide.
My view on Keychron K6
For the Keychron k6 keyboard, I was impressed by the build quality and performance of this keyboard.
Last update on 2023-09-23 / Images from Amazon Product Advertising API
The keyboard typing experience is very consistent. You will get less noise out of the keys. However, the experience of typing would depend on whether you choose between the linear, clicky, and tactile switches (red, blue, or brown).
The keycaps are ABS, so they attract grease/fingerprints and will eventually wear out. I wish they were Doubleshot PBT for the price I paid. I had a $40 budget mech keyboard that had Doubleshot PBT keycaps. You can check here in detail the difference between PBT and ABS keycaps.
Keychron sells PBT keycaps on their website, but I'm not too fond of the way they look. Hopefully, something that suits my tastes will be manufactured soon.
Keychron K6 FAQs
Q. Is Keychron K6 a good keyboard?
Ans. Keychron K6 is an excellent keyboard option to have with a lot of features in a compact size.
Q. Is the Keychron good for gaming?
Ans. Keychron K6 has a mechanical keycaps switch variant and also an optical switch variant(low latency). This keyboard is excellent to be used in competitive gaming.
Wrapping Up
Here, I have covered in detail the Keychron K6 review. This keyboard can be an excellent option for your work from home if you prefer a compact mechanical keyboard of a 65% layout. Check Keychron K6 at Amazon.
This keyboard performs great in day-to-day tasks.
Hope you liked the review.
Thanks for your feedback!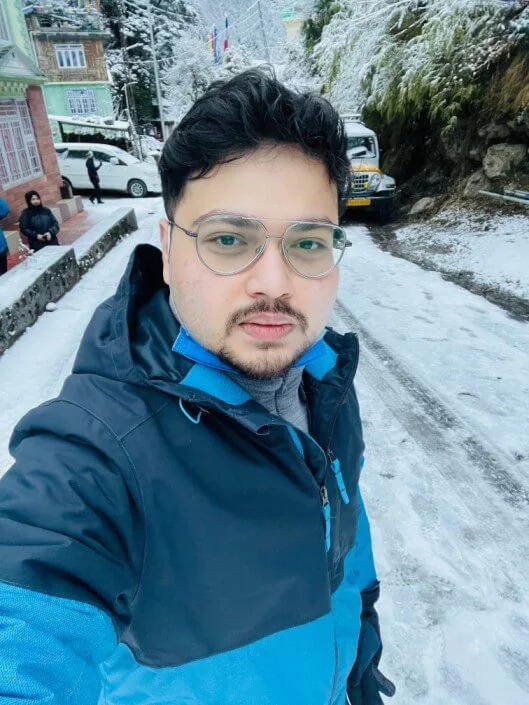 I'm Anirban Saha, Founder & Editor of TechBullish. With a B.Tech in Electronics and Communication Engineering, and 5+ years of experience as a software developer, I have expertise in electronics, software development, gadgets, and computer peripherals. I love sharing my knowledge through informational articles, how-to guides, and troubleshooting tips for Peripherals, Smart TVs, Streaming Solutions, and more here.