If you are confused about which mouse to choose between Logitech M185 and M325, then it is the right post for you. Here, I compared the Logitech M185 vs M325 in terms of build quality, features(like DPI, Sensor), performance, Battery Life, connectivity, OS support, and more. This would help you to get in and out of both mice to help you know which would be the best for you.

Logitech is known for its premium quality computer mouse. Logitech M185 and M325 are both premium quality wireless mice that come with tons of innovation from Logitech.
Let's start the in-depth comparison for Logitech M185 vs M325.
Logitech M185 vs M325 Comparison Table 
Below, I have compared the Logitech M185 and M325  Mouse with every factor:
| | | |
| --- | --- | --- |
| Comparison Criteria | Logitech M185 | Logitech M325 |
| Mouse Type | Wireless | Wireless |
| Mouse Size | Small (for small hands) | Small (for small hands) |
| Number of Buttons | 3 | 3 |
| Logitech Flow Support | No | No |
| Logitech Options | Yes | Yes |
| Silent | No | No |
| Good For Gaming | Yes  | Yes  |
| DPI | 1000 DPI | 1000 DPI |
| Battery Life | 12 Months | 18 Months |
| Design Type | Ambidextrous(both for left and right-hand use) | Ambidextrous(both for left and right-hand use) |
| Bluetooth Support | No | No |
| Supported OS | Windows OS, Mac OS, Chrome OS, Linux OS | Windows 10 or later, Mac OS 10.5 or later, Chrome OS, Linux Kernel 2.6+. |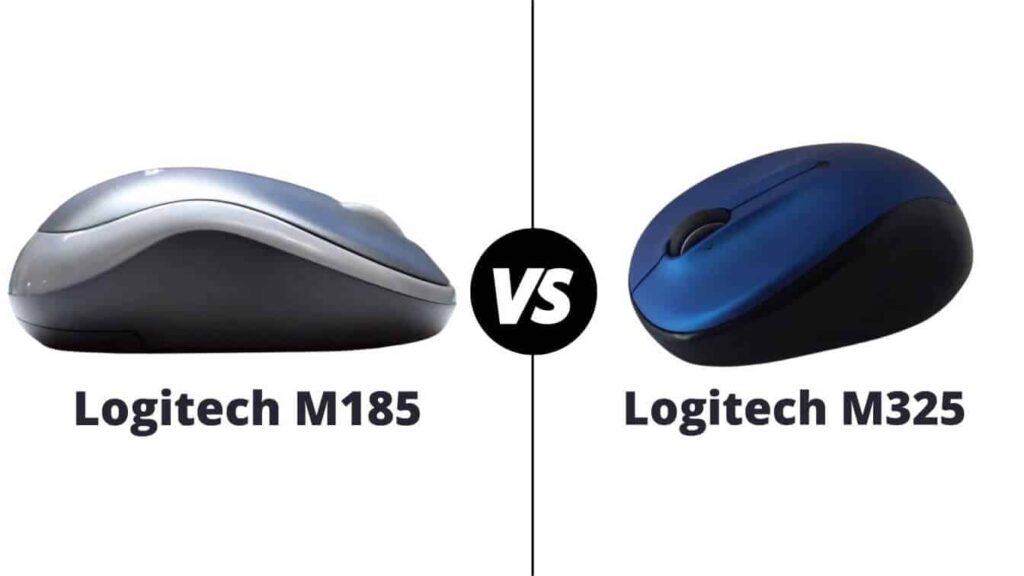 Now, let's look into the factors in detail to consider more about the factors that we considered above to make the difference between M185 and M325.
Logitech M185 Mouse Review 
Logitech M185 is a wireless and compact design beautiful-looking mouse from Logitech. This mouse would make you feel more attached to the work you are doing with its excellent performance onboard. 
It would be best for you if you have small hands. It would be a delight for you to use this Logitech M185 as your daily driver. This mouse would feel extremely comfortable in your hand due to its contoured shape.
More to say about is its scroll wheel is really worth having. You would have more precise control of your work with M185's smooth and accurate cursor control. You can use it on any surface you would like and this would work fine.
Most of us have doubts in terms of battery life, performance, and connectivity about wireless mice.
You can really depend on the battery life of this mouse as it would last for about 12 months.
Overall, if you need a mouse on which you can truly rely your productivity then my recommendation would be to go with M185 Mouse from Logitech. 
Logitech M325 Mouse Review
Logitech M325 is a wireless mouse that supports connectivity to a distance of 10 m (33ft) that is almost an entire room. Actually when you use a wireless mouse connected to your device this 10 m connectivity is really good to have.
M325 comes with good-looking color options out of the box which may even fascinate you. If you would like to add a dash of lively color to your workspace plus would increase your productivity, this Logitech M325 mouse is really worth it.
Logitech M325 is a perfect mouse for people with small hands and even kids can use this with ease. M325 has rubber on its sides which makes it better to grip and helps even when hands get sweaty.
You need not also worry about the battery life as this would last you much longer than an average wireless mouse and even the Logitech M185. Logitech M325 has a battery life of 18 months which is extraordinary. 
M325 has a 3 years warranty and hence you can rely on the mouse in long term. Logitech M325 does not have any complaints regarding poor connectivity or connection drop or even lags. So, you can surely consider it without any more thought.
Comparing the Pairing Process
The pairing of the Logitech Mouse is very easy. They pair and connect without doing any hard work. To connect your wireless mouse either be it M185 or M325, you need the Logitech Wireless Receiver.
The Logitech Wireless Unifying Receiver connects easily by plug and plays to your system. This saves our time configuring a new driver setup whenever you connect to any new device.
Comparing the Shortcomings of Logitech M185 and M325
Though M185 and M325  are extremely good in many aspects, there are few shortcomings for both.
One of the shortcomings I found was that both the mouse M185 and M325 are small in design and are not the best option for large hands. 
Another is both the M185 and M325 do not have Bluetooth connectivity and only we get the option to connect it using Logitech Wireless Nano Receiver. The nano receiver takes a USB port. So, having Bluetooth connectivity would have helped have an alternate way of connectivity.
Other factors are well maintained and I have no complaints.
What are Logitech Options?
Logitech Options is software for tweaking and for advanced customization of the Logitech Mouse settings. 
Logitech Options are a great option to have as we get a lot to customize.
Both the Logitech M185 and M325 support Logitech Options.
Which is better between M185 and M325?
Both the Logitech M185 and M325 are to be considered if you have small hands. You cannot go wrong if you choose any one of them. However, if I need to pick one based on the overall condition I would consider choosing the M185 as it has a minimalist look and feel. 
Conclusion
Logitech M185 and M325 both are good and are for the users with small hands. Hope you liked the comparison between Logitech M185 vs M325.