Logitech M510 and M525 both being productivity masters, still one is for small hands and another for large hands. M510 has full-size whereas M525 is a compact-sized wireless mouse.
If you are confused about choosing Logitech M510 vs M525, then this post explains in detail.
You might have many questions like which has a better build quality, size, which is better for multi-tasking, which has a better battery life, or even overall which you should choose.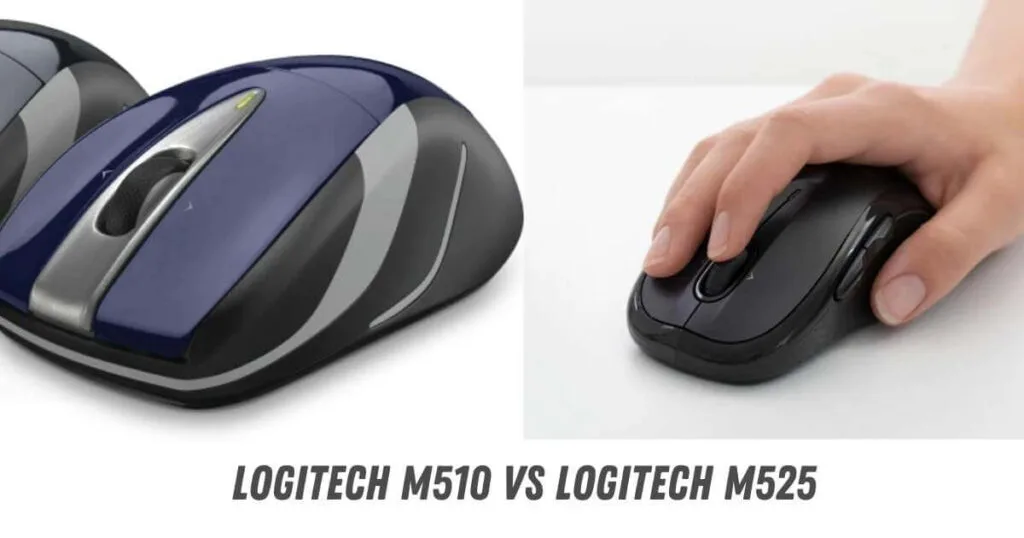 Why Should you Trust Me? Hi, I am Anirban Saha, an Engineer with a Specialization in Electronics and Communication Engineering. I have experience in Smart TVs, Electronics circuits, and Computer peripherals.
I tried to go into detail in this article to cover and answer all your questions here.
Let's get started!
Logitech M510 Vs Logitech M525
Below, I have compared the Logitech M510 and M525 Mouse with every factor:
| | | |
| --- | --- | --- |
| Comparison Criteria | Logitech M510 | Logitech M525 |
| Image | | |
| Mouse Type | Wireless Mouse | Wireless Mouse |
| Mouse Size | Full-Size Mouse | Compact Size Mouse |
| Number of Buttons | 7 | 5 |
| Logitech Options | Yes | Yes |
| Silent | No | No |
| Good For Gaming | Yes | Yes |
| DPI | 1000 DPI | 1000 DPI |
| Battery Life | 24 Months | 36 Months |
| Weight | 129 gm (2 AA batteries included) | 127.4 gm (2 AA batteries included) |
| Design Type | Ambidextrous(both for left and right-hand use) | Ambidextrous(both for left and right-hand use) |
| Bluetooth Support | No | No |
| Supported OS | Windows OS, Mac OS, Chrome OS, Linux | Windows 10 or later, Mac OS 10.5 or later, Chromebook OS, Linux. |
| Link | View on Amazon | View on Amazon |
Design
The design of the M510 is well suited for both left-handed and right-handed users.
Similarly, for Logitech M525 you will also find it suitable for both left and right-handed usage.
In terms of design, both the mouse look and feel awesome. In terms of looks, the Logitech M525 looks more stylish than Logitech M510.
Build Quality
The build quality defines how long the mouse would last long. Also, as the build quality
Comfort is very good considering the rubber grips on the sides of the M510 mouse.
Also, you would get soft rubber grips on the sides in the case of the M525 wireless mouse. Both this mouse also has a rubberized scroll wheel that would help you to scroll effortlessly throughout the screen.
The comfort you get in Logitech M510 and M525 is well worth it.
Tracking and Scrolling Quality
Tracking and Scrolling are the basic functions you perform with any mouse. For any mouse, these become the most essential thing to look into.
In terms of tracking quality, M510 is better as it has laser-grade tracking for the mouse. You can use the mouse on any surface and even on glass.
In terms of scrolling, M510 is good but M525 is better. This is because the M525 has a high quality precise and accurate scroll wheel that helps to navigate accurately and fast.
Battery Life
Whenever we choose a wireless mouse most important factor for our concern is the battery life. Having a good battery life is very important.
Logitech M510 has a battery life of 24 months (2 Years) which is good and better than any average wireless mouse.
On the other hand, the Logitech M525 has a battery life of 36 months or 3 years. Having a battery life of 3 years is way better than any other wireless mouse.
Weight
Logitech M510 weighs 129 gm with batteries. On the other hand, the Logitech M525 weighs 127.4 gm with batteries. So, the Logitech M510 mouse is (129-127.4) gm ie. 1.6 gm heavier than M525.
These weights are considered two AA batteries inside the mouse. Both of these mice are a bit heavy as compared to any other mouse that weighs around 100 gms.
For normal tasks, you won't notice the extra weight of the M510 or M525 mouse.
Connectivity
For both M510 and M525, wireless connectivity is achieved using the 2.4 GHz Logitech Unifying Receiver.
None of these mice have Bluetooth connectivity. Still, it is good as you can connect up to 6 Logitech peripherals with the Logitech unifying receiver.
Also, there are no signal drops or lags with the Logitech Unifying receiver.
Due to the good connectivity of the wireless mouse, I prefer using the wireless mouse often for my regular usage.
Size
| | | |
| --- | --- | --- |
| Dimensions | Logitech M510 | Logitech M525 |
| Height | 120 mm | 101.5 mm |
| Width | 65 mm | 57 mm |
| Depth | 41 mm | 38.3 mm |
| Overall Mouse Size | Full-Sized Mouse | Compact-sized mouse |
Logitech M510 Review
Logitech M510 mouse was designed to provide hours of comfortable usage. Its sculpted design with rubber is awesome and a scroll wheel offers precision scrolling and side-to-side navigation.
It has 5 programmable buttons that make it easy to customize the way you use it.
Several features are unique to this mouse, making it a good choice for people who enjoy working at home or in the office.
The M510 mouse comes with a sensitivity of 1000 DPI, which makes it far more accurate than most computer mice.
This mouse's design is comfortable enough for long-hour use, but the scroll wheel moves too smoothly without any breaks.
The M510 mouse also uses a USB nano receiver and a unifying receiver to connect with up to five devices at once.
The M510 is powered by two AA batteries. Its battery life is approximately two years. It is compatible with different operating systems. It comes with soft rubber grips. It is lightweight and easy to install.
It can easily be transported to and from work. You should consider purchasing one if you use your computer at home.
It will last you a long time. You can find more information about this mouse in the following sections.
Highlighting Features of Logitech M510 are :
Full-size Mouse,
laser-grade tracking,
Comfort mouse
Last update on 2023-09-24 / Images from Amazon Product Advertising API
Logitech M525 Review
If you're looking for a wireless mouse, you can't go wrong with the Logitech M525. This mouse has a highly responsive scroll wheel, a soft rubber grip, and a long battery life.
It also has an ergonomic design and is small enough to fit in most palms. The Logitech M525 has many great features that make it a good choice for many users.
The mouse is comfortable to use and fits small hands. It has a slight curve for comfort and a clickable sideways scroll wheel.
The mouse is lightweight and easy to take with you anywhere.
The scroll wheel feels smooth and clicks efficiently, but it may be a little too responsive for fast gaming. It should be fine for day-to-day use, though.
Listed below are some pros and cons of the Logitech M525 mouse.
The mouse works on multiple platforms. It is compatible with Windows, macOS, and ChromeOS.
It operates on two AA batteries and can last for up to 36 months, depending on usage.
The mouse is lightweight with a weight of only 127.4 g including the batteries and easy to clean and suitable for many types of users.
Another important feature of the Logitech M525 wireless mouse is the way it fits in your hands. The mouse is ergonomically designed and fits small to medium-sized hands.
It also feels good to use for a long time without becoming fatigued. The rubber grips on the Logitech M525 are also nice.
Despite being a wireless mouse, you will be able to work comfortably with it for long periods of time.
Highlighting features of Logitech m525 are:
Excellent Performance and precision,
Excellent battery life of 36 months.
Sale
Last update on 2023-09-24 / Images from Amazon Product Advertising API
Which is better between Logitech M510 and M525?
There is a clear choice that you can make considering the size of the mouse. If you have small hands then choosing a compact mouse M525 is worth going for whereas if you have a large hand you can choose a full-sized M510 mouse.
Overall, for my preferences and most valued feature laser grade tracking,
I liked the Logitech M510 very much.
Last update on 2023-09-24 / Images from Amazon Product Advertising API
If you like the M510, you can check the comparison of the Logitech M510 vs the M705 mouse.
Logitech M510 vs M525 FAQs
Does Logitech M525 work with Windows 10?
Yes, the M525 works with Windows 10.
Is Logitech M510 laser or optical?
Logitech M510 mouse is a Laser Mouse with a Laser Sensor.
What DPI is Logitech M510?
Logitech M510 has a DPI of 1000.
Conclusion
Let's conclude this post!
The Logitech M510 and M525 have different kinds of users based on the preference of the full-sized mouse and the compact mouse.
In this Logitech M510 vs M525 comparison, we explored the differences and why you should consider one. Drop me an email for any further queries.
I hope you enjoyed reading this post.
Thanks for your feedback!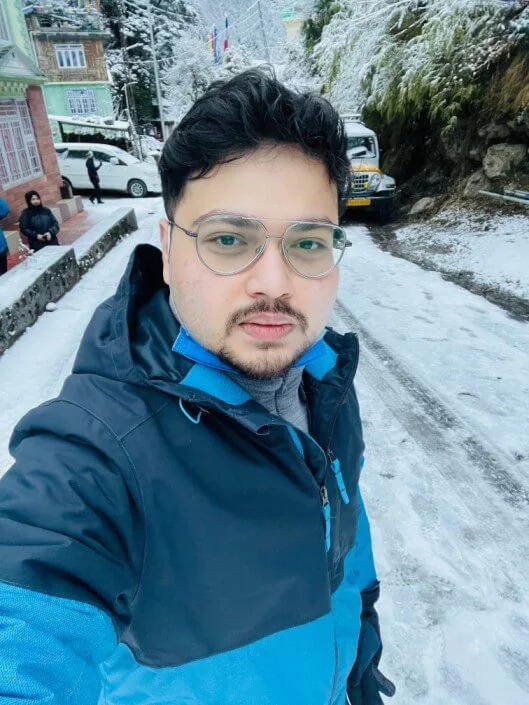 I'm Anirban Saha, Founder & Editor of TechBullish. With a B.Tech in Electronics and Communication Engineering, and 5+ years of experience as a software developer, I have expertise in electronics, software development, gadgets, and computer peripherals. I love sharing my knowledge through informational articles, how-to guides, and troubleshooting tips for Peripherals, Smart TVs, Streaming Solutions, and more here.