Logitech M510 and M525 both being productivity master, still one is for small hands and another large hand. M510 has a full-size whereas M525 is a compact-sized wireless mouse.
If you are confused in choosing Logitech M510 vs M525, then this post explains in detail. You might have many questions like which has a better build quality, size, which is better for multi-tasking, which has a better battery life, or even overall which you should choose. 
I tried to go into detail in this article to cover and answer all your questions here.
Logitech M510 Vs M525 Comparison Table 
Below, I have compared the Logitech M510 and M525  Mouse with every factor:
| | | |
| --- | --- | --- |
| Comparison Criteria | Logitech M510 | Logitech M525 |
| Mouse Type | Wireless Mouse | Wireless Mouse |
| Mouse Size | Full-Size Mouse | Compact Size Mouse |
| Number of Buttons | 7 | 5 |
| Logitech Options | Yes | Yes |
| Silent | No | No |
| Good For Gaming | Yes  | Yes  |
| DPI | 1000 DPI | 1000 DPI |
| Battery Life | 24 Months | 36 Months |
| Weight | 129 gm (2 AA batteries included) | 127.4 gm (2 AA batteries included) |
| Design Type | Ambidextrous(both for left and right-hand use) | Ambidextrous(both for left and right-hand use) |
| Bluetooth Support | No | No |
| Supported OS | Windows OS, Mac OS, Chrome OS, Linux | Windows 10 or later, Mac OS 10.5 or later, Chromebook OS, Linux. |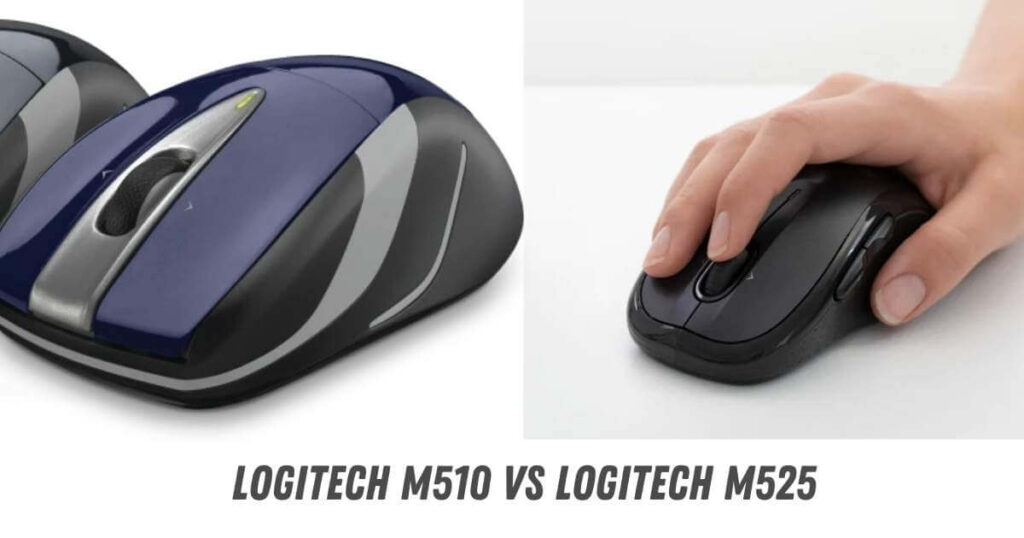 ???? M510 is a great mouse for your daily use. Check here at Amazon.
Design
The design of M510 is well suited for both left handed and right handed users. Similarly, for Logitech M525 you will also find it suitable for both left and right handed usage.
In terms of design both the mouse look and feel awesome. In terms of looks the Logitech M525 looks more stylish than Logitech M510.
Build Quality
The build quality defines how long the mouse would last long. Also, as the build quality
Comfort is very good considering the rubber grips on sides of M510 mouse. Also, you would get soft rubber grips on the sides in case of M525 wireless mouse. Both these mouse also has a rubberized scroll wheel that would help you to scroll effortlessly throughout the screen.
The comfort you get in Logitech M510 and M525 is well worth it.
Tracking and Scrolling Quality
Tracking and Scrolling is the basic functionality you perform with any mouse. For any mouse these becomes the most essential thing to look into.
In terms of tracking quality, M510 is better as it has a laser grade tracking for the mouse. You can use the mouse in any surface and even on glass. 
In terms of scrolling, M510 is good but M525 is better. This is because the M525 has an high quality precise and accurate scroll wheel that helps to navigate accurate and fast.
Battery Life
Whenever we choose a  wireless mouse most important factor for our concern is the battery life. Having a good battery life is very important. 
Logitech M510 has a battery life of 24 months (2 Years) which is good and better than any average wireless mouse. On the other hand, the Logitech M525 has a battery life of 36 months or 3 years. Having a battery life of 3 years is way better than any other wireless mouse.
Weight
Logitech M510 weighs 129 gm with batteries. On the other hand, the Logitech M525 weighs 127.4 gm with batteries. So, the Logitech M510 mouse is (129-127.4) gm ie. 1.6 gm heavier than M525.
These weights are considering two AA batteries inside the mouse. Both of these mice are a bit heavy as compared to any other mouse that weighs around 100 gms.
For normal tasks, you won't notice this extra weight of the M510 or M525 mouse.
Connectivity
For both M510 and M525 the wireless connectivity is achieved using the 2.4 Ghz Logitech Unifying Receiver.
None of these mice have Bluetooth connectivity. Still it is good as you can connect up to 6 Logitech peripherals with the logitech unifying receiver. Also, there are no signal drops or lags with the Logitech Unifying receiver. 
Due to good connectivity of the wireless mouse, I prefer using wireless mouse often for my regular usage.
Size
| | | |
| --- | --- | --- |
| Dimensions | Logitech M510 | Logitech M525 |
| Height | 120 mm | 101.5 mm |
| Width | 65 mm | 57 mm  |
| Depth | 41 mm | 38.3 mm |
| Overall Mouse Size | Full-Sized Mouse | Compact-sized mouse |
Logitech M510 Highlighting Features
Highlighting Features of Logitech M510 are :
Full-size Mouse, 
laser-grade tracking, 
Comfort mouse
Logitech M525 Highlighting Features
Highlighting features of Logitech m525 are:
Excellent Performance and precision,
Excellent battery life of 36 months.
???? Find here Logitech M525 at Amazon.
Which is better between Logitech M510 and M525?
There is a clear choice that you can make considering the size of the mouse. If you have small hands then choosing a compact mouse M525 is really worth going for whereas if you have a large hand you can choose a full-sized M510 mouse.
Overall, for my preferences and most valued feature laser grade tracking,
????I liked the Logitech M510 very much.
If you like the M510, you can check the comparison of Logitech M510 vs M705 mouse.
Conclusion
Let's conclude this post! The Logitech M510 and M525 has a different kinds of users based on the preference of the full-sized mouse and the compact mouse.
In this Logitech M510 vs M525 comparison, we explored the differences and why you should consider one. Drop me an email for any further queries.