The G403 is a wired mouse, while the G703 is a wireless variant mouse. If you are looking to compare Logitech G403 vs G703, this is the right post.
This will compare two excellent options for gaming mice, one being wired(G403) and the other wireless(G703).
Both of these mice share many amazing features attractive to gamers, but there are some main differences between them.
This article will compare and contrast the two mice through their in-depth review and big differences to help you decide which one is best for you and would give you better results in gaming.
Logitech has been a big name in the gaming mouse industry for many years.
They have released some of the most popular gaming mice on the market, and they continue to do so.
Their G series mouse is excellent for gaming and even preferred by Gaming Pros.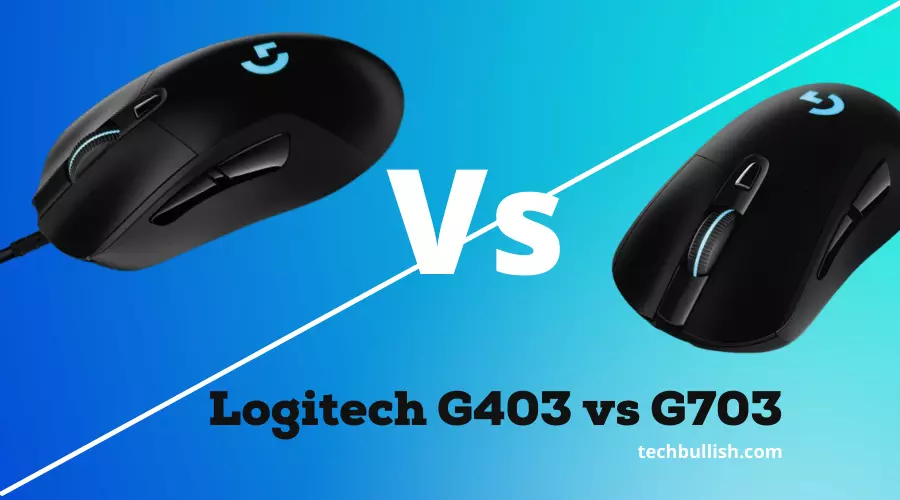 Let's get started!
Logitech G403 vs G703 Table Comparison
Comparison Criteria
Logitech G403 HERO
Logitech G703 Lightspeed HERO
Mouse Type
Wired Gaming Mouse
Wireless Gaming Mouse
Programmable Buttons
6
6
Logitech Options
Yes
Yes
Silent
No
No
Good For Gaming
Yes Excellent For Gaming
Yes Excellent for Gaming
Mouse Sensor
HERO 16K
HERO 16K
DPI
200-16000 DPI
200-16000 DPI
Battery Life
N.A as it is a wired mouse
18 Months
Weight
87.3 gm + Optional 10 gm additional weight
107 gm + Optional 10 gm additional weight
Dimensions
(LengthxWidthxHeight)
12.4 cm x 6.8 cm x 4.3 cm
12.4 cm x 6.8 cm x 4.3 cm
Design Type
Ambidextrous(both for left and right-hand use)
Ambidextrous(both for left and right-hand use)
Bluetooth Support
No
No
Supported OS
Windows OS, Mac OS, Chrome OS, Linux
Windows 10 or later, Mac OS 10.5 or later, Chromebook OS, Linux.
Special Features
LightSync RGB LightingReport Rate of 1ms (low latency)Onboard memory with 1 profile
Report Rate is 1 ms (very Low Latency)Onboard memory with 3 profiles
Logitech G403 HERO Review
Logitech G403 Hero is a wired mouse from manufacturer Logitech and, in the gaming G series range, is a true treat for gamers who love a wired mouse.
It is worth mentioning that even the programmers who are participating in the worldwide competition events use the wired mouse.
The Logitech G403 Wired Gaming Mouse has been upgraded to HERO 16K(16000 DPI) optical sensors, which means you have more precision control. HERO (High-Efficiency Rated Optical) is the ultimate optical sensor from Logitech that performs exceptionally well with wireless mice.
It's not only the fastest and smoothest, but it's the most accurate, too.
G403 is one of the most responsive gaming mice to date, featuring a brand new HERO 16K sensor that provides 400+ IPS and 30 G acceleration.
The RGB lighting due to Lightsync gives a fantastic look to the mouse, enhancing its gaming feel.
The one-to-one tracking is accurate and dependable with zero smoothing, filtering, or acceleration.
This Logitech mouse has a Hero 16K sensor, and the mouse has a well-balanced weight-tuning system for better control.
The three programmable buttons give you easy access to your favorite macros.
You can customize the G403 mouse controls and features using the Logitech G Hub software.
The software lets you take control with superior programming, detailed customizing, and easy device management.
This mouse is well suited for large hands. Still, people with small and medium hands will use it comfortably.
Pros
Wired mouses are for better connection reliability with a gaming-grade HERO 16K sensor.
This mask comes with a braided cable.
It has a mechanical button tensioning system for better clicks and also helps to scroll even more accurately.
Cons
It is for right-handed usage only
There are no additional rubber grips present.
Sale
Last update on 2023-10-03 / Images from Amazon Product Advertising API
Logitech G703 LightSpeed HERO Review
The Logitech G703 Lightspeed Wireless Gaming Mice is a high-end gaming gear with advanced wireless technology.
With a 16000 DPI HERO 16k flawless sensor and a max speed of 400 inches per second, you'll always be able to track your opponents and react with lightning speed.
Zero smoothing, filtering, or acceleration means instant responsiveness and zero lag.
Switch from FPS to RTS seamlessly and quickly as you battle your way to victory.
The Logitech G703 is light, strong, and has a good battery life of up to 350 hours of continuous gaming on a single charge.
It is one of the best wireless ergonomic mice at this price point.
You can use a Wireless charging mat with the Logitech G703, making it convenient to use during several hours of uninterrupted gaming.
This is possible due to the Logitech PowerPlay support, a feature by which you can connect a braided charging cable to the Logitech Wireless Charging Powerplay Mouse pad, and it will wirelessly charge the G703 HERO.
Arming you with the ultimate weapon in your favorite FPS game, the Logitech G703 Lightspeed Wireless gaming mouse delivers ultra-fast lag-free 1:1 tracking and Logitech G's exclusive LIGHTSPEED wireless technology, which is its standout feature.
This mouse is best suited for people with large hands, and also, people with medium and small hands would use it.
Pros
You get three memory profiles to configure the programmable side buttons that are clicky.
Though it is a wireless technology mouse from Logitech, you still get one millisecond response times, which is exceptional. It is due to the Lightspeed wireless technology.
Logitech 16K is one of the flawless sensors available for gaming mice.
It supports wireless charging using a braided charging cable connected to the PowerPlay mouse pad. It is the PowerPlay Wireless Charging System.
This mouse has an additional weight attached to the bottom, which helps increase the weight and decrease it by 10 g.
This mouse has a gaming rate sensor which makes this Gaming Experience most exceptional, and I have no complaints about that.
Cons
Mouse Wheel feels spongier, which takes time to get used to.
Mouse Feet is not much smooth for fast gliding on your gaming mousepad.
Sale
Last update on 2023-10-03 / Images from Amazon Product Advertising API
Design and Comfort
Logitech G403 is precisely designed with a great shape to fit the gamer's hand, bring accuracy, and aim to par with this simple design which looks minimal.
The design has perfect gaming aesthetic for all who prefer mouse shape preference as ergonomic and fits well in hands.
In terms of basic design, the G403 goes head to head with G703.
Also, these mice have a highly durable form factor and work great even for intensive use during gaming.
These mouse buttons provide solid clicks during gameplay due to the mechanical button tensioning system.
During gaming, you will feel super comfortable whether you use G403 or G703.
Gaming Performance
Gaming performance is undoubtedly top-notch as G403 has the ideal gaming-grade sensor HERO 16K.
This sensor has highly accurate motion detection and brings down the latency to work, and it is extremely fast, making it almost lag-free during use.
Duties extremely fast and excellent gaming Centre this mouse can communicate up to 8 times faster than a standard mouse.
Just imagine that it can do 1000 reports per second.
The Logitech G703 is powered by the HERO 16K Optical sensor, a gaming-grade sensor for its lagless wireless input similar to G403's. It has no smoothening, filtering, or acceleration across its entire DPI range.
For this reason, this mouse is excellent for gaming.
And another thing is that the G703 is the world's radiant mouse that comes with the same sensor in build.
Though the G703 is a wireless mouse, the performance still rivals any wired mouse.
You will not notice any form of lag even during competitive gaming.
See also: Glorious Model O vs Logitech G Pro Wireless
Note: Also, you will find a G403 and G703 with the existing Pixart PMW3366.
HERO sensor ones would be better to consider.
DPI Customization
G703 has the DPI option that can go from the lowest amount of 100 DPI to the highest amount of 16,000 DPI, which is a broad enough sensitivity to cover all types of users.
The Higher the tracking resolution, the lower the response time of the mouse moving from one point to another on the screen, thus increasing the sensitivity of mouse movement.
While playing any FPS games or other forms of games or doing regular work, having a DPI(a.k.a Dots Per inch) variation of such a large amount is essential.
In FPS games, you will need to target an audience to a specific point using a high DPI setting and finally more shooting by reducing the DPI by clicking the DPI changing button on the mouse.
Learning the DPI would enable you to precisely aim at your opponent and easily do it more accurately as the mouse pointer would be slowly moving at that time.
The more the DPI is, the faster the mouse pointer across the screen.
Mouse Customization using G Hub
You can create numerous profiles where the functionalities of a mouse differ with each application you use.
Logitech G Hub also allows you to customize each programming switch, the RGB lighting that comes out of the mouse, the scroll direction scrolling rate, i.e., how fast you scroll or how slow you scroll, the cards the travel that is the DPI settings.
In short, with the Logitech G Hub, you get complete control of your gaming mouse.
Now, as we come this far, let's talk about the best features that the Logitech G403 and the Logitech G703 have to ensure that you choose that.
Buttons & Scroll Wheel
The Logitech G703 features 6 programmable buttons(2 primary, 2 side buttons, 1 scroll click button, and another above the scroll wheel) with high-quality Omron mechanical switches, which add excellent durability useful for intense, intense gaming sessions.
This makes it perfect for FPS games and other fast-paced games.
On the other hand, the Logitech G402 has 6 programmable buttons (2 primary, 2 side buttons, 1 scroll click button, and another above the scroll wheel), which works well too.
Overall, considering the buttons and scroll wheel quality, both the G403 and G703 are excellent.
Which is better between G403 and G703?
Logitech is an excellent brand for the peripherals, and especially their Gaming series of mice is incredible and can be used as a daily driver! Only a few other brands make good mice as they do.
The G703 promises a lot still. G703 is a heavier mouse as compared to G403.
The lighter mouse G403 is lighter by more than 20gm.
Both of these mice work well for Palm grippers(people who use mice with Palm Grip), and this would be the most comfortable grip to use during gaming.
If I compare the G703 wireless mouse with G403, I prefer to go for the G403 because it is a wired mouse and if you're a professional gamer, choosing a wired mouse is very sensible.
Sale
Last update on 2023-10-03 / Images from Amazon Product Advertising API
Logitech G403 vs G703 FAQs
Q. Is the Logitech G703 ergonomic?
Yes, Logitech G703 has an ergonomic design with a comfortable fit in hand.
Q. Is Logitech G403 good for FPS gaming?
Yes, Logitech G403 is good for FPS competitive gaming.
Q. How much does the G703 weigh?
Logitech G703 is 95-gram or 3.35oz, considered a heavy mouse. Also, it has additional weight to increase its weight.
Q. Does G703 use batteries?
The G703 uses a rechargeable battery with 350 hours of battery life, which is good for rechargeable ones.
Q. Is the G703 good for big hands?
The G703 is an amazing gaming mouse for people with big hands, and it has an extensive design that makes it comfortable to use for extended periods of time. Plus, its intuitive buttons and easy-to-use controls make it easy to navigate way around the game world.
Conclusion
Let's conclude the post on Logitech G403 vs G703!
This was a comparison between a wired and wireless mouse from the Logitech G series.
I hope you liked the post, and I tried walking through the detail you need to consider to choose between G403 and G703 mice from Logitech.
Choosing this mouse would significantly help you in the FPS gaming competition, and you would get an extra edge choosing this mouse.
I hope you enjoyed reading this post.
Thanks for your feedback!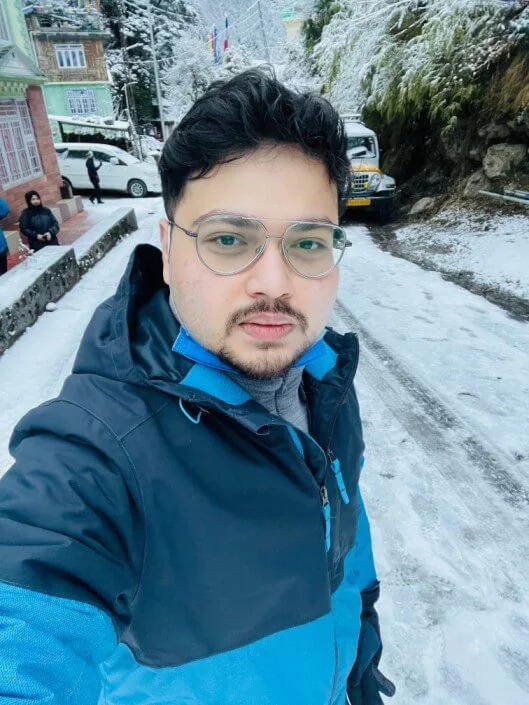 I'm Anirban Saha, Founder & Editor of TechBullish. With a B.Tech in Electronics and Communication Engineering, and 5+ years of experience as a software developer, I have expertise in electronics, software development, gadgets, and computer peripherals. I love sharing my knowledge through informational articles, how-to guides, and troubleshooting tips for Peripherals, Smart TVs, Streaming Solutions, and more here.