The gaming mouse is becoming more and more popular. They claim to be faster and better than normal computer mice. But how true is it?
If you are looking to compare a Gaming mouse vs a normal mouse, this is the right post. In this post, I would cover the differences in depth.
Why Should you Trust Me? Hi, I am Anirban Saha, an Engineer with a Specialization in Electronics and Communication Engineering. I have experience in Smart TVs, Electronics circuits, and Computer peripherals.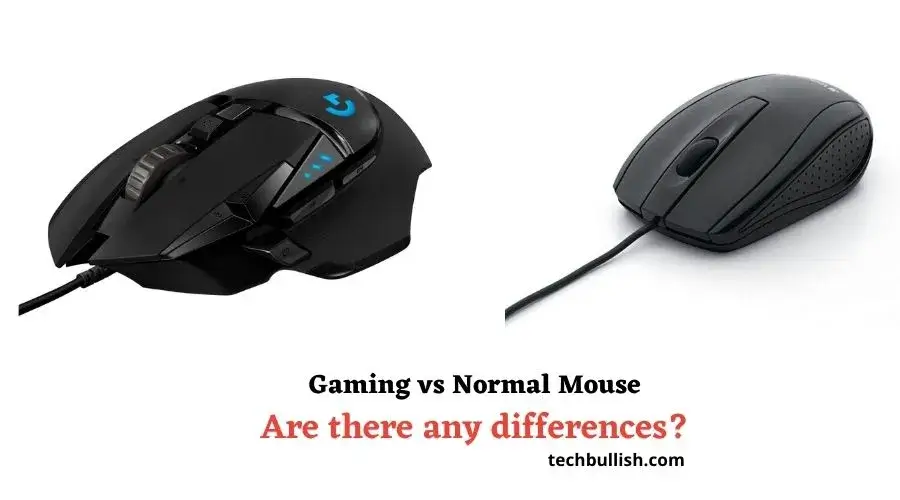 Let's get started!
Gaming Mouse vs Normal mouse
| | | |
| --- | --- | --- |
| | Gaming Mouse | Normal Mouse |
| Sensor | Gaming Grade Sensor | Normal Sensor |
| Durability | High | Low to Medium |
| Looks | Looks great with RGB lighting | Minimalistic looks |
| Cost | Higher than a normal mouse | Cheaper variant as compared to a gaming mouse |
| Buttons | Additional Side Buttons Present which can be customized and even a macro can be assigned | Only have basic buttons left, right, and scroll wheel in the middle to perform basic tasks of a mouse |
Mouse Sensitivity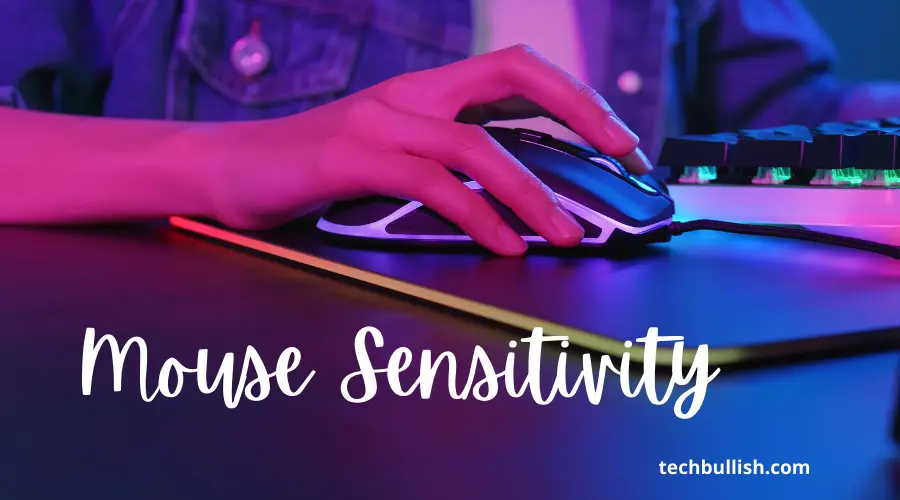 DPI is a measurement of mouse sensitivity. The higher the DPI, the more sensitive the sensor will be. The higher the DPI, the greater the number of pixels that you can scroll per inch.
So if we say that the DPI of a mouse is 2000, it means that the mouse can move 2000 pixels per inch.
A gaming mouse has a higher DPI than a normal mouse.
This means that the gamer will have greater accuracy in his movements. It will be easier for him to navigate through a map or a menu in a game.
Also, in the gaming mouse, there are DPI customizing options that would help you choose the DPI and sensitivity of the mouse as per your mouse weight and gaming need.
A heavy mouse works well with high DPI settings, whereas a light mouse works excellently with low DPI settings. You can check here a comparison of heavy mouse vs light mouse.
Responsiveness of the Mouse
The polling rate of a mouse is the frequency at which the system polls the mouse to see if the mouse has any data for it. This is usually in the range of 50-1000Hz.
Gamers need a mouse that is fast and responsive enough to keep up with their play.
The difference in responsiveness between a gaming mouse and a normal mouse is pretty big.
The polling rate, also known as the report rate, is how many times per second the mouse sends its current location to the computer. A normal mouse usually has a polling rate of 125 Hz, which means it sends the position once every 8 milliseconds.
A gaming mouse has a much higher polling rate. The most common polling rate for gaming mice is 1000 Hz, which means it sends the position once every 1 millisecond.
Because of this, gaming mice can track movements much more precisely.
Mouse Sensor Comparison between Gaming and Normal Mouse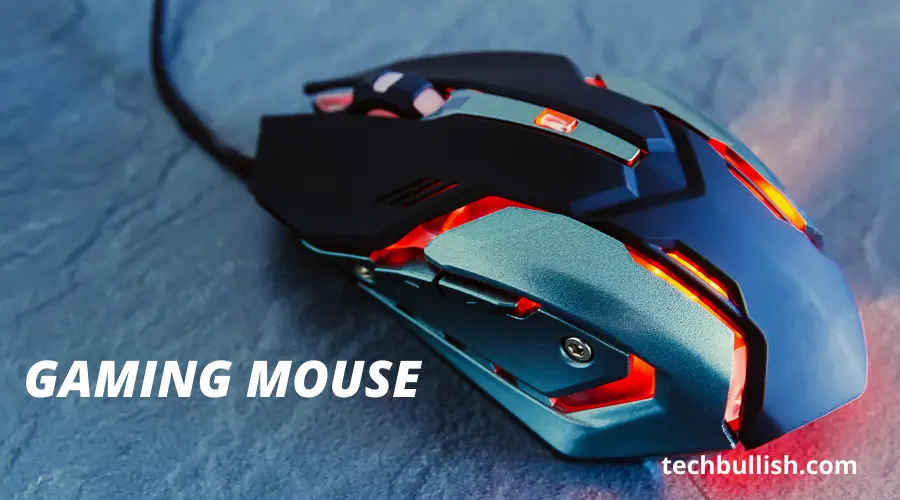 This is another area that makes a difference between a gaming mouse and a normal mouse.
A gaming mouse has a very high-quality gaming-grade sensor like the Pixart sensor, the Logitech HERO sensor, and others.
These gaming-grade sensors improve the gaming experience a lot and take the gaming experience to the next level.
A gaming mouse has a more significant advantage than a normal mouse by having extra side buttons to it.
The gaming mouse side buttons can be customized for different functionalities and can be configured as a macro.
A macro key also called a shortcut key, is a button that is programmed to execute a series of commands. For example, you can create a macro key for your web browser that will open several tabs or your e-mail that will open three messages simultaneously.
Another example is if you are a gamer, you can create a macro key that will perform certain actions for you, such as lifting up your gun, running forward, crouching, jumping, opening your inventory, and so on.
The Extra buttons and macro features in a gaming mouse really make a massive difference in performance and usability.
Ergonomics
In terms of Ergonomics, the gaming mouse comes with an excellent ergonomic design to help gamers play for longer durations.
The gaming mice are very comfortable and adjust to their hands very well. They are better in terms of ergonomics and comfort as compared to a normal mouse.
In the case of a normal mouse, extra designs for better ergonomics are not there.
Durability
A Gaming mouse has higher durability as compared to a normal mouse. They are made to last long, even with intensive gaming played throughout the day.
The material of the gaming mouse is often made to make it even resistant to drops.
Customization Option
A gaming mouse has endless customization features, which are only available in a limited amount to a few good normal mice.
A gaming mouse comes with software to configure the macro keys, the RGB color effects, DPI, and more.
Also, you can save this as a profile and make multiple profiles and choose any one of them when you use it.
My View on Gaming Mouse vs Normal Mouse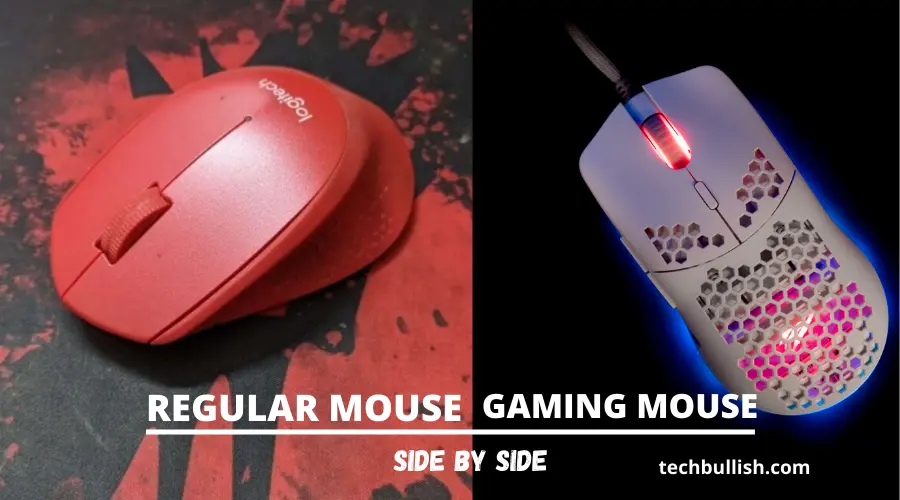 So, which is the better mouse between the two?
Though a gaming mouse has several advantages over a normal mouse, still they are more expensive than the normal mouse. If you are on a budget, then the normal mice are better.
Otherwise, the gaming mice are way better in terms of performance, productivity, and long-term usability.
FAQs on Gaming Mouse VS Normal Mouse
Q: Do gaming mice make a difference?
A gaming mouse makes a difference as it has a gaming-grade sensor, great polling rate, and would help to track your movement precisely.
Thus it makes your clicks more accurate in FPS gaming.
Q: What is the advantage of a gaming mouse?
The Gaming mouse has additional buttons on its sides that allow you to program your favorite weapons or spells in shortcuts.
Another advantage is its durability. Another significant advantage is the gaming-grade sensor that gives you smooth gameplay, and with quick lighting tracking, you can have a better gaming experience.
Q: Can a gaming mouse be used as a normal mouse?
You can use a gaming mouse as a normal mouse for regular use by lowering the DPI in Gaming mouse software.
You would feel better using a gaming mouse in terms of the productivity you will have.
Conclusion
Let's conclude the post.
We hope you enjoyed our article about gaming mice vs normal mice. The honest answer depends on the activity you are doing.
If you are doing more gaming, then a gaming mouse is recommended. For normal day-to-day tasks, you can also take advantage of the gaming mouse and its dependable sensor.
It would really boost your performance to a great extent, and it would obviously add an aura to your workspace. You can also read, the comparison of gaming keyboard vs normal keyboard here.
I hope you liked the post.
Thanks for your feedback!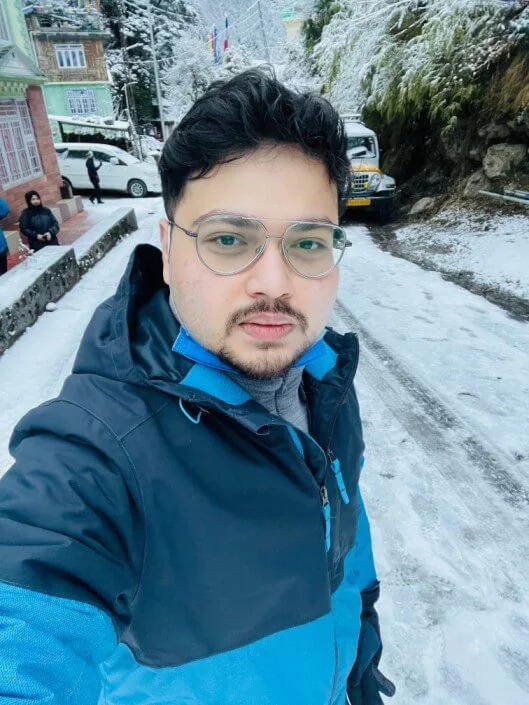 I'm Anirban Saha, Founder & Editor of TechBullish. With a B.Tech in Electronics and Communication Engineering, and 5+ years of experience as a software developer, I have expertise in electronics, software development, gadgets, and computer peripherals. I love sharing my knowledge through informational articles, how-to guides, and troubleshooting tips for Peripherals, Smart TVs, Streaming Solutions, and more here.