Brown switches are well known for their tactile feedback, and they are excellent types of switches to use for typing. If you want to know if Gateron brown switches are good, then this is the right post.
To explain this, let's dive right in detail into the Gateron switches.
What are Gateron Brown Switches?
Gateron Brown switches are the tactile made switches from Gateron with long life and high reliability. These are backlight compatible switches and support PCB mount. The Gateron Browns are very tactile and smooth. 
The Gateron brown switch sits between the clicky and the linear switch experience. Hence, Gateron browns can be said as the hybrid between the clicky and the linear.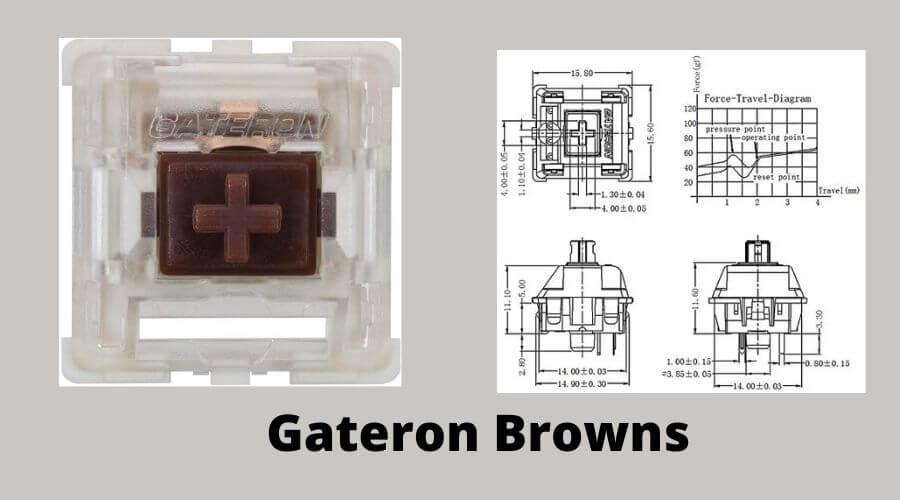 So, are the Gateron Brown switches good? Gateron Browns are really good for their experience in typing and using them for gaming on a mechanical keyboard. Gateron Brown switches give a great tactile feel and are smoother to click.
Specifications of Gateron Brown Switches
| | |
| --- | --- |
| Switch Type | Tactile |
| Pre Travel | 2mm |
| Total Travel | 4mm |
| Actuation | 45g |
| Bottom out force | 55g |
| Mount Type | PCB mount |
Gateron Brown Switch Review
Gateron Browns are of tactile type. Being a tactile switch means they are not clicker like the clicky switches, and they are more tactile than the linear switches.
If you consider the noise of the Gateron Browns, they are quieter than the Blue clicky switches and louder than the silent red linear switches.
So, they are in between the clicky and the linear switches. 
The Brown switches are known for their Gaming Performance. For a great gaming experience having a tactile switch is essential. The brown switches have an excellent performance for gaming.
Overall, for gaming, you will feel the Gateron brown a convenient and valuable as you get responsive clicks. This helps to get you notified of the keypress during gaming.
If you do a lot of typing, you will enjoy using the Gateron browns. The Gateron Browns are with great tactile feedback and without any annoying noise. So, you can use these brown switches in office spaces also.
The typing experience is delightful on the Gateron Brown switches. The keypress is smooth and tactile, which would aid in comfortable typing for a long duration.
The Gateron Brown switches have an actuation of 45g which means the keypress is light, and you don't have to worry about fingers getting fatigued during your keypress.
The 45 g keypress is very minimal and hence is a great thing to have.
Are Gateron Brown switches good for gaming?
If you play racing games, sports games and several RPG games that extensively use a keyboard, then the Gateron Brown switches would be of great use.
If you look at the gaming keyboards, brown switches have excellent tactile feedback. The Gateron Brown switches are easy to click and feel smoother.
Games like FIFA, NFS are played great with the tactile switches. I also like the blue switches. However, due to the noisy feedback of the Blue switches, I like the Gateron Browns better as they are tactile.
These games require faster and minute clicks, which you can easily do with a 45g actuation. 
So, if you use Gateron brown, you will get an extra edge in gaming.
How does Gateron Brown feel?
Gateron switches feel easier to click due to their only 45g actuation force. These switches are smoother as compared to the Cherry MX Browns.
They have a total travel of 4mm, which is good to have for a mechanical switch.
Overall, the Gateron browns feel easily clickable, comfortable, have a lot of tactile feedback, are not that loud when it comes to noise and have a great experience while using longer stretches.
Here is the Gateron Brown sound test in the video below
Here are Gateron Brown switches from Amazon which you can check:
Bestseller No. 1
Bestseller No. 2
Last update on 2022-01-17 / Affiliate links / Images from Amazon Product Advertising API
FAQs on Gateron Brown
​​Q: Are Gateron Browns quieter than blue?
Ans: Gateron browns are quieter than the Gateron Blues to a lot of extents.
Q: Are Gateron brown loud?
Ans: Gateron browns are not loud; they sound moderate. 
Q: Which is better, Gateron blue or brown?
Ans: The Gateron Blue are for the clicky switch fans, and the Gateron browns are for the tactile switches fans.
Conclusion
Let's conclude! 
Here I discussed the Gateron brown switch and if they are good. I like typing and gaming on Gateron brown switches. If you want to know more about Gateron switches, you can check the Gateron switches guide.
Brown switches are also available from Kailh, and you can check the comparison of Kailh Brown vs Gateron Brown, to know the comparison between them.
I hope you liked the post.