If you are looking for a comparison of Kailh Brown vs Gateron Brown, then this is the right post.
under a budget, if you look for an alternative to the Cherry Mx, there are two very popular brands making Brown switches, the Gateron and the Kailh.
Brown switches are the most popular switches out there today. They are tactile switches with a light clicky sound.
They are a great all-around switch, especially with the fact that they give you a bumpy tactile feel from your mechanical keyboard without much noise.
For a long time, the only brown switches that were available were from Cherry.
Let's get started with the differences between Kailh Brown and Gateron Brown.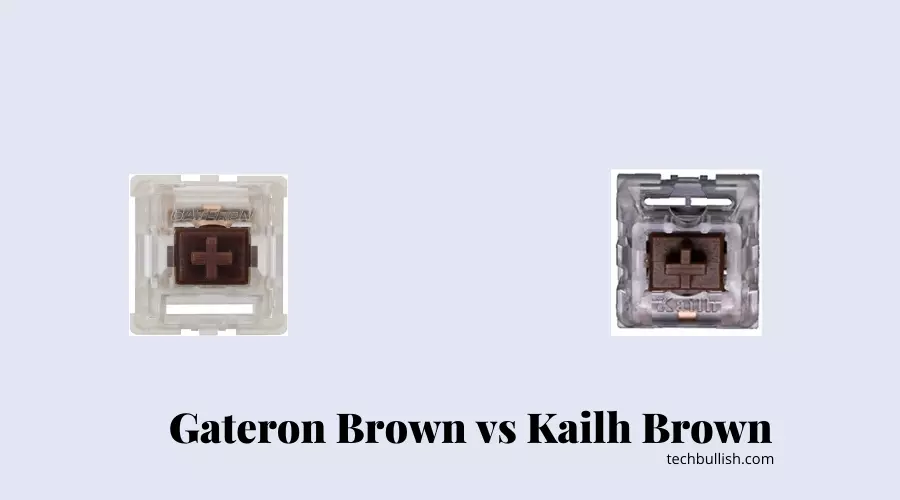 Kailh Brown vs Gateron Brown
| | | |
| --- | --- | --- |
| | Kailh Brown | Gateron Brown |
| Switch type | Tactile | Tactile |
| Actuation Force | 50g | 45g |
| Travel Distance | Total Travel: 3.6mm | Total Travel 4mm |
| Mounting Type | Plate Mounted | Plate Mounted |
| Number of Pins | 3 pins | 3 pins |
| Lifetime | 70 million clicks | 50 million Clicks |
| Noise Level; | Medium( much lower than blue switches) | Medium( much lower than blue switches) |
Kailh Brown Review
The main reason I decided to do this review is that I heard many good things about the Kailh switches.
Kailh had already gained the trust of millions of people before Kailh brown was introduced.
The Kailh Brown switch is a new switch designed by Kailh to compete with the Cherry MX switch which is the most dominating switch brand in mechanical switches.
Last update on 2023-09-24 / Images from Amazon Product Advertising API
Kailh switches are manufactured by Kaihua Electronics is a company based in China, which was created to compete with Cherry, the famous keyboard switch manufacturer.
Although Kailh switches are just as good as Cherry, there are some differences that you need to know before buying some Kailh switches for your keyboard.
Kailh Browns are like the other brown switches out in the market. It comes with great tactile feedback on its clicks and makes much less noise than the clicky blues.
The Kailh Browns are cheaper and hence a budget-friendly option compared to the other brands like the Gateron.
Gateron Brown Review
Gateron brand is well known for manufacturing high-quality mechanical switches.
Gateron browns are currently one of the most popular switches in the mechanical keyboard community.
It's no wonder either because they are one of the best switches to get for typing.
Gateron browns are an improvement on the original Cherry brown switches.
The little bump has been there to give you a good bumpy tactile feel. They are also much more consistent than cherry browns and are a lot smoother too.
Last update on 2023-09-24 / Images from Amazon Product Advertising API
It's not uncommon for Gateron browns to register at around 45g actuation to bottom out the switch, but they are known sometimes to be lighter or heavier.
This force for Gateron brown is very comfortable to click.
When comparing Gateron browns to cherry browns, it's easy to tell that you're using a Gateron switch. Cherry browns have that bump in the middle, while Gateron browns are smooth from top to bottom.
Overall, the Gateron browns are the improved Brown switch available with high quality and hence they are even used in the GMMK keyboards.
The Gateron Browns would last long for about 50 million keypresses which is great.
I really like the feel of the Gateron Brown switch clicks very much and enjoy typing without much noise.
To know more about the Gateron browns, you can read an in-depth Gateron Brown review.
Durability
The Kailh and Gateron switches are very similar. The main difference is their durability rating.
The Kailh switches are rated at 70 million keystrokes, and the Gateron switches are rated at 50 million keystrokes. From what I have tested, it seems as if the Gateron switches are a little more durable.
Tactile Feedback
Tactile feedback is what you feel when pressing a button or pressing down on a mechanical switch.
It's the feeling of the button resisting your finger, followed by the feeling of the button moving down, which is accompanied by either a click sound or a tactile bump.
The purpose of tactile feedback is to make the user feel like they are interacting with something, and it feels like it is working.
Gateron switches are also regarded as good switches that are cheaper than the Cherry switches.
Kailh switches are relatively new to the market, and they are generally regarded as decent switches that are cheaper than the Cherry and Gateron switches.
Both of the switches have a spring weight of 45g, but the Gateron Brown is said to be rated at 45g, while the Kailh Brown is rated at 55g.
Quality of Keypress
I feel the quality of the keypress is quite similar when I compare the Gateron Browns with the Kailh Browns.
Only you will feel Gateron brown takes a bit less force to click whereas the Kailh has a lower actuation distance.
Overall Experience
The Kailh switches are also built for more intensive gaming sessions. The switches have a good actuation force (50g), and a shorter travel distance(3.6 mm).
The shorter travel distance reduces finger fatigue and increases accuracy.
Both Gateron and Kailh produce an audible "click" when the switch is pressed, and a good amount of tactile feedback is there.
Though I like the Kailh switch clicking experience, still I prefer Gateron Browns over the Kailh if I consider the overall performance during typing and gaming.
In fact, the Gateron switches felt more consistent in every click, especially during faster typing and gaming.
My View: Which is better?
Gateron switches are the most popular Cherry clones on the market, and Kailh switches are the second most popular Cherry clones.
Many people ask us what the differences are between the two and if there is any difference at all.
The truth is that there are many differences, but many people see it as just a name change.
Gateron switches feel more durable and build quality is great too. I prefer Gateron switches, though you won't feel bad if you choose any of the switches.
You can check the Gateron switches at Amazon here
Conclusion
Let's conclude the comparison of Kailh Brown vs Gateron Brown.
Overall, though I compared the two tactile types of switches, there are other types of mechanical switches too like the clicky and the linear types.
You can check the comparison of clicky vs tactile vs linear if you would like to explore in detail the concept of these switches in terms of typing experience, gaming, and more.
You may also like to read more about Gateron Brown vs Cherry Brown.
I hope you enjoyed reading the post.
Thanks for your feedback!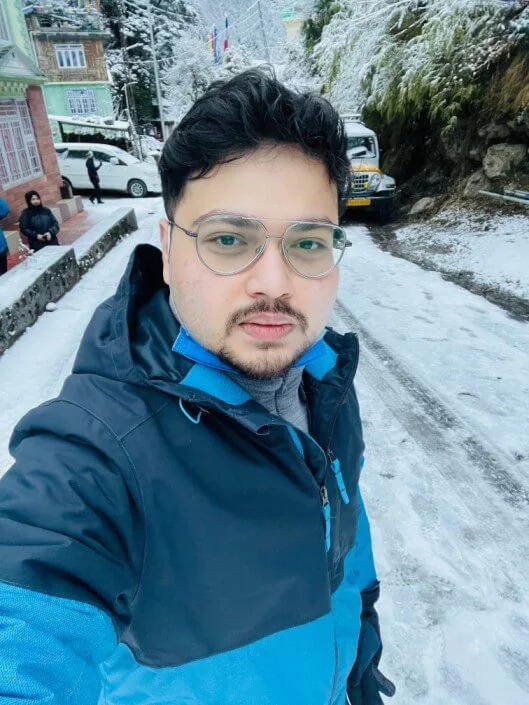 I'm Anirban Saha, Founder & Editor of TechBullish. With a B.Tech in Electronics and Communication Engineering, and 5+ years of experience as a software developer, I have expertise in electronics, software development, gadgets, and computer peripherals. I love sharing my knowledge through informational articles, how-to guides, and troubleshooting tips for Peripherals, Smart TVs, Streaming Solutions, and more here.