Gateron has a good range of keyboard switches which are cheaper than Cherry MX Switches. The Gateron Yellow comes in their linear switch segment.
In this post, I will discuss a complete Gateron Yellow review, with my experience, and would help you to know about it in detail.
Linear switches are mechanical switches without any clicking noise or any feedback.
Gateron Yellow Switches are smooth and snappy and they give an awesome experience during actuation in gaming and typing. These switches have a consistent linear feel to them.
Why Should you Trust Me? Hi, I am Anirban Saha, an Engineer with a Specialization in Electronics and Communication Engineering. I have experience in Smart TVs, Electronics circuits, and Computer peripherals.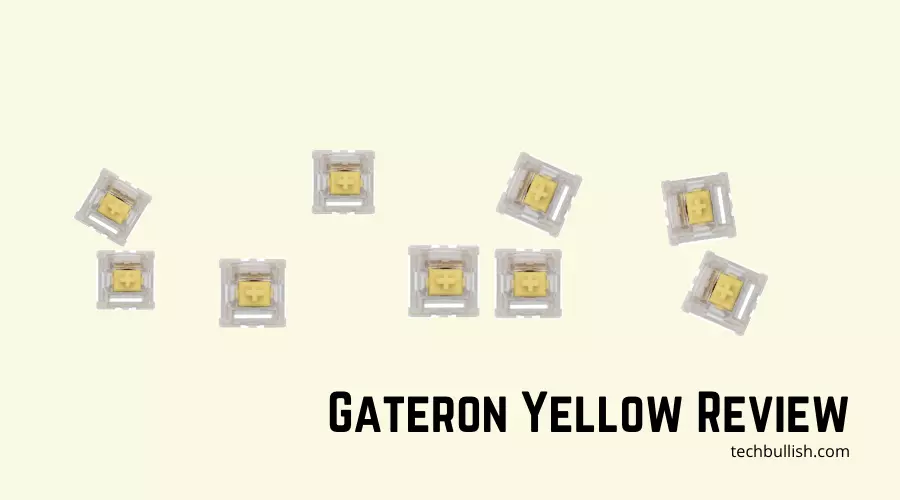 Let's get started!
What are Gateron Yellow Switches?
Gateron Yellow switches are linear switches from Gateron with fast and snappy clicks. These are very popular and useful for typing and gaming.
They perform incredible out of the box and do not require additional lubing. You will get slightly lubed from the factory.
This would make sure these switches are smooth from the first day itself and it makes using these switches enjoyable.
Specifications of Gateron Yellow
| | |
| --- | --- |
| Switch Type | Linear switches |
| Actuation force | 50g |
| Pre-travel distance | 2mm |
| Total Travel Distance | 4mm |
| Smoothness | Switches are smooth and no scratchiness on the actuation |
Gateron Yellow Review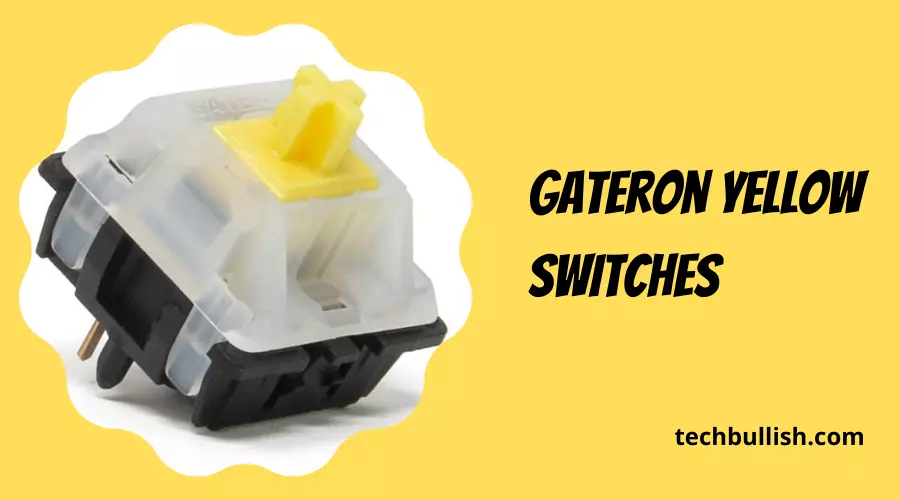 Gateron switches are some of the most popular and reliable switches on the market.
They have a consistent, linear feel that makes them a favorite for many keyboard enthusiasts.
The 50g actuation force is perfect for those who like a slightly heavier switch within the linear segment.
These come in PCB Mount with 5 pins makes them easy to install on any keyboard.
The total travel distance of Gateron switches is like the other industry-standard of linear switches which is 4.0mm.
Gateron Yellow Linear Switches
My Experience
The Gateron Yellow Linear switch is a new type of mechanical switch that is more smooth and quiet compared to the other type of mechanical switches.
They are a bit lighter on the pocket too. I am pleased with this switch and recommend it.
Why should you choose this Switch?
Gateron linear switches have an actuation force of 50g, making them a great choice for those who prefer a medium touch when typing(light touches are around 45g actuation).
The switch is very smooth to type on and this can be the reason that you choose to use them. I love the Gateron linears as they are awesome while still being budget-friendly.
Build Quality
Gateron switches are well built and its yellow switches have an incredible build too. There are no complaints about using these switches for intensive tasks whether you use them for typing or gaming regularly.
These switches have good durability added to the build quality.
Actuation Force
The actuation force is an important part of mechanical switches.
These Gateron Yellow linears have an actuation force of 50g which is somewhere in the lower range of actuation and not much hard to actuate.
The other high-quality linears are available even at 45g actuation like the Cherry Mx Red switches.
You will not notice much difference in actuation is 5g more actuation than the 45g. It won't be a huge difference to consider these switches.
With its infused smoothness, the Gateron Yellow linears feel excellent in their actuation without actually tiring your fingers when typed for hours.
Sound Profile
The Gateron Yellow linears sound unique and do not make noise in their clicks.
Typing Experience
Linear switches are known from the typing experience they provide and are good for regular use and gaming.
Whether you are a professional gamer or a casual gamer you will love using these Gateron Yellows regularly.
Gaming Experience
The gaming experience is an important factor in choosing a mechanical switch.
Generally, the linear switches are good for gaming.
Pros and Cons of Gateron Yellow
Here are the pros and cons of the Gateron Yellow switches:
Pros
Gateron Yellows are very smooth without much scratchiness
Comes lightly pre-lubed from the factory. So, gets to be smooth out of the box.
They have a moderately light spring(50g) which makes them easy to press.
They have a low click noise which makes them good for typing in low noisy environments like offices, libraries, etc.
Cons
Bit heavier than the other industry-standard linears(50g than the standard 45g in MX red).
You may also like to read about the comparison of Gateron Yellow vs Red.
Are Gateron Yellows Worth it?
Gateron Yellows are fast and snappy linear switches for typing and gaming. These are worth it for typing and gaming. These justify the price for the value they give.
The feel is very good and you will enjoy using them regularly. If you have already used other linear switches before like Cherry MX Red, then it may not be worth upgrading.
However, if you are switching from another switch type, then there would be an awesome choice to consider.
You can visit to check Latest Price of Gateron Yellow on Keygeek Here.
Last update on 2023-04-02 / Images from Amazon Product Advertising API
Gateron Yellow Review FAQs
Q. Are Gateron yellows heavy?
Gateron Yellow switches are moderate in actuation with an actuation force of 50g.
Q. Are Gateron yellow switches the fastest?
Gateron Yellow switches are the fastest among the Gateron variants.
Q. What type of switch is Gateron yellow?
Gateron Yellow switches are linear types of mechanical switches.
Q. Do you need to film Gateron yellow?
Gateron Yellow switches are lightly lubed from the factory and do not require additional film application. Still, you can apply additional lube to the Gateron yellow switches to make them better.
Q. Are Gateron yellows wobbly?
Gateron Yellow stems wobble a bit but that is not much noticeable.
Q. Are Gateron yellow tactile?
Gateron yellows are not tactile. They are of linear type.
Conclusion: Should you buy Gateron Yellow?
Let's conclude the post on the Gateron Yellow review!
Gateron linear switches are a great option for those looking for a reliable, consistent switch with a moderate actuation force.
I hope you enjoyed reading this post.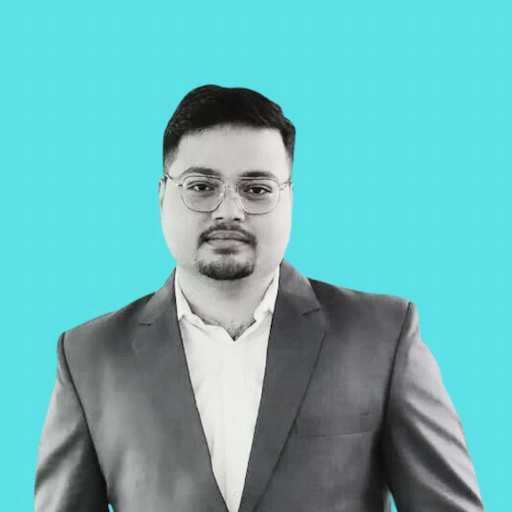 Anirban Saha is an Engineer with a specialization in Electronics and Communication. He is the Founder and Editor of techbullish.com. He has expertise in electronics, software development, gadgets, and computer peripherals. Anirban loves to share his knowledge to help people to help choose the right gadgets, troubleshoot gadgets, and more. Learn More About Anirban.