Logitech M331 is a Silent Mouse from Logitech, which would help you make your clicks silent. You would find it convenient to use it even in a silent environment. In this post, you will learn about the review of Logitech M331, the Silent Plus and Wireless Mouse.
Logitech M331 Silent Plus Wireless Mouse
Logitech M331 has a premium feel in hand with its superior ergonomic design crafted for better comfort and grip. Its 1000 DPI Optical Tracking gives excellent performance even in gaming and provides the same click feel without annoying click noise. It comes with a whopping 24 months of battery life.
Noise Reduction in Clicks
Summary
Logitech M331 performed well in every aspect of our test. It is so silent that mouse clicks will not disturb anyone even at night. It is performance packed and is pretty durable for regular usage. M331's ergonomic design (curved shape for right-handed usage) is fantastic and comfortable for extended use. As I do coding a lot, I spend nearly 8 hours with this mouse and love each day using it.
In a whitepaper, Logitech mentioned how noise could negatively affect human health and productivity.
To reduce the disturbance induced by computer mice, Logitech has launched new models integrating technology that lowers the noise level.
Logitech even redesigned the switch for its range of silent mice, which brings added advantages by making them silent.
Logitech even re-designed the button for its range of silent mice, which brings added advantages by making them silent.
Let's get started!
What is a Silent Mouse?
Silent mice are similar to any high-performance mouse but have added advantages for those who like less noise.
The only difference from normal mice is that they have a lot less noise coming from them.
Logitech claims that they reduced 90% of the clicking noise in M331 compared to a standard mouse.
Logitech M331 Review
Check this Amazing Silent Mouse from Logitech on Amazon
Let's look briefly into the Technical Specification of the Logitech M331 Silent Wireless Mouse before starting the review.
Technical Specifications of Logitech M331 Optical Mouse
Here are the technical specs below:
| | |
| --- | --- |
| Connection Type | Wireless (2.4 GHz wireless connection using Nano Receiver) |
| Design | Ergonomic Design |
| Wireless Range | 10 m (33ft) |
| Sensor technology | Yes, 2D Mechanical |
| Battery Life | 1 x AA (not rechargeable): 24 months |
| DPI | 1000± |
| Sensor resolution | 1000 DPI |
| Number of buttons | 3 (Left, Right, and Scroll Wheel) |
| On/off Switch | Present |
Source: Amazon
Design
It has a well-ergonomic design specifically designed and specially made fit for right-handed users. The sides of the Logitech M331 have a textured finish, which improves the holding grip.
Color
It comes in red color, black color, and blue color and can be purchased from Amazon India.
In terms of color, you won't be left displeased as you can complement your workspace with your favorite color from this Logitech M331 offering.
I use the Red variant of this mouse for daily use.
Build Quality
Being a Logitech Mouse, this also has a premium build quality. Its plastic build has a premium feeling as Logitech M331 has mesh texture on its side for better grip.
It can easily resist mild to moderate drops.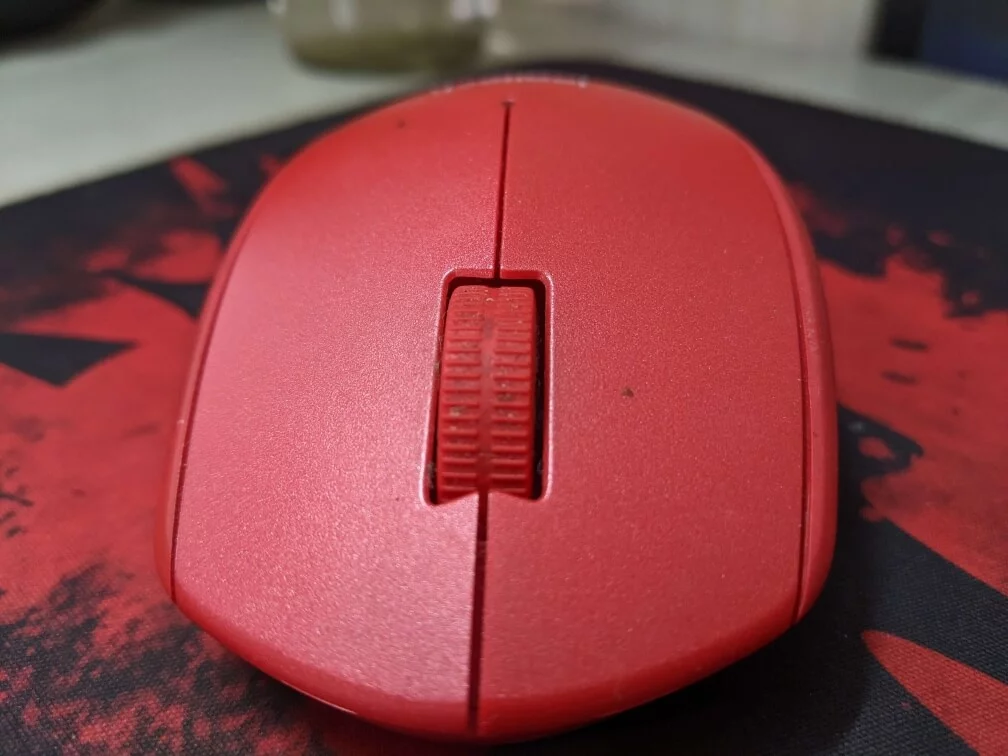 Precision
Logitech M331 has top-notch precision, whether you use it for task-intensive, faster clicks, or be it for everyday usage. You can throw any tasks at it.
It will leave no stone unturned to make you impressed each day you use it.
Arrows move correctly, and response time is pretty good. We didn't find any lag with laptops, desktops, PC, tablets, and smartphones.
Connectivity
Logitech M331 Silent Mouse has wireless connectivity using the 2.4 GHz Wireless Technology Logitech Unifying Connector.
You can get reliable connectivity up to 10 m (33ft). It is nearly three rooms in size.
Battery Life
Logitech M331 runs on a single AA-sized battery(1.5V).
There is an on-off switch to the toggle at the bottom of this mouse.
Turning this off after use can save the batteries from wearing out. It also turns to sleep mode automatically when not in use to save battery.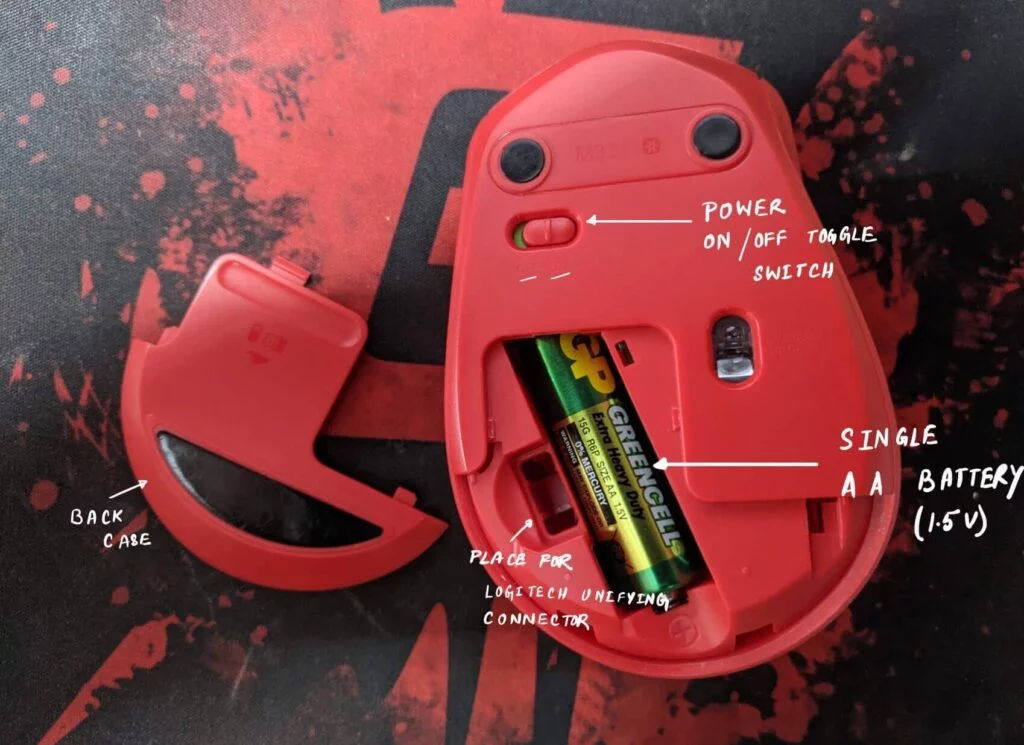 I don't even switch off this mouse often. Still, this mouse's battery has stayed for the last year without replacing it. Logitech mentions that it will last for 24 months.
So, regarding battery backup, I am pleased with this mouse. I highly recommend you to purchase this mouse as a great offering from Logitech under 1500.
Inside this Back Panel, you would find the Logitech Unifying Receiver, which would help you connect this wireless mouse easily to other devices.
In the Box Contents
M331 Mouse
A Nano receiver (inside the back case of the mouse)
1 AA battery (pre-installed)
User documentation/ manual
Warranty
Logitech provides 1 Year Warranty on this product.
Logitech M331 Software
M331 works with plug-and-play to your device. However, if you need driver software, you can download the latest Software Driver for Logitech M331 from this official site link. This driver is available for Windows (10/8/7) and Mac OS.
Who is for this Logitech M331 mouse?
Logitech M331 is for:
Video Editors,
Bloggers,
Authors,
Designers,
Developers,
And many more different professionals or even casual users who use the mouse intensively for regular work.
They can use a silent mouse to increase their productivity to a greater extent.
If you like to work at night, then, for the keyboard, your choice would be a quieter backlit keyboard, and for the mouse, you should go with a silent mouse.
Pros and Cons of Logitech M331
What do I love about the M331?
In Logitech M331, the noise reduction is pretty good that it reduces almost 90% of the clicking noise.
Any ordinary Mouse clicks produce noise, so while using this mouse in a quiet environment like your office or at night, it won't disturb others.
If the mouse sounds annoying to you, this is your mouse's perfect choice to get at this price segment.
It feels fantastic to use this mouse for regular tasks. Even I play games with this mouse. It doesn't have any lag.
A right-handed person will best suit Logitech M331. I love using this mouse as a right-handed person due to the specially crafted curved ergonomic design for right-handed people.
What Do I Feel like a Con?
Logitech M331 has been built for right-handed usage, people with left-handed would find it difficult to use.
But, as this mouse is made to keep right-handed usage focused, I don't consider this a significant con.
As Logitech m331 wireless mouse does not have Bluetooth support, you cannot directly connect to any Bluetooth device.
To connect to any device, you need to plug in the Logitech Unifying Connector.
Logitech M331 Price
Check the latest price of the Logitech M331 mouse using the below link at Amazon.
Our Verdict on Logitech M331 Silent Mouse:
Among the mouse manufacturers, Logitech is Pioneer in manufacturing high-quality computer peripherals like mice, keyboards, webcams, etc.
Even if you buy a budget one or a premium one, you will not feel that your money will be wasted. Logitech promises its customers its value-for-money products. Logitech M331 is one of them; Its cost is higher than 1000 rupees.
Logitech M331 is a real value-for-money product because the amount of comfort and performance enhancement you get are probably worth this price.
After using this mouse for nearly more than a year, I did not find any significant cons to highlight even today.
You can also check another mouse Logitech M190, which is also a great budget mouse. On a higher budget, other awesome wireless mice from Logitech Would be either the Logitech M585 or M590.
You would surely love this M331 Silent Plus mouse.
References:
Thanks for your feedback!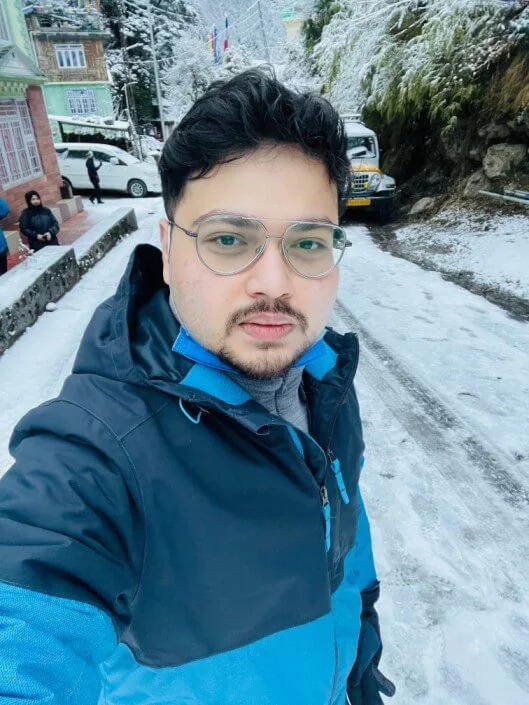 I'm Anirban Saha, Founder & Editor of TechBullish. With a B.Tech in Electronics and Communication Engineering, and 5+ years of experience as a software developer, I have expertise in electronics, software development, gadgets, and computer peripherals. I love sharing my knowledge through informational articles, how-to guides, and troubleshooting tips for Peripherals, Smart TVs, Streaming Solutions, and more here.