Logitech M590 is a wireless mouse from Logitech from its Silent range. Many times in our workspace, when we feel a lot of noise coming, we sometimes want to have even the mouse clicks silent. Logitech M590 solves such a problem by reducing the clicking noise of a general mouse.
Let's now dive into the complete Logitech M590 review with all the features in-depth and analyze how good the mouse is. I would also cover my view of each of the features that this mouse has.
Logitech M590 Review
In this review, I would cover the Logitech M590 mouse design, durability, comfort, multi-tasking, and more with my views on it.
Design
It has a minimalist, clean look and looks like you will use it for any professional work. Its curved edges with a soft rubber feel nice to hold. The thumb rests on the sides of the mouse quite well, and the two buttons on the side of M590 are easily reachable.
In terms of the back design, it is also good and has a hard plastic material. There is the housing for the battery and the Logitech Unifying receiver.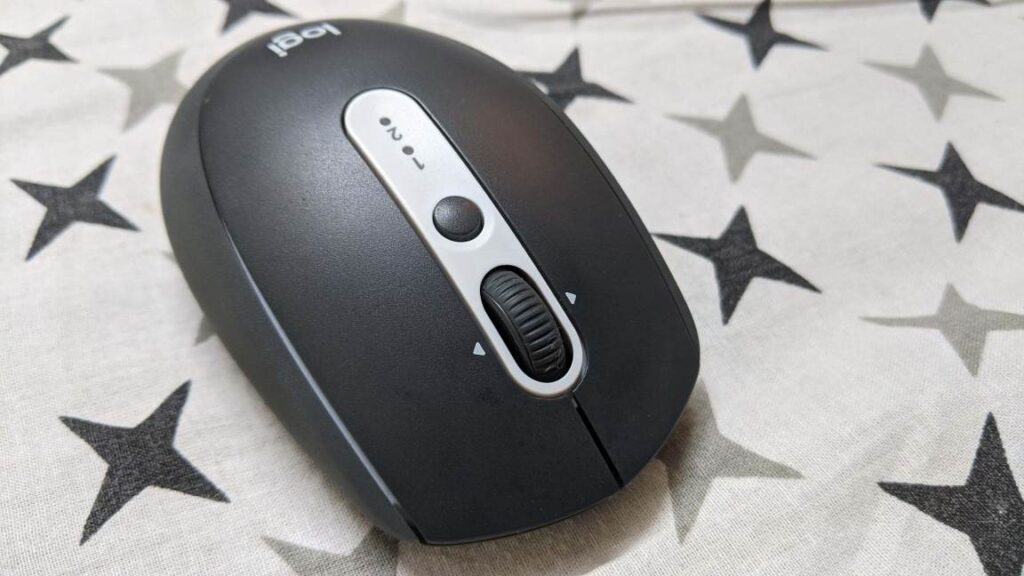 Durability
This Logitech M590 is durable, and it feels very nice to work with and, even under pressure, handles pretty well. 
Clicks are tactile, and the buttons look quite durable, and they won't wear out very easily.
Comfort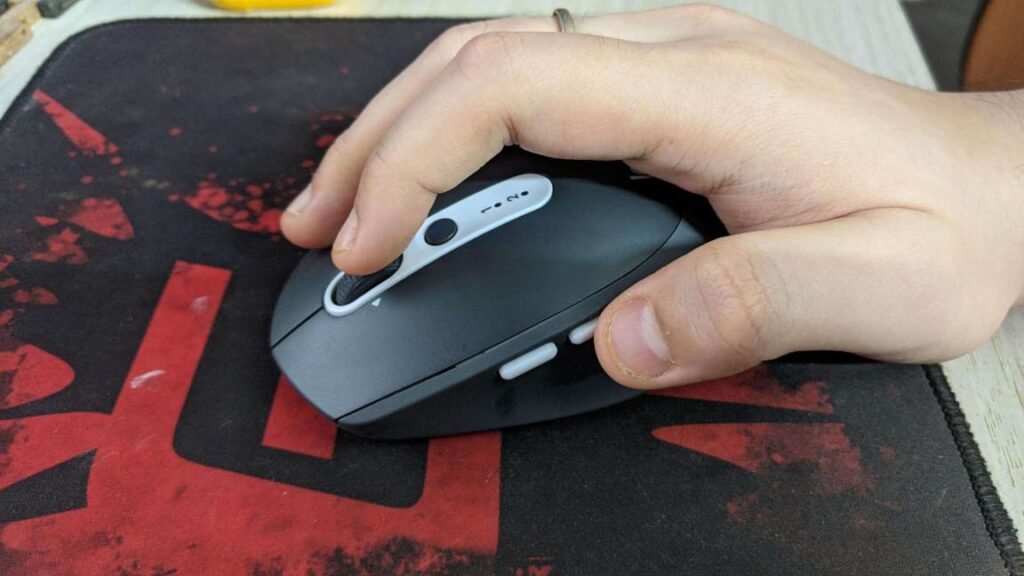 The mouse fits very well for small to medium hands and also if you have a large and it won't feel bad. The shape of the mouse fits so well that you will feel comfortable using it for long hours. 
The rubber gear group is very soft and feels comfortable, and it provides a grip to ensure that it does not sleep, and the mouse fits very well. 
The buttons on the top and sides are clicking and reachable and that not hard to click so you would have a comfortable experience clicking the button,
Also, the scroll wheel is precise and works great. The scroll wheel feels very smooth, and also, there are two clicking options by turning the scroll wheel to the left and to the right, which also gives tactile feedback, and it is good to use.
Wireless Connectivity
In Logitech M590, the connectivity is achieved in two ways: Bluetooth connectivity. Another is using the Logitech unifying receiver in the back case of the Logitech M590 mouse.
Bluetooth Connectivity
The Bluetooth connectivity is very good and reliable. You can easily pair two devices using Bluetooth connectivity. The Bluetooth connectivity pairs quickly, and once it gets paired, switching between the two devices is very easy. 
You can switch between the two devices by clicking the center button on the top of the mouse. By clicking on the button, you can establish Bluetooth connectivity with the other device. This time when the Bluetooth is getting connected for the second time, this is very fast.
Also, the Bluetooth connectivity is so good that the pointer was not lagging, which is quite good. You can use the Bluetooth connectivity with your iPad, tablet, phone, android TV, laptop, and even the desktop with Bluetooth support.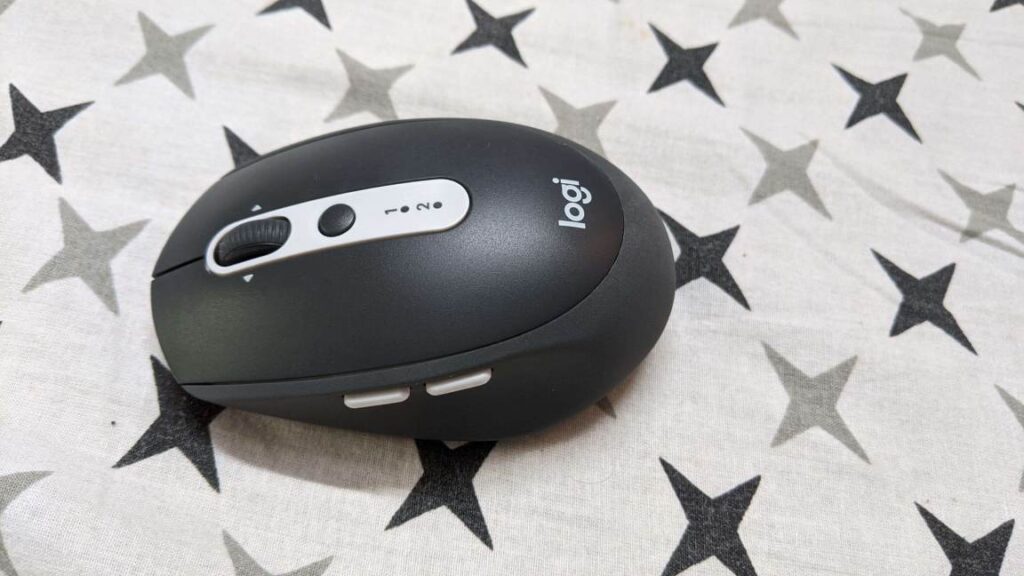 Multitask with Logitech Flow
Logitech M590 has a cool feature that supports the Logitech flow. Logitech flow is the software for boosting productivity. So basically, if you use Logitech flow, you can easily copy and paste between the multiple devices at ease. Multitasking becomes a very easy task and very fast.
This multitasking which can be achieved by Logitech Flow is not limited to a single OS. This means you can easily copy and paste and go multitasking in a multi-OS environment. Windows, iOS, macOS, iPadOS chrome, OS Linux, and Android are covered.
Logitech M590 has two buttons on the sides, left and right buttons, scroll wheels with two directions left and right with clicking options, and the top button. 
As there are multiple buttons in this mouse, you can configure it to perform a certain task. This configuring of the mouse button can be achieved using the Logitech options Software. 
If you want to switch between the left and right, which is needed if you are a left-handed person, you can also alter the switch clicks. The left mouse button and right button can then change their functionalities.
Work without any annoying clicking noise
Logitech M590 is a silent mouse that you won't notice the noise for when the mouse clicks with you. This mouse would make your clicks quiet.
As we work from home in our workspace, sometimes we need silence, and even the clicking sound becomes loud, and why disturb me. 
This mouse is also good for someone who works at home with his or her child sleeping. This silent mouse would not make any sound to bother anybody besides you.
My view
In brief, this Logitech M590 mouse is an underrated productivity beast. Its compact shape is awesome to hold and do work with this silent wireless productivity mouse. This mouse increases productivity as you get to connect to multiple devices with Logitech Flow.
You can purchase the Logitech M590 from here at Amazon for the US. For India, follow this link to purchase the M590 from Amazon.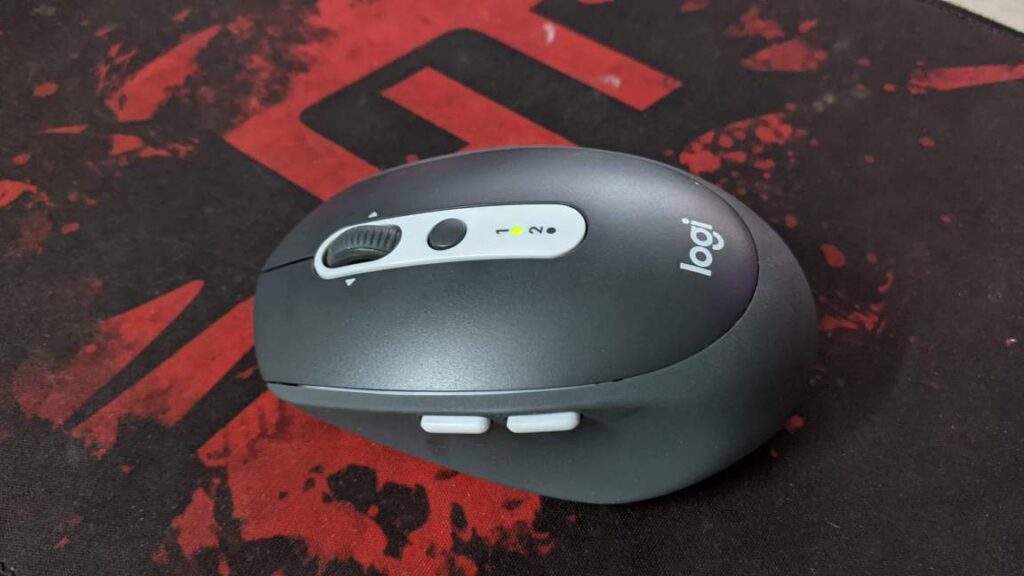 I like the Logitech Flow very much, which saves a lot of effort in file transferring across numerous devices. In short, I can describe the Logitech M590 as a silent productivity master.
Final Words
Finally, I can say that Logitech M590 is a trooper forward to consider for your regular work. Overall I found this mouse very balanced and powerful though the size is compact. I have no complaints about his wireless connectivity, and multitasking is lag-free.
M90 is truly worth considering as your daily driver to increase productivity. As you come this far, I hope you like this post! Do share this post and let others also know about this mouse.
Logitech M590 Review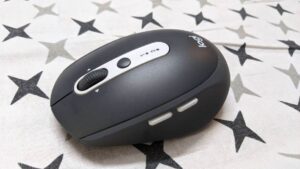 Logitech M590 is a pure multi-tasking mouse and for those who love connecting multi-devices. The Logitech M590 is even silent and the clicks won't bother you. This is a very powerful mouse in a compact size. I loved this Logitech Mouse and I have no complaints about it.
Product Brand: Logitech
Product Currency: $
Product Price: 40-45
Product In-Stock: InStock