Logitech M590 is a wireless mouse from Logitech's Silent series.
Even in our workspace, at times, it is frequently pretty noisy.
Logitech M590 solves this concern by reducing the sound of regular mouse clicks.
The Logitech M590 is a silent wireless mouse that is designed to work with multiple devices using Logitech's Flow technology.
Logitech M590
Summary
Logitech M590 is a pure multi-tasking mouse for those who love connecting multi-devices. The Logitech M590 is even silent and the clicks won't bother you. This is a very powerful mouse in a compact size.
Overall, I loved this Logitech Mouse and I have no complaints about it. Especially I would use this due to its awesome connectivity much like the M585 but with an additional silent click feature.
Let's now dive into the complete Logitech M590 review with all the features in-depth and analyze how good the mouse is.
I would also cover my view on each of the aspects like design, durability, comfort, multi-tasking, and more with my views on it.
Logitech M590 Review
The Logitech M590 is a wireless mouse designed to be used with a PC or laptop.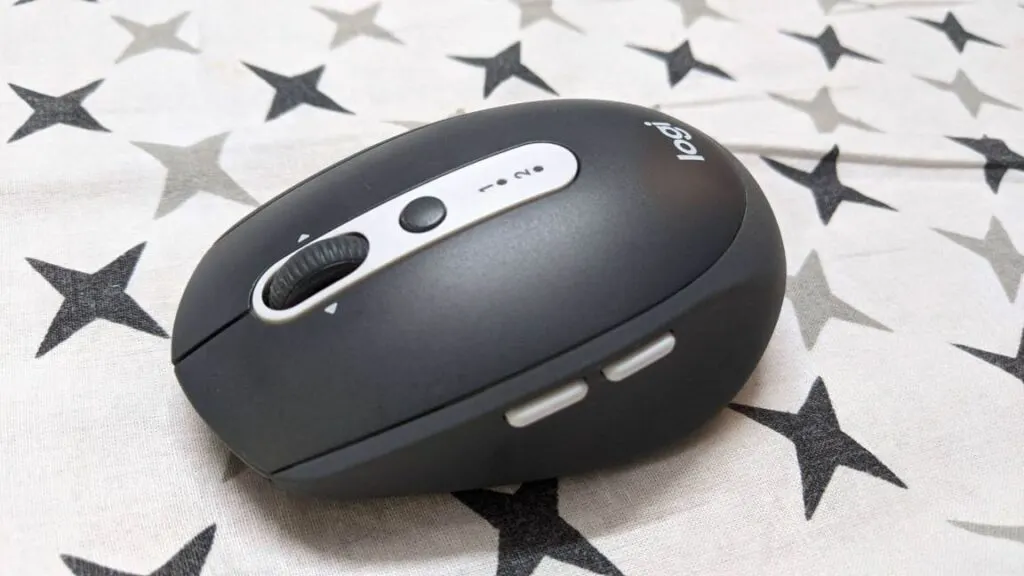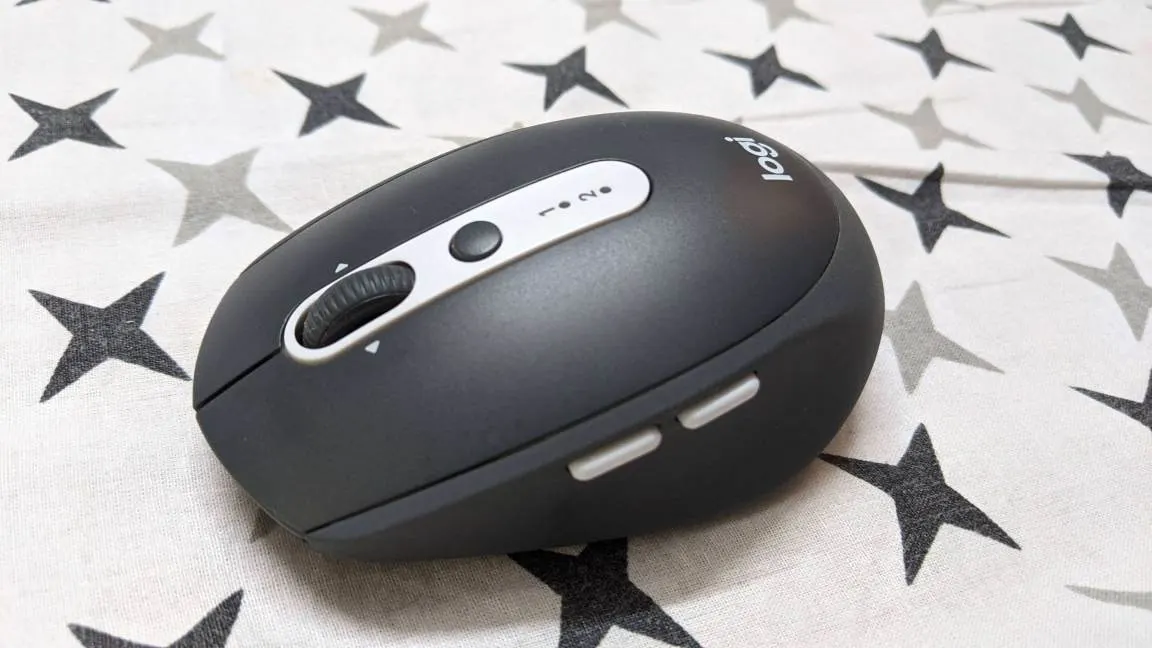 It operates on a 2.4GHz frequency and has a 1000 DPI sensor.
The clicks are very much silent, and I found the clicks of M590 to be 90-95% more silent than a regular mouse.
You will first notice this huge improvement with M590 when you start using it.
The mouse uses one AA battery included in the package and has on/off switches to conserve power.
Also, it automatically goes to power saver mode after some time when it is not used, which is excellent.
The mouse feels good in your hand and is very lightweight.
I found it very easy to move around on my desk, and it was very quiet compared to other mice that I have used in the past.
The cursor tracked smoothly and responded well to both horizontal and vertical movements.
I liked that the scroll wheel was not as stiff as some of the other mice that I have used in the past.
The setup is also effortless and fast. Just plug in the USB receiver and start using the mouse with your PC or laptop.
Logitech M590 Specifications
Mouse Type
Wireless Mouse
Silent Clicks
Yes, 90-90% silent due to Logitech Silent Touch Technology.
DPI
1000
Wireless Connectivity
2.4 GHz Wireless Receiver and
Bluetooth
M590 Dimensions
Height: 103 mm
Width: 64 mm
Depth: 40 mm
Weight
101g including the weight of 1 AA battery
Number of Buttons
7 (Left and Right click buttons, two on the left side, one button behind the scroll wheel, and another scroll wheel tilt button(Scroll wheel support tilt clicks on left and right))
Right Handed Usage
Yes
Left Handed Usage
No
Battery Life
24 months (may vary based on usage)
OS Support
Windows 10,11 or later
macOS 10.5 or later
Chrome OS
Linux Kernel 2.6+
Design
It has a minimalist, clean look and looks like you will use it for any professional work.
Its curved edges with a soft rubber feel nice to hold.
The thumb rests on the sides of the mouse quite well, and the two buttons on the side of the M590 are easily reachable.
In terms of the back design, it is also good and has a hard plastic material.
There is the housing for the battery and the Logitech Unifying receiver.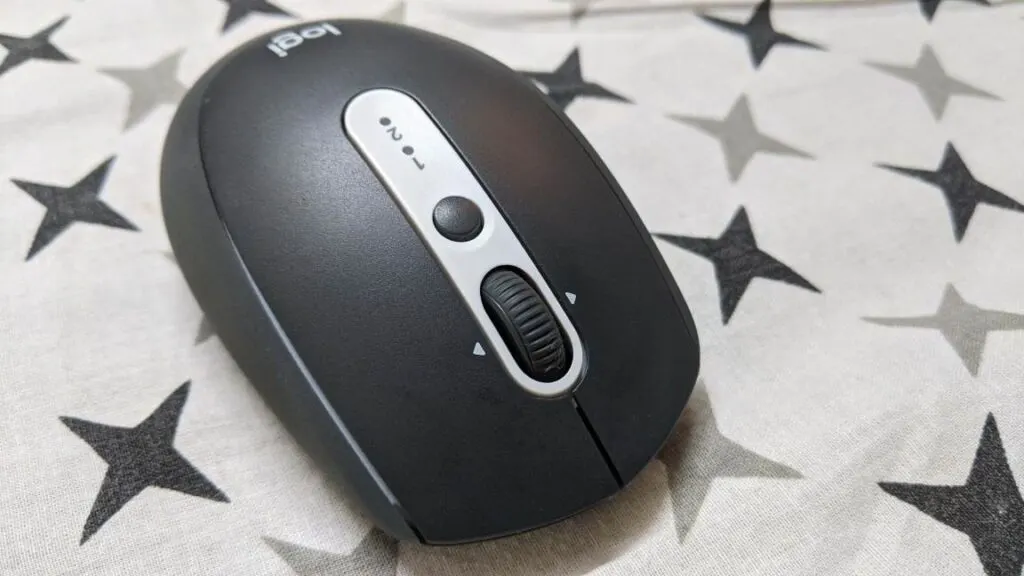 Durability
This Logitech M590 is durable, and it feels very nice to work with and, even under pressure, handles pretty well.
Clicks are tactile and the buttons look quite durable, and they won't wear out very easily.
Comfort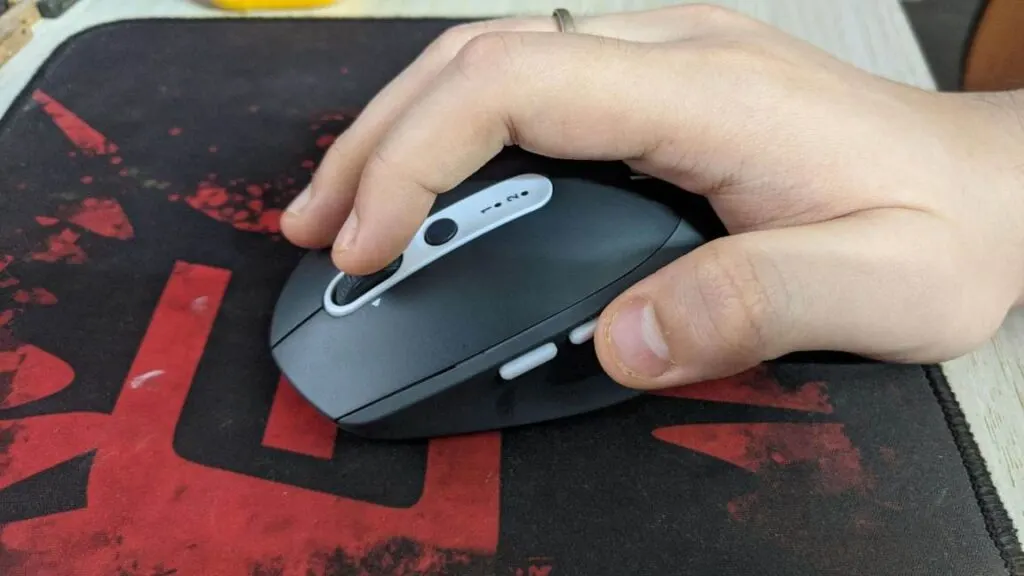 The mouse fits very well for small to medium hands and also if you have a large one and it won't feel bad.
The shape of the mouse fits so well that you will feel comfortable using it for long hours.
The rubber gear group is very soft and feels comfortable, and it provides a grip to ensure that it does not sleep, and the mouse fits very well.
The buttons on the top and sides are clicking and reachable and not hard to click so you would have a comfortable experience clicking the button,
Also, the scroll wheel is precise and works great.
The scroll wheel feels very smooth, and also, there are two clicking options by turning the scroll wheel to the left and to the right, which also gives tactile feedback, and it is good to use.
Wireless Connectivity
In Logitech M590, connectivity is achieved in two ways: Bluetooth connectivity.
Another is using the Logitech unifying receiver in the back case of the Logitech M590 mouse.
Bluetooth Connectivity
The Bluetooth connectivity is very good and reliable.
You can easily pair two devices using Bluetooth connectivity.
The Bluetooth connectivity pairs quickly, and once it gets paired, switching between the two devices is very easy.
You can switch between the two devices by clicking the center button on the top of the mouse.
By clicking on the button, you can establish Bluetooth connectivity with the other device.
This time when the Bluetooth is getting connected for the second time, this is very fast.
Also, the Bluetooth connectivity is so good that the pointer was not lagging, which is quite good.
You can use Bluetooth connectivity with your iPad, tablet, phone, android TV, laptop, and even desktop with Bluetooth support.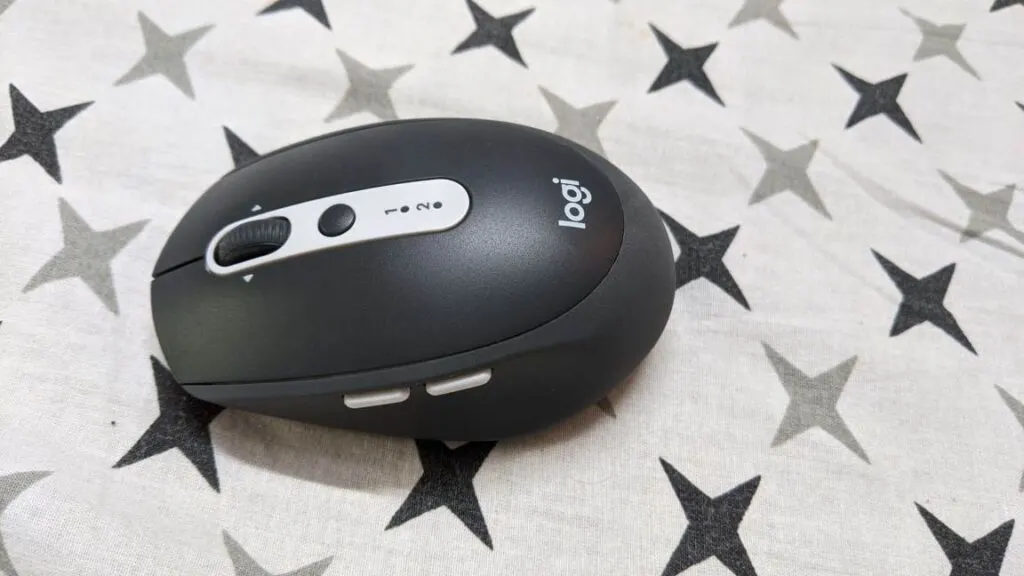 Multitask with Logitech Flow
Logitech M590 has a cool feature that supports the Logitech flow.
Logitech flow is the software for boosting productivity. So basically, if you use Logitech flow, you can easily copy and paste between multiple devices at ease.
Multitasking becomes a very easy task and very fast.
This multitasking which can be achieved by Logitech Flow is not limited to a single OS.
This means you can easily copy and paste and go multitask in a multi-OS environment.
Windows, iOS, macOS, iPadOS chrome, OS Linux, and Android are covered.
Logitech M590 has two buttons on the sides, left and right buttons, scroll wheels with two directions left and right with clicking options, and the top button.
As there are multiple buttons in this mouse, you can configure it to perform a certain task.
This configuring of the mouse button can be achieved using the Logitech Options Software.
If you want to switch between the left and right, which is needed if you are a left-handed person, you can also alter the switch clicks.
The left mouse button and right button can then change their functionalities.
Work without any annoying clicking noise
Logitech M590 is a silent mouse that you won't notice the noise when the mouse clicks with you.
This mouse would make your clicks quiet.
As we work from home in our workspace, sometimes we need silence, and even the clicking sound becomes loud, and why disturb me?
This mouse is also good for someone who works at home with his or her child sleeping.
This silent mouse would not make any sound to bother anybody besides you.
Pros and Cons of Logitech M590
Here are the pros and cons of Logitech M590:
Pros
The mouse is portable and easy to carry
Can operate on both 2.4Ghz and Bluetooth connectivity and you can easily switch between devices using the button behind the scroll wheel.
The mouse also uses Bluetooth connectivity which allows for seamless connection with your smartphone, iPad, and more devices easily.
Silent clicks(more than 90% silent) won't distract you from your work.
Cons
Not for left handed usage
My Overall View on M590 Silent Mouse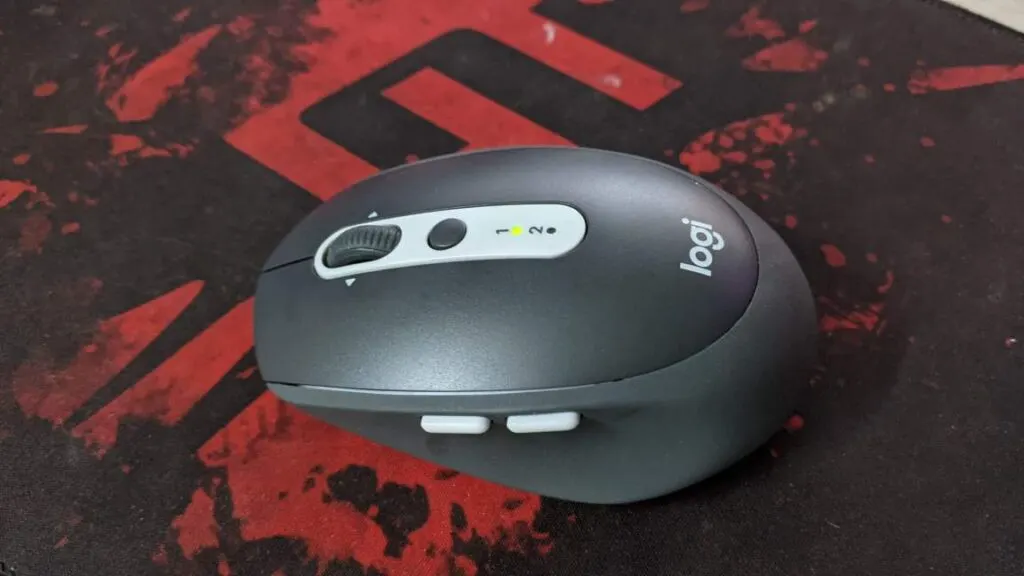 Are you deciding whether to choose this mouse?
In brief, this Logitech M590 mouse is an underrated productivity beast. Its compact shape is awesome to hold and do work with this silent wireless productivity mouse. This mouse increases productivity as you get to connect to multiple devices with Logitech Flow.
Sale
Last update on 2023-10-02 / Images from Amazon Product Advertising API
I like the Logitech Flow very much, which saves a lot of effort in file transferring across numerous devices. In short, I can describe the Logitech M590 as a silent productivity master.
Logitech M590 Review FAQs
Q. Is the M590 silent?
Ans. Yes, the Logitech M590 is a Silent mouse.
Q. Can the Logitech M590 drag click?
Ans. Logitech M590 can drag click like any other mouse.
Q. Is Logitech M590 good?
Ans. Yes, the Logitech M590 is a good mouse. It has a long battery life, and it's comfortable to use.
Q. Does Logitech M590 have Bluetooth?
Ans. Yes, the Logitech M590 has Bluetooth support. It can be used to connect to a range of devices, including computers, smartphones, and tablets like iPad.
Q. What is the DPI of Logitech M590?
Ans. Logitech M590 has a DPI of 1000.
Final Words
Let's conclude the post on the Logitech M590 review!
Finally, I can say that Logitech M590 is a trooper forward to consider for your regular work.
Overall I found this mouse very balanced and powerful though the size is compact.
I have no complaints about his wireless connectivity, and multitasking is lag-free.
M590 is truly worth considering as your daily driver to increase productivity.
As you come this far, I hope you like this post! Do share this post and let others also know about this mouse.
You may also like the Logitech M585, which can connect to multiple devices, but that mouse is without the silent clicks.
So, if you would instead choose the features without silent clicks, you can read the Logitech M585 review.
I hope you enjoyed reading this post.
Thanks for your feedback!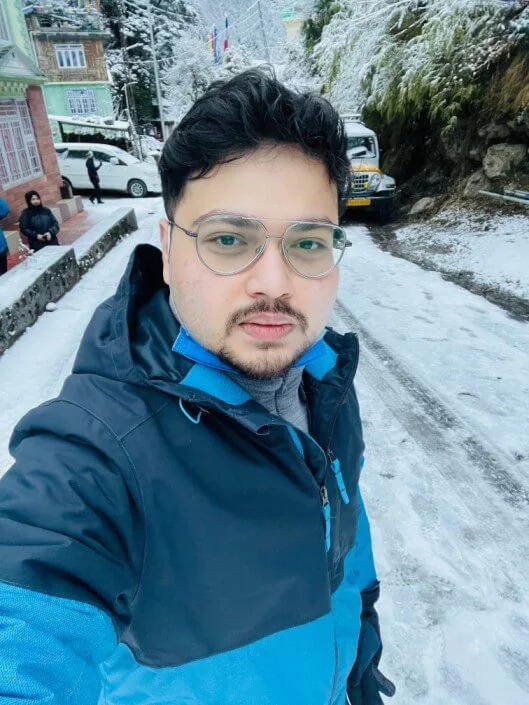 I'm Anirban Saha, Founder & Editor of TechBullish. With a B.Tech in Electronics and Communication Engineering, and 5+ years of experience as a software developer, I have expertise in electronics, software development, gadgets, and computer peripherals. I love sharing my knowledge through informational articles, how-to guides, and troubleshooting tips for Peripherals, Smart TVs, Streaming Solutions, and more here.